Texas A&M Aggies at LSU Tigers Betting Preview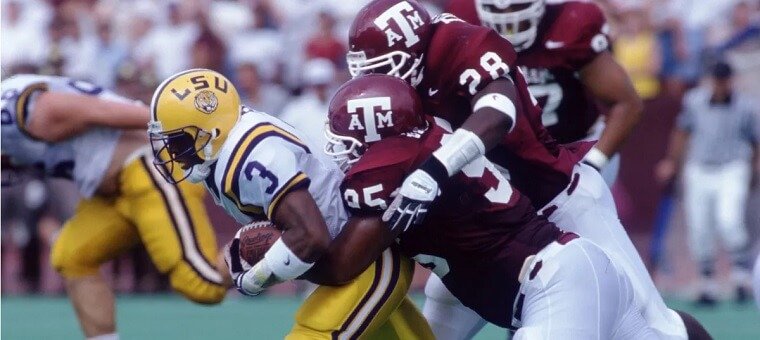 There have been a number of top teams in the 2019 college football season that have fallen off or had themselves a hiccup in the midst of all of the chaos.
Date: Saturday, November 30th 2019
Time: 7:00pm
Location: Tiger Stadium, Baton Rouge, Louisiana
Watch: ESPN

Odds provided by DraftKings Sportsbook – Sign up for a $200 free bet
The No. 1 LSU Tigers are not one of them, as they have been rolling since the beginning of the season and have never looked back. They are the favorite to win the College Football Playoff and have the Heisman Trophy favorite at quarterback.
The Tigers are undefeated, and they will be putting that record on the line this upcoming weekend against a frisky Texas A&M Aggies team that is just the kind of team to spoil a season.
The good news for LSU is that this game is being played in prime time in Death Valley, so the Tigers will have their home crowd behind them.
William Hill –
Do The Aggies Have What It Takes?
For the Aggies, everything begins and ends with quarterback Kellen Mond. Mond was expected to make a big leap after his strong offensive showcase last season but has been a little bit disappointing in 2019.
Mond still leads a fairly strong offense for Texas A&M, and the Aggies have a chance in this game to continue that showcase as LSU's defense is not necessarily lights out.
A&M's defense has been okay, as it is more a middle-of-the-pack kind of team. The Aggies come into this game at 7-4, fresh off of a close loss against the Georgia Bulldogs.
No. 4 Georgia provided another tough test for the Aggies as they finish their regular season in a gauntlet, and they roughed Georgia up for all four quarters, but ultimately, they fell short 19-13.
That may be telling because even though the Aggies have four losses, they play well in big moments. LSU doesn't have an easy win with this squad, and Mond will look to hit up Jhamon Ausbon on the outside.
The Dream Season For LSU
Just about everything has broken right for the LSU Tigers this season. They have taken the reins of the SEC from the Alabama Crimson Tide, and control their destiny in pursuit of a national championship.
Joe Burrow is going to be the Heisman Trophy winner barring a catastrophic performance, and everything about the Tigers offense is scary.
Clyde Edwards-Helaire has taken his game to another level at running back and adds a scary, newfound wrinkle to the attack.
LSU has two absolute studs on the outside for Burrow to hook up with. Terrence Marshall, who missed the first couple of games due to injury, is back and has been an absolute nightmare for defenses to cover. Jamarr Chase is on the other side of the field and has been just as dominant.
If there is one "hole" in LSU, it is its defense. The Tigers' defense is by no means bad, but it can be inconsistent at times. The Tigers struggle to get stops and allow their opponents to get into a shootout with their offense.
This was telling in the Ole Miss game because the Rebels had no business putting up 37 points on the Tigers.
Either way, the offense carries them past their defensive woes.
Betting Preview
LSU is drawing the favorite in this game at -16.5. The Tigers offense has looked unstoppable all season long and has the chance to put up a monster amount of points at any game.
Texas A&M will struggle to hold back all of the weapons LSU has to offer, but I think the final score will wind up being close. I'm taking LSU in this game, and they will complete their dream season undefeated.
Make sure you lock in your bets before Saturday night's kickoff!
Check back for weekly Free NFL & NCAA Football picks and hit us up over on Twitter @Gamble_usa
Relevant news