Though many may not be aware, football has a long and rich history in the Garden State, with roots dating back to the turn of the 20th century.
In the early 1890s, professional football saw its inception in the state as many New Jersey clubs began compensating key players. In 1902, the Orange Athletic Club faced off against the Syracuse Athletic Club in the final game of the first so-called professional world series, losing 36–0. Thus, no one can say that Jersey is not a football state, even though the Giants and the Jets have New York in front of their names.
2 x Risk-Free Bets Up To $1,500
21+. T&C Apply
21+. T&C Apply
Multiple bet types
Huge range of sports & markets
Before the 1970s, New Jersey had an active semi-pro scene, with its history in professional football being virtually non-existent. In those days, Jersey fans had to cross into their neighboring state to see NFL stars play. However, that didn't mean that quality players didn't come out of NJ before that era. Lou Creekmur, Elvin Bethea, Dave Robinson, Jim Ringo, anyone?
All that said, no one can deny that after the 1970s, as the sport grew in popularity, so did the number of legendary players to come out of this Northeastern state. Seeing as there is much debate as to who are the best current NFL players from NJ, we thought it would be interesting to look back and select five names that we believe should be one any fan's top all-time list.
NJ has always been known for being at the top of the industry for many forms of entertainment, not just NJ sports betting or online casino, but in producing some of the best football talents. If you want to back your team, then why not have a look at what the best NFL betting apps are.
Franco Harris
If you ask most experts – Who is New Jersey's all-time greatest NFL player? We bet that most would respond with Franco Harrah's, which is his famous tongue-in-cheek nickname, attained due to his employment by Harrah's Entertainment, the casino brand. Gambling association aside, Franco is a bonafide legend of the sport. He is a four-time Super Bowl champion, a one-time Super Bowl MVP, and NFL's 1976 Man of the Year. In 1990, he got inducted into the Pro Football Hall of Fame due to his accomplishments stemming from his twelve-year NFL career. He currently ranks 15th all-time when it comes to rushing yards.
Joe Theismann
Born in New Brunswick in 1949 and raised in South River, Captain Bubbly left an indelible mark on the Washington Redskins franchise by spending twelve seasons with the team and becoming a Super Bowl champion with them in 1982. He won the MV award the following year and received a career-ending injury two years after that. He continues being part of the sport through his sportscaster work. In 2003, he got inducted into the College Football Hall of Fame. However, he remains the only quarterback to win a Super Bowl and a League MVP award and not be in the Pro Football Hall of Fame.
Greg Olsen
Probably a controversial choice to rank Olsen among the best ever NFL players from New Jersey, but we believe that he deserves the honor. Born in Paterson and raised in Wayne, the dictator of the huddle became a First-Team All-American as a High-School senior in 2002. He enrolled at the University of Notre Dame but left to play for the Miami Hurricanes. In 2007, the Chicago Bears drafted him in the first round. His career highlights are three Pro-Bowls and making the second All-Pro team twice. With 739 career receptions and 60 touchdowns, he has made the Garden State proud.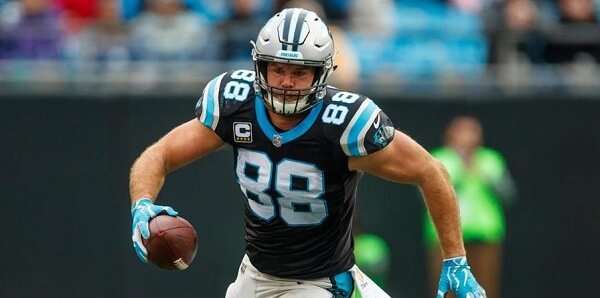 Irving Fryar
The Reverend is the first wide receiver to get drafted #1 overall in the league. He earned his nickname by becoming an ordained minister and a place on our list by catching the most touchdown passes out of any Jersey player. In his seventeen years of pro football, Fryar caught 84 balls in the end zone. During his illustrious career, he made five Pro-Bowl appearances and played for the Patriots, Dolphins, Eagles, and Redskins. The 255 times he walked out on an NFL field are the most ever for any New Jersey-born player.
Neil O'Donnell
Though he didn't become the savior that Jets fans expected him to be, when in 1996, he signed a five-year $25 million contract, and the team went 0-6 in his first season, he still had more than a decent NFL career. The Maryland native played college football at the University of Maryland and finished his college career with 26 touchdown passes before getting drafted by the Steelers in 1990. He changed four NFL teams during his fourteen-season tenure in the league and made one Pro-Bowl appearance in 1992.
Do you agree with our top 5 NJ players to play in the NFL? Let us know your thoughts and drop us a tweet @Gamble_USA