Three NBA Franchises Now Playing Ball With DraftKings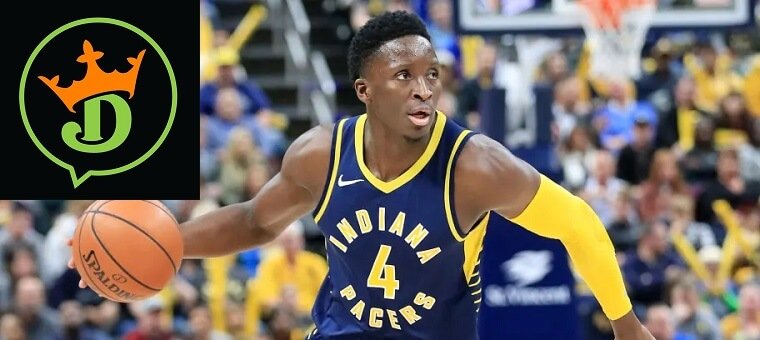 DraftKings has inked new partnership deals with three NBA franchises, helping the pro basketball league to capitalize on legal sports wagers.
The Boston Celtics, the Indiana Pacers, and the Philadelphia 76ers all named DraftKings as an official partner last week, although the relationship between the operator and NBA dates back several years.
Back in 2015, DraftKings signed up two NBA teams – the Golden State Warriors and the Sacramento Kings – and has since moved forward with additional deals to tighten the relationship further.
Last November the two entities announced a multi-year deal to make DraftKings an official sports betting partner, effective for the 2019-20 season.
At the time, a spokesperson for the operator cited live betting on the NBA as being more prevalent on the sportsbook than for any other sport.
"Live betting, a critical component of sports betting technology and the future of the industry, is more prevalent on DraftKings Sportsbook for the NBA than any other sport," he said. "Over 70 percent of NBA bettors have live-wagered, while nearly 45 percent of NBA handle has come from in-play bets," he said.
The latest deals include the use of official team marks and logos, in addition to various branding options, and it's no surprise DraftKings is excited about the forthcoming opportunities.
"It is with great enthusiasm that we announce these multi-year partnerships with the Celtics, 76ers, and Pacers. The NBA represents DraftKings' second-most-popular sport, and we are thrilled to offer our fanbase a continually unique and authentic sports gaming product.  Each of these partnerships [represents] a common strategy and stress the importance NBA teams and DraftKings place on fan engagement and overall customer experience," Ezra Kucharz, the company's chief business officer, said in an announcement.
DraftKings-Indiana Pacers
DraftKings' agreement with the Pacers sees the operator become both the team's official sports betting partner and daily fantasy sports provider.
"We are delighted to welcome DraftKings into the Indiana Pacers' family of corporate partnerships.  With prominent in-arena presence, presenting sponsorship of our popular post-game show hosted by Eddie White and other elements, our fans are certain to understand the strength and value of this partnership for both of us. It truly is a win-win," said Pacers Chief Operating Officer Rick Fuson.
Legal sports betting Indiana began last September and the industry has boomed since, with DraftKings one of the first to market and quickly grabbing a significant share. According to official figures, around $4 out of every $10 wagered is with the operator.
DraftKings-Philadelphia 76ers
DraftKings deal with the 76ers sees the operator become the exclusive and official daily fantasy partner, in addition to a sportsbook and online casino partner of the franchise.
"Today marks a new, exciting chapter in the long-standing relationship between two of the sports industry's most innovative companies, whose dedication to fan experience consistently raises the bar in the sports partnership space.  The 76ers are proud to continue to stand alongside DraftKings as we together create and amplify expanded and differentiated opportunities for fans to engage with our team, dynamic players and sport," said 76ers President Chris Heck.
As we've seen in Indiana, legal sports betting in Philadelphia has exploded since mobile operations began last May. Nearly nine out of every ten bets are placed digitally and DraftKings, which only went live last November, is posting some impressive numbers as it plays catch up on arch-rival FanDuel.
DraftKings-Boston Celtics
The agreement with the Celtics is different to the other deals as Massachusetts, which the franchise calls home, has yet to legalize sports betting. For that reason, DraftKings will focus solely on daily fantasy sports, becoming the team's official partner.
"Daily fantasy sports players are amongst the most highly engaged NBA fans," said Celtics team president Rich Gotham. "We're happy to collaborate with our hometown partner, DraftKings, to serve Celtics fans through a variety of group activations and game day elements, including the presentation of our starting lineup across social channels."
Hopes that Massachusetts could soon launch legal sports betting are higher now than at any other time since the Supreme Court's repeal of PASPA in May 2018, with a state legislative committee tasked with considering the issue expected to make a decision in the coming months.
Boston-based DraftKings has been lobbying hard for the introduction of online/mobile betting in its home state, putting its considerable weight behind a social media campaign, as well increasing its public relations. The deal with the Celtics certainly won't harm in that respect.
Bet on the NBA with free money
DraftKings' users clearly like betting on the NBA, with around 40% having placed a wager on a game, and new users can wager for free by taking advantage of the sportsbook's juicy sign up bonus worth up to $1,000. This is comprised of a deposit bonus and a first bet match, each up to $500. Click here to get yours.
While you can view DraftKings betting lines and receive exclusive offers from anywhere in the U.S., you can only wager if located inside five states currently: New Jersey, West Virginia, Indiana, Pennsylvania and New Hampshire.
Come and follow us over on Twitter @Gamble_usa for more legal sports betting news across the US.
Relevant news