ThriveFantasy Review
In the bustling industry of daily fantasy sports platforms, ThriveFantasy emerges as a dynamic contender, challenging the conventions of traditional DFS platforms. Founded in 2016 and headquartered in the vibrant city of New York, our ThriveFantasy review aims to put the service to the test.
Instead of the conventional DFS model of salary-cap-driven roster building, ThriveFantasy invites users to predict whether top-tier athletes will exceed or fall short of specific stat lines, with points earned based on prediction accuracy. Distinguishing itself with lower contest rake percentages and competitive payouts, ThriveFantasy stands out in the DFS arena.
What is ThriveFantasy?
ThriveFantasy, led by CEO Adam Weinstein since its 2016 inception, hails from New York and is carving a niche in the daily fantasy sports realm. While it may not carry the same heavyweight reputation or financial backing as some of the daily fantasy sports giants, ThriveFantasy is turning heads with its distinctive twist on fantasy sports.
In contrast to the conventional daily fantasy sports model of constructing lineups within salary caps, ThriveFantasy flips the script. Here, your mission is to predict whether top-tier athletes will surpass or fall short of specific stat lines, with your points contingent on the accuracy of these predictions. This streamlined approach appeals to newcomers who crave simplicity over complex roster analysis.
What sets ThriveFantasy apart is its lower 10% contest rake and competitive payouts, particularly for 2, 3, and 4-pick entries. It's also a rarity in the daily fantasy sports landscape by including eSports events in its offerings.
The true game-changer is ThriveFantasy's over/under prop-based format, where constructing a lineup is devoid of salary constraints. Instead, it's all about forecasting stats and reaping rewards based on your precision, introducing an exhilarating risk-reward element.
ThriveFantasy Deposit Bonus And Promotions
ThriveFantasy, like many sports betting firms, employs a powerful strategy to entice users onto its daily fantasy sports platform – offering a generous welcome bonus of course. With ThriveFantasy, new users can enjoy a 100% first deposit match, which means their initial deposit can double, offering up to $250 in bonus funds.

You won't be able to withdraw funds after receiving your deposit match bonus. To fully unlock your deposit bonus, users must meet a 4x playthrough requirement, meaning they need to wager four times the deposit bonus amount. The deposit bonus also has a 45-day expiry period, emphasizing the need to use it promptly.
ThriveFantasy also offers "pending bonuses" to users that cannot be immediately withdrawn or used. Instead, users earn these bonuses gradually by participating in paid contests. To make these bonuses accessible, users must convert them into real money credits through engagement in real money contests, following specific terms and conditions. The credits obtained from bonuses are primarily intended for entering contests on ThriveFantasy and can typically be withdrawn only after being used for at least one contest.
How Does ThriveFantasy Work?
You'll choose from a selection of over/under lines (typically 5 to 10) focusing on a smaller group of superstar athletes (usually 10 to 20). Adding an exciting twist, you must also pick two ICE (in case of emergency) selections, which come into play if one of your chosen athletes is unexpectedly ruled out.
Each prop line in ThriveFantasy is assigned points based on its perceived probability of success. The more likely a prop is to occur, the fewer points it carries, while less probable outcomes offer more fantasy points.
After the contest concludes, your fantasy points are tallied, determining your rankings and payout. Every ThriveFantasy contest is broken down into three different subtypes based on the number of opponents you'll be facing, each with distinct characteristics: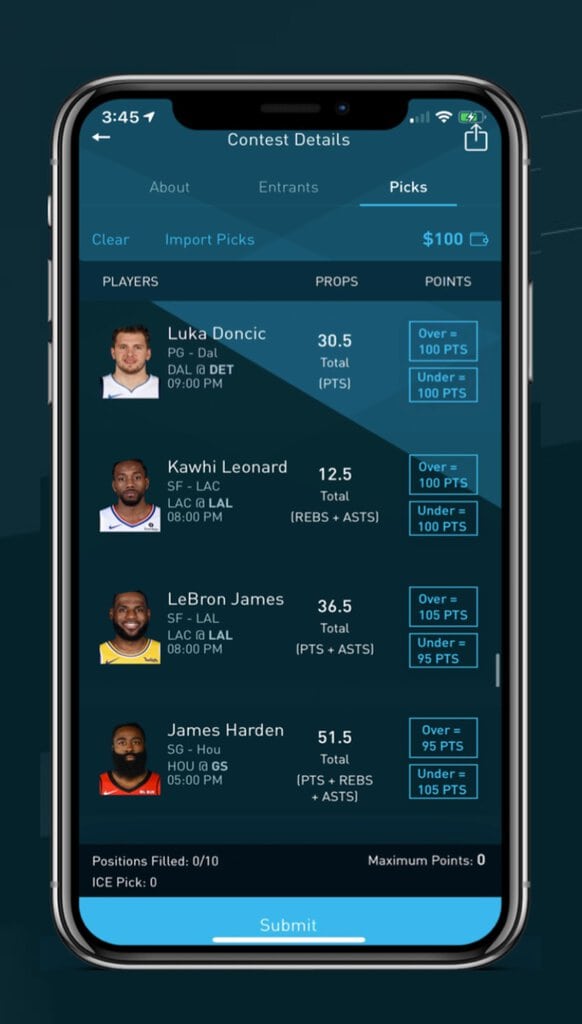 Featured: At ThriveFantasy, the premier fantasy contests bear the unmistakable "Featured" emblem. These events shine with the most substantial prize pools, often soaring to $25k or beyond, making them a top attraction for participants. With a capacity to host up to 1,450 entries, the competition is fierce. While the average entry fee hovers around $20, it's worth noting that these contests are a real payday for winners, with payouts extending to the top 300 participants. What's more, these contests are often Guaranteed Prize Pools (GPPs), ensuring that prize money flows, regardless of the turnout.
Tournaments/Leagues: While not as grand as the "Featured" events, ThriveFantasy's tournaments and leagues offer their own exciting experiences. These contests feature more modest prize pools, ranging from $20 to $500, making them accessible to a broader audience. Entry fees are also budget-friendly, often as low as $10. But here's where the excitement kicks in — ThriveFantasy occasionally adds some spice with freerolls and no-rake tournaments, providing players with even more ways to enjoy the action.
Head-to-Head: You guessed it, this format is a one-on-one showdown where the victor claims the entire pot.
ThriveFantasy Contests
In the realm of daily fantasy sports, ThriveFantasy stands out by offering more than the typical daily fantasy sports platforms. It goes beyond the conventional model where users simply make picks against the house.
ThriveFantasy elevates the game by introducing Player vs. Player contests, allowing users to choose between classic prop bets or immerse themselves in competitive matchups. This unique twist adds an extra layer of excitement to the fantasy sports experience.
Now, let's explore some of the popular tournaments you can expect on this innovative platform:

The Traditional Contests
When it comes to Traditional Contests, the entry fees vary, spanning from as low as $1 to a high of $2,000 per contest. The contest requirements are diverse, with some demanding a minimum of two participants and others accommodating up to 55 players.
Versus Contests
In Versus contests, your mission is to navigate a selection of prop lines and amass more points than your opponents. However, the twist here is that instead of simply picking the over/under line for a specific player, you must decide which of the two featured players will outperform the other in the pre-selected statistical category.
Prop Lobby Games
In these engaging fantasy contests, you're not competing against fellow players but rather against the house itself. Your task is to construct a 2 to 4-leg parlay, cherry-picking from a carefully curated list of athletes spanning various sports. The more selections you successfully predict, the larger your potential payout becomes. Buy-ins for these contests range from as low as $1 to a more daring $200.
Here's the deal-breaker though — to clinch victory in the contest, every leg on your ticket must hit the mark. Essentially, this format mirrors the prop parlay betting system.
Nail 2 out of 2 correctly, and you'll scoop 3.6 times your entry amount.
Successfully predict 3 out of 3, and you'll secure a solid 6.2 times your entry amount.
Ace all 4 out of 4, and you'll celebrate an impressive 11 times your entry amount.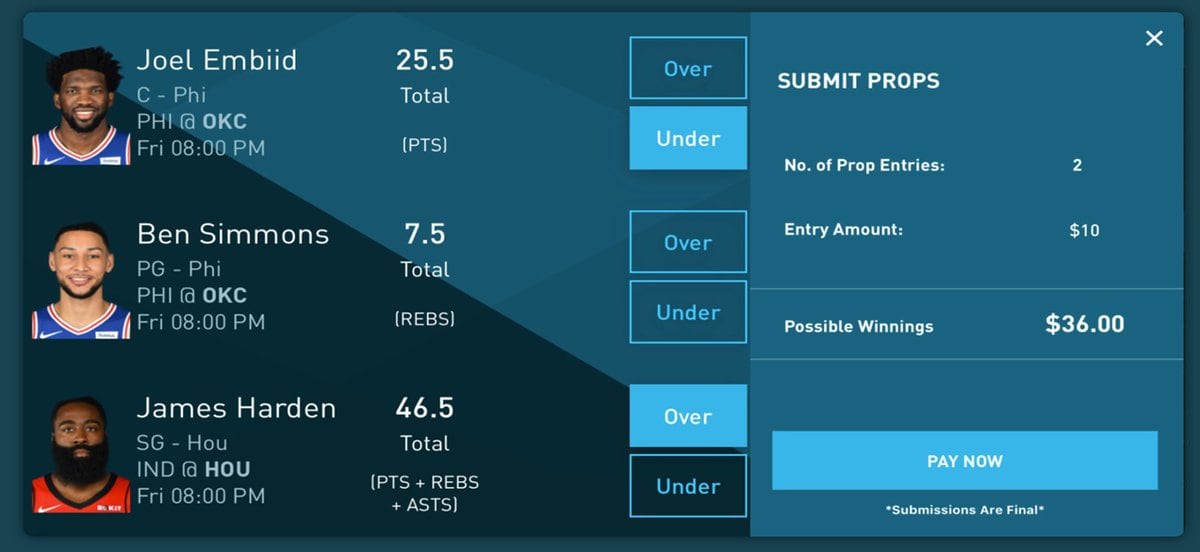 ThriveFantasy Betting Markets & Sports
ThriveFantasy is a sports and esports haven that caters to daily fantasy sports fans of all kinds. While the largest prize pools are reserved for NFL enthusiasts, the daily fantasy sports platform offers an extensive array of options:
NBA
MLB
Soccer
Golf
AUDL
Cricket
CSGO
League of Legends (LoL)
Overwatch
Dota 2
VALORANT
Hockey
UFC
Battlegrounds
Getting Started
Starting your journey with ThriveFantasy is a straightforward process, designed to get you into the action quickly. To begin, you can visit the official ThriveFantasy website or download their app, available on both the Apple Store and Google Play Store. Once you're on the platform, click on the "Sign Up" button to commence the registration process.

Here, you'll need to provide the required information. This includes choosing a username, setting a password, specifying your email address, sharing the last four digits of your Social Security Number, and entering your date of birth. Once you've completed these steps, it's time to make your initial deposit. You can choose your preferred payment method, follow the prompts, and seize your ThriveFantasy deposit match bonus
Congratulations, you have a ThriveFantasy account and are now ready to dive into the world of ThriveFantasy. You can navigate to the contest lobby and explore the various contests and games the platform has to offer.
ThriveFantasy App
In the modern era, a user-friendly interface and exceptional usability are the expectations for any operator. The ThriveFantasy app has indeed excelled in this regard, earning praise for delivering an engaging and user-friendly experience to daily fantasy sports enthusiasts.
Accessible on both the Apple Store and Google Play Store, the ThriveFantasy app boasts a sleek design with a tasteful dark blue theme. Navigating the app is a breeze, thanks to its well-thought-out layout. Critical sections are prominently labeled, and the menu structure is intuitively organized, minimizing the time spent searching for what you need and maximizing your enjoyment of the game.
For newcomers to the world of daily fantasy sports or those looking to familiarize themselves with ThriveFantasy in particular, a helpful resource awaits at the bottom of the home screen: a YouTube tutorial. This tutorial proves highly beneficial for navigating the app and placing bets with confidence.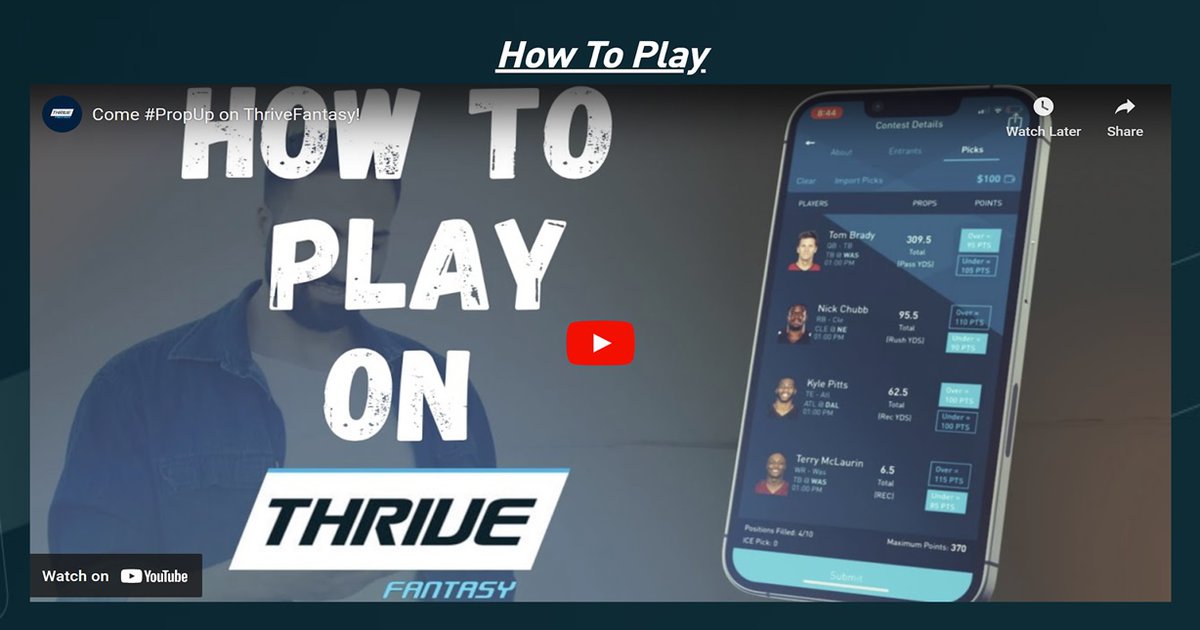 In conclusion, ThriveFantasy's dedication to inclusivity extends to the design of its app. It caters to a diverse user base, ensuring that individuals of all experience levels and backgrounds can fully savor the daily fantasy sports experience.
Banking Options
When it comes to participating in sportsbooks or daily fantasy sports platforms, one of the top priorities is ensuring that payment processing is both swift and secure. Our thorough evaluation of ThriveFantasy delved into the various payment methods available and the speed at which you can withdraw your earnings.
Currently, ThriveFantasy offers multiple options for making deposits, including credit cards, PayPal, and e-checks, with a maximum deposit limit of $1000 in place.
Withdrawals are just as straightforward and efficient. ThriveFantasy has set a minimum withdrawal request amount of $20. To initiate a withdrawal, users can choose between PayPal, e-checks, or utilize the "Prize out" feature, which not only provides an instant gift card but also includes a bonus incentive. It's important to note that withdrawals from ThriveFantasy typically take between 24 and 72 hours to process.
While ThriveFantasy offers a solid array of payment methods, we want to maintain full transparency. It's worth mentioning that its selection may not be as extensive as some of the larger operators in the industry. However, should ThriveFantasy decide to expand its range of payment methods in the future, we'll update this page with the latest details.
Customer Support
Customer support is a crucial aspect of any online platform, and ThriveFantasy offers various channels for users to reach out when they need assistance. However, there are mixed opinions and room for improvement according to ThriveFantasy reviews.
One of the primary ways to contact ThriveFantasy's support team is through email at admin@thrivefantasy.com. This option is suitable for non-urgent inquiries and provides a direct line of communication. Users can expect a response within 24 hours, ensuring that their concerns are addressed, unfortunately not in real-time.
Additionally, ThriveFantasy maintains an active presence on multiple social media platforms, including Twitter, Facebook, TikTok, Instagram, and Discord. This is where users can engage with the team and seek assistance. However, it's important to note that the platform doesn't specify its hours of service on these channels.
Despite these communication options, there are notable limitations. ThriveFantasy lacks live chat support, which is typically a preferred method for many users seeking immediate assistance. Moreover, the daily fantasy sports platform doesn't provide clear information about response times, leaving users uncertain about when they can expect a resolution to their inquiries.
While the email contact may be sufficient for most players and the active social media presence is a plus, there's room for improvement in enhancing customer service through features like live chat or phone assistance. Providing more transparency regarding response times would also enhance the overall customer support experience.
Is ThriveFantsy Safe?
When considering the legitimacy and security of ThriveFantasy, it's important to delve into the platform's licensing and security measures. While ThriveFantasy primarily offers fantasy sports, which have different licensing requirements than regular sports betting platforms, it has established affiliations with reputable organizations such as the Jacksonville Jaguars and the LA Chargers. These affiliations contribute to its overall trustworthiness and legitimacy.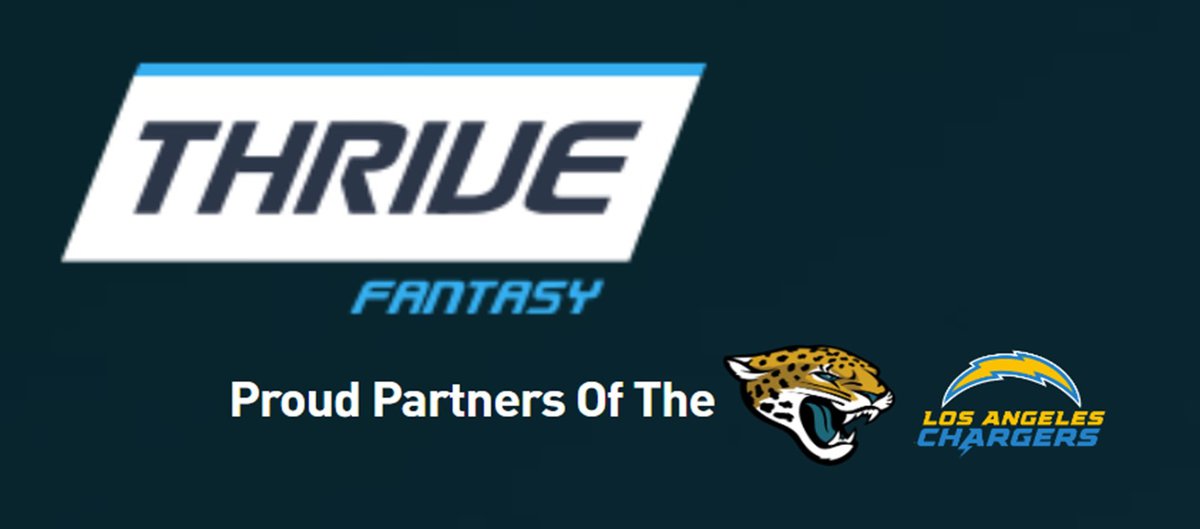 ThriveFantasy boasts a user base numbering in the millions, and there have been few, if any, significant complaints or reports of unethical practices associated with the platform. This track record reinforces the notion that ThriveFantasy is indeed a legitimate platform.
Regarding security, ThriveFantasy has implemented various protective measures, including comprehensive SSL encryption for its website and mandatory email verification, and enforcing secure password choices. Although some ThriveFantasy reviews might advocate for additional security protocols, it's noteworthy that the platform has not suffered significant security breaches.
In Which States Is ThriveFantasy Legal?
In the United States, gambling laws exhibit significant variation from one state to another. This means that while certain states might permit online casino gambling, they may not extend the same allowance to online sports betting or daily fantasy sports.
At present, ThriveFantasy has obtained legal authorization to offer its services in 33 states across the United States. These states include:
Alaska
Arkansas
California
Colorado
Connecticut
Florida
Georgia
Illinois
Kansas
Kentucky
Maine
Maryland
Massachusetts
Michigan
Minnesota
Nebraska
New Hampshire
New Jersey
New Mexico
North Carolina
North Dakota
Ohio
Oklahoma
Oregon
Rhode Island
South Carolina
South Dakota
Texas
Utah
West Virginia
Wisconsin
Wyoming
As the legal landscape for DFS can undergo changes over time, it's advisable to periodically review the rules that apply to your specific location. Staying informed about these legal developments ensures that you have a clear understanding of the current status of DFS within your jurisdiction.
Is ThriveFantasy Legit?
ThriveFantasy has built a robust and legitimate presence in the daily fantasy sports landscape. Established in 2016, it has maintained a reputation as a trusted platform throughout its history.
Crucially, ThriveFantasy strictly operates within the boundaries of the law, limiting its services to jurisdictions where DFS is legally permitted. This unwavering commitment to legal compliance underscores the platform's authenticity and reliability.
Daily fantasy sports enthusiasts can confidently engage in real money contests, assured that ThriveFantasy not only complies with legal regulations but also possesses a solid and reputable track record in the industry.
The History of ThriveFantasy
Founded in 2016 in New York, ThriveFantasy has been steadily making its mark in the daily fantasy sports arena. While it currently offers contests in several sports and esports, it aims to expand further, promising "more titles coming soon."
Distinguishing itself with prop-based contests, ThriveFantasy competes with giants like FanDuel and DraftKings for a share of the daily fantasy sports market.
In September 2021, ThriveFantasy secured $3 million in funding to support its growth. Notably, it has partnered with NFL teams, the Los Angeles Chargers, and Jacksonville Jaguars, solidifying its status as their official daily fantasy sports partner, and enhancing its brand recognition and credibility in the daily fantasy sports world.
Is ThriveFantasy Worth Trying?
ThriveFantasy may be considered a newcomer in comparison to other daily fantasy sports operators. However, it has swiftly built a strong reputation as one of the premier daily fantasy sports betting platforms in the United States.
Our collective ThriveFantasy reviews unanimously decided that this is a reliable operator offering a diverse range of distinctive daily fantasy betting options. What sets ThriveFantasy apart are its two primary betting methods: prop selections and contests.
With prop selections, you can choose up to four props, and your potential winnings receive a multiplier if your bets prove accurate. On the other hand, contest-based betting offers prop bets, head-to-head matchups, or participation in guaranteed prize pools. Contest odds at ThriveFantasy are determined by points – fewer points translate to lower odds. This unique approach diverges from traditional sportsbooks, making it particularly appealing to those seeking unconventional betting experiences.
Furthermore, the ThriveFantasy app simplifies and enhances the betting process, making it a valuable addition for customers.
While we acknowledge there is room for improvement, particularly in customer service (such as introducing live chat) and expanding payment options, ThriveFantasy remains an outstanding operator. If you sign up today, you'll receive a 100% deposit bonus up to $250.

100% Deposit Bonus up to $250
Get Bonus