Tommy Lasorda passes away aged 93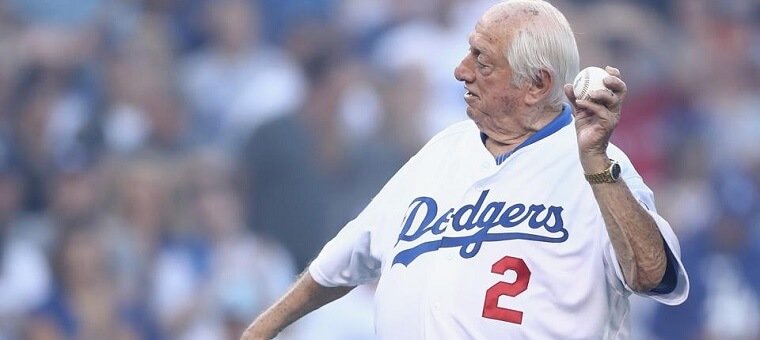 Hall of Fame manager Tommy Lasorda has sadly passed away at the age of 93.
Lasorda led the Los Angeles Dodgers to two World Series Championships and spent a total of 71 years with the franchise.
The Dodgers made the official announcement on Friday, announcing that the fiery Lasorda had suffered heart failure while resting at his home in Fullerton, Calif. Resuscitation efforts were made, but Lasorda was ultimately pronounced dead at the hospital around 11 p.m. Thursday.
Lasorda had been hospitalized since Nov. 8 with heart problems but was able to return home on Tuesday, just days before his death. Heart problems plagued Lasorda throughout his life, and it was a heart attack in 1996 that ended his managerial career.


21+. T&C Apply
21+. T&C Apply
The final Dodgers game that Lasorda watched in person was the Game 6 victory over the Tampa Bay Rays that gave the team its first World Series title since 1988. Lasorda has served as a special adviser with the Dodgers over the last 14 years and has been a frequent spectator at home games.
After his playing career was over, Lasorda took on a number of various roles with his beloved Dodgers. He began as a scout, then started working as a third-base coach before eventually taking over the team as manager. He finished his career as an executive, but his best work was in the dugout.
Lasorda posted a career 1,599-1,439 record as manager of the Dodgers and led the team to World Series titles in 1981 and 1988. He served as the team's manager from 1977 to 1996.
During that span, he guided the Dodgers to eight division titles and four National League pennants. In 1997, he was elected to the Hall of Fame as manager.
In 2000, Lasorda guided Team USA to an Olympic gold medal at the Sydney Olympics.
Minor Playing Career
While Lasorda had a Hall of Fame career as a manager, he didn't enjoy as much success while pitching in the Major Leagues. For his career, Lasorda went just 0-4 with a 6.48 earned run average during his MLB career that lasted from 1954 to 1956.
He signed with the Philadelphia Phillies as a free agent in 1945 but then left baseball to serve in the Army in 1946-1947. After returning to baseball in 1948, Lasorda once struck out 25 batters in a 15-inning game at the Minor League level.
That performance earned the attention of the Brooklyn Dodgers, who acquired Lasorda after drafting him from the Phillies. He made his Major League debut on Aug. 5, 1954, with the Brooklyn Dodgers.
He earned a World Series ring with the Dodgers in 1955 but did not appear at the Major League level during that season. Lasorda bounced around between a few teams over the next few seasons before eventually returning to the Dodgers organization in 1957.
His most important stop came with the Denver Bears, and that is where he met manager Ralph Houk. Lasorda would call Houk his role model, and it was that relationship that helped mold Lasorda into the Hall of Fame manager with the Dodgers.
For more legal casino and sports betting news across the US, follow us on twitter @Gamble_usa for the latest news and offers.
Relevant news