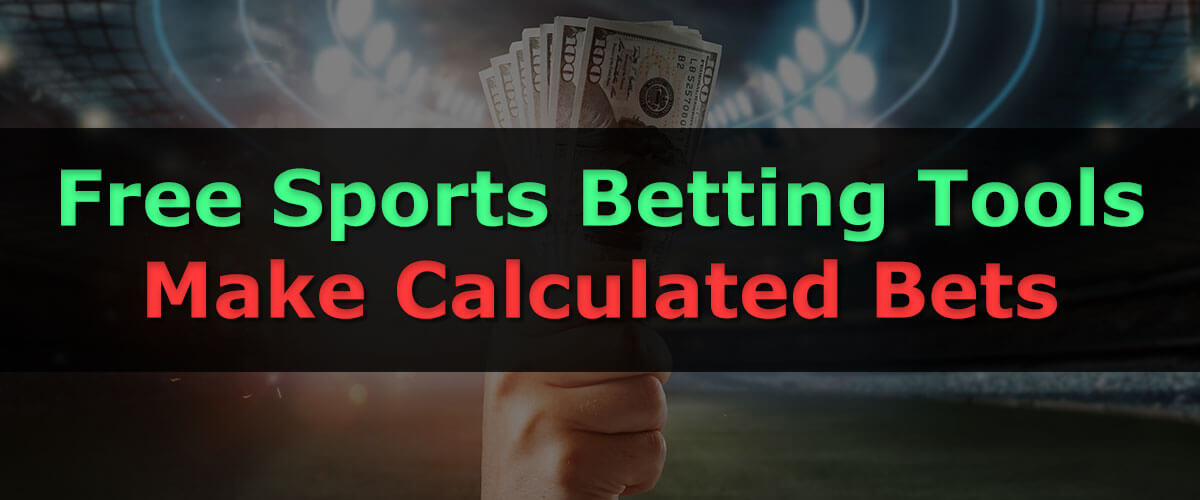 Sports bettors and handicappers are always looking for an edge to beat the book, and using stats and betting tools is one way of doing that.
Another way is to look out for sports betting tools and betting odds calculators on multiple sportsbooks like FanDuel, BetMGM, and DraftKings Sportsbook. These can give you an edge and make your wagering more enjoyable and profitable.
The Gamble-USA website has built some great free calculators and sports betting tools to help you with various aspects of your online sports betting journey.
Risk Free Bet Calculator
Lots of sportsbooks offer bonuses for new customers, and these can be risk-free bets, matched deposit bonuses, free bet credits, or tokens.
Whatever offer you choose, you'll want to try and gain a profit from your free wager. This is where strategy and various sports betting tools like a risk-free bet calculator come into play.
Let's say you sign up for the BetMGM sportsbook and get a $100 bonus bet. How can you use that to try and make a successful bet? Let's use the English soccer match below as an example.

With our $100 bonus bet, we could bet on the outsider Nottingham Forest at American odds of +600 which would give us a return of $700 which would be a net amount of $600 as we would not receive the bonus bet amount in returns.
Now if we can find another sportsbook that is offering Manchester Utd in the same match at -200 on the moneyline, and we place a bet for $400 we are guaranteeing a return of $600 on our hedge bet.
This means we have staked an investment of $500 in real cash, so a win for either team in this game would give us a net profit from our bonus bet of $100.
Parlay Calculator
Using our parlay bet calculator, you can quickly work out the return on your winning parlay bets. All you need to do is add in the odds of your winning parlay and our helpful calculator will instantly show how much you have won.
As you can see above, we simply enter the odds (110, 140 and 160) for our three-game parlay bet in our parlay calculator. Our bet amount is ten bucks for potential winnings of $121.04 and a total return of $131.04.
You can use this parlay odds calculator tool to calculate the payout from two to more than a dozen selections on a parlay.
Hedge Betting Calculator
Hedge betting is an advanced strategy used by pro punters and handicappers to either take small guaranteed profits or manage risk.
For fun bettors, it might not be the right strategy, but let's explain how the hedge betting calculator works.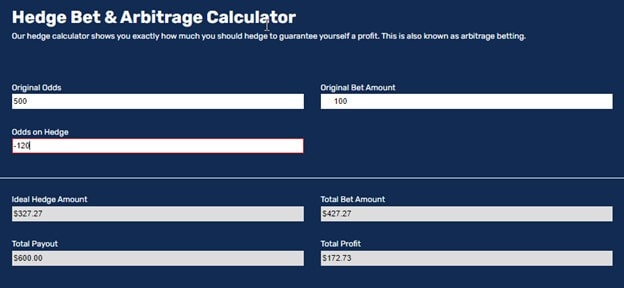 So in the example, above we have our original odds of + 500 at an original stake of $100.
We may have bet on the Kansas City Chiefs to win the Superbowl early in the season at 5/1 (+500), but now, the Chiefs have reached the Superbowl final against the Philadelphia Eagles who are the favorites at -120.
So our original bet of $100 @ +500 would give us a total payout of $600.
We can now place a bet of $327.27 @ -120 on the Eagles which would give us the same payout of $600.
So now we have hedged our original bet. We have now laid out $427.27 but are guaranteed a return of $600 whichever of the two teams wins. This gives us a guaranteed return of $172.73 whatever the outcome. And a no-lose bet.
Gambling Winnings Tax Calculator
It is important to note that the IRS places a tax on gambling winnings on sports betting wagers, and you should be aware of how this works. The tax you pay on bets that produce winnings will depend on a few things, including which state you are resident in, your annual income, whether you are married or single, and how much your winnings were.
You can use the sports betting tools here at the Gamble-USA site to determine the net amount you'll be getting after you win a bet.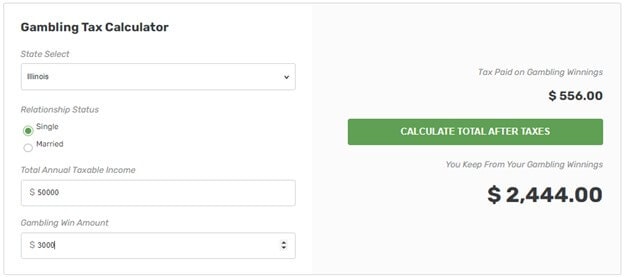 So the example above uses somebody based in Illinois who is single, has an annual income of $50,000, and has been lucky enough to win $3,000 while sports betting.
As you see, the amount of tax payable is $556, or a tax in percentage terms of 18.55%
Matched Betting Calculator
Matched betting represents the strategy in which you place two single bets on the same betting market, but with different odds and stakes. The proper use of this strategy can lead to consistent profits, but the calculations needed to make these bets profitable can be headache-inducing. Thankfully, this is where our matched betting calculator comes in, doing all the heavy lifting for you while you focus on finding the appropriate markets.
Betting Tools Summary
You should find each of these betting tools easy enough to use, and they can help you in supporting and managing your sports betting and save you some time.
The risk-free bet calculator helps you make potential income from bonus bets.
The parlay calculator helps you quickly calculate betting options and potential winnings on various sports events.
The hedge betting and

arbitrage calculator

helps you manage risk or lock in a guaranteed win.
The gambling winnings tax calculator helps you to understand any income tax payable to the IRS.
You should also stay on top of our betting guides and news to inform your strategy based on market changes.