Gamble USA strives to improve your online gambling experience. We aim to help you play safely, make informed decisions when gambling, and increase your betting knowledge through our guides.
We adhere to strict editorial integrity; our content may contain links to products from our licensed & legal US partners.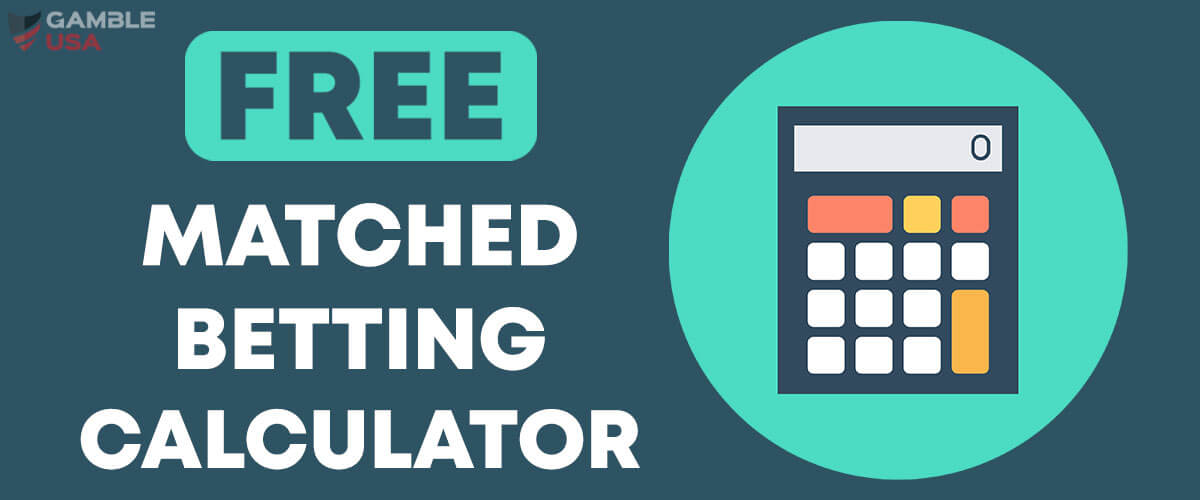 If you have ever wanted to try Matched Betting but felt it was too confusing, then here at Gamble USA we'll give you the skinny. A matched bet allows you to place a bet and win or break even whatever the result. A matched bet is in fact two single bets on the same market but at different odds and for different stakes.
The calculations around matched betting can be confusing, and that is where the Gamble USA matched betting calculator comes in to take away the headache of making calculations. It is your Swiss army knife that can be used to easily calculate the odds and stakes you need to make a bet like this profitable. This calculator is easy to use for a novice, as well as experienced bettors. You just put your mouse in each field. Add your odds and stakes and click the "calculate button
The math around this type of betting can be difficult to grasp, which is why we have built out this calculator to make it easy for you.
What is a Matched Betting Calculator and how does it work?
At Gamble USA, you can use this free matched betting calculator to profit from sportsbook welcome offers, bonus bets, odds boosts, and any other special promotions that give a free bet or cashback bets like parlay betting insurance. The calculator also helps you work out the potential returns if your free or bonus bet is a free bet where the stake is not returned, or a free bet where the stake is included in any returns.
The Gamble USA calculator also helps to calculate potential profit if you are adding a betting exchange into the equation, and making a lay bet to make a guaranteed profit.
You can use the tool to:
Automatically calculate profit margins on both normal and free bets with the click of a button.
Stop guessing and know exactly how much you need to place on both sides of the matched bet and at what odds.
Adjust your stake and odds quickly and easily so you have the knowledge you are placing your matched bet correctly.
See any amounts you'll win and lose on the back and lay side of the bet, and what your overall profit will be no matter what the result is.
Starting out with matched betting is a bit scary but very exciting, and it may be the case that you decide that you will never want to gamble again. Matched betting is about making small profits multiple times per day, and our sports betting guides and calculator are the tools you should be using to turn matched betting into your very own ATM.
Match Betting Example
This tool calculates a return based on two different scenarios. Let's explain this by using a table, then we'll go through a full guide and the mechanics of a matched bet further down the page.
Below we use a coin toss as a simple explanation using a $100 free bet. We'll use +100 back odds like a coin toss.
| | $100 stake on heads | $50 stake on tails | Profit |
| --- | --- | --- | --- |
| If HEADS is a winner | +$100 | -$50 | +$50 |
| If TAILS is a winner | $0 | +$50 | +$50 |
This is matched betting explained in its simplest form.
Who can use the Gamble-USA Free Matched Betting Calculator?
Anybody can use our calculator. It doesn't matter which state you are in. No state regulations are stopping you from using the calculator, but if you wish to place bets then you need to be physically located in a state that allows legalized sports betting.
Our calculator is a tool and is not used for placing wagers. You'll need to go to your favorite sportsbook to do that. Pick any of the following match betting sites:
Residents of all states can use this tool at no cost.
Is Matched Betting Legal In The USA?
The simple answer is YES.
Matched betting is just another form of sports betting. It is an advanced strategy, but using our calculator makes it a breeze to quickly check if you can back bet on one side and lay bet on the other side to make a guaranteed win on your stakes.
One of the key tips when doing matched betting is to make sure you get the best odds possible on both sides of the bet.
How To Use Bookmakers Welcome Offers and Bonuses in Matched Betting
Let us show you how match betting works by using bookmaker welcome and bonus offers to take advantage of this.
Gambling is taken out of the equation here, and we are focusing purely on math.
Using A Welcome Offer For Matched Betting
Let's say you have taken advantage of a $100 welcome offer from a sportsbook and you want to use matched betting to guarantee a profit from your bonus bet. Let's assume you are backing which team will score the first touchdown.
Now, you could just go ahead and wager on any sport or market and hope for the best, but you'd be relying on lady luck! Matched betting is all about locking in a guaranteed win no matter what the end result is. Remember, we are taking gambling and emotion out of the picture here.
Here you are simply covering any outcome on which team will score the initial touchdown.
So in the last Super Bowl final, The Chiefs may have been -125 to score first and the Chiefs may have also been -125 to score first.
| | $100 free bet stake on The Chiefs | $60 stake on The Eagles | Outcome |
| --- | --- | --- | --- |
| If Chiefs score First TD | +$80 profit | -$48 | +$32 profit |
| If Eagles score First TD | $0 | +$48 | +$48 profit |
So this example is guaranteeing a minimum $32 win profit from your free bets using our calculator.
Using A Bonus Offer And Free Bets For Matched Betting
Lots of the top bookmakers offer bonus bets. These could range from bet $25 get $25 to parlay insurance bonuses if one leg of your same game parlay loses.
They will match your initial stake with the same amount, except this time, if you use matched betting with your $25 bonus, you can guarantee a profit.
Using the same Super Bowl example where both teams odds are at -125 to score the first touchdown.
| | $25 free bet on The Chiefs | $18 bet on The Eagles | Outcome |
| --- | --- | --- | --- |
| If the Chiefs score First TD | +$20 profit | -$18 | +$2 profit |
| If the Eagles score First TD | $0 | +$20 profit | +$14.40 profit |
So in this example, you are guaranteeing a minimum $2 win profit from your free bet.
Of course, that is a tiny win, but our goal here is to open your eyes to the possibilities outside of standard sports betting.
How does back-and-lay betting work using betting exchanges like Betfair?
It is great to be able to use the matched betting strategies above.
Nonetheless, exchange betting, which is still not so popular because it is restricted to a handful of states, gives bettors a different type of opportunity.
The matched betting calculator app below shows how you can use matched betting in a back-and-lay scenario on a betting exchange like Prophet Exchange NJ.
Bonus Bet up to $250
First legal p2p sports betting exchange
Backed by Caesars
You simply enter the back stake and lay stake along with the odds, and the calculator will tell you if you have a profitable bet.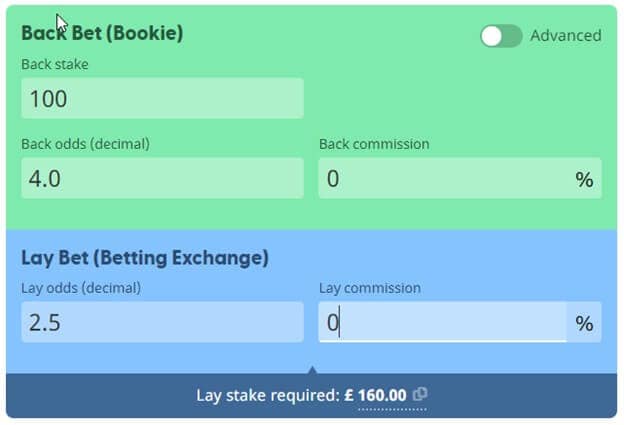 In the example above we are placing our back bet at decimal odds of 4.0 or +300 in US Odds, and at the same time we are placing a lay bet on an exchange like Betfair, Prophet, or Smarkets.
The first simple rule of matched betting is that you should back high and lay low.
In our example above we have made two wagers and here is how each one works and how we guarantee a profit of $60.
Bet 1 – Sportsbook Back Bet
We have placed a bet of $100.
So if our sportsbook bet wins we get a profit of $300 but we have to take into account we have to minus the loss from our lay bet which is a lay stake of $160 at lay odds of 2.5 +150 in US odds = $240.
That leaves us with a return on both bets of $60.
Bet 2 – Betting Exchange Lay Bet
So if our lay bet wins we get a profit of $160 but we have to take into account we have to minus the loss from our sportsbook bet which is $100.
That leaves us with a return on both bets of $60 whichever selection wins and whichever selection loses.
It does not matter what the result is, as long as you can use the Gamble-USA matched betting calculator, then you can calculate a stake for both wagers knowing you are getting a guaranteed profit in real money.
Similar Betting Tools
Dutching calculator
Arbitrage calculator
FAQ's
How much profit can I make from matched betting?
This really depends on the bet type and back or lay odds you get on both of your bets. Your aim is to make an equal profit whatever the result.
What is the Betfair betting exchange?
Betting on a betting exchange is also known as peer-to-peer betting, as you are not betting against the bookmaker but with another sports fan. As an example, if you fancy the Kansas City Chiefs to get beaten, then you can offer lay odds and a lay stake to somebody who does think they will win.
How can I set up a Betfair account?
Go to the site at Betfair.com and follow their simple sign-up process by clicking on the black "Join Now" button in the top right corner. Nonetheless, Betfair is yet to acquire a US license. Instead, you can use the Prophet Exchange promo code and have a similar experience.
Can I lay odds on horse racing?
Horse racing is very popular on betting exchanges and you can lay odds and offer a lay amount you are happy to lose. If the horse wins then you lose your lay stake, but if the horse loses, then the backer's bet loses, and then you are a winner.
What are the advanced modes on a matched betting calculator?
Betting calculators have advanced settings for different bet types. They not only calculate singles but also parlay and combination bets.
Why do Betting Exchanges charge a commission?
Betting exchanges do not charge a back or lay commission but do charge a commission on any winnings. They are not a betting app so take a small commission (normally around 2%) on any winnings you get. You could compare it to a rake on an online poker or online casino game.