Gamble USA strives to improve your online gambling experience. We aim to help you play safely, make informed decisions when gambling, and increase your betting knowledge through our guides.
We adhere to strict editorial integrity; our content may contain links to products from our licensed & legal US partners.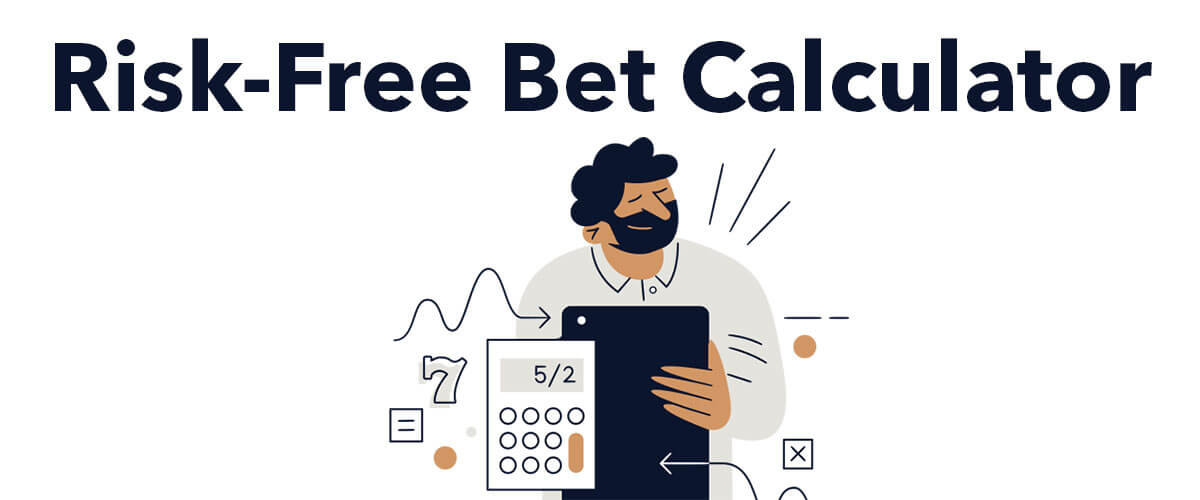 If you've made your way to this page, chances are you know what a risk free bet is. They're among the most common incentives for new players at US sportsbooks. Whether you play at DraftKings, FanDuel, or PointsBet, one or more free bet offers will be available. The free bet calculator, on the other hand, you may have heard of but are not privy to. This betting tool aims to maximize your guaranteed profit from using the free bet.
Free bets do not always bring profits. Your bet loses if your prediction falls short. Sure the free bet isn't your own money, but it's always more exciting when you actually win. Besides, you may have put down your own cash before you were rewarded with the risk free bet in the first place.
So how do you guarantee a profit? Bettors will always profit if they hedge their free bets wisely. Hedge betting is a type of arbitrage betting where you wager on both sides of a two-way market to ensure that you win a profit from one side if the other loses. While this would've been an advanced technique for seasoned bettors, the free bet calculator allows even novice bettors to benefit. With minimal effort, this tool will tell you the best amount to put down as a hedge bet to get the best payout.
Free Bet Calculator
Use our free bet calculator to see how much money you can guarantee yourself on a free play through hedging by betting the other side.
You have entered an invalid value
American odds must be greater than 100 or less than -100
If you don't want to hedge the amount above, you can enter a different amount in the following input to see how much you would win if your free bet wins and if your hedge bet wins. Just know that you may not be guaranteed a profit like you are in the scenario above.
Latest Risk-Free Bet Conversion Offers
How You Can Use Our Risk-Free Bet Calculator
Our risk free bet calculator is a free tool available for any bettor looking to get the best out of their free bet at the online sportsbook. It is super simple to use and requires no prior knowledge. Below, we explain all you have to do to begin using this tool:
Get a Risk-Free Bet
You need to claim a free play offer to use the free bet calculator. Luckily this is as easy as signing up with an online sportsbook operator. Risk free bets are often available for new customers who make their first deposit or place their first qualifying bet.
Select a Market to Bet On
Choose a market on which to bet. It should be a two-way market like the spread, total, or moneyline, then select the side to stake on. For moneylines, this can be either the underdog or the favorite. We recommend you go with the longer odds (the underdog).
Find a Hedge Bet
The next step is to find your lay bet or hedge bet. You need to place this second bet at a betting exchange or another sportsbook to take advantage of the difference in betting odds. Different operators often have slightly different odds values. This is because odds compilers may read the game differently, while some sportsbooks operate on lower margins. Some books simply make mistakes with the odds, leaving a loophole that smart bettors can take advantage of.
Calculate the Free Bet Conversion
The free bet conversion calculator works like a regular calculator. You enter figures to get the output. Luckily, all you have to do is punch in three figures that you find on the betting site:
Free bet amount
Free bet odds
Hedge bet odds
The tool will reveal the highest guaranteed profit you can win from both the free bet and the hedge bet. It will also indicate the dollar amount you should stake on the hedge line to achieve this outcome.
Examples of How Risk-Free Bet Conversion Works
Let's take, for example, a scenario where you have a $100 risk free bet, and you decide to take the sportsbook (X) up on odds of +300 on the New York Jets to defeat the New England Patriots.
Suppose you find odds of -205 on the Patriots at another sportsbook (Y). You can enter the figures into the calculator as follows:
Free bet amount – $100
Free bet odds – +300
Hedge bet odds – -205
According to the free play calculator, the ideal hedge amount is $201.64, and the real dollars obtained will be $98.36. This is what you win, whether the free bet wins or the hedge bet wins.
If the hedge bet wins, you get $98.36 in profits.
If the free bet wins, you get the free bet payout ($300) minus the amount lost on the hedge line ($201.64), which also equals $98.36 in profits.
Tips to Make Money with Risk-Free Bet Bonuses
The outcome of the free play calculator is only as good as the input. So the tips for earning the most money out of your free bet revolve around entering adequate figures. Below are the top tips when converting your risk free bets to real money:
Bet on Long Odds
The longer the odds, the greater the profit potential. Since a free play bet is sportsbook credit and not your own funds, you'll want to use it on the betting lines that bring the highest returns. Besides, the higher the free bet winnings, the more you have to hedge against.
Shop for the Best Odds to Hedge Against
When hedging your free bet, check that the sportsbook offers the best odds. You shouldn't just settle for the first operator you stumble upon. Instead, you can shop around various online sportsbooks to get the best value on the hedge line. You'll usually find the best value where the number on the plus odds is higher than the minus odds.
Check the Conversion Percentage
The free bet conversion percentage shows the dollar profit as a percentage of the freeplay notional size. The ideal is 70% or more, so you'll want to ensure that you arrive at this percentage. You can find this on the free bet calculator as well. Otherwise, simply calculate it as (dollar profit/free bet amount) x 100.
Why You Should Use Our Risk-Free Bet Conversion Calculator
There's no way to know whether your free bet will be successful or not. Rather than leave it up to luck, you can ensure that you profit from either your free bet or your hedge bet. This is a risk free profit because there are zero chances of a loss.
Some players may decide to settle on a hedge bet without using the free play calculator. While it's possible to make risk free profits this way, you may be unable to maximize your potential returns. Using the example above, if you wager $205 as the hedge amount, the profit becomes $100 if you win the hedge bet and $95 if you win the free bet. It's no longer a guaranteed profit since the amount you win can be higher or lower depending on the bet results.
Even the most experienced players use the matched betting calculator to find the correct amount to maximize profits regardless of the outcome. Since it's so easy to use, newbies can also begin their sports betting experience on a winning note.
This tool works with American or decimal odds.
FAQ's
How can I convert my free bet to real money?
Players can convert free bets to real money by hedging the free bet to guarantee a profit. After using the free bet on your preferred market, you bet on the other side at another sportsbook that offers favorable odds (preferably where the plus odds are higher than the minus odds). You can win one or the other, but you never lose both. Our matched betting calculator will tell you the right amount to hedge your bet with to maximize profits.
Is there a risk-free bet strategy I can use?
There are several risk free bet strategies that enable you to get the best profits possible. Firstly, you need to use the free bet on long odds. Secondly, you should look for the best value odds to hedge your bet against.
What is a hedge bet calculator?
A hedge bet calculator is a sports betting tool that helps you determine the amount to stake when hedging a bet. The free play calculator also works as a hedge bet calculator.