Top Betting Picks for College Football Week 1 Saturday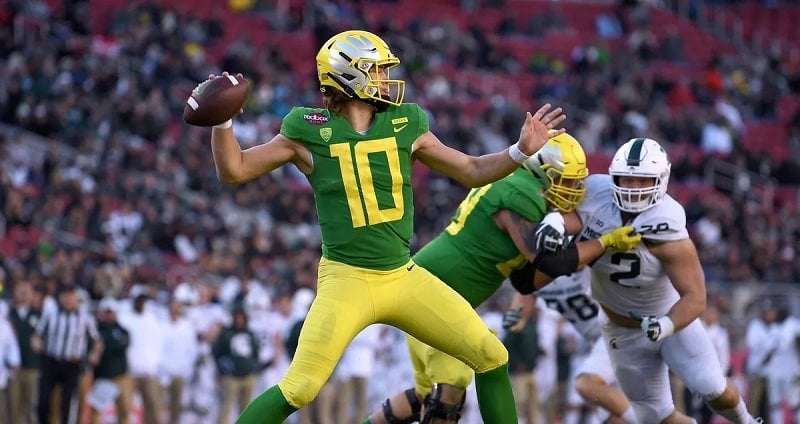 College football kicked off last Saturday with the Florida Gators hanging on to beat the Miami Hurricanes.
This weekend features a full slate of games on deck, and week one is going to start the college football season off right.
Saturday night primetime on ABC, we have the 11th ranked Oregon Ducks taking on the 16th ranked Auburn Tigers in AT&T Stadium.
Both teams have College Football Playoff hopes this season, and this will look to be one of the most important games of the year. In this article, we will take a deep dive into the matchup between the two teams.
It's Herbert's world and we're just living in it
The Oregon Ducks are ready to make noise this year. They are returning a majority of their roster from 2018 and are led by top quarterback prospect Justin Herbert.
Herbert, a 6'6" senior, returned for a 2019 campaign and to try and make a run at a National Championship. He finished 2018 throwing for 3,151 yards and 29 touchdowns with only 8 interceptions. He looks to be the best pocket passer in Division I and will get a chance to show the country what he is made of in this matchup against Auburn.
Herbert is incredible, but it is not the Ducks only weapon. Running back CJ Verdell will be in the backfield for his sophomore season. Verdell had a strong 2018, as he finished the year with over one thousand yards rushing and 10 touchdowns. He makes for a great addition to the Ducks' strong passing game.
Oregon lost its leading receiver to the NFL, but this will provide an opportunity for some new leaders to step up on the outside. Jaylon Redd hauled in 5 touchdowns last year, and he will look to lead this receiving core for the Ducks in 2019.
The Nix era for the Tigers
While Auburn does not possess a top NFL prospect like Herbert, the Tigers are happy to be starting true freshman quarterback Bo Nix on Saturday. This will be the first time a true freshman has started a season opener for Auburn since 1946.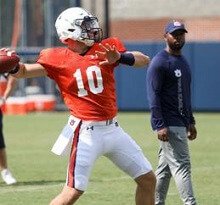 The freshman phenom has taken college football by storm. We have seen the likes of Jameis Winston, Trevor Lawrence, J.T. Barrett and Tua Tagovailoa all be feature quarterbacks in National Head coach Gus Malzahn is faced this year with one of the toughest schedules in college football. The pressure coming off of an 8-5 season will be brutal, but Malzahn is trusting Nix to pave the way for a new era in Auburn football.
The Tigers are also returning two running backs who had over 100 carries in 2018. Look for Jatarvious Whitlow to lead the backfield, with senior Kam Martin sharing some of the carries.
Experience over talent
BetMGM sportsbook has the Auburn Tigers favored at -3.5 against the Oregon Ducks, with an over/under set at 56. Oregon's money line is set at +140, and in terms of value, I don't think there is a better bet you can make this weekend.
Oregon has the experience at quarterback and the experience in the backfield to win this matchup. Auburn is no pushover, but expect some nerves for true freshman Bo Nix as he is taking his first snap in Jerry's World.
Auburn will likely have more fans travel out to the neutral site, but I expect Oregon to pull off this victory by a touchdown in a closely contested battle. Lock in the Oregon Ducks for week one, and lock them in for 2019.
Let's all thank College Football for giving us this incredible matchup in week one. Until next time! Check out more Free Football picks on our blog
Relevant news