Tulsa Golden Hurricane at Cincinnati Bearcats Betting Preview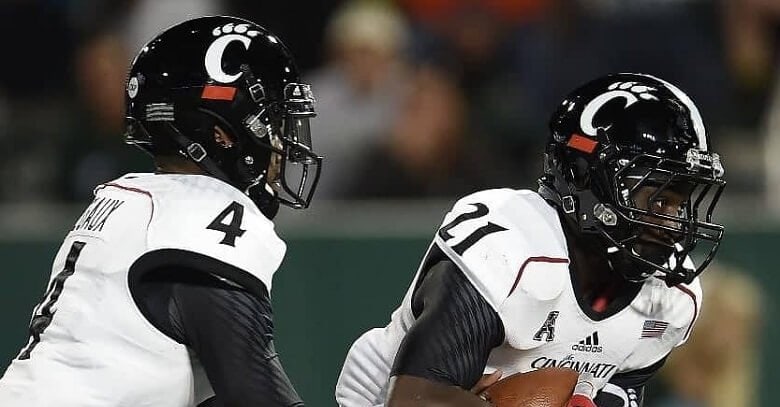 The college football season has finally started to take shape after seven weeks of action in 2019. The SEC and Big Ten conferences are separating themselves from the rest of the pack, boasting some of the best teams in the country.
Game time: Saturday, October 19th @ 3:30pm
But there are still other competitive teams out there, and some of them exist in non-Power 5 conferences. The Cincinnati Bearcats have quietly been one of the top-ranked teams in the country and have put together an impressive resume so far.
The Bearcats are ranked No. 21 after seven weeks and will be at home this week for their matchup against the Tulsa Golden Hurricane. Cincinnati boasts a 5-1 record going into this home game, while Tulsa sits at a measly 2-4.
In any case, this should still be a fun game with a whole lot of offense to showcase, so let's breakdown the matchup and help you determine your best bets.
Similar Opponents
While these two teams have very different records, they actually boast very similar numbers across the board. Both teams average just under 400 yards of offense per game.
Their defenses differ slightly, with Tulsa giving up around 390 and Cincinnati giving up around 340.
Tulsa has the firepower to hang around with Cincinnati in this game. The Bearcats defense has been their weakest link this season. Zach Smith for the Golden Hurricane has been solid all season, throwing for 1,618 yards and 10 touchdowns on the season.
I like Smith to have a big game against the Cincinnati secondary. The pass defense for the Bearcats has been their weakest link on both sides of the ball, and I think Smith can handle himself, especially with Keylon Stokes on the outside.
Stokes has hauled in nearly 500 yards receiving and four touchdowns on the year. He is Smith's most trusted receiver and will look to have a monster game against this weak Cincinnati secondary.
Dangerous Signal-Caller
For Cincinnati, Desmond Ridder is at the helm of the offense and has led this Bearcats team to their one-loss record this season. He is a dual-threat specialist, though his rushing attack has not been as effective as we saw in 2018.
Still, Ridder has improved as a passer this year and his 13 touchdowns with only five interceptions on the year. He also has one rushing touchdown to add to his total and poses a problem for any defense that is trying to cover him.
Alec Pierce is the Bearcats' leading receiver who will be getting open for Ridder. Pierce should have a big game receiving-wise and help propel the Bearcats to a victory.
Betting Preview
Cincinnati's lone loss this season came at the hands of Ohio State in week two, but the Bearcats beat then-18th-ranked UCF two weeks back. The resume for the Bearcats is a nice one, and their offense has been the key to their success.
With Tulsa coming into this game at 2-4, it is no wonder why the spread on this game is so large. Cincinnati is favored at home at -17, and its offense is the biggest reason why. Home-field advantage will help, and that adds to their spread as well.
There should not be any reason for the Bearcats to be stopped in this contest. Tulsa is 2-4 for a reason and will struggle to stop the balanced Bearcats attack.
Take Cincinnati in this game at -17. Their offense has been loaded this year, and they will continue rolling in this game against Tulsa.
Make sure to lock in your bets before kickoff!
Check back for more Free Football picks and follow us on Twitter @Gamble_usa
Relevant news