UFC 249 Sets Betting Record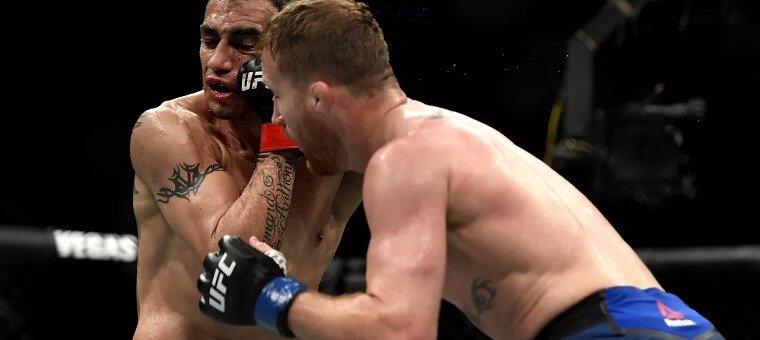 Last weekends UFC 249 set a new betting record as sports fans wager on the action
Following the lack of any significant sports for several months because of the COVID-19 outbreak, sports fans were pleased to see UFC return with a card last Saturday night. Sportsbooks had hoped to see some betting action on the back of this. However, UFC 249 surpassed betting expectations and shocked many sportsbooks with the amount that was wagered. A decent card aligned with pent up demand led to a wave of money bet on fight night and raised expectations for further UFC events, which are scheduled for this week.
Two sportsbooks have revealed UFC 249 betting brought in a record handle for an MMA event. Numerous operators were delighted in the early hours of Sunday morning following the action at an empty arena in Jacksonville, Florida.

21+. T&C Apply
21+. T&C Apply
UFC 249 Sets the Betting Benchmark
The two sportsbooks in question to reveal the record handle were DraftKings and PointsBet USA. Both of the sportsbooks are relatively new to the scene, having operated in the US for less than two years. However, it is worth shouting about to see that much activity under the current circumstances.
Johnny Avello, director of sportsbook operations for DraftKings, said, "It was DraftKings' biggest handle ever for a UFC card, almost doubling our biggest previous event." New Jersey has seen these two sportsbooks, and others enjoy a lot of success in recent times. However, it is not just in the Garden State where bettors want to take part in the action. There are sportsbooks available in several states where bettors were eager to place a wager on a big event, having not seen any sporting activity for a while.
Speaking about the January 18 card, which featured Conor McGregor, PointsBet USA director of communications Patrick Eichner said, "This UFC 249 card ended up slightly outperforming Conor McGregor's return to the octagon in UFC 246. For us, those two (events) have blown every other UFC event out of the water, with handles comparable to a full weekend's worth of NBA games."
It has been revealed that William Hill US took the largest reported bet on UFC 249 odds. The wager was $105,000 at -210 on Tony Ferguson. In what was a big upset, Ferguson lost to Justin Gaethje in the main event. William Hill US was another operator who was delighted with the total handle from the evening.
Nick Bogdanovich, director of trading for William Hill US, said, "Handle was very good. I'm not sure what to compare it to, because of all the different factors. Big thumbs-up to Dana White and UFC for pulling it off and having strong safety measures, as well."
It seems most operators were taken by surprise as factors such as no crowds, and other restrictions led to some believing there wouldn't be a lot of betting action. Derek Wilkinson, manager of The SuperBook at Westgate, said, "When you consider that there are almost no tourists in town and all of the bets came through the mobile app, it was a big success."
More UFC Success to Come?
After the undoubted success of UFC 249, bettors are eagerly awaiting more MMA event odds. There are a further two events this week, starting on Wednesday, which features Anthony Smith vs. Glover Teixeira. There will be another fight night on Saturday, which will be headlined by Alistair Overeem vs. Walt Harris.
Wilkinson stated, "I think these next UFC events will do even better in terms of handle, even if the card isn't as good. People are just ready to have mainstream American sports back, and wagering on it makes it that much more entertaining."
follow us over on Twitter @Gamble_usa for more legal sports betting news across the US.
Relevant news