UFC 264 Picks – Poirier vs McGregor 3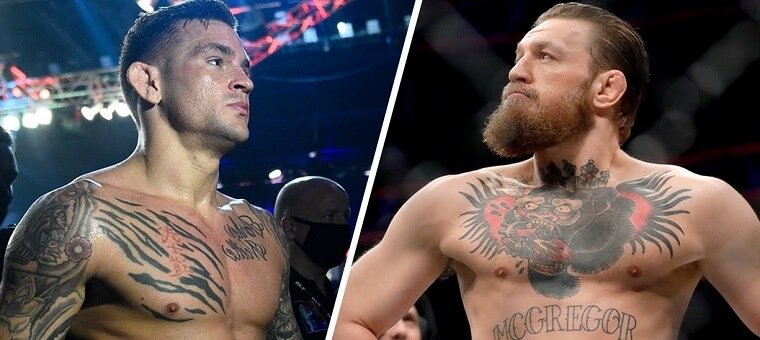 Gamble USA strives to improve your online gambling experience. We aim to help you play safely, make informed decisions when gambling, and increase your betting knowledge through our guides.
We adhere to strict editorial integrity; our content may contain links to products from our licensed & legal US partners.
It's make or break for the sport's biggest star this weekend with the 3rd installment of Poirier vs McGregor at UFC 264.
After an unsuccessful return to the lightweight division on fight island in January this year, the Irish phenom Connor McGregor takes on arguably his biggest fight yet in the #1 ranked lightweight and former foe, Dustin Poirier.
Is the magic over?
Having been catapulted to international stardom ever since he stepped foot in the UFC octagon for the first time back in 2013, no other athlete to ever compete in the sport of mixed martial arts has come close to matching the popularity and infamy of Ireland's Connor McGregor. Coming from a background of success having won both the featherweight and lightweight titles for the European organization Cage Warriors, Connor joined the UFC with an unprecedented amount of hype and notoriety. This infamy didn't seem to phase McGregor who demonstrated an unflinching confidence and magnetism that fans quickly gravitated towards.

21+. T&C Apply
21+. T&C Apply
Starting with his first fight for the UFC in 2013 against Marcus Brimage, Connor would go on to amass a seven-fight win streak before claiming the featherweight crown with some noticeable scalps along the way in opponents such as Max Holloway, Jose Aldo, Chad Mendes, and of course, Dustin Poirier. He would then lose to Nate Diaz via a rear-naked choke in round 2 but would win their rematch 5 months later. After claiming the lightweight title in his next match against Eddie Alvarez, McGregor stepped away from the sport to pursue the big money fight with Floyd Mayweather Jr in a boxing match which he would lose, which in hindsight may have started the downward slope for McGregor's MMA career.
After returning to the octagon to face bitter rival Khabib Nurmagomedov, McGregor would once again find himself on the losing side. He did return two years later to demolish Donald "Cowboy" Cerrone in the first round of their bout, but many detractors think the time away from the octagon coupled with the losses changed McGregor's mentality.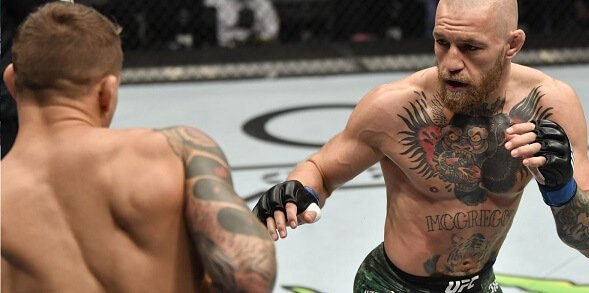 McGregor, much like Mike Tyson in his heyday would often win his matches before ever stepping foot inside the octagon. His relentless trash-talking, brash personality, and dominance made his rivals visibly shook and unsettled. Connor has stated he does believe in the mental war aspect of the game, but that aura of an unstoppable champion is waning considering his recent losses.
Solid as a diamond
A fighter who got caught in the magic surrounding McGregor on his rise within the promotion was certainly Louisiana's Dustin "the diamond" Poirier. Connor's trash talk was so impactful on Dustin's composure that he admitted he's never disliked any of his opponents as much as he did McGregor. The relentless taunting by Connor was evident in their first fight all the way back in 2014 as Dustin never seemed to settle into the fight, overcome with anger which saw him get dropped with a potent left hand from McGregor and ultimately finished within the first round.
Much like his name's sake, 'The diamond' absorbed the pressure and would grow as a mixed martial artist to win his next four fights with a move up to lightweight. This division move would retool Dustin's game as he was far more durable and athletic without having to put such a harsh demand on his body with a heavyweight cut.
It's all tied going into the third
McGregor's return to the lightweight shark tank on Yas Island in Abu Dhabi this year was met with huge anticipation as he hadn't actually won a fight within the division since acquiring the time back in 2016. Many journalists and fans speculated as to just how hungry and competitive this version of Connor could be, now he had amassed incredible wealth thanks to his spell in boxing and been away from the sport so long with no wins in between. Many suggest Connor overlooked Dustin in their first fight in January this year, focusing on a heavy front foot stance which Poirier capitalized on with vicious calf kicks.
Although the fight was competitive for the two rounds that it lasted, seeing McGregor finished in convincing fashion by 'The Diamond' who looked fresh and untroubled left a lot of people stunned. McGregor immediately recognized the error of his gameplan and vowed to come back to face Dustin straight away, something Dustin himself also acknowledged when he gestured, they had both won one fight each, with the winner of this match tipped to face the newly crowned Lightweight champion in Charles Oliveira.
The hungrier fighter will win
Although we suspect McGregor and his head coach, John Kavanagh will have devised a strong counterattack to nullify Dustin's calf kicks which proved so successful in their second fight, we are picking Poirier to be victorious. Dustin's strongest attributes in his grit, durability, and conditioning we believe will be enough to weather the first two rounds where McGregor's trademark left hand is most dangerous. After the first two rounds are complete, the sting in Connor's shots is greatly diminished and his conditioning has always been questioned.
These deep waters where fighters must dig deep and go to war are where Poirier thrives. So who is our pick for the big fight? Well, all of these factors lead us to believe Dustin will remain the #1 contender in the lightweight division on Sunday morning.
UFC fans can check out our UFC betting guides and see more UFC picks in our dedicated blog section.
Relevant news