UFC Fight Night 187: Edwards vs. Muhammad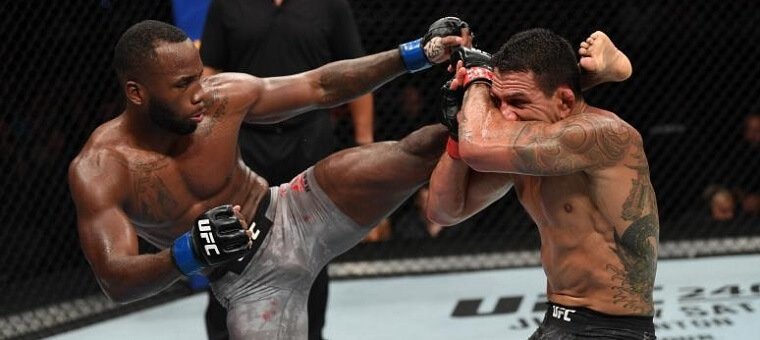 After 3 failed matchups, 'Rocky' Edwards is finally back in the octagon hoping to continue his winning streak.
After last weekend's blockbuster show of three titles fights in a row, we bounce back with a UFC fight night with hungry contenders hoping to move up the ladder towards a title shot.
After a sizeable absence from the UFC octagon, Birmingham's finest, Leon 'Rocky' Edwards is back in action this weekend at UFC Fight Night 187 vs the surging veteran Belal 'Remember the name' Muhammad. The big question is, will the 20-month inactivity plaguing Edwards play a factor against the active Belal and derail the impressive win streak he's built over the past six years?
Making his MMA debut back in 2011, Edwards joined the UFC in 2014. He went 2-2 in his first four fights with the promotion. When he does finally step into the cage on Saturday night, it will be over 600 days since Leon Edwards last fought. Sadly, for Edwards, the majority of this inactive has not been his fault, but that will not be a factor that the judges or matchmakers at the UFC take into consideration come fight time. Currently ranked third in the UFC's welterweight rankings, Leon's path to this fight has been a hard-fought and equally impressive run streak of eight wins in a row spanning from his last professional defeat in December 2015 to current welterweight champion Kamaru Usman to claiming a few veteran scalps along the way in the form of Donald 'Cowboy' Cerrone and a unanimous decision win over Rafael dos Anjos in 2019.


21+. T&C Apply
21+. T&C Apply
Poor luck leaves Edwards without a dance partner thrice
Signing a multi-fight contract with the UFC meant Edwards was scheduled to face the former UFC Welterweight Champion Tyron Woodley back in March 2020, however, that fight was scrapped Due to the COVID-19 pandemic as Edwards was not able to train for that bout properly but did agree, only to have travel restrictions come into place keeping the fighter grounded in Birmingham until now. Woodley would then start a two-fight skid in which he hasn't won any of the six rounds in his last two matches against Burns or Covington but hopes to turn that around against Vicente Luque on the 28th of March.
After this cancellation and the months of inactivity, the UFC finally picked rising star of fight island Khamzat Chimaev to welcome Edwards back. Both fighters subsequently tested positive for COVID-19, which delayed their initial bout in December 2020. The fight was then rescheduled in January but Chimaev was forced to pull out due to dealing with lasting issues from a virus and was rescheduled for March, only to be canceled for a second time for the same reason. Khamzat is currently receiving specialist treatment directly from the UFC medical staff now to try and tackle the on-going problems, which is where Leon's opponent, Belal stepped in to save the day.
Hoping to strike while the iron is hot
Fighting out of Chicago, Muhammad made his MMA debut back in 2012 and has risen from the ranks consistently since. Since joining the UFC in 2016, Muhammad has amassed a four-fight win streak against fighters like Tim Means and Randy Brown along the way. After losing to Geoff Neal in 2019, Muhammad has produced another four-fight win streak. Although he was often looked at as a fringe-level fighter, Belal beat both Curtis Millender and Takashi Sato in 2019 and returned to action this past June to beat Lyman Good. Muhammad then had an impressive display recently against Dhiego Lima at UFC 258 this past February, even after testing positive for COVID-19 before the bout. It's this recent run of good form, coupled with his willingness to step in on short notice against Edwards which could spark trouble for Leon's title shot hopes, which UFC president confirmed this week would be Leon's next match should he have his hand raises on Saturday night.
We're picking Birmingham's finest, Leon Edwards to win at UFC Fight Night this weekend due to completing 3 training camps back-to-back and honing his craft ready for his eventual next fight.
For more UFC picks and news, be sure to check back and check our guides and fight night previews.
Relevant news