Unibet Expands Relationship With Eagles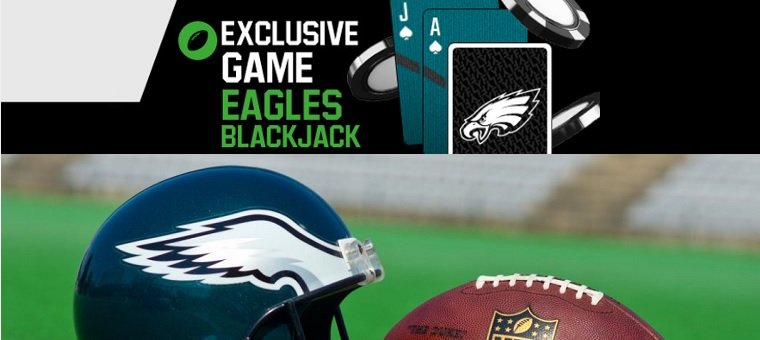 Unibet has extended their partnership with the Philadelphia Eagles to offer Unique Casino Games
Unibet is expanding its relationship with the NFL's Philadelphia Eagles in a unique way. Kindred Group, the parent company of Unibet Casino, has announced the launch of the first-ever sports-themed casino games in the United States. With an Eagles branded blackjack game already available for Pennsylvania players, Unibet has now revealed they will be launching more unique content in the near future. The brand is attempting to differentiate itself from the crowd and is utilizing its partnership with the Eagles to entice new customers to sign up.
New Blackjack Game Available
Whether you are an Eagles fan or a blackjack fan, you will enjoy playing this new game as it has all of the traditional blackjack elements with Eagles theming. Unibet and the Eagles struck a deal to create the first sports-themed casino games in the US, which has seen the launch of this new game. Additionally, both brands will be launching Eagles Slots later this year in the new online casino app for more branded content.

21+. T&C Apply
21+. T&C Apply
When players load the game and sit at the virtual table, they will discover a table covered in Eagles branding. Even the cards used during the game have the Eagles logo along with the table decorations.
Senior vice president for Kindred US, Manuel Stan, has spoken about the deal with the Eagles, describing the partnership as "special."  He also stated that he is "proud of the work done by both teams" to bring the first-ever professional sports-themed casino game to players in the US.
Catherine Carlson, Philadelphia Eagles Senior Vice President, Revenue and Strategy, also expressed her excitement at the news, describing Unibet as a "forward-thinking partner." Ms. Carlson stated that as the online gaming market continues to develop and grow in the United States, the collaboration with Unibet will take them "to a whole new level."
Sports Teams Welcome Gambling Partnerships
This deal between the Eagles and Unibet is one of several that have been announced over recent months, including the Tigers deal with BetMGM. Professional sports teams have recognized the benefits of having sports betting companies, casinos, and other gambling brands as partners. They have realized that both parties can benefit hugely from such agreements.
As online gaming and sports betting expands across the US, it is likely more deals like this will be announced. Unibet and the Eagles are pioneers by becoming the first to create and launch an NFL team branded game, and others will now follow suit. Sports teams have moved away from the stigma attached to gambling in general, so the MLB, NHL, and NBA will also likely see games launched featuring teams from their respective leagues.
Follow us on Twitter @Gamble_usa to stay up to date on the latest legal casino and sports betting news across the US.
Relevant news