US Sports Betting Revenue Triples in a Year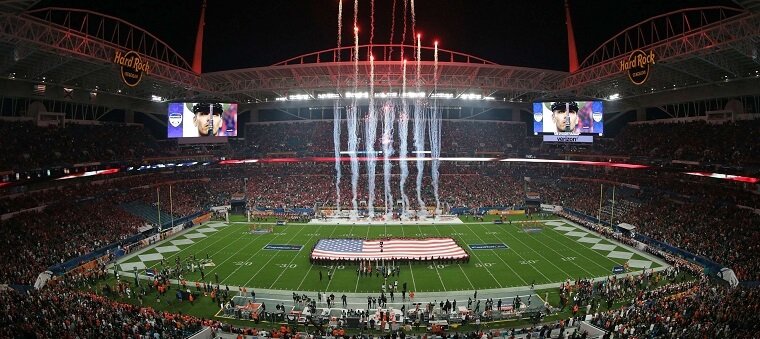 US Sports betting revenues have skyrocketed from January 2019 to January 2020, proving how popular betting in the US really is.
Reflecting the current signs of sports betting growth throughout the United States, it has been revealed American sportsbooks saw revenues more than triple from January 2019 to January 2020. As well as this, the actual total betting handle increased as well, even taking into account industry expansion. We continue to hear of more states that are set to launch online sportsbooks in 2020, so expect these numbers to continue to grow as more residents are able to place wagers online legally.
Looking at the numbers from the nine states who provide information on betting, revenue increased from $41.9 million in January 2019 to $133 million in January 2020—which works out at an increase of 217%. Total January betting handle also increased, from $1 billion in 2019 to $1.74 billion in 2020.
This news doesn't come as much of a surprise. Overall sports betting revenues have been increasing across the board since the repeal of the Professional and Amateur Sports Protection Act (PASPA), and it is estimated that they will only grow further still as more states are set to pass legislation to legalize sports betting in the near future. There were a couple of factors that led to this growth, including the addition of two new states (Iowa and Indiana) to the data set, overall industry expansion, and a much healthier hold percentage for sportsbooks than last January.
However, even accounting for those factors, sports betting in the USA is in a much stronger position than it was a year ago. If both states that didn't offer sports betting in January 2019 are removed from the latest reports, sportsbooks still handled $1.51 billion in total wagers and earned $117 million in revenue in January 2020—increases of 51% and 179%, respectively. Hold percentage is a highly variable statistic, especially during times with a high volume of bets on a low number of events, like the NFL postseason.
Out of the seven states who were reporting total sports betting revenue in January 2019, there was only one that saw a decrease. Deleware is the state where there has been somewhat of an anomaly, however this can likely be attributed to there being no mobile betting in 'The First State'. The state did see a slight increase in revenue overall due to a sizable increase in its hold percentage.
Sports Betting in the US in 2020
Sports betting in America is really gaining traction now, with the public becoming more aware of what types of markets they can bet on and how they can bet. It is expected to grow even further this year with four states, Tennessee, North Carolina, Michigan and Illinois, legalizing sports betting and are currently in the process of launching full sportsbooks early in 2020.
Once these have launched, the number of Americans living in legal sports betting states will increase from 71.6 million (21.9% of the population) to 111.5 million (34.1%). That is quite a jump and just shows the potential that the industry has. Of course, it will take some time to establish itself, but once sports betting takes off, the potential financial impact it has will be huge. Using per capita averages, they project to handle nearly $6 billion in bets annually and earn $416 million in revenue.
It has been reported that there are several more states considering sport betting legislation in 2020, including Florida and California. Look out for states more in the coming months, as the betting industry continues to rise in the USA.
Give us a follow us over on Twitter @Gamble_usa for more legal sports betting news across the US.
Relevant news