USC Trojans at Oregon Ducks Betting Preview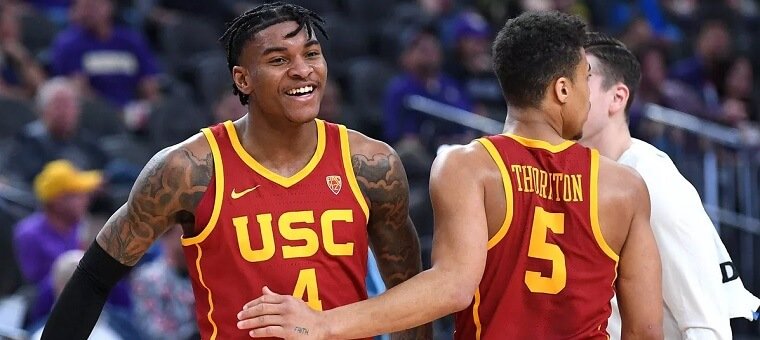 There has been a lot of discussion about this college basketball season and how it is one of the most fluctuating seasons to date.
Top teams seem to lose every single week, and there is truly no clear favorite. The NCAA is as wide open as it has ever been with no conference separating itself as the top dog.
In recent memory, the Pac-12 as a whole has appeared to be a little bit further behind the curve, but this year, it has closed that gap.
There are multiple good teams coming from the conference, and two of them will be going head-to-head on Thursday night.
The USC Trojans will be on the road to take on the No. 12 Oregon Ducks. Both of these teams are leaders in the Pac-12, so this is an important game for the standings.
Let's break down the matchup and help you figure out where you should be putting your money.
Why Not Us?
USC has come into this season on fire. The Trojans came out of the gate roaring and are sitting at a 15-3 overall record currently.
Conference play has yet to phase them, and they sit at 4-1 in the conference, which is good enough to be tied for first in the Pac-12 standings with Stanford.
The Trojans are tied with the Cardinal because they just rallied back with a last-second three from Elijah Weaver and 22 points from Oneyka Okongwu to earn an overtime victory over Stanford on Saturday.
Okongwu is a name you should get yourself familiar with because he has every tool you could ask for from a basketball player.
He is the heart and soul of this USC team, averaging 17 points and nine rebounds per game. He is a beast in the paint and absolutely dominates and overpowers his opponents constantly.
Oregon is going to have to look out for Okongwu and focus on stopping him to slow down this offense.
Oregon Is Pac-12's Best
The Ducks come into this game ranked at No. 12 in the nation. They have played one of the most loaded schedules of anyone in the country.
For non-conference play, they matched up against Seton Hall, Gonzaga, Michigan, North Carolina and Memphis.
All of those teams were ranked in the top 15 at the time the Ducks played them.
With all of those tough programs on the schedule and the fact that Oregon is 15-4, it is no wonder why it is ranked as high as it is.
Peyton Pritchard is the name of the game when it comes to Oregon's team. Pritchard is a do-it-all senior guard who is the Ducks' leading scorer and averages 19 points, five rebounds and four assists.
With his leadership, the Oregon team is in good hands. Pritchard shoots 48 percent from the field, 41 percent from three-point range and 76 percent from the free-throw line and is really everything to this Oregon offense.
As a four-year player, Pritchard can help mentor some of the younger, talented freshmen on this roster.
One thing that is worrisome about Oregon is that it only has one true center on its roster and doesn't boast a lot of height overall. Keep that in mind moving forward.
Betting Preview
Both of these teams are sitting at the top of the Pac-12 standings along with Stanford. There is a whole lot to love for this game, and it should be one of the best of the season.
Oregon gets the slight nod in the spread being favored at -9. I think the Ducks are ready for this game and ready to take full control of the Pac-12 and their season.
Lock in Oregon as the winner in this one, and make sure you put in your bets before Thursday night's tip-off!
Relevant news