Virginia Cavaliers at Notre Dame Fighting Irish Betting Preview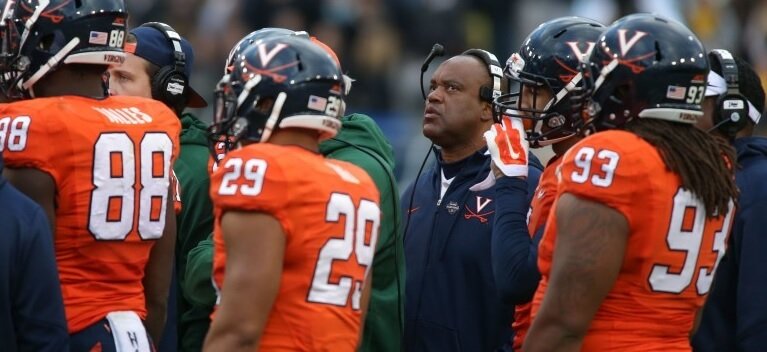 The 2019 college football season is finally starting to take shape. We are in Week 5 and have seen multiple heavyweight matchups that will influence the landscape of the College Football Playoff at the end of the year.
Game time: Saturday 28th September @ 2:30pm
One team which involved in one of those matchups was the No. 10 Notre Dame Fighting Irish, who took on the Georgia Bulldogs last week.
Notre Dame was able to bring the game within one score in the fourth quarter but ultimately fell short to No. 3 Georgia 23-17.
This week will feature the undefeated Virginia Cavaliers traveling to South Bend, Ind., to take on Notre Dame in their home stadium.
No. 18 Virginia has sprung up out of nowhere in the ACC, but we will break down the matchup here highlighting key players in order to determine the best bets.
Can The Cavaliers Be For Real In Football?
It is no secret that the Virginia Cavaliers have struggled in football most of their existence. Virginia is much more well known for its prowess in men's basketball and has never really been a football powerhouse.
At the end of last season, they faced the South Carolina Gamecocks in their postseason bowl. To many's surprise, the Cavaliers shutout the Gamecocks, 28-0.
This is the foundation that the 2019 season has been built on, and Virginia has carried that swagger against every opponent so far.
The Cavaliers beat a strong Pittsburgh team, who most notably just ended the UCF Knights' regular-season win streak, in Week 1. They also took care of business against Florida State, scoring the last two touchdowns in the fourth quarter to take the late lead and win at home.
All that to say, Virginia football has been on the rise, and there is no better way to prove you are legitimate than to take on the Notre Dame Fighting Irish in South Bend.
Quarterback Bryce Perkins is a dual-threat weapon that has accounted for nearly 900 yards passing and 200 yards rushing in 2019. He will look to lead this Virginia offense against a stout Notre Dame defense.
No Moral Victories
It was just a couple of weeks ago where SEC commentator Paul Finebaum unleashed his tirade on Notre Dame.
Finebaum said the Irish should be banned from the College Football Playoff because every year they play an easy schedule, they go undefeated, and then they get beat up bad in the postseason.
Well, the easy-schedule complaints ended this year, as Notre Dame traveled down south to take on the Georgia Bulldogs in their home stadium with their largest sellout crowd on record.
Ian Book and Notre Dame looked impressive early, taking a 10-7 lead into halftime. After a couple of field goals in the third quarter, Georgia had a textbook touchdown drive in the fourth to take a 20-10 lead with about 13 minutes left in the game.
Georgia ultimately won the game 23-17, but while Notre Dame lost, it definitely looked the part that it was hyped up to be.
This defense is good, and holding Georgia to 23 points is no easy feat with all of the explosive weapons they have on offense.
Virginia had better be ready to fight a war because that is what it will take in South Bend.
Betting Preview
Notre Dame is favored in this game at -11, and rightfully so. This won't be an easy contest, but I would expect Notre Dame to bounce back from last week and handle its business at home.
Take the Irish to win this game at -11, and expect their defense to dominate early and maybe even get some takeaways.
Make sure to lock in your bets before Saturday afternoon's kickoff!
Check back for more Free Football picks and follow us on Twitter @Gamble_usa
Relevant news