Virginia Tech Hokies at Notre Dame Fighting Irish Betting Preview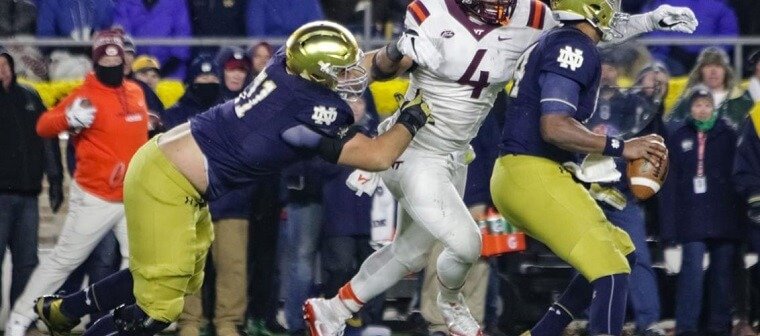 What a crazy couple of weekends in the college football season. We have seen a number of top teams falter, and the College Football Playoff is up for grabs.
Game time: Saturday, November 2nd @ 2:30pm
The Midwest was also hit by a crazy wintery mix of a storm, and we saw multiple games plagued by the outdoors. One of those games took place in the Big House on Saturday night, when Notre Dame traveled up to Michigan to renew their rivalry.
Unfortunately for the Irish, they were absolutely crushed by the Wolverines, and now have their backs against the wall to have any chance at a strong bowl game at the end of 2019.
There is still a lot to like about this team, and they have a chance to bounce back at home against a solid Virginia Tech team from the ACC. The Hokies will be coming off of a bye, and they will look to make a statement by beating up the No. 16 Irish.
Let's break down this game between these two and help you figure out your best bets.
Does being one of the top teams in the ACC mean anything?
Of all of the Power 5 conferences in America, you could make an easy case that the ACC is the worst by far. The only other that comes close is the Pac-12, but even it has some teams that are picking up steam in the national conversation late in the season.
Virginia Tech is 5-2 this season, and it has looked the part of a solid team on the offensive side of the ball, averaging 30 points a game.
The Hokies' defense is bad. Not just bad, but give up 400 yards of offense a game bad. Their schedule has not yet had them matched up with a ranked team yet either. I know Notre Dame looked terrible against that Wolverines' defense, but I really don't see Virginia Tech holding on too much in this game.
When will Notre Dame find a way to become elite?
In this decade, it has been nothing but disappointment for the Fighting Irish. Every year it seems like they start out strong and are poised to be one of the best teams in the country, but then by mid- to late season, they find a way to regress.
There were not a lot of bright spots this past Saturday night for the Irish taking on Michigan. A constant winter mix of sleet and rain came down the entire game, and Ian Book struggled to get any kind of offense going.
Michigan's run defense was stout, and with the weather, Book could not find a way to pass the ball. Receivers dropped passes, and every Irish fan went to bed angry.
I don't know what the answer is for Notre Dame, but this is a chance to bounce back at home against a team with a soft defense. They can definitely put a lot of points on the board, and I think head coach Brian Kelly will lean more heavily on his run game after Book's lackluster performance.
Betting Preview
Even after their loss last week, the Irish are favored in this game at -17. Vegas sees something in that soft Virginia Tech defense, and I agree with them. Recommended book for your bets this week is bet365 where you can get up to $100 in free bet credits when you join here
Book will find a way to get going, but I think the true star for Notre Dame will end up being running back Tony Jones Jr. Look for him to get a lot of touches early, which will open up holes for the passing game.
Take Notre Dame at home in this matchup and be ready for it to bounce back.
Check back again for more Free NFL & NCAA Football picks and be sure to follow us on Twitter @Gamble_usa
Relevant news