Virtual sports betting is one of the newest innovations in the expanding sports gambling market in the United States.
Placing virtual bets via computer software is creating a whole new range of virtual sports betting markets for bettors worldwide. Players can now participate in virtual betting at one of several New Jersey online casinos, with more options for betting on virtual sports likely to be available soon. Bettors can bet on virtual events with numerous possibilities for both virtual horse racing and virtual soccer betting. Additionally, online sportsbooks now offer multiple virtual games for customers to enjoy, providing new betting opportunities.
Betting on a virtual sport contest may seem bizarre or strange to some people, but there is no doubt it is growing popularity. There are now numerous virtual sports legal options, with virtual sports gaming becoming a big part of the overall online sports betting space.
In addition to New Jersey, Pennsylvania offers virtual sports betting through its lottery, allowing players to bet virtually on sporting events.
This page covers all of the critical details involving virtual gambling. We discuss the differences between virtual sports games and real-life sporting events, virtual sports betting tips, which sites offer virtual sports betting, how to play a virtual betting game, and more.
Best Virtual Betting Apps
With the online betting world becoming more crowded in the US, online gambling sites must offer markets for real sporting events as well as virtual betting options. There isn't a dedicated virtual sports betting site as such, instead there are traditional sportsbooks where you can place a virtual bet or take part in esports contests. Of course, on the sportsbooks we have listed in this article you can wager on a real sport and any significant sporting event. However, you can also wager real money on any virtual event the site has listed.
We have provided a list below of the best virtual sports betting sites available in the US market. We have thoroughly examined several virtual sports betting sites and feel the below offer the best experience for those looking to gamble in the virtual world.
#1. DraftKings Sportsbook
The DraftKings sportsbook app is one of the most prominent sports betting apps in terms of revenue in the US. Although the interface is detailed, navigation on the app is straightforward, and there is a wide range of real-world sports betting options, as you would expect with a top-quality betting site. DraftKings also excels as a virtual sports betting app, with users able to bet on virtual greyhound racing and virtual motor racing on the go.
DraftKings is one of the most reputable and trustworthy brands out there, which is reflected in the excellent virtual sports section of the app.
#2. BetMGM Sportsbook
The BetMGM sports betting app delivers on all of the pillars you look for in a successful online sportsbook – simplicity, user-friendliness, and range of markets on real-world sporting events. It is one of the top sportsbooks in the US for sports bettors, given the breadth of the product.
MGM is one of the most trusted brands in the US, given its land-based casinos across the country, which has translated to its online BetMGM sportsbook. With regular odds boosts, continuous betting perks, an extensive virtual wagering library, and a $1,000 risk-free bet offer, the BetMGM app is fantastic.
#3. Borgata Sportsbook
Although it may have made its name in the casino industry offering classic casino games, the Borgata brand has moved into the sports betting market. BorgataOnline.com is the product of MGM Resorts International, which runs numerous online gambling brands under the BetMGM Inc. banner. With the power of one of the world's most successful casino operators, the Borgata sports betting app delivers an excellent gaming experience for customers.
Players can bet on virtual sports when they have registered at the Borgata sportsbook. Additionally, new players can take advantage of a welcome bonus that consists of $100 in free bets when you place a bet of at least $20.

Virtual sports are video games where computer software is used to play out sporting events or races. Advanced technology and algorithms determine the outcome; these algorithms account for the players' skill and luck elements that can occur in real-world sporting events.
The computer-generated virtual sports graphics are very impressive and similar to the graphics you see on current-generating gaming consoles. Although they aren't the same quality as a typical television broadcast, they are still high-quality.
Virtual sports have become a way for sportsbooks to offer action without needing a real-world event to happen to take wagers. Consequently, betting sites can increase the velocity of bets they can accept.
Is it legal to bet on Virtual Sports?
If a licensed and regulated sportsbook offers virtual sports betting, players can assume that it is legal. Those bookmakers or the virtual sports provider would have received regulatory approval to provide the games in the state in which the product is offered.
There are lots of unlicensed, offshore sports betting sites that do not undergo such vigorous regulatory processes, so we do not recommend using these platforms. Your personal information will not be protected, and you will be at risk. Always use trusted and reputable sites such as the ones we have listed above.
Virtual Sports Betting Options
There is a virtual sports betting market for most of the most popular sports globally, but some of the most common options are:
Horse racing
Greyhound racing
Basketball (Virtual NBA)
Soccer
Tennis
Motor Sports
There is no virtual football available yet. If virtual football betting becomes available, we will update this page. If you are betting on virtual basketball, you can experience watching the virtual game with amazing graphics thanks to advanced computer software. This also applies to the other sports listed above.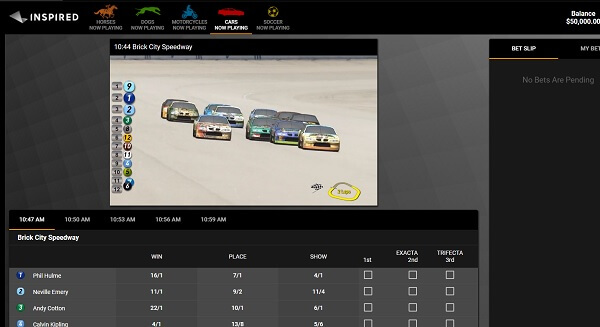 How do you bet on Virtual Sports?
Betting on virtual sports isn't complicated, and if you have experience of betting on traditional sporting events, there is little difference. The only differences are the operators determine when the virtual events occur, typically regularly, and who is competing.
Aside from that, the fundamentals are the same as standard sports wagering. The most common type of wager would be to bet on the winner of an event, like an NFL match or a horse race, based on a money line or the odds.
Additionally, a wide range of proposition bets are often available for each individual virtual sports event. For example, trifectas or exactas in horse racing or the number of touchdowns scored in a football match.
When you see anything with a virtual tag, you may think it is complicated, but placing a virtual sports bet is simple. There is no bid difference here between placing bets on a virtual sports game or traditional sports betting contests. The virtual sports betting rules that apply are the same, in terms of you are paid if you select a winner just like in real life sport wagers.
Where is Virtual Sports Betting available in the US?
Bettors can bet on virtual sports in New Jersey, and it is likely to be available in several more physical casinos around the country in coming years. The professional and Amateur Sports Protection Act does not allow betting on real-world sporting events around the US, except from Nevada. However, this has changed dramatically in recent years, with more states launching a legal betting market. Because virtual sports don't have any impact on real-life sports, it is likely that any new states that regulate gambling will allow virtual sports betting.
The product would mean casinos could offer "virtual sportsbooks" that show virtual contests and accept bets on them.
With technology evolving all the time and bettors becoming smarter, the virtual sports betting industry is only going one way from this point. Expect to see more options appear in the near future.
FAQs
Is Virtual Sports Betting legal in the US?
Yes, betting on virtual sports is legal in the US, you must however use a licensed sportsbook or casino to place your wagers.
Are Virtual Sports rigged?
No, virtual sports are not fixed or rigged. They are 100% legit and run by trusted, reputable operators so you can bet safely on virtual sports.