Gamble USA strives to improve your online gambling experience. We aim to help you play safely, make informed decisions when gambling, and increase your betting knowledge through our guides.
We adhere to strict editorial integrity; our content may contain links to products from our licensed & legal US partners.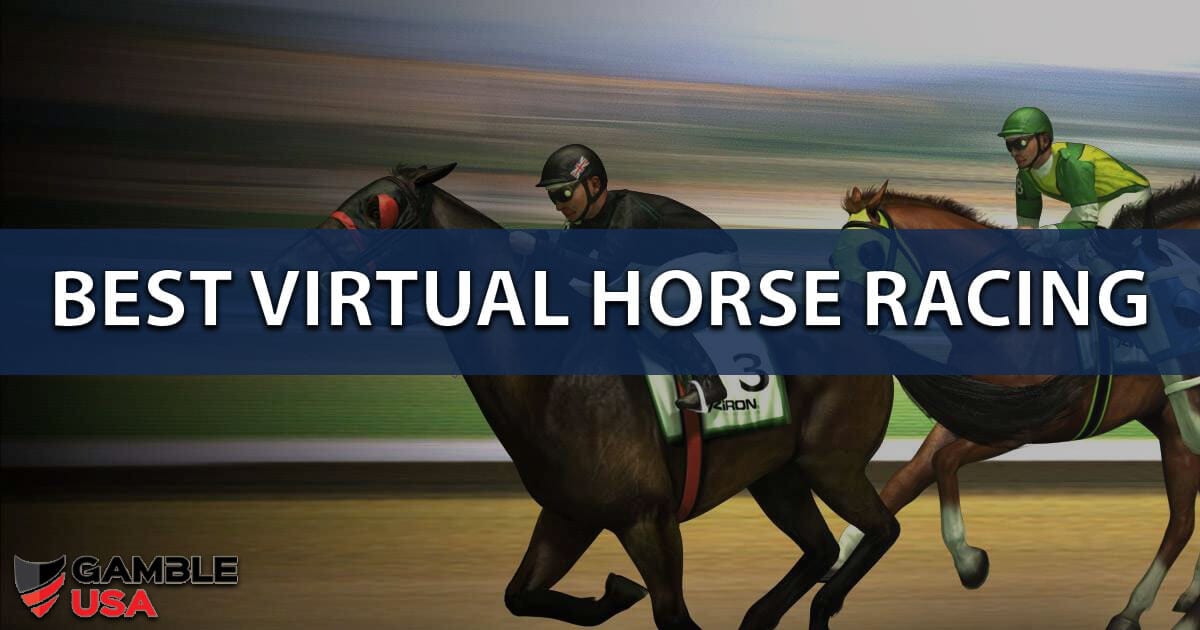 If you are looking for a fun and entertaining way to wager online, then virtual horse racing is one of the best ways to do it. With races available all the time, you can get the same race thrill on your mobile or computer as you would at a land-based race.
Horse racing is one of the most popular sports among gamblers globally, as traditionally, punters flock to the racecourse to enjoy a day out. However, with advancements in technology, online horse racing games and virtual horse racing game options have become more prominent. This has led to virtual betting and gamblers playing horse racing games online.
Virtual racing games like Zed Run and Rival Stars Horse Racing have now become mainstream. There is no longer a fear of testing a virtual horse racing game as bettors become more comfortable with virtual hose racing 3D contests. Although betting on horse races may not be as exciting as the real thing to some, you still have a jockey and the excitement of following your chosen horse.
There may not be that photo finish horse racing element with virtual horses, but virtual horse racing games still provide that adrenaline rush. With races starting around every 10-15 minutes, you are never far from the action. It is why digital horses are as appealing as betting on a real horse race to many bettors.
Best Virtual Horse Racing Betting Sites
You can legally wager on virtual horse racing in NJ, MI, & PA, and these are the best operators to use:
Top 5 Best Virtual Horse Racing Betting Sites
We have listed below the best gambling sites and apps for horse racing betting games and casino and horse racing betting options.
#1 Virtual racing at DraftKings Casino
DraftKings casino offers numerous virtual horse racing betting opportunities in addition to several other virtual sports. There is a total of 14 virtual sports variants available to players, including Horse racing, virtual Soccer, Basketball, Football, and also Car racing. Additionally, customers can play the latest generation of Inspired Entertainment games and claim a fantastic welcome bonus. You may think the virtual racing with Draftkinsgs is done via their DraftKings sportsbook app, but it's actually the casino that handles the racing, which is why it is only available to players in MI, NJ, PA, and WV.
You can choose from several virtual horse races on DraftKings, so there is plenty to keep horse racing fans occupied. There is no need for any jockey racing instructions on a horse game. Just bet on a virtual thoroughbred and hope you have a horse winning selection. You can also place straight bets, parlays, and other exotic wagers in the exciting world of virtual betting.
New player sign up bonus: $10 Free Play & $2,000 Bonus
Site: casino.draftkings.com
#2 Virtual Sport & Horse Racing with BetMGM Casino
BetMGM offers virtual horse and greyhound racing, so there are plenty of chances to win if you feel lucky. Like DraftKings, the virtual horseracing game options are provided by Inspired Entertainment, and new players are greeted with a hefty welcome bonus. Horse racing isn't the only virtual game available at the casino. They also have Virtual Motorcycles, Virtual cars, virtual soccer, and of course, virtual greyhounds.
New player sign up bonus: $25 free play + $1,000 bonus
Site: casino.betmgm.com

#3 Golden Nugget Casino Virtual Racing & Sport
One of the aspects that separates Golden Nugget from the others on this list and other gambling apps on the market is they offer two horse racing variations. This is attractive to gamblers who want some variety when they play races. You can bet on the horses or greyhounds virtually with Golden Nugget. The casino also offers Horses GO, NBA last 60, and also virtual cars. You can try the games out with a demo play which is a great way to get used to the set up.
New player sign up bonus: 200 Free Spins & 100% Bonus Up To $2,000
Site: goldennuggetcasino.com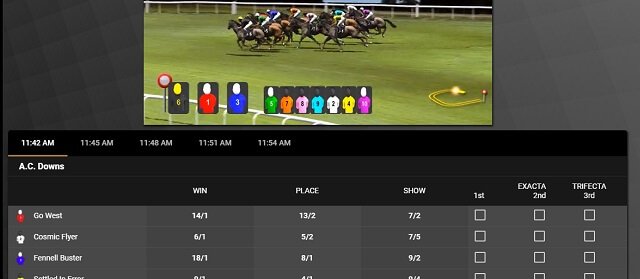 #4 Caesars Online Casino – Virtual Racing
Caesars online casino is another entertainment giant offering virtual horse racing alongside other virtual racing, including NBA Last 60, greyhounds, cars, soccer, and motorcycles. A demo play is available to customers aged 21 and over, and the games, like others, are provided by Inspired Entertainment, so you know you are in safe hands. Games are fast and fun to play and a great alternative to live racing.
New player sign up bonus: $2,000 Caesars bonus
Site: caesarscasino.com
#5 Borgata Online Casino Horse Racing
Like BetMGM, the Borgata online casino also offers a great range of virtual sports, including Horse Racing. Racing is available online and also on the excellent casino app. Races start every few minutes, so keen bettors won't have to hang around waiting for a race to start. The actual racing footage is fun to watch, but if you don't want to wait around, you can skip the coverage and see the final result instantly.
New player sign up bonus: $20 free play & $1,000 bonus
Site: casino.borgataonline.com
Virtual horse racing gambling gives gamers the opportunity to bet on simulated races online and on mobile. No need to worry about the rain or tornados. Races all happen virtually and are available to play every day, regardless of what is happening out of the window. One of the biggest attractions of virtual races is the frequency with which they occur. Unlike actual horse races, a virtual horse race will take place every few minutes or isn't canceled due to the weather or any other possibilities that can affect a race meet.
Consequently, if you want to bet on virtual horse racing, you don't have to alter your schedule to suit, as you know they will be happening consistently each day. So, although racing virtual may not have the allure of the Kentucky Derby or the Breeders' Cup Classic, these horse betting simulator races welcome punters all day and night.
Inspired Entertainment provides most of the virtual games at the casinos. They are very well known for providing trust worth and secure gaming. The operator also provided the 2020 virtual Grand National, which was, of course, in a virtual form.
How Does Virtual Horse Racing Work?
The most critical aspect to consider with virtual horse racing wagering is that it is completely random. The sites and apps do their best to make it look and feel like a real race; the truth is the mechanics make it no different from other casino games such as roulette or slots. You even get to see and use virtual horse racing cards, so you know the names and odds before the races. Just choose your selections and add them to your betting slip.
Betting platforms use random number generators (RNGs) to create unpredictable virtual horse racing results. Additionally, operators can and often do ensure certain outcomes are likelier than others. Consequently, a horse priced as a 6/2 favorite is still more likely to win than a horse that is an outsider at 36/1, even though the outcome is random.
Bettors who have been to the races before and had a wager will be familiar with the setup. You can wager the normal bet types, including trifecta and singles, on your favorite-looking thoroughbred. Backing your favorite horse is as simple as if you were at a real race through an operator or bookie.
The house has complete autonomy over how much money a horse racing casino game returns to players on average; however, the results are still random. Although this may seem contradictory, think of virtual racing as a raffle drawing and each horse as a ticket. The favorites have eight tickets in the draw, while the outsiders have just one or two.
In this imaginary raffle draw scenario, the RNG selects a ticket, or a horse, at random to win the race. Although the selection is random, the RNG is more likely to select a favorite than an outsider because the favorite has more tickets in the draw. This results in the betting website assigning appropriate odds to favorites and outsiders while still ensuring random results.
Please be aware that operators conduct virtual race bets in the fixed-odds format rather than parimutuel-style. This means the betting site sets the odds in any virtual race, which is different from real horse races in which all bets are pooled together and the odds decided by market forces. Ultimately this means it is impossible and not realistic for players to believe they can gain an advantage in virtual horse racing. If you visit the track and bet on real horses, it is possible to develop a winning strategy over the long term. However, as with team sports, virtual horse wagering is purely gambling. You may win, or you may not, but the house will always have the edge.
Where Is Virtual Horse Racing Legal?
In the United States, virtual horse racing is classified as a form of gambling, not horse race betting or sports betting. This is important to note as virtual horse racing betting is only legal in states where online gambling is permitted. If you live in a state where gambling is illegal, the likelihood is real horse racing betting is.
States where online virtual sports & horse racing for money are available:
Connecticut
Michigan
New Jersey
Pennsylvania
West Virginia
If you live in one of the states where legal horse betting is permitted, licensed racebooks like TVG, 4NJBets, and AmWager provide a similar experience with real horse races instead of virtual events. We think it is just as fun betting on real or virtual races.
We recommend that you only play virtual racing or any form of wagering online with a legal and licensed provider, like those you will find listed on the Gamble USA site.
Virtual Horse Racing Tips
As with any form of gambling, there are things you should do and things you should avoid when it comes to virtual horse racing. We have listed some tips to get the most out of your online virtual racing.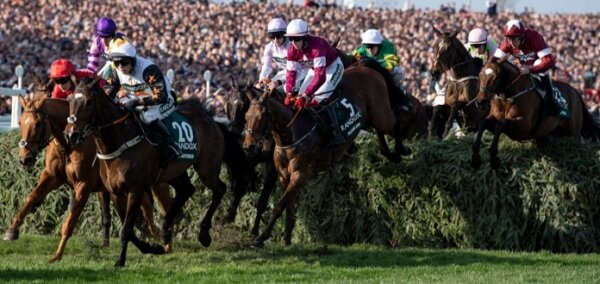 Set Betting Limits & Know When To Quit
Online virtual horse racing betting apps can become addictive, but players should be cautious. New races go off every couple of minutes, every day of the week. All players must know when to stop because the action is non-stop. One of the things you can do to ensure you have a safe, fun, and exciting experience is to form a plan before you begin betting. For example, you could pick an amount of money you are comfortable with losing without regretting it and set that as your daily limit. If you lose any more, then you should stop playing.
Another decent strategy to use is to set a daily win limit to secure any profits you accrue on a winning day. Everybody has heard of gamblers turning a good day into a bad day by being too greedy. They will go on a hot streak, racking up the profits, then lose on the same day.
You will increase the number of winning days you have by setting a daily win limit. If your daily winning exceeds that amount, then quit while you are ahead.
What to look for in a virtual racing site
Technology plays a huge part in how we gamble online and on our smartphones. When playing, you want to get the best possible experience available. Look for a site or app that has games from a reputable provider, like Inspired Entertainment. They are a huge name in the virtual entertainment world and our go-to provider when we can't find anything else to wager on.
Make sure you only bet online with an operator you can trust. Any legal NJ online casino site will be licensed by the NJ DGE. This means the operator is regularly checked and is a trusted provider. They treat players fairly and handle withdrawals and deposits safely and securely.
Don't Base Your Predictions On Past Results
This may seem like obvious advice, but it can come back to bite you. It is easy to win a couple of wagers in virtual horse racing betting and feel like you are invincible. However, you should always be careful, as thinking like that will see you exceed your win/loss limits in no time.
Streaks only become apparent after the event. Every virtual race is an independent, random event. It doesn't matter if you have won or lost on your last ten bets; it means nothing regarding the next bet you place.
Some people may think winning a few bets in a row means they will simply continue winning. Likewise, if you are struggling and lose a few, you are not suddenly due a win. You must stick to your daily limits at all times.
Only Wager Money You Can Afford To Lose
This applies to gambling across the board but is always worth mentioning. Whenever you gamble, there is a chance you could lose everything. We can't predict if luck will be with us, and it is challenging to win. Therefore, you should only fund your account with money you can afford to lose. Additionally, it would be wise to consider this money gone the instant you deposit. If you pretend you have already lost this money and factor that into your experience, you will feel better.
Most gamblers are optimistic even with no assurances. If you think of the money already deposited as money spent, you can form a more realistic determination of what you can really afford to lose. Consequently, anything you win from then is even more of a bonus.
Keep Track Of Time
Because these races occur frequently and are only short in duration, it can be easy to lose track of time. In the time it takes to watch a virtual race, you could have watched an entire real horse race. It is always wise to take gambling in small doses, as doing this makes it easier to stop. Consequently, you are likely to make more intelligent decisions on how much money you spend.
Virtual Racing in several forms has been widely played in other countries like the UK for many years and has been hugely popular. It's still a new concept here in the US but has been very well received by players. You get the same thrills, and there is no weather to worry about. Of course, there is nothing like visiting the track or a racino and experiencing the real thing, but this certainly comes a close second.
FAQs
What is virtual horse racing?
It is a virtual version of real horse racing, featuring digitally generated action made available to horse racing bettors for betting - real money bets can be placed on race-winning bets, predictions, tricasts and each mode.
Is Virtual Horse Racing legal?
Yes, Virtual Horse Racing is 100% legal in the US. It is however classed as a casino game so it is only available to players who are in a state where online casino gaming is legal.
Are the horses based on real horses?
Yes, many of the horses that are used in the virtual world are in fact based on real horses. They may not share the same name but some will look very familiar.
Do I need to download any software to wager on virtual horse racing?
Nope. All of the operators offer an online platform for you to play on without the need to download anything to your computer. Many of the casinos now offer apps that you can download and wager on virtual racing.
Are virtual horse races completely safe and fair?
Once you use one of the trusted virtual horse racing sites, you shouldn't have any issues regarding safety or fairness. These operators will ensure that the random number generators that dictate the results of these virtual horse races are regularly tested by an independent panel to emphasize fairness.