Wagering on soccer has never traditionally been one of the top US betting markets. However, with the advancements in technology, virtual soccer betting is becoming one of the new popular betting opportunities.
Virtual betting is one of the latest innovations in the broader sports betting industry. Conducting virtual soccer games or virtual horse racing via advanced computer software opens up a plethora of new opportunities for mobile sportsbooks globally. Betting on virtual sports is now possible at any of the countless NJ online casinos, with more expected to launch soon. Additionally, Pennsylvania online casinos also offer virtual sports betting.
Virtual sports are making a big splash and is now more accessible than ever. Although there is no virtual football betting or virtual football league available yet in the US, there are plenty of options to choose from if you want to place a virtual bet. More and more virtual sports betting markets are appearing across the country.
DFS (daily fantasy sports) competitions have proven to be extremely popular in the United States. However, virtual betting is taking the online gambling world by storm, and one sport, in particular, is leading the way.
This article covers virtual soccer betting sites, including virtual sports betting tips, how to make money with this betting option, the difference in betting on esports compared to traditional sports and more. You may not be able to bet on the World Cup, but virtual soccer betting can be fun!
Best Virtual Soccer Betting Sites
If you are looking to bet on virtual soccer, these are the best operators available:
Each betting site above offers different virtual sports as well as soccer. As virtual betting is actually provided by online casino operators and not through the sportsbook or betting apps, you can only bet on virtual soccer in NJ, MI, and PA currently. You can wager on the game on your laptop/PC, or using your mobile on one of the operator's casino apps, that you can download direct.
Many of the operators above have a demo or free-play version of the game so you can sign up and get a real feel of how the games work and what you can expect the games to look like and play out.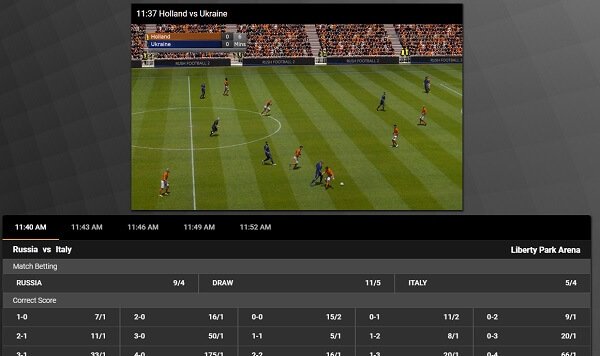 Soccer, known as football in Europe and most of the world, is arguably the most prominent sport globally. Most nations have a soccer league, so it is no surprise that legal virtual betting on soccer has snowballed. Indeed, when you browse the odds at leading online betting sites, you will notice virtual football or virtual sports games betting options listed at the top of the page. Just like when you bet on soccer in real life, virtual soccer gives bettors the thrill of live-action without the hassle of problems a real audience can bring. There are hooligans in the real world but not in the virtual world!
Our virtual soccer betting guide mentions the best virtual sports betting sites. Additionally, we will look at how to wager on virtual soccer, the pros and cons of virtual soccer betting, and some tips to hopefully turn those wagers into winning bets.
How Do You Bet On Virtual Soccer?
Betting on virtual sports, including soccer, is mostly the same as betting on a real-life sporting event. The only differences are the operators determine when the virtual events occur. These typically happen at fast-paced and regular intervals. Additionally, the bookmakers will decide who is competing.
Apart from that significant difference, the fundamentals are the same as standard sports betting. The most common bet would be selecting the outright winner of a soccer match based on odds or a Moneyline.
There are also numerous proposition bets that offer virtual sports bettors a different way to wager. In soccer, this could be the number of goals scored in a single match. It gives customers more options and variety rather than just trying to predict the correct score.
How Does Virtual Soccer Betting Work?
Virtual soccer is essentially a simulated competition that produces random results generated by computer software. All of the teams and players are entirely fictional, meaning they do not have any affinity to real-world athletes or leagues other than obvious links such as jerseys and team locations. Occasionally national teams with accurate flags are used to represent the virtual soccer teams, but they do not accurately reflect the real-world players.
All bettors should be aware that they can only view highlights of the event. So, you do not watch the whole 90 minutes of the game but rather key moments such as goals, clear-cut chances, red cards, or major injuries.
What you see displayed on the screen is similar to the graphics you would encounter on a game such as FIFA. Leagues begin and end on the same day, and the games last around 3 minutes before the next match starts.
As we mentioned in the section above, you can bet on these games as you would in the real world. You can use the odds for an upcoming match to decide which team you think will win. The only difference is the betting site you are using decides when the games take place and who is participating in them,
What Betting Markets Are Available?
The betting markets for legal virtual soccer are similar options that are offered for betting on real soccer games. The difference is that most of the markets are offered in Moneyline form, with the odd prop bet thrown in. We have listed some of the most popular virtual soccer betting lines that the best online sportsbooks are offering:
Outright Winner
Double Chance: As draws often happen in soccer, a double chance bet gives bettors the option to choose one of the teams to either win or tie.
Total Goals
Goal Vs. No Goal
Over/Under Lines
Asian Handicap: This type of bet removes the draw altogether and allows customers to place a wager on their preferred handicap or point spread. If a tie then occurs, all bets are refunded.
Correct Score
Ultimately virtual sports betting sites ensure all of the most prominent betting markets are available for each virtual sport.
Pros & Cons Of Virtual Soccer Betting
Let's take a look at some advantages and disadvantages of betting on soccer online. This will help you make an informed decision if you want to explore the virtual sports world or not. First, we will look at some of the factors that make virtual betting so appealing for customers.
Non-Stop Action
The most obvious positive of virtual soccer is that it is always available. You would need to wait for certain fixtures to take place according to the league schedule in the real world. Consequently, you will not be able to bet on a match for days, even weeks, in some instances.
This issue doesn't exist with virtual soccer. They take place 24/7 and typically every few minutes. Players can log in at any time and place their wager.
No Need to Research Form or Historical Events
When betting on soccer in real life, you need to analyze the form of both teams, look at their recent results, pick out their best players and recognize the impact of the schedule. In other words, in real soccer, there is a lot to consider.
There is no need for the time-consuming aspects of prior research with virtual sports betting. Everything is done at random, so you don't need to worry about weather conditions or form. All you need to do is choose a market and bet!
Fast Turnaround Time for Bets
Another issue customers have with real bets is waiting to have the bet settled. Even if you wager on sporting events that are just starting, you will need to wait a couple of hours for the results. If you are impatient when it comes to sports betting, virtual sports are ideal for you.
When you have submitted your bet on a virtual soccer match, you will discover the outcome in around two minutes. It only takes minutes to generate and display a virtual football match.
Next, we take a look at some of the negative features of virtual sports betting.
You Can Lose A Lot of Money Quickly
As with any aspect of gambling, it is vital to have some degree of self-control. Those who suffer badly from gambling addictions are particularly vulnerable to virtual sports. The positive points we have highlighted above, such as the quick turnaround time and 24/7 events, become massive downsides if you have no self-control. It is easy to lose vast amounts of money in minutes because virtual sports betting is so easy.
Knowledge Doesn't Help
Betting on virtual soccer is simply pure gambling. You cannot beat the bookie unless you get lucky. In the real world, you may feel you have superior knowledge of soccer, and this will help for upcoming events. However, there are no value bets to be had, so it is impossible to build a long-term winning strategy.
Virtual Soccer Betting Tips
As we have mentioned above, it is tough to gain an edge and consistently make winning bets. There is no guaranteed way to make huge profits from the legal virtual soccer field. However, there are some things you can do to develop some kind of strategy to keep you in the game.
First, we highly recommend you set a betting limit. Most seasoned gamblers employ a maximum bet limit of 3% of their bankroll. This avoids them making silly bets and reduces their playing time. We would suggest setting the limit even lower for new bettors.
Next, as it is completely free to peruse the virtual sports section of an online sportsbook, you should watch virtual soccer games online free to test the waters. Think of this as almost a practice session.
Additionally, it is worth studying the stats. Even though virtual soccer is fictional, some teams may draw minimal statistical inspiration from their real-life counterparts. Consequently, players can get the best edge by looking at each "season" statline at their sportsbook of choice. If one team dominates a particular season, it won't carry to the next season, so always look at the most recent numbers to guide your bets.
Finally, only spend what you have put aside for your virtual soccer betting experience. Never wager beyond that number. Being responsible is essential.
Bonuses for Virtual Soccer Betting
When you claim a bonus for a typical sportsbook bet, you will can choose which betting market you want to use the bonus on from several options. Some sites will allow you to use promos such as a free bet to use on a virtual soccer bet. Each betting app will have different terms and conditions, and like with any legal sports betting site, you must read these carefully. However, bonuses on a virtual sports betting site work in the same way as on a traditional online sportsbook betting on real sport.
Look out for any promos you could use to wager on a virtual game or virtual sport when you sign up.
Is Virtual Soccer Betting Available in the US?
You can bet on virtual soccer sites or virtual football betting sites in New Jersey. However, with it's growing popularity it would be no surprise to see virtual wagering appear in lots more casinos around the country in the next few years. The Professional and Amateur Sports Protection Act means that any wagers on sports that are placed on real-world sporting events in the US are prohibited, except in Nevada.
However, as virtual sports don't have any impact on real-world events, it would seem plausible that any state that decides to regulate gambling could then allow virtual sports betting. This would then allow casinos to offer  "virtual sportsbooks" that have live virtual races or soccer and football matches and take wagers on them.
It has been reported that Nevada will have virtual sports betting soon. Both Resorts AC and the Golden Nugget sites have deals in place with Inspired Gaming. William Hill US also has a deal in place with Inspired, hoping to roll out virtual betting across its Nevada sportsbooks and mobile betting apps.
FAQs
Is virtual betting fixed or rigged?
All virtual sports betting is in no way fixed or rigged. Virtual betting markets are offered by licensed operators who must act within the guidelines set by their governing body. If they act in breach of those guidelines, they would be severely punished. This ensures a safe environment for players.
What is the meaning of virtual sports?
Virtual sports are essentially electronic games that provide visual feedback on a display service. These are inspired by real-life sporting events. It is a simulated competition where the results are produced randomly by computer software.
Is virtual soccer betting legal?
Yes, betting on virtual soccer is 100% legal. It is only available in states where online casino gambling is legal as it's actually classed as a casino game rather than a sports betting game.
Are the teams in virtual soccer real teams?
No, they aren't. They are loosely based on real soccer teams so you may see a few faces that look familiar.