Wake Forest Demon Deacons at Clemson Tigers Betting Preview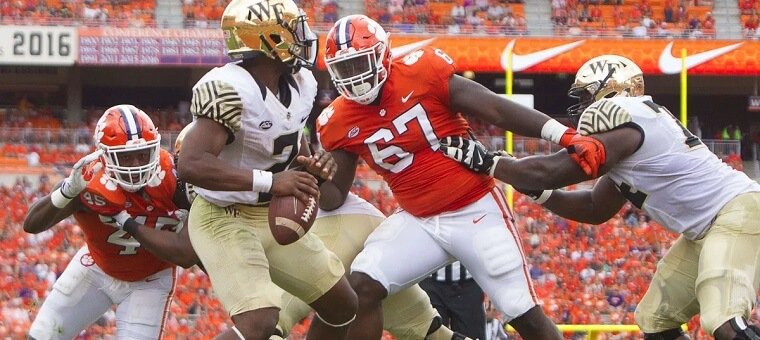 College football is coming down the home stretch before the holidays and making the College Football Playoff committee's job harder than it has ever been.
Game time: Saturday, November 16th @ 3:30pm
Ranked teams are dropping games left and right, so there is a big question mark as to who will be remaining at the end of the season.
One team that has put together one of the strongest seasons of 2019 is the No. 5 Clemson Tigers. The Tigers remain unbeaten through 10 games, and have dominated nearly every opponent they have been put up against.
This Saturday, they will be taking on the No. 19 Wake Forest Demon Deacons, who come into this contest at 7-2 as one of the better teams in the Atlantic Coast Conference. Both these teams have strong offenses, so let's break down the matchups and help you determine your best bets.
Are The Demon Deacons Good Enough To Be Nationally Ranked?
The ACC as a whole this year has been down. Many of its teams have not been finding success against other Power Five conferences, and there are not a whole lot of positive records to go around their programs.
Wake Forest does sit at 7-2, as mentioned earlier, but it stands to reason to question that record and if it is worthy of a Top 25 spot.
The Demon Deacons have not faced a single ranked opponent all season, and Clemson will be their first (and probably their only) test all year long.
Their two losses came at the hands of Louisville and last week against Virginia Tech. Neither of those teams has much to write about, so it begs the question to wonder if this team can hang around with the Tigers.
Quarterback Jamie Newman has been awesome this year, throwing 22 touchdowns with only seven interceptions. The Demon Deacons' offense is a big reason for their success all season, and they can threaten Clemson's secondary with Sage Surratt on the outside.
Surratt is a 1,000-yard receiver already and is one of the best pass-catchers in the ACC.
Are Tigers On Way To Another National Title?
Clemson fell out of the top four in the first set of College Football Playoff rankings of 2019. The Tigers have done nothing but win all season, and their one close game came against North Carolina. That close contest seems like it is being held against them more than anything else.
Clemson's defense is not anywhere close to what we saw last year in the national title game. Most of its defensive line got taken early in the NFL Draft, but the Tigers have been holding their opponents to around 11 points per game.
Wake Forest may be close to the top in the ACC, but the top dog is still Clemson. I don't know if the Demon Deacons will have any chance at putting a lid on Trevor Lawrence in this matchup.
I feel like the best player on the field will be Travis Etienne, who already has 1,200 yards rushing and 13 touchdowns. Etienne will allow Clemson to control the pace of the game and keep Wake Forest's offense off of the field.
Betting Preview
Clemson comes into this game favored at -32. That large spread has to do with how good they are and their home-field advantage.
There aren't any games in this game, and you should throw your money on Clemson as they are one of the best four teams in the country. Watch them as they dismantle the Demon Deacons this weekend, and be sure to lock in your bets before kickoff!
Make sure you check back for more Free NFL & NCAA Football picks and follow us on Twitter @Gamble_usa
Relevant news