Washington Capitals to sport Caesars Entertainment's logo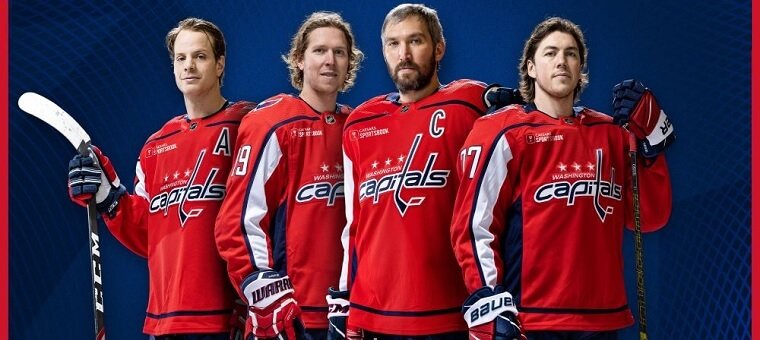 The Washington Capitals have announced Caesars as the club's first jersey advertisement partner
The Washington Capitals and Caesars Entertainment have announced they have agreed to a multi-year sports betting deal. As per the terms of the partnership, the Caesars Sportsbook logo will appear on the Capitals' home and third jerseys. The NHL team will be wearing these Jerseys at the Capital One Arena from the beginning of the 2022-23 NHL season.
This news means the Capitals are the first-ever team to announce an agreement in the new NHL's jersey advertising program. With the expansion of sports betting across the United States, more sportsbooks will likely make similar deals with professional sports franchises.

21+. T&C Apply
21+. T&C Apply
Jim Van Stone, chief commercial officer of Monumental Sports & Entertainment, said that after the successful launch of Caesars Sportsbook by the side of Capital One Arena last spring, they are "thrilled to introduce Caesars Sportsbook as the inaugral home jersey advertising partner." Van Stone added that the deal is a first-of-its-kind announced partnership in the NHL.
Van Stone stated that as two industry leaders, they have "built a robust partnership in the gaming and casino space." He said their partnership reflects their aims to provide "sports fans with world-class, unique experiences."
The 3 x 3.5 Caesars logo will appear in the upper right chest area of the jersey. As well as the new jersey patch, Caesars Sportsbook is expanding its partnership with the Capitals with more casino play, gaming, and Caesars Rewards programming elements. Additionally, there will be VIP seating and Caesar's hospitality space at Capital One Arena.
Chris Holdren, Co-President of Caesars Digital, said that "being woven into the Washington Capitals jersey" is an "exciting" step in their journey. Like Monumental Sports & Entertainment, Holdren stated that Caesars love "blazing trails" and are always searching for innovative opportunities that increase engagement with fans.
The NHL's jersey advertising program starts in 2022-23 and allows for up to two jersey sponsors per team. The Capitals will reveal their away jersey sponsor at a later date.
Caesars Retail Sportsbook at Capital One Arena
The Caesars Sportsbook opened at Capital One Arena in May 2021. It was another first of its kind, becoming the first sports wagering venue to open with a U.S. professional sports facility.
The sportsbook is 18,000 square feet with two stories, 17 betting windows, and 12 self-service betting kiosks. Additionally, there is Verizon 5G wi-fi capability, meaning fans can place bets on their mobile devices.
For more legal casino and sports betting news across the US, follow us on twitter @Gamble_usa for the latest news and offers.
Relevant news