What are Sweeps Coins?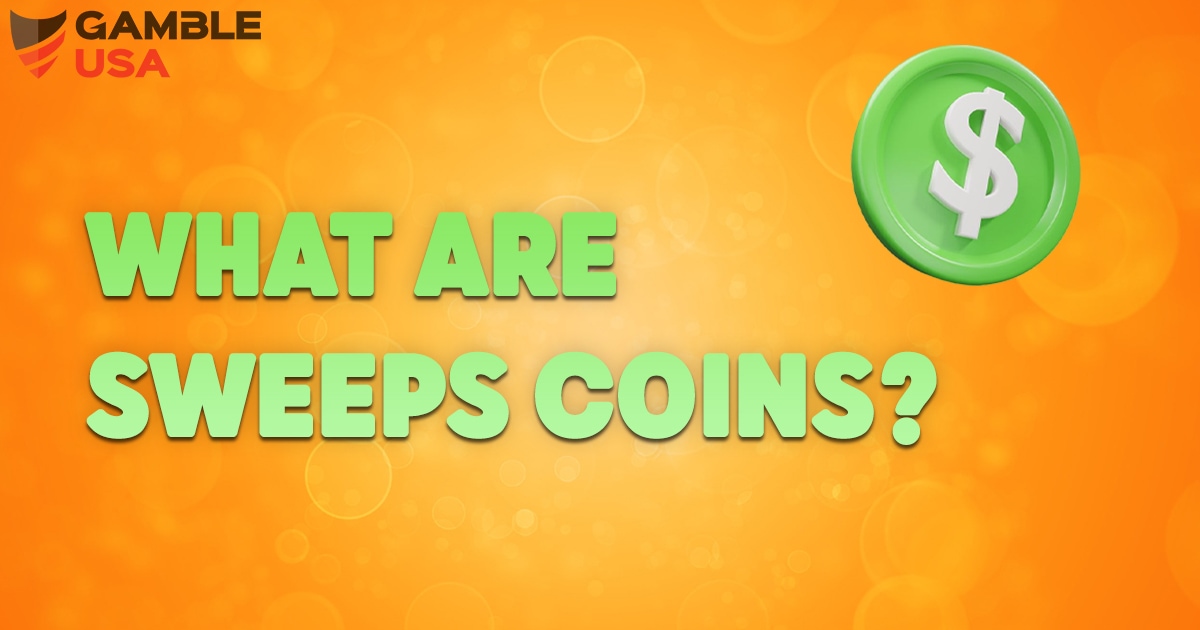 If you're stuck in a state where real money gambling isn't legalized yet, you most likely have heard of sweeps coins. Although they're a relatively simple model offering a legal alternative to playing casino games without purchase, they often confuse new players.
Sweeps coins are not a recent phenomenon. Their first appearance dates back to the 15th century when people placed stakes on the ground while playing marbles. The winner would take all the stakes, an action known as "sweeping" the stakes.
Today, sweeps coins are a virtual currency used in sweepstakes casinos for playing casino-style games without making a purchase. Although you cannot purchase sweeps coins directly, you can redeem them for real-money prizes.
Good enough? Let's get to the nitty-gritty.
Free Sweeps Coins Explained
Sweeps coins are a virtual currency mainly used in sweepstakes casinos, and they cannot be purchased — they're always free of charge. You can get them by registering your account at a sweepstakes casino, along with a purchased package of gold coins, through social media giveaways, daily login, mail-in bonuses, friend referrals, and other promotions.
If you get lucky while playing sweepstakes games, you can win more sweep coins and redeem them for real money prizes. And therein lies the greatest appeal of sweepstakes casinos — the ability to exchange virtual currency for real money without spending a dime.
Furthermore, all sweepstakes casinos have set a minimum redemption threshold. This refers to the minimum amount of sweeps coins you must collect before being able to redeem them for real money. As an unwritten rule, the threshold for redeeming sweeps coins for gift cards is between SC25 and SC50; for US dollars, it is between SC50 and SC100.
The redemption rate is typically set at a 1:1 ratio, meaning you can get $1 for every SC1 you win through gameplay.
Differences Between Sweeps Coins and Gold Coins
There are two kinds of virtual currencies that you can use in the sweepstakes casinos: Sweeps Coins and Gold Coins.
Gold Coins have no monetary value and serve as demo credits for playing games. Once you settle down your sweepstakes casino account, you'll get a package of Gold Coins. If you run out of Gold Coins during your gameplay, you can purchase a package with your preferred banking method.
These are the crucial differences between Sweeps Coins and Gold Coins:
Upon registering, you can receive a bunch of Gold Coins and a small amount of sweeps coins for free.
You can purchase Gold Coins directly with your real money balance.
Gold Coins have no monetary value, and they're used purely for entertainment.
You cannot redeem Gold Coins for actual money prizes.
Purchasing gold coins is possible, which results in free sweeps coins too, often equal to the amount of cash you spent on the package. Buying free SC directly isn't an option.
Why Do Online Casinos Use Sweeps Coins?
The answer is simple: online casinos use sweepstakes coins to operate under sweepstakes rules and acquire legal status in most of the country.
Sweeps coins are a clever solution to jump over the complex gambling rules that apply in almost every US state except Connecticut, Delaware, Michigan, New Jersey, Pennsylvania, and West Virginia, where gambling online is legalized.
The only states where sweeps coins, and therefore casinos using them, are illegal are Idaho and Washington.
How to Get Sweeps Coins
You can get the sweeps coins in any of the following ways:
By registering your sweepstakes casino account
As a part of your daily login bonus
As a gift when you purchase your golden coins package
Through daily wheel spins
Participating in social media contests and giveaways
Sending a mail-in request
Playing games and winning in SC mode
Which Casinos Use Sweeps Coins?
Sweepstakes casinos exploded in the USA in quantity and popularity. They're legal in almost all US states except Washington, where they're prohibited. Meanwhile, Nevada, Idaho, and sometimes New York are sporadically excluded in accordance with each casino's rules.
However, the most well-known sweepstakes casinos that use Gold Coins and Sweeps Coins or another equal currency are:
No matter what they're called, the main point is to have fun while playing casino games and possibly earn some cash.
Thanks for reading!
Relevant news