ZenSports App
Gamble USA strives to improve your online gambling experience. We aim to help you play safely, make informed decisions when gambling, and increase your betting knowledge through our guides.
We adhere to strict editorial integrity; our content may contain links to products from our licensed & legal US partners.
Established in 2016 as a social platform to connect local recreation players, ZenSports quickly transitioned to a sports betting app once the federal ban in the US was repealed in 2018.
As a sports betting platform, ZenSports originally set up shop stateside in Nevada in 2021. A year later the company was acquired by KyeStar Corp, however, the Nevada license didn't come with it.
Looking to relaunch in the US, ZenSports recently received a sports betting license to operate in Tennessee. The company also closed a new round of funding to ensure it goes smoothly.
Available for Android and iOS devices, ZenSports is accessible by a web browser but only from a mobile device. A desktop version is advertised as coming soon.
Entering a state with a dozen online sportsbooks is a tall order, but ZenSports has a unique angle with its peer-to-peer betting marketplace similar to betting exchanges in Australia and Europe. Although the P2P offering is not yet available, the company is hopeful it will launch sometime in 2023. Betting exchanges give users the ability to create their own bets to send to friends or post in the peer-to-peer marketplace.
While the unconventional sports betting style may be something most sports bettors in the US are unfamiliar with, betting exchanges are gaining popularity with the next generation of sports bettors.
ZenSports offers five percent cash back on every bet for the first 15 days to welcome new users. Customers will receive three percent back on every bet after that for the lifetime of the account. The best part is there are zero rollover requirements. Additionally, Zen Sports are the only online sportsbook in Tennessee that offers cash back rewards. This is an extremely attractive offer, and the brand will be hoping to attract multiple bettors on board with this incentive.
Below we go over what peer-to-peer betting is, how to join ZenSports, bonuses available, sports betting markets, payment options, and overall thoughts on the product.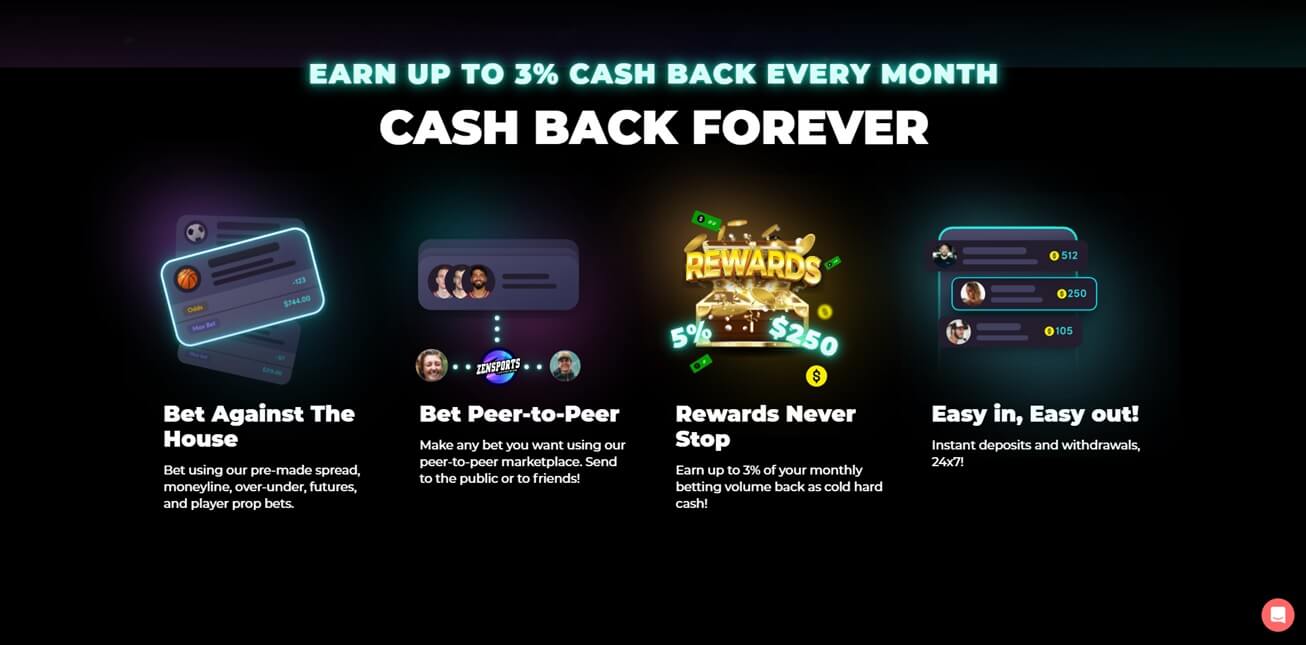 How ZenSports Betting Works
Along with a traditional online sportsbook, ZenSports is taking the first steps to establish itself in an underserved market, currently frowned upon by casino lobbyists and US betting legislation. While not illegal per se, the Wire Act prohibits betting exchanges from pooling funds across state lines, making it difficult for companies to generate the liquidity necessary to be successful.
ZenSports continues to take steps towards legitimacy in the US. Before originally launching in Nevada, ZenSports shuttered its international operations. More recently, ZenSports removed cryptocurrency as a banking option, for now, to strengthen its chances of receiving a sports betting license from Tennessee.
The sports betting app also recently swapped rewards in the form of its own crypto coin called SPORTS to cash bonuses. The token can still be traded. ZenSports is still interested in pursuing opportunities that allow users to wager using crypto.
Zen Hopeful of receiving P2P license in 2023
Although Zen Sports has recently received a license to operate as a traditional sportsbook, the brand is hopeful of launching peer-to-peer betting on the platform sometime in 2023. For now, P2P will not be launching with the initial product on offer from Zen Sports.
P2P Betting Explained
Peer-to-peer betting exchanges like Betfair and SMarkets are popular ways to wager internationally but have failed to catch on in the US due to the Wire Act.
The limiting US legislation hasn't stopped betting exchanges from making a recent resurgence in the news. New Jersey approved multiple peer-to-peer providers in August 2022, with Sportstrade and Prophet being the first to launch.
As a peer-to-peer marketplace, ZenSports acts as a facilitator, allowing customers to set their own betting odds. Users bypass the traditional bookmaker and instead agree in the peer-to-peer marketplace. By doing so, sports bettors can get better odds or find options traditional online sportsbooks may not have. A perfect platform for price-sensitive or exotic prop bettors to shop. Keep in mind custom bets won't always get matched.
The sportsbook side of ZenSports bakes in the traditional juice to the competitive odds, which are on par with the most popular online sportsbooks like BetMGM, DraftKings, and FanDuel. ZenSports charges a 10 percent fee on peer-to-peer bets, which is higher than the typical range of 2-5 percent.
The peer-to-peer marketplace is also a great place for sports bettors who have been banned by other online sportsbooks for winning big; something the more popular sportsbooks are becoming too comfortable with.
How to Join ZenSports
Prospective users can view ZenSports without living in Tennessee. Creating an account is as easy as linking an email. Active bettors must be 21 years of age and physically located in Tennessee. Geolocation checks are performed regularly.
To gain access to banking, ZenSports requires customers to fill out verifiable personal information, including your name, address, date of birth, phone number, and last four digits of your social security number.
ZenSports Mobile App
Available for both Android and iOS devices, the ZenSports sportsbook is mobile-only as of now. To view the sportsbook through the app you'll have to link an email. You'll also be asked if you have a referral code. With how new the platform is, tracking one down may be tough to come by.
The iPhone version of ZenSports can be found in the Apple app store. Android users will have to download the app directly from the ZenSports website here. Download the ZenSports mobile app and install it like any other program.
The sportsbook app does perform semi-regular updates. The most recent being in March. There's a product updates page that highlights the improvements being made.
Downloading the ZenSports Android App
Using a mobile web browser, head to the ZenSports website and look for the Android icon at the top of the homepage. Click the link to download.
Downloading the ZenSports iPhone App
Apple users can get the app by visiting the website or typing ZenSports into the app store search bar. The sports betting app does have an Apple app store rating of 3.6/5 stars, but it's based on 17 reviewers.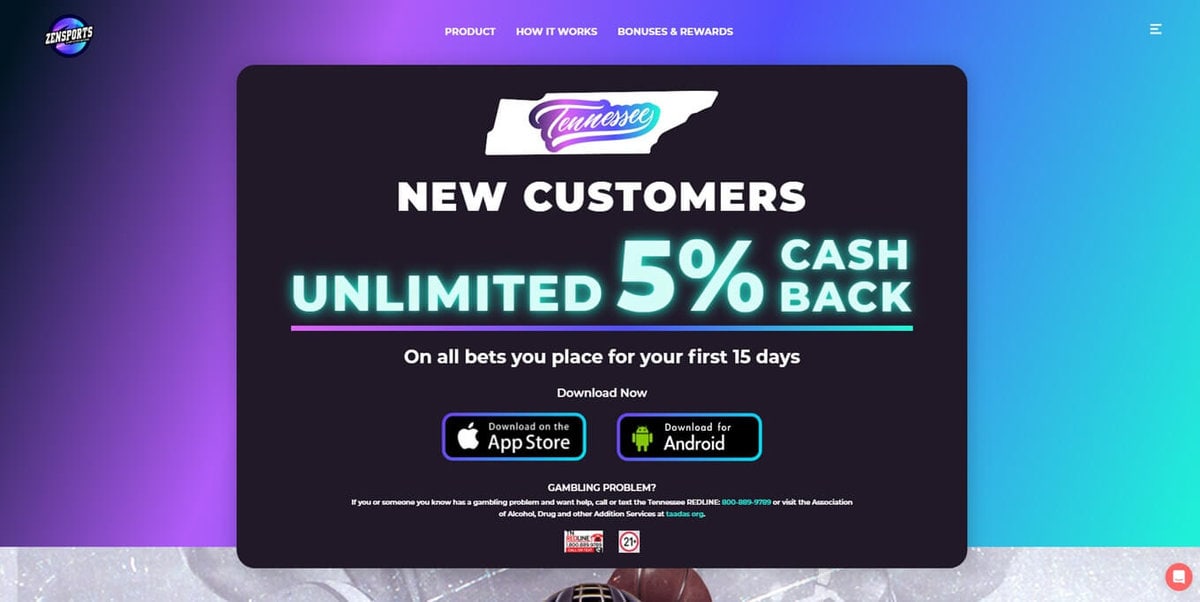 Our Thoughts on ZenSports
As laws continue to relax, peer-to-peer betting is the next logical step in the advancement of sports betting. ZenSports is hoping to become a major player through significant technology innovation, proper presentation, a strong social media presence, and a worthwhile lifetime cash-back bonus.
The easy-on-the-eyes online sportsbook app is equally as simple to navigate and has enough betting options to entertain casual sports bettors. The rolling out of meaningful updates and sports-specific bonuses, along with removing the daily fantasy sports section, should give customers confidence that ZenSports is focused on meeting the lofty expectations that have been set.
Bonus Information
For the first 15 days after registering an account, ZenSports is giving customers five percent cash back on all wagers. If the user signed up with a referral code, the bonus is uncapped. If a user creates an account without a referral code, the maximum bonus is reduced to $250. There is no minimum deposit required to claim the welcome bonus.
Users will earn three percent cash back after that. ZenSports also rewards customers who keep their funds on the app with an infrequent withdrawal bonus of one percent cash back. Withdrawals are tracked, and credits are issued monthly. Place at least five wagers and meet the minimum betting thresholds per month.
Cash Rewards Program
The ZenSports rewards program rewards users three percent in cash back at the end of every month based on their monthly betting volume. Reward cash can be used to bet again or withdraw from your account. You can read the full terms and conditions of the cash back rewards program on the bottom of the Zen Sports homepage.
Cash Referral Program
Earn three percent of the total betting volume made by your referrals during their first six months. There is no limit to the number of referral bonuses you can send.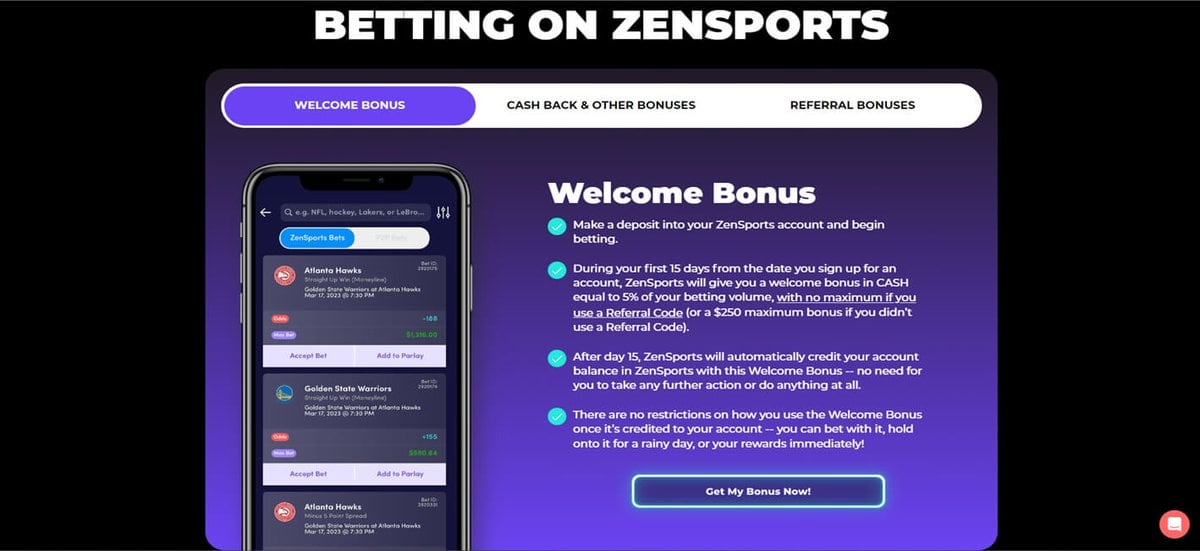 Standout Features
I downloaded the ZenSports app and poked around. Most online sportsbooks, especially new ones, could only hope to look this good. The sportsbook features a modern look mixing sleek design with traditional navigation using tabs at the bottom of the screen.
The five tabs to choose from are bets/contests, results, funds, notifs, and more. The more section includes referral bonus links, the reward program, settings, and customer support. The funds tab will be where users do their banking and fill out KYC info.
ZenSports Sports Coverage
ZenSports does off all the games from the major US professional sports leagues, including the MLB, NBA, NFL, NHL, and UFC. NCAA and soccer bettors will have the top teams to wager on. Everything else may be hit or miss. The forward-thinking platform does have a section for eSports.
ZenSports Betting Types
Bet types users can choose from at ZenSports are moneylines, point spreads, and point totals. Individual bets can be grouped into parlays to increase the potential payout. Due to the limitations of bet types, there is much customization. ZenSports does offer true odds on parlays. Something other sportsbooks in Tennessee may not.
ZenSports does have a section for futures, but they're found mostly on the peer-to-peer side.
The max bet size will vary. The wager limit is noted along with the odds. Bet-type filters can be divided by team, player, or length of time. Other listed options include will or won't, and write-ins.
The sportsbook app does notify you before switching over to the peer-to-peer marketplace the first time and makes you confirm your understanding.
In which states is ZenSports Sportsbook legal?
ZenSports sportsbook decided to initially launch in Tennessee, one of the fastest-growing states in the industry. Since going live in November 2020, the Volunteer State consistently ranks among the top 10 sports betting markets in terms of revenue.
ZenSports has its sights set on Wyoming, where crypto has already been approved as a payment option. The company has also mentioned it's looking into attempting to acquire a new sports betting license in Nevada. With a new round of funding secured, ZenSports' plans should have plenty of momentum.
Areas For Improvement
From the floating text on the website depending on the dimensions of the screen, placeholder copy (which they've since removed), and still saying Google Play doesn't allow sports betting apps, even though that rule is long gone, it's clear from the website that ZepSports is still working out the kinks. ZenSports offers a decent selection of sports, but the number of bet types leaves something to be desired.
The 10 percent fee charged for peer-to-peer transactions is steep compared to more established betting exchanges like Betfair, but with all the ways to earn cash back, true odds on parlays, and zero rollover requirements, the hit to your balance should be minimal.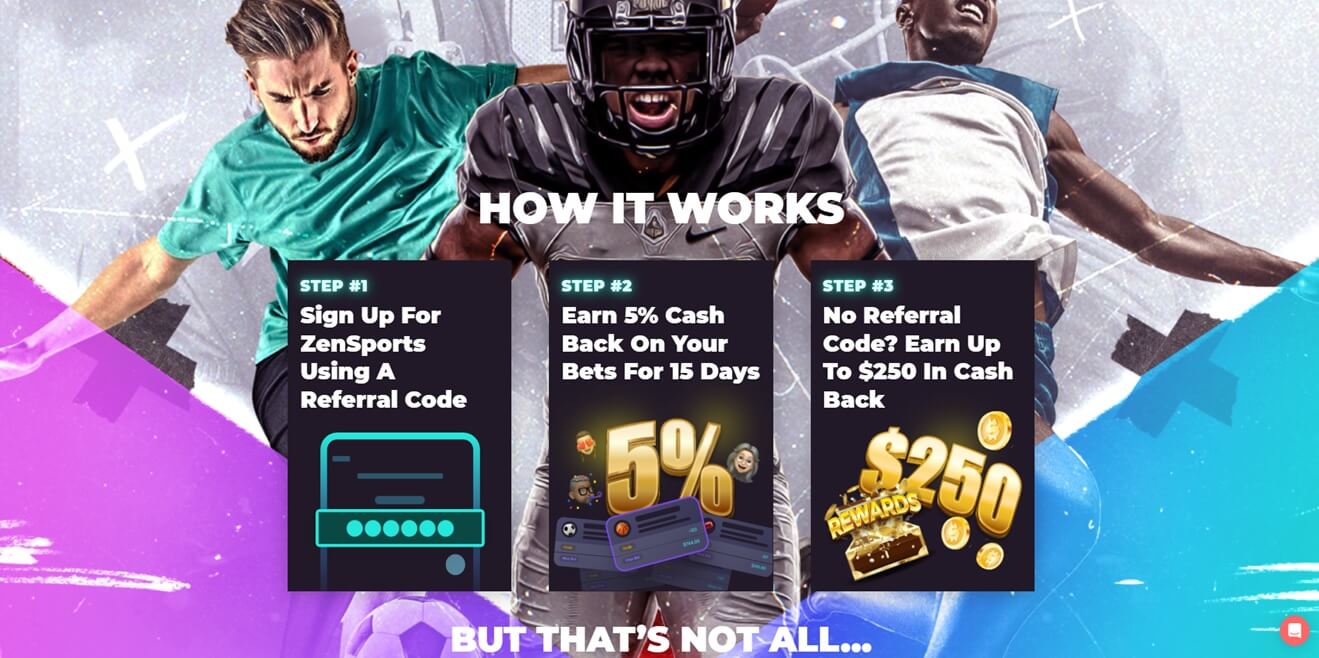 Banking
There is no minimum deposit required to claim the welcome bonus or otherwise. For instant deposits, users can use their credit or debit card. For all other banking methods, transaction times may vary. There are fees associated with withdrawals. The page with the details has been cleared, which means changes may be coming.
The Play+ prepaid card, which acts similar to a debit card, complete with ATM capabilities, can be loaded in a variety of ways for a small fee, including online bank transfers and PayPal. Users need to create a separate account with Play+ before connecting the account to ZenSports.
Here is the current range of deposit and withdrawal methods at ZenSports:
Customer Support & Contacts
The ZenSports help section, complete with a search bar and FAQ, can be accessed by scrolling to the bottom of any page. There is a live chat feature highlighted by a red icon in the bottom right corner of the screen. For those new to sports betting, the support page also has articles, video tutorials, and short webinar classes offered biweekly.
Final Words
ZenSports is under construction to create disruption, but it's clearly in its infancy. A lot is riding on a successful launch in Tennessee. The rewards program is decent, and the peer-to-peer marketplace could be a game-changer when it launches sometime this year, but for now, it's just a bunch of promises that previous betting exchanges have failed to meet.
Although Zen Sports is a new product, they offer lower than average fees on certain things, such as true odds on parlays. There is no doubt that the platform brings a fresh outlook on sports betting and can provide an exciting experience.
ZenSports is a forward-thinking platform in getting its name out there, using podcasts, a proper Twitter timeline, and daily local sports betting picks on TikTok. The company's interest in crypto could help generate additional attention down the line.
FAQ's
Is ZenSports safe?
ZenSports is safe for sports bettors in Tennessee looking to try a new online sportsbook or a different way of wagering. ZenSports recently received its license to operate from the state's Sports Wagering Advisory Council.
Is there a ZenSports mobile app?
ZenSports is mobile only. Available for Android and iOS, the sportsbook can be reached using a mobile web browser or by downloading the ZenSports mobile app. iPhone users can search for the app in the Apple app store. Android users need to visit the ZenSports website and download the app directly.
Which is the ZenSports bonus code?
There's no ZenSports bonus code required to claim the five percent cash-back welcome bonus. However, a referral code is beneficial for maximizing the bonus limit. Users with a code won't have their bonus amount capped. Those without it can earn up to $250 back. There are no rollover requirements. Whatever you earn is yours to wager or withdraw as you wish.
What states is ZenSports legal in?
ZenSports is legal in Tennessee. The online sportsbook hopes to open in Wyoming next. Other states with peer-to-peer sports betting exchanges are Nevada and New Jersey. Indiana may also be getting into the mix.

5% Cashback For 15 Days