Gamble USA strives to improve your online gambling experience. We aim to help you play safely, make informed decisions when gambling, and increase your betting knowledge through our guides.
We adhere to strict editorial integrity; our content may contain links to products from our licensed & legal US partners.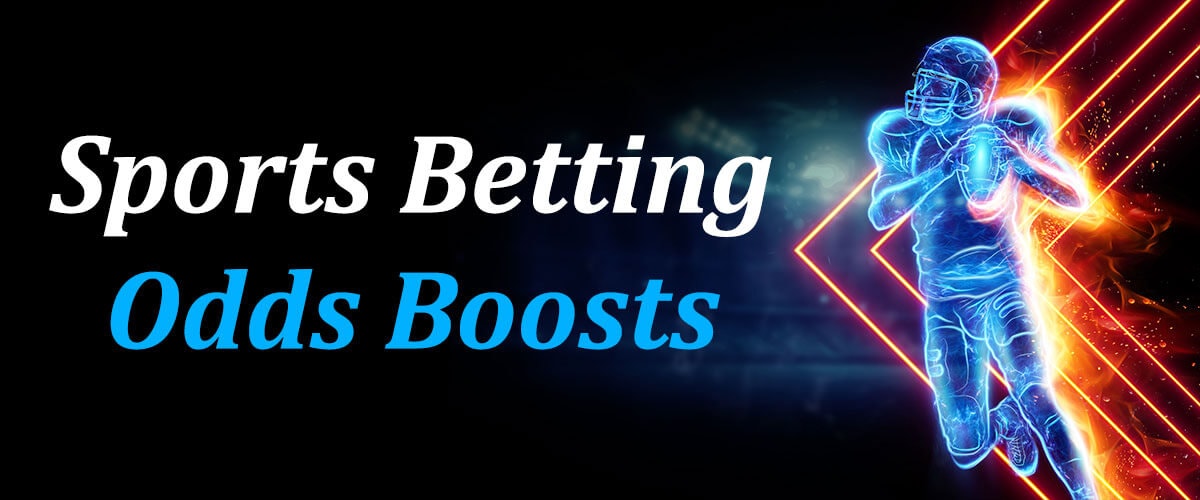 Although sports betting became legal in most U.S. states at various points in the past five years, the competition among sportsbooks today is at an outstandingly high level. The number of new online sportsbooks powered by state-of-the-art technology is constantly growing, and bettors now have a wide selection of platforms to choose from.
With sports betting being legal in more than 30 states, new, fully licensed online sportsbooks are emerging at a high rate. This situation creates an incredibly competitive scene that serves as a catalyst for the entire industry. Such competition is fundamental to the well-functioning U.S. gambling industry.
Although this situation puts wagerers in a sweet spot, online sportsbooks have to grind harder than ever to compete with their industry rivals and constantly come up with innovative ways to draw more customers. One of those ways is the implementation of new exciting promos like the well-known odds boosts that wagering enthusiasts can find today at almost any prominent sportsbook.
How Odds Boost Bonuses Work
Odds boosts are promos in which an online sportsbook increases the payout for a set of specific bets on a particular game. Odds boosts are a marketing mechanism in which the betting platform offers an opportunity for each gambler to win more money without adding more risk.
By allowing bettors to enhance their winnings by providing them with increased odds, online sportsbooks are trying to attract new users and keep their current users happy by giving them more value without the boosted risk.
Odds boost offers usually relate to a specific sporting event and can boost the payouts for particular betting markets for a certain game. While they can increase the money line odds for an exciting matchup, they can also provide bettors with increased odds for a specific prop bet or bet related to the total number of points scored in the game.
One of the most common betting types that most sportsbooks give odds boosts rather frequently are parlays bets, including the same-game parlays, which are now becoming more and more popular among US bettors.
Although odds boosts are lucrative in nature, you should be aware that they have some shortcomings. Namely, odds boosts promos usually increase the odds only between 10% and 30%, and they are very frequently associated with lower wagering limits that won't allow you to take advantage of the sportsbook and win too big.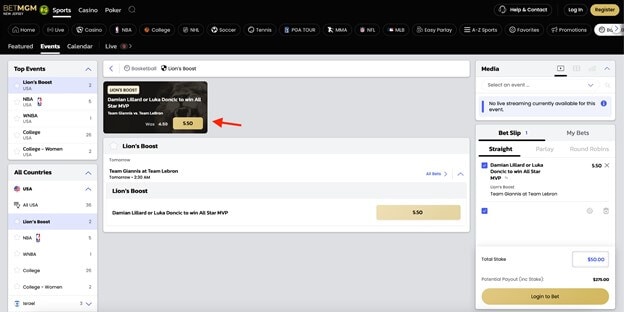 How to Find the Best Odds Boost Today
Given how competitive the market is these days, sports bettors can easily find daily odds boosts for games from any major league at almost any well-known sportsbook. Nearly all of the titans of the betting industry offer their users a plethora of daily promotions, including free bets and odds boost offers for some of the most exciting matchups from the major leagues.

Each odds boost promo is meant to be found, so you can rest assured you will have access to it a few seconds after entering your preferred online sportsbook. Besides the official websites and the mobile apps of each online sportsbook, players can also find odds boost offers on social media. Following some of the world-renowned sportsbooks on social media will allow you to remain up to date not only with every active odds boost but with all the other promos as well. Another option is to check out some of our guides for specific operator odds boosts, including:
FanDuel Odds Boosts
Caesars Sports Odds Boosts
Betway Sports Odds Boosts
BetRivers Sports Odds Boosts
BetMGM Sports Odds Boosts
Bet365 Sports Odds Boosts
PointsBet Sports Odds Boosts
Unibet Sports Odds Boosts
Borgata Sports Odds Boosts
How to find Odds Boosts on FanDuel
While Calculating odds and coming up with a winning betting strategy, in general, can be complicated, one thing that is never complicated is finding the odds boosts on FanDuel Sportsbook.
Players who use the FanDuel Sportsbook website can find the odds boost offers in the Popular section on the left side of the screen. Once they click the yellow Boosts icon, they will see all the offered boosts for the particular day.
Players who use the mobile app will find the Odds Boost offers just as easy. The FanDuel mobile app has a user-friendly layout, so finding the section you seek is never an aggravating experience. The Popular section on the FanDuel mobile app is at the top of the screen, just underneath the FanDuel logo. Here, wagerers can notice the yellow Boosts icon, where they can see all the offered boosted odds for the day.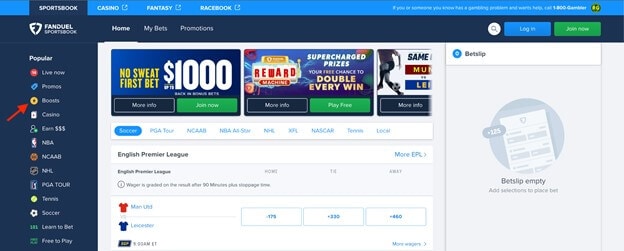 How to find Odds Boosts on DraftKings
DraftKings is a sportsbook known for its busy promotional calendar. The company is devoted to providing its customer base with a massive selection of various promos, including Odds Boosts. DraftKings Sportsbook users can find odds boosts on DraftKings for various types of wagers like money line wagers, over/under wagers, player prop wagers, team prop bets, parlays, and many more.
DraftKings users can get odds boosts on both the official website and mobile app. The first way to acquire better odds is by simply clicking on the particular bet offered by the sportsbook and adding it to your bet slip. The other way is by going to the promos tab on either the website or the mobile app and apply the odds boost bonus to your betting slip.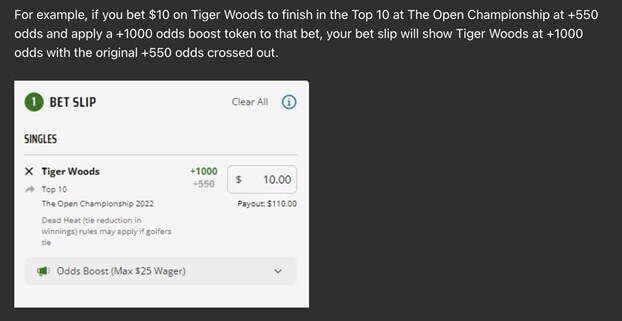 When Do Sportsbooks Offer Odds Boost Bonuses
The online betting business in the US is booming, so the level of competition is growing at a remarkable rate. Online sportsbooks are putting maximum effort to come up with new strategies full of marketing mechanisms and tools that will help them maintain their customer base and lure new bettors to their platforms.
The Odds boosts promos are one of the most common marketing tools that have proven to be very efficient for numerous sportsbooks. Thus, bettors can now easily notice how almost every online sportsbook offers boosted odds to increase the engagement of each bettor and attract new ones who will get a chance to win a bigger payout in exchange for their loyalty.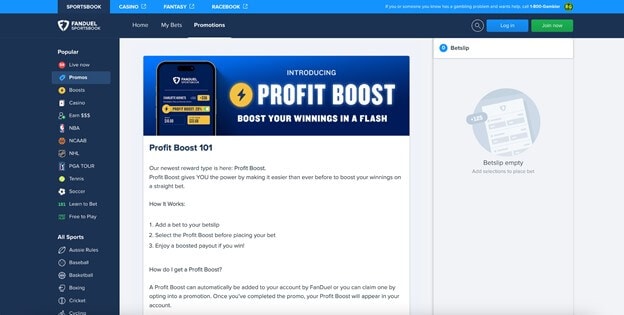 Are Odds Boost Bets Worth It?
Each Odds boost offers bettors a more profitable possible payment for the same amount of risk. At first glance, you can't really find anything wrong with how odds boosts work. However, as with anything else in the betting industry, there's more to it.
Odds boosts are primarily a marketing tool designed to attract customers and provoke their engagement with the brand. The gambling industry knows that the average customer is attracted to discounts. Thus, seeing an odds boosts promo will most likely draw them into opting in for the promo and placing a bet. However, bettors should know that sometimes they won't get the chance to see the original odds at many sportsbooks. This scenario will make it impossible for them to see if the boost is even worth it.
While each odds boost can significantly increase the payouts, players should always keep in mind that sportsbooks are in this game for profit. Many sportsbooks might give odds boosts for long-shot bets that don't make sense and will likely never hit. Others might give odds boosts to betting markets and events with significantly low wagering limits.
As with any other promo in the betting industry, our advice would be to take everything with a pinch of salt. Avoid being lazy to research and read the fine print, and always pay attention to the terms and conditions before indulging in a betting adventure kickstarted with an alluring odds boost promo.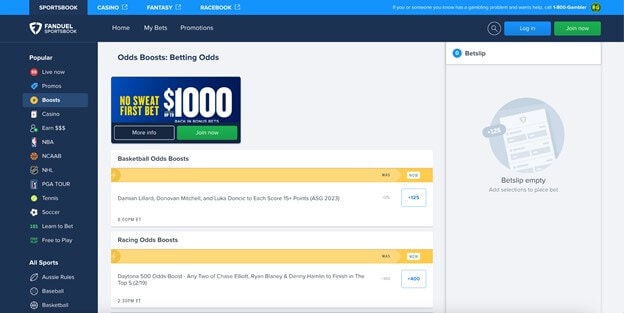 Calculating Your Odds Boost Predictions
Bettors who use odds boosts to increase their payouts are usually curious about how big the actual boost is. To do so, bettors can compare the original odds with the new boosted odds. If bettors want to find out the percentage of profit increase, they can use an odds boost calculator. However, it's worth noting that using a calculator is unnecessary since the formula is simple, and most bettors can do it on their own.
Here is the simplest way to figure out the profit increase in a case of boosted odds.
Start by finding the difference between the original odds and the new boosted odds. Ignore all negative signs of both the original and the boosted odds. Subtract the odds, then divide the result by the initial odds. The number you will get will give you the percentage of profit increase.
FAQ's
What is an odds boost?
Odds boost is a sports betting promo in which a sportsbook offers its customers higher odds for specific betting markets. Each odds boost is a time-limited promo, and is typically used to attract new customers and keep the existing customer base happy and engaged.
Are odds boosts worth it?
Generally speaking, every single sports betting odds boost promo can put the edge in the favor of the bettors by providing them with great opportunities to win higher payouts. However, it's worth noting that there is no universal answer to this question since many odds boosts for specific betting markets and sporting events at some sportsbooks might end up not giving any advantage to the players.
What is the difference between odds and profit boost?
Odds Boosts always relate to a specific betting market for a particular sporting event.

On the other hand, profit boosts don't have any predetermined bets attached to them. They function as a promo bonus that bettors can apply to their betting slips if they meet the requirements of the sportsbook.