Gamble USA strives to improve your online gambling experience. We aim to help you play safely, make informed decisions when gambling, and increase your betting knowledge through our guides.
We adhere to strict editorial integrity; our content may contain links to products from our licensed & legal US partners.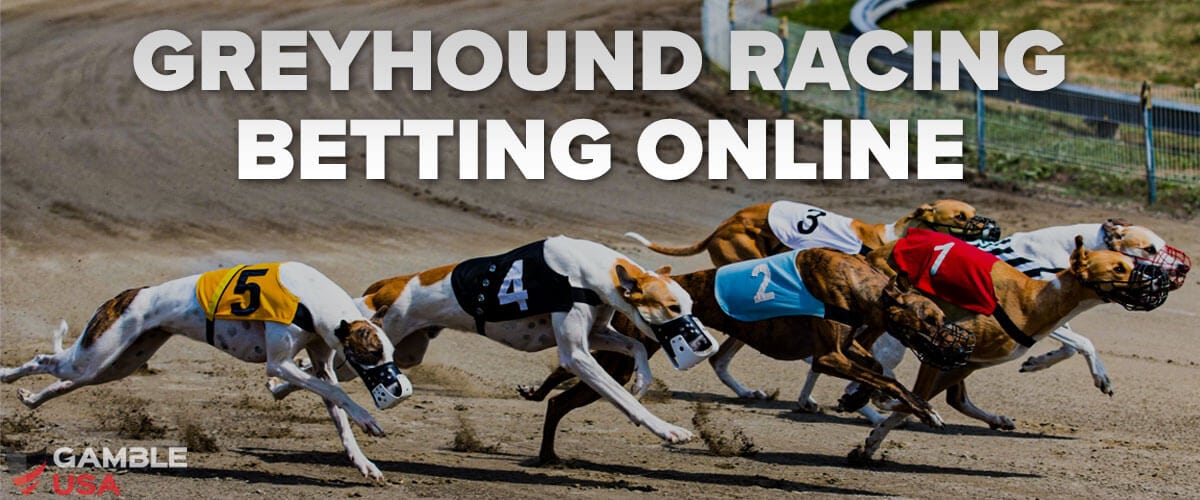 Greyhound racing is in decline due to anti-greyhound racing legislation, with many states opting to flat-out ban racetracks. However, you can still bet on daily races online in the US via licensed racing books.
In this article, we will show you the best legal US greyhound racing betting sites and different bet types, explain how it works, and pontificate on the ethics and future of this controversial sport.
Best Greyhound Racing Betting Sites 2023
The best greyhound racing betting sites are AmWager and TwinSpires. Both of these sites are fully licensed, have a long history of providing excellent betting services, offer secure payment methods, and have tons of live greyhound racing action from around the world!
🥇

AmWager

AmWager has been offering greyhound betting since 2009 and legally operates in over 30 US states. They have extensive horse racing and greyhound racing markets featuring up to 1000 events every single day, broadcast live from over 500 racetracks all over the world! AmWager accepts Bitcoin, ACH/eCheck, wire transfers, and PayNearMe and processes withdrawals within 2 days.
AmWager has a range of juicy bonuses, including cashback, a great VIP program, and a 100% deposit match bonus of up to $150. They have the biggest selection of greyhound racing events of any legal US racebook and all your classic bet types, including quinella, superfecta, and trifecta.
Get A $500 Sign Up Bonus
21+. T&C Apply
21+. T&C Apply
Legal US Racebook
Cash back rewards system
🥈

TwinSpires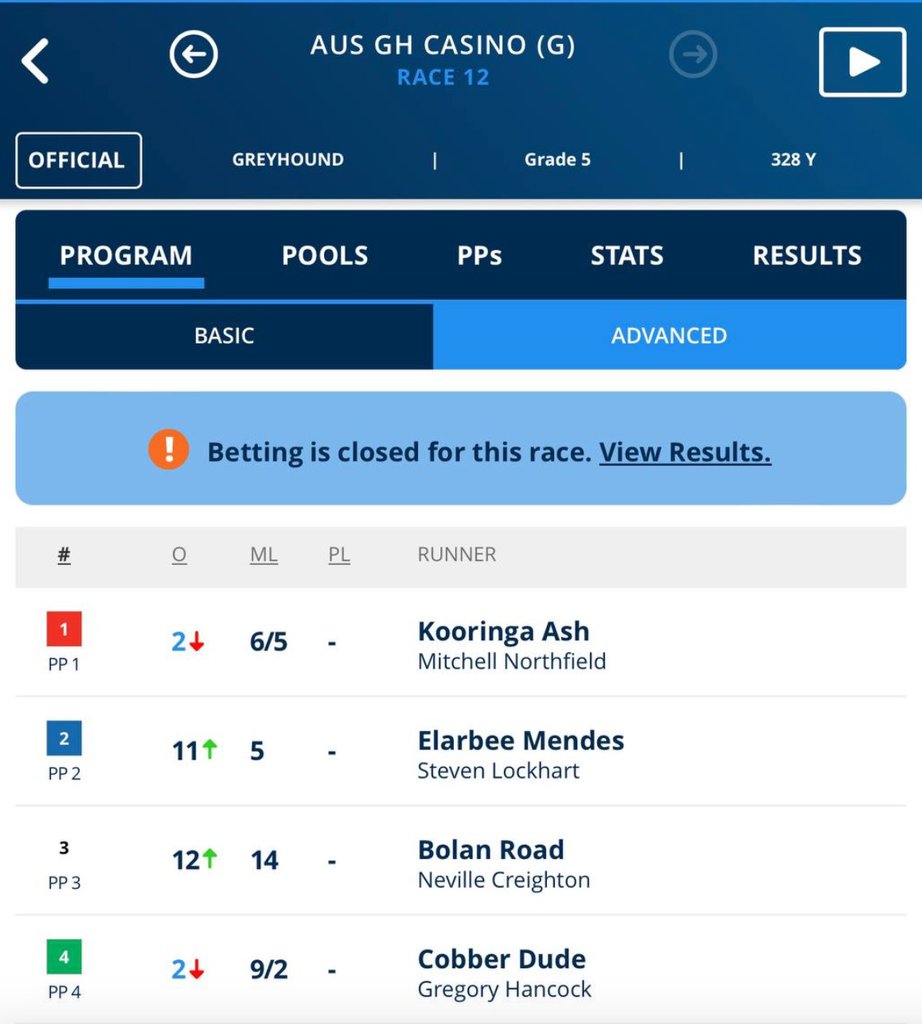 TwinSpires has been around since 1996, they are run by Churchill Downs Inc., the parent company of the Kentucky Derby, and operates in 30 + US states. You can deposit and cash out via Visa, MasterCard, ACH, MoneyGram, PayPal, Play+ card, PayNearMe, and Skrill. Deposits are instant, withdrawals are typically processed within 24 hours, and there are zero fees.
TwinSpires is famous for both its horse racing and greyhound racing markets. You can make all of your favorite bets online, including place, trifecta, and quinella, and their pari-mutuel pools are massive!
They live stream incredible races from over 300 racetracks around the world, including all of the best greyhound events from West Virginia and Mexico. You can bet on greyhound races 7 days a week and claim exclusive bonuses. Sign up at TwinSpires here and instantly get $200 in bonus bets.
Promo Code: BET1000
New Player $1,000 Risk-Free Bet
21+. T&C Apply
21+. T&C Apply
Huge free bet offer
Live betting & Odds boosts
Promo Code: BET1000
New Player $1,000 Risk-Free Bet
21+. T&C Apply
21+. T&C Apply
Is Greyhound Racing Betting Legal?
Greyhound racing is illegal in 42 US states, and races are only held in West Virginia. However, even if you reside in a state where it is banned, you can still legally bet on races held in West Virginia.
Off-track greyhound online betting is legal in:
Greyhound racing has attracted a lot of controversy as it has been deemed animal cruelty by many legislators and animal rights groups. Numerous cruel practices have been uncovered, such as excessive culling of dogs that don't meet race standards, injuries, deaths, and dogs being kept in tiny cages for lengthy periods of time.
Greyhound racing is still legal in West Virginia, Alabama, Arkansas, Connecticut, Iowa, Kansas, Texas, and Wisconsin. Currently, West Virginia is the only state that has an active racetrack and has events that you can bet on. The last two greyhound race tracks in the US are the Wheeling Island Hotel Casino Racetrack and the Mardi Gras Casino & Resort Racetrack.
How Does Greyhound Racing Betting Work?
To get started in greyhound racing, you first need to create an account at a racing book like AmWager. The sign-up process is similar to other online racebooks. Simply share some basic personal information like email, number, date of birth, and residence, and create a password. Then once you are signed up, deposit via credit/debit card, bank transfer, or e-wallet.
Now your account is loaded with funds, pop over to the betting markets and tap on greyhound racing. Then select a particular race, a bet type, enter your stake, and confirm your bet. It really is that simple, and thanks to AmWager's fast sign-up process and instant deposits, you can place your first greyhound racing bet in under 2 minutes!
Greyhound racing is a form of pari-mutuel wagering which is also known as pool betting. How it works is that the players' money is pooled together, the racebook then takes out their commission, and the winnings are distributed among the winners. The odds are not known until the betting pool is closed and the racebook has taken its cut. Here is an example, let's say there are 6 dogs running in a race, and the racebook takes the following action on each dog:
Dog 1 – $200
Dog 2 – $600
Dog 3 – $1000
Dog 4 – $500
Dog 5 – $300
Dog 6 – $1200
The racebook then charges a fee, for example, 10% on the total money in the pool leaving $3420 left in the pool (0.9 times $3800). To calculate the betting odds, you then divide the prize pool by the amount wagered on each dog. The payouts for the race would be:
Dog 1 – 17.1
Dog 2 – 5.7
Dog 3 – 3.42
Dog 4 – 6.84
Dog 5 – 11.4
Dog 6 – 2.85
The odds represent your total payout. For example, if you bet $100 on Dog 6, you would receive $285 and $185 profit. In pari-mutuel betting, you are wagering against other players rather than the racebook. This is a major reason why horse and greyhound racing was able to avoid anti-gambling crackdowns.
🐕Bet Types for Dog Racing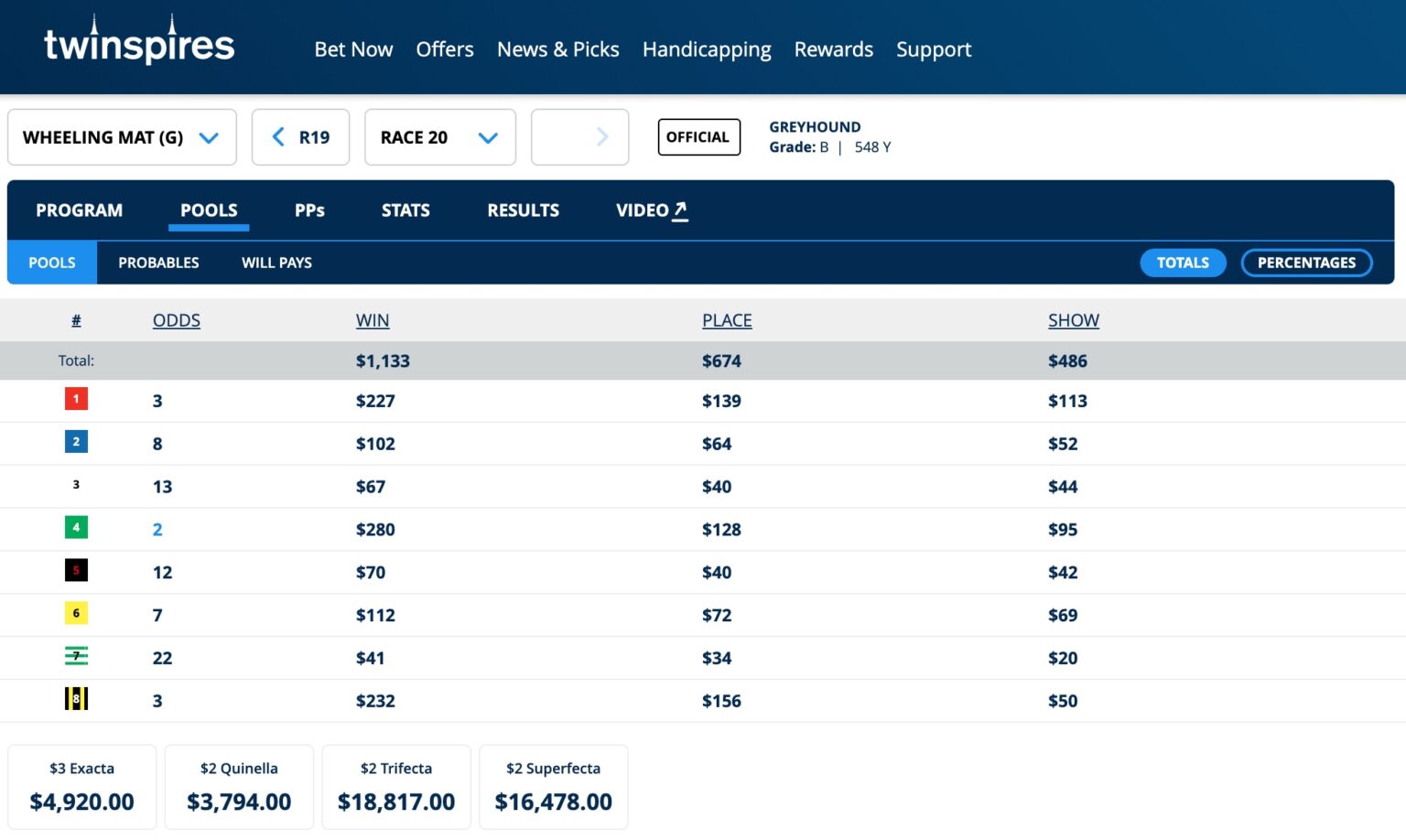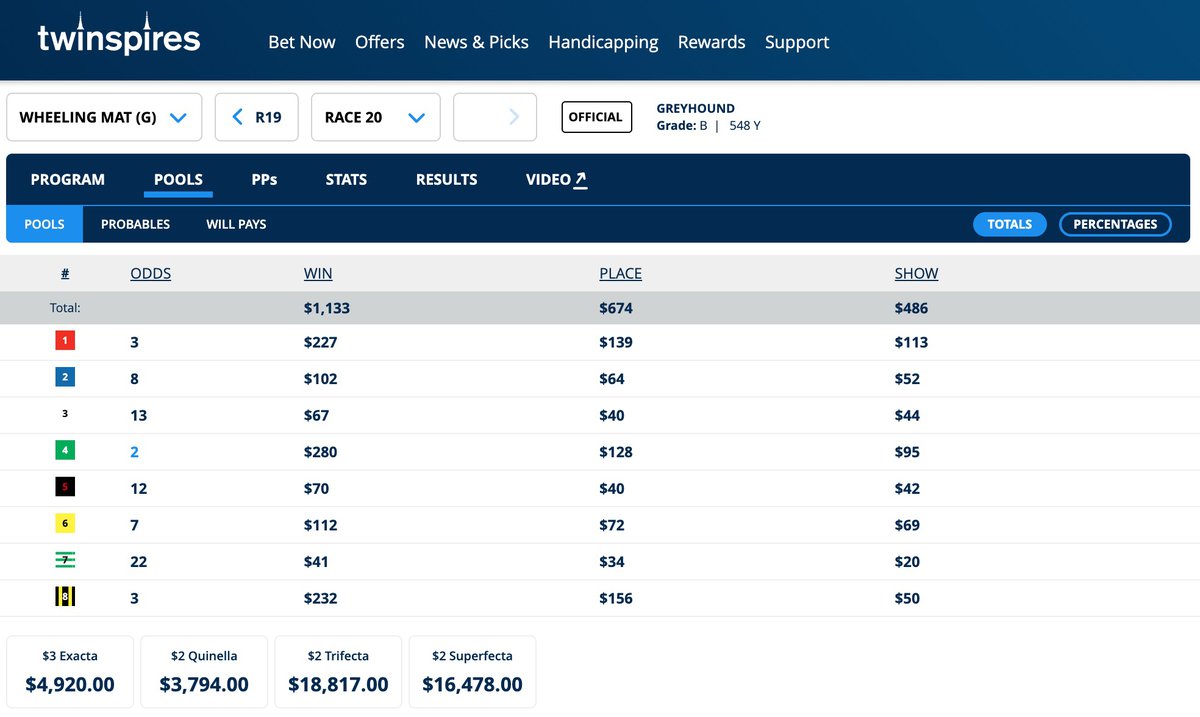 If you are familiar with horse races, you will immediately recognize the common greyhound racing bet types. However, if you are new to the world of animal racing, then some of these markets may be new to you.
Straight Bets
A straight bet simply means you are betting on a single dog to do one thing, such as win a race or place in the top three. Here are the most popular greyhound racing straight bets:
Win – You place cash on a particular dog, and if they win the race, your bet payout. This is a great bet if you are new to greyhound betting.
Place – If you want to reduce your risk, you can make a place bet, this is where you bet on a dog to come top 2. It doesn't matter if they come first or second, your bet still wins.
Show – With a show wager, you are betting on a greyhound to place in the top 3 of a race. This is a great bet if you are risk-averse. You will have a very high win percentage if you bet on strong race favorites to show.
Across The Board – In this unique greyhound racing bet, you make a win, place and show bet all at the same time. If the dog comes in first place, you win all 3 bets, if they come second, you win the place and show bet, but if they only come third, you only win the show bet.
Exotic Bets
An exotic greyhound racing bet involves betting on multiple dogs. These wagers can involve dogs from the same race or spread across different events. Here are the most popular greyhound racing exotics bets:
Quinella – With a quinella, you bet on two dogs coming first and second. It doesn't matter which order they finish the race if you still win. This bet is far riskier than a standard win bet but offers much higher odds.
Exacta – This is similar to a quinella wager, except you need to get the order correct. If you bet on Dog A to come first and Dog B to come second, but Dog B wins, and Dog A comes second, your bet won't payout.
Trifecta – If you want to chase even more competitive odds, you can predict which dogs will place top 3 and their exact order with a trifecta bet. This is extremely difficult to do, so don't risk too much of your bankroll!
Superfecta – A superfecta is like a trifecta on steroids! You need to predict which dogs will place top 4 and get all of their exact placings correct.
Daily Double – With a daily double, you need to predict the winners in 2 separate races. Traditionally this wager is offered on the very first 2 races of the day.
Pick 3 – This is like a daily double, except you need to predict the winners of 3 different greyhound races on the same day.
Jackpots – This is a progressive jackpot in which you win by picking 6 first-place winners on the same day. The jackpot continues to swell until someone finally picks all 6.
Parlays – Parlays is where you combine multiple greyhound racing bets into one bet slip. For example, you could make 2 show bets and a 1 win bet. Your wager only pays out if all of your bets are winners.
Boxing Your Bets – Boxing your bets refers to betting dogs in multiple combinations, so you win exactas, trifectas, and superfectas irrespective of the order of the dogs.
Keying Your Bets – Keying your bets is similar to boxing, except you bet on one dog to finish in a certain position, usually first, and then bet on multiple combinations of dogs around your key dog. Keying is cheaper than boxing but is riskier because if your key dog doesn't come in the place you predict, your whole bet will fall apart.
Greyhound Racing Live Betting & Streaming
An exciting part of greyhound racing betting is tuning into the race in real time and experiencing the same pre-race jitters as the dogs as they get led to the box. Then jumping up and down as you will them around the bend and hopefully into first place.
All top online greyhound racing betting sites offer free live streams in HD from race tracks across the world. This adds an interactive element to betting and a whole new level of thrill. You can also combine the streams with live betting. Live betting allows you to place wagers on races while they are taking place. For example, you could watch the start of the race, see which dog comes flying out of the box in first place, and then bet on them to win. With live betting, you can increase your win percentage by quickly identifying which dog is in form and in the right position to win the race. At the same time, you can see which dog is having a bad day and has no shot at placing.
There is nothing worse than watching a dog you bet on fall coming straight out of the gate. You can literally feel your heart sink in your chest. Fortunately, you won't ever have to worry about that if you stick to the live betting markets.
Greyhound Racing Betting Bonuses
To attract new players and keep existing bettors happy, online greyhound racing betting sites are constantly coming up with new promos. You can use these promos to reduce your risk while at the same time boosting your bankroll. Here are some of the best greyhound racing betting bonuses you can claim right now from AmWager and TwinSpires!
AmWager Greyhound Betting Promo Codes
Start cashing on these excellent greyhound racing betting promos from AmWager today:
100% first deposit sign-up bonus up to $150 – When you deposit and bet $150, AmWager will credit your account with an additional $150.
Cashback – For every dollar you bet at AmWager, you earn points that can be converted to cash. The exchange rate is 1600 points for $1, and if you are a top VIP player, you get 40 points for every $1 you bet.
VIP Program – Get access to your very own VIP host as well as exclusive bonuses, including bonus bets and juicy deposit match deals.
Get A $500 Sign Up Bonus
21+. T&C Apply
21+. T&C Apply
Legal US Racebook
Cash back rewards system
TwinSpires Greyhound Betting Promo Codes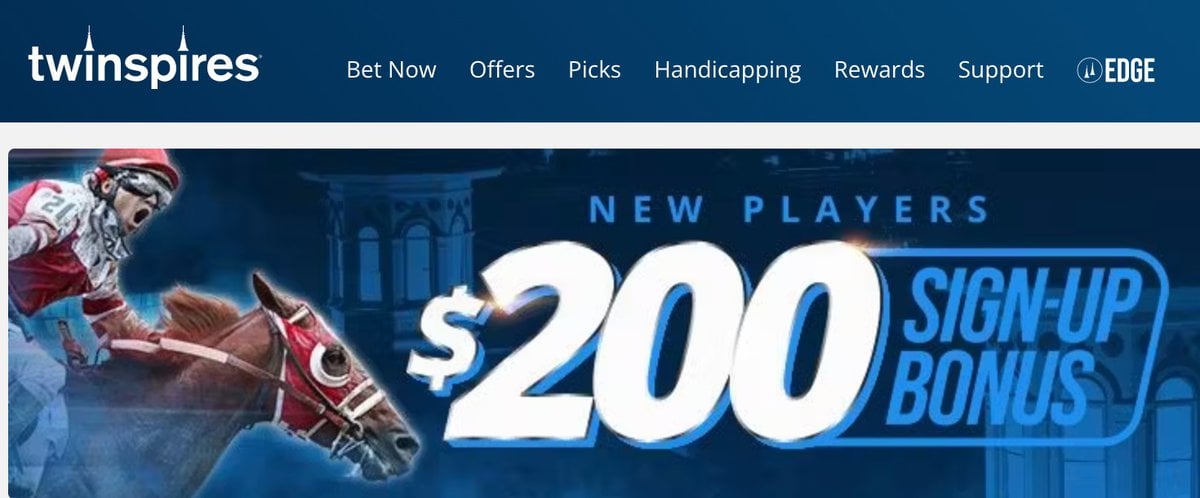 TwinSpires also has a great mix of greyhound racing betting bonuses, including:
$200 in bonus bets – Wager $800 and receive $200 in bonus bets when you use the promo code: BET200
Tournaments + Leaderboards – Opt-in to play for your share of weekly jackpots
Promo Code: BET1000
New Player $1,000 Risk-Free Bet
21+. T&C Apply
21+. T&C Apply
Huge free bet offer
Live betting & Odds boosts
Promo Code: BET1000
New Player $1,000 Risk-Free Bet
21+. T&C Apply
21+. T&C Apply
When FanDuel Racing and DraftKings Racing gain more ground, you can expect more promo codes for greyhound races.
How Does Greyhound Racing Work?
Greyhound racing is similar to horse racing but features dogs instead of horses. In greyhound racing, dogs run around an oval lap over a set distance, typically around 550 yards, and whichever dog crosses the line first wins.
At the start of the race, the dogs are placed in enclosed boxes. Then the race marshall opens the dogs' gates simultaneously. As the gates open, an artificial lure attached to the railing flies past, and the dogs take off in pursuit of the lure. The dogs will often keep running after the race is over and need to be stopped by their handlers.
Greyhounds are the dog of choice thanks to their natural sprinting abilities. A greyhound can run 100m in 5.33 and reach speeds of up to 72 km/h! They can even beat horses over short distances thanks to their incredible acceleration. Greyhounds were originally bred to hunt hares and small game based on sight. That is why they are so responsive to the artificial lure and as soon as they see it will immediately start sprinting all out.
Greyhound Racing Tracks in the US
Even though greyhound racing is legal in 8 US states, West Virginia is the only state with active dog tracks. West Virginia has two greyhound tracks:
Wheeling Island Hotel Casino Racetrack – They have live dog races 5 days a week featuring up to 20 races each. When they don't have live races, they simulcast events from across the world. Wheeling Island Casino doesn't just have a live greyhound track, but they also have over 1000 slots, table games, a classy hotel, numerous dining options, and even a comedy club!
Mardi Gras Casino & Resort Racetrack – The Mardi Gras Casino is loaded with excitement and features live greyhound racing, poker, and slots. They feature 4 restaurants, including a sports bar which is meant to have some tasty burgers. The Mardi Gras racetrack is open 7 days a week. From Tuesday through Saturday, they have live races and simulcast racing daily. You must be 21 years old to attend and bet on the races.
Don't hold your breath for any more racetracks to be built because the whole greyhound industry is under intense pressure from animal rights groups to shut up shop. We would love to see the over/under odds on greyhound racing existing in the US within the next 10 years.
Industry Concerns
Greyhound racing is a very controversial sport, and serious animal cruelty has been uncovered. Here are some of the key concerns animal rights groups have about greyhound racing:
Culling of dogs – Greyhound owners are legally able to kill dogs that don't meet racing standards. The result is thousands are perfectly happy, and healthy dogs who just don't happen to be fast enough are killed.
Injuries – Serious injuries are extremely common in greyhound racing. A recent study found that 21% of dogs suffered an injury over 3 months of racing. Common injuries include broken legs, necks, toes, spinal cord paralysis, and cardiac arrest.
Mistreatment of dogs – From 2018-2015, over 20 cases of serious animal neglect have been uncovered. Keeping dogs locked in tiny cages for 20 + hours a day is common, and owners will often starve dogs and deny them proper medical care. There have even been cases of owners giving their dogs drugs and steroids in a bid to improve their performance.
The overall greyhound racing industry in the US is in serious decline. Between 2001 and 2014, the amount gambled on greyhound racing in America fell by 70%. Also, revenue from greyhound racing declined by over 80% over the same period. The industry is now very small and only generates $13 million per year across the whole country.
Will Greyhound Racing Get Banned in the US?
It seems likely that greyhound racing will get banned in the US within the next 20 years. The average American is becoming much more sensitive to animal welfare issues, and nowadays, many people view their dogs as family members. Also, greyhound racing has been in serious decline for years, it is an outdated sport that is not nearly as deeply entrenched in the culture as horse racing. Americans 35 and under simply aren't interested in greyhound racing and would much rather tune into and bet on a basketball or football game.
Animal rights groups have already successfully gotten 42 US states to outlaw greyhound racing, and there are only 2 active racetracks in the entire country, both located in West Virginia. It seems very unlikely that any new racetracks will be built as they would be targeted by activists, and the political blowback would be too strong.
Summary
Greyhound racing is legal to bet on in the US, but races have been banned in 42 US states, and West Virginia is the only state that hosts events. The sport is in serious decline due to concerns related to animal cruelty, as thousands of dogs are culled every year if they don't meet racing standards also, catastrophic injuries and animal neglect are common.
Despite some bettors being turned off the sport, there are still exciting daily races in the US and hundreds of events across the world which you can bet online on at AmWager, a leading licensed racebook in the US. They have excellent mobile-optimized sites, and HD simulcasts from over 500 race tracks across the world, including West Virginia, and always have amazing promos. Sign up here and get a $150 sign-up bonus!