Gamble USA strives to improve your online gambling experience. We aim to help you play safely, make informed decisions when gambling, and increase your betting knowledge through our guides.
We adhere to strict editorial integrity; our content may contain links to products from our licensed & legal US partners.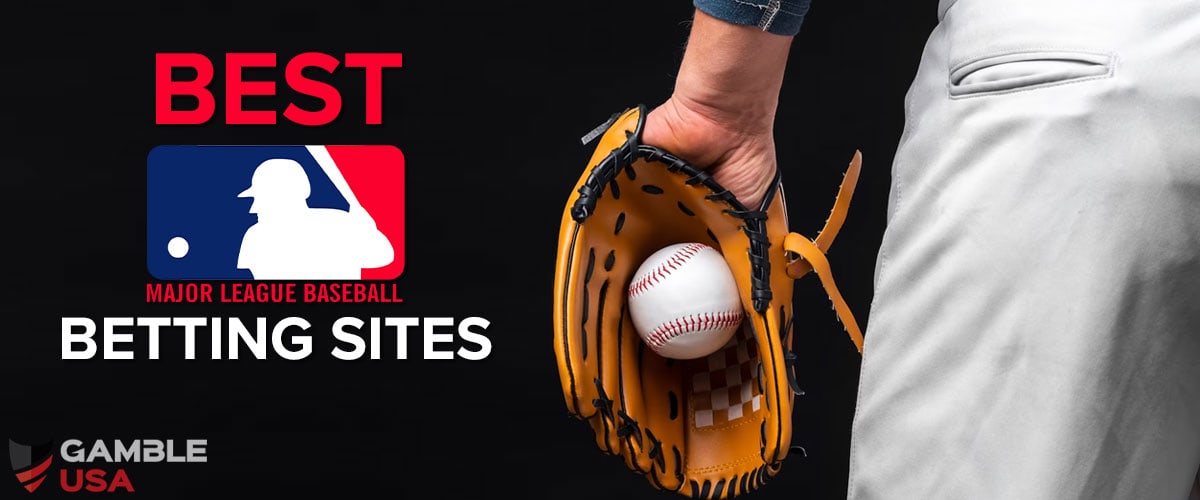 America's favorite pastime takes center stage for the Major League Baseball season and it's the coming together of the two American national leagues that catches the attention of millions of viewers. With a season that's jam-packed with thousands of matches, you can also have the chance to place some bets on MLB games.
Not every state has legalized sports betting but if you're lucky enough to have access to a sportsbook platform, you can easily put some money on a variety of MLB betting odds. Of course, some of the platforms have better odds and options than the others so we're here to help you make the right choice off the bat.
Let's get right into the action of what sets apart the best baseball betting sites and why the MLB is such a huge sports betting opportunity.
---
What is the MLB League?
Technically, MLB has only been around since 2000 when all of the professional US baseball leagues merged into one major league. Both the American and National League have been around for over 100 years but with growing interest, the decision was made to combine the two but keep the names for match scheduling purposes.
Because of this, there are 29 teams from the US and 1 from Canada that now compete in their relevant divisions to earn a shot at the Commissioner's Trophy. Let's break down the league into the sections that make up a standard season.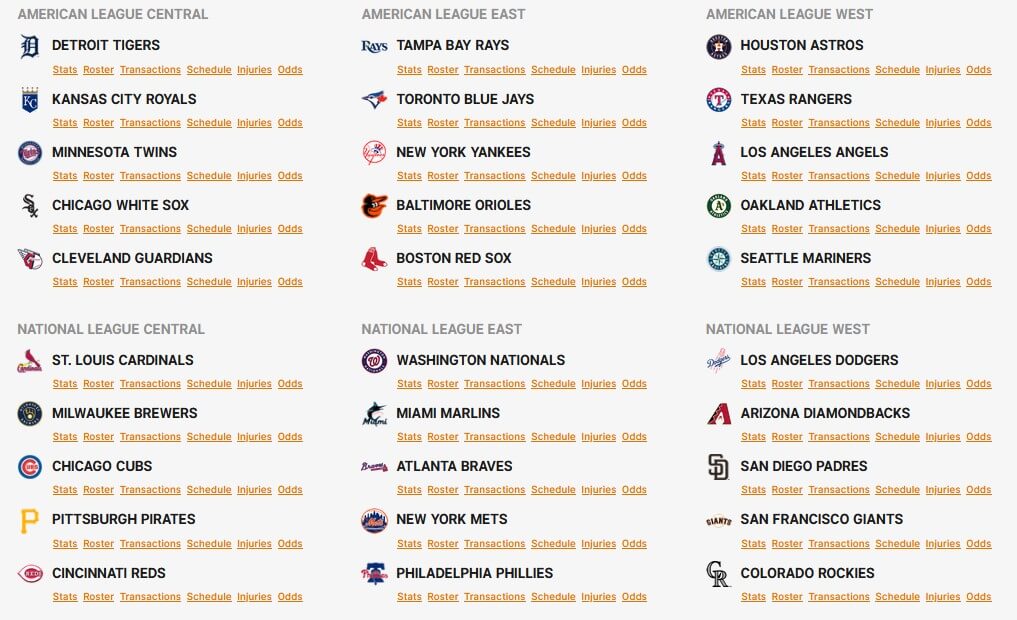 Divisions
As you can see in the image above, there are six divisions of the MLB categorized into two leagues, the American and National. Within each league, there are three divisions based on location, east, west, and central. Finally, these divisions each have 5 teams to add up to a total of 30.
Despite the categories, teams will play against each other at least once in their 162 games of the standard season. Either winning or losing their matches, the teams will compete on a log-based system where the team with the most wins earns a spot in the next knockout series.
Wild Card Series
After every team has played their 162 matches, each division awards six seeds to the teams with the highest win rates. Seeds 1 to 3 go all the division winners, with the top two seeds progressing straight to the Division Series.
Seeds 4 to 6 are all teams that never won their respective division but had the three highest win rates outside of the division winners but the highest in the league overall. These four teams (seeds 3, 4, 5 and 6) compete in a best-of-three knockout series, with 3 playing 6, and the winner facing seed 2. Seed 4 plays against 5 but the winner would have to take on the top-seeded team in the Division Series.
Division Series
With the wild card series completed, the tournament moves to its next series that decides the penultimate championship series fixture. The games played in the division series are best-of-five between the qualifying teams and it can make for some dramatic upsets when a wild card team manages to find their feet later on in the season.
Championship Series
To decide the winner of the American and National League, the winners of each Division Series match progress to face off in the League Championship Series. While it's not the grand prize of the season, the victorious team will claim the pennant and finally march into the MLB World Series. All of these matches are shown below.

MLB World Series
The world of baseball fans usually have the date set from the start of the season for the Commissioner's Trophy decider. It's always at the end of October and requires qualifying teams to go back-to-back through nine matches to decide the World Champion. There have been some very interesting results over the last few years and you'll find that MLB odds are truly at their best for this final match of the Major League baseball season.
---
Best MLB Betting Sites 2023
With so much action throughout the year, you're going to want to make sure you sign up at the top MLB betting sites before the first matches are underway. Here are our top five legal sports betting options with exactly what makes them a cut above the rest.
🥇#1. DraftKings


Our first recommendation comes as no surprise to any veteran of MLB betting lines. DraftKings somehow managed to stay ahead of the competition by offering endless betting options all while maintaining some of the best odds on the market. They also have a 20% up to $1,000 welcome bonus which can be used on MLB games online, but you'll have to make a minimum deposit of $5.
Expert Comments:
""You can't go wrong with the DraftKings platform. Their welcome offer extends your bankroll, allowing you more betting opportunities through the lengthy MLB season. Don't take my word for it, head to their site and click on any match to check the options. Anything you can imagine will have odds on it!""
– Paul Ricci (Chief Sports Editor)

---
🥈#2. FanDuel
Another clear favorite of American online sportsbooks would be FanDuel. They have one of the best online fantasy platforms alongside their comprehensive sports betting. You can also use the $1,000 No Sweat First Bet on any MLB games as long as your first bet loses and you've made a minimum deposit of $10. All the baseball fanatics here at GUSA love to assemble a team before the season kicks off and those victories are made even sweeter by the great odds that are available for MLB sports betting.
Expert Comments:
""A must-have for any baseball fans who have a deep understanding of the players and the teams going into the season. The platform itself is a breeze to use and the experience is only amplified with all these bonuses I can use before big matches.""
– Paul Ricci (Chief Sports Editor)

---
🥉#3. BetMGM
One of the biggest names in the sports betting industry is BetMGM. The online platform of the MGM Resorts company has gained a large share of the baseball bettors in the US and it's for good reason too. Their live betting platform is unmatched with updated graphics and several betting options. You can also claim up to $1,500 in bonus bets if your first bet loses and you've made a minimum deposit of $10. The betting experience is also considered one of the best with the sleek black and gold platform design.
Expert Comments:
""The King of Sportsbooks! They claim it and they live up to the statement. You'll feel like a king when you download the app or visit the site. Jamie Foxx is ready to welcome you to detailed coverage of Major League baseball games and a whole host of other betting options to keep you entertained.""
– Damjan Spajić (Sports Editor)

---
🎖️#4. Caesars
The US equivalent of William Hill is the Caesars sportsbook, which many also claim to be the best MLB betting site. The margins between all these sites are so fine that it's difficult to choose. Their welcome bonus of 100% up to $1,250 with 1,000 Tier and Reward credits is definitely unmatched though. The platform is perfect for high rollers while maintaining the betting selection that all customers need. The minimum deposit is set at $20.
Expert Comments:
"A seamless sportsbook platform to add to my collection. Caesars really had me covered for a number of Major League games thanks to the dinger of a welcome bonus. The loyalty program has got to be one of the best in the market, so you can constantly keep those rewards coming."
– Oliver Dickinson (Sports Editor)

---
🏅#5. PointsBet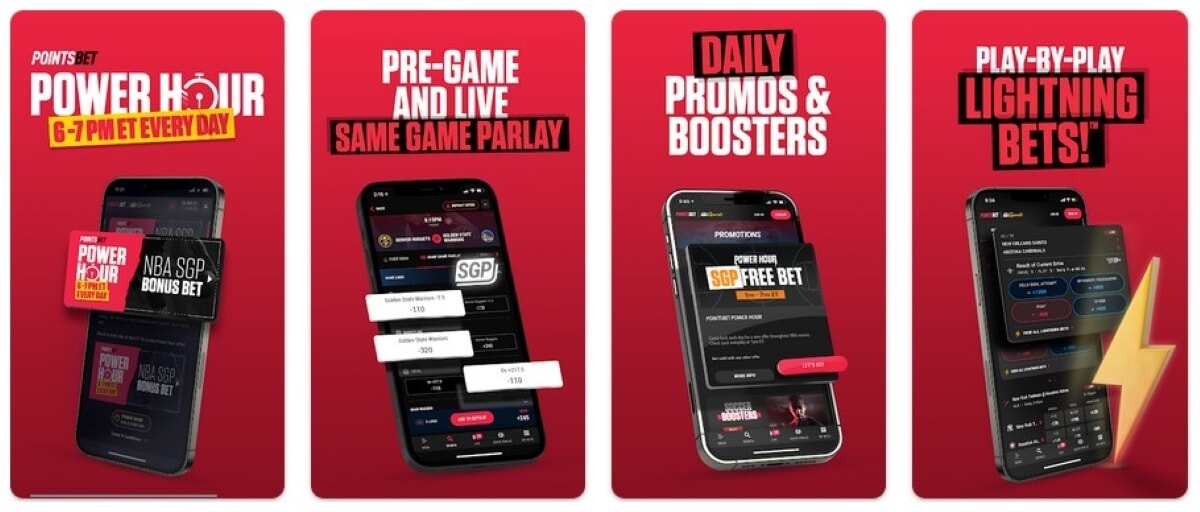 Last, but certainly not least, is the PointsBet sportsbook. This baseball betting site is best suited to active sports bettors as you can be looking to claim 5 x $100 bonus bets in the first five days of opening your account! The platform has a minimum deposit of $5 and you can expect plenty more promotions with the Power Hours that's available every day at 6-7 PM ET. MLB betting lines are highly competitive with a decent amount of betting options.
Expert Comments:
"This is the perfect online MLB betting site for fans who are looking for high-risk, high-reward style betting. The PointsBet feature will keep you on your toes for every run that's scored and you could be in for a decent payout if you play your cards right."
– Paul Ricci (Chief Sports Editor)

---
Key Aspects of an MLB Betting Site
If the sportsbook you're interested in isn't in our top five, you can still use our expert categories to compare the platform. These involve:
Betting options: No matter what platform you're looking at, it's crucial that they have enough betting options to satisfy your predictions. There's nothing more frustrating than having that feeling that Matt Olson will hit another dinger only to find your sportsbook doesn't offer individual player prop bets.
Bonuses: Next up, we take a close look at both the welcome bonuses and the existing customer promotions that will apply to MLB games. With the industry being so competitive, most sportsbooks try to keep the rewards coming in an effort to gain new customers and keep the ones that have already signed on.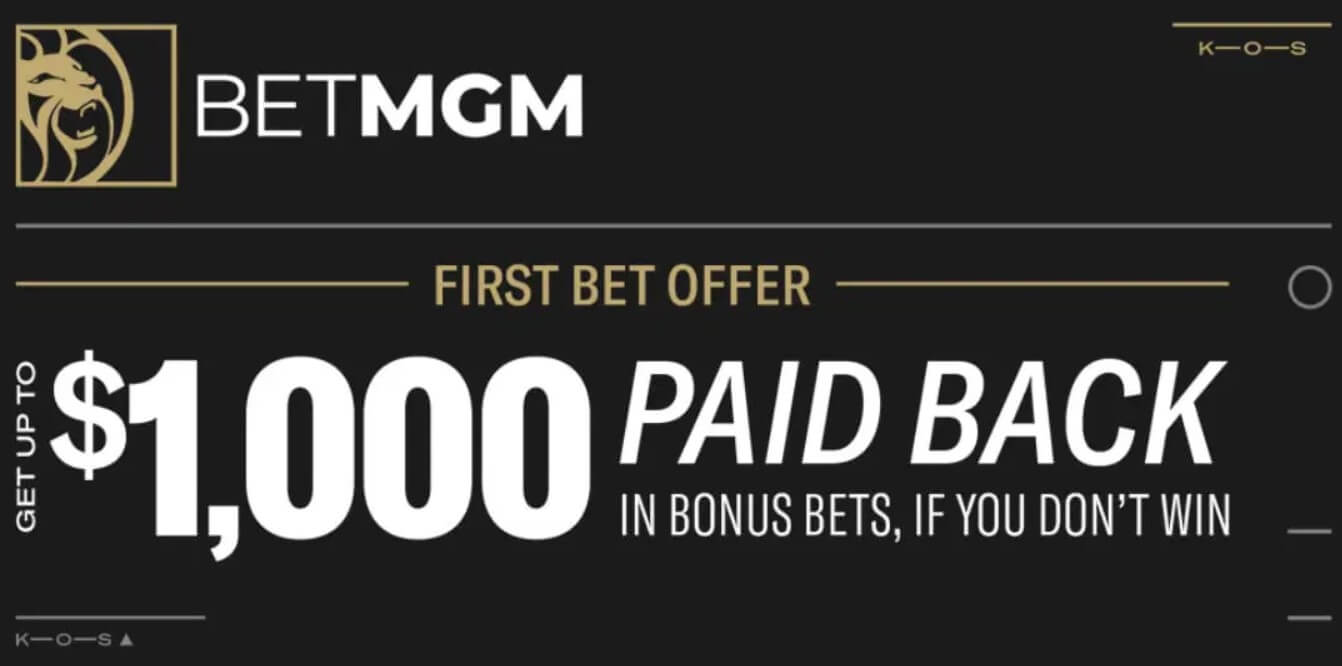 User experience: Besides all the details and options, it's also important for your betting experience to be enjoyable and easy. Most sports fans would prefer to use the platform that gives the least hassles when it comes to placing a bet. We carefully explore both the online and mobile betting platforms to rank them against the rest of the competition.
Market coverage: If you're just getting started, we highly recommend that you only bet on sports you are familiar with. Sports betting is a challenging industry for a reason, anything can happen on the day! For this reason, always scroll through all the sports markets that are available with the platform before you open your account.
Payment methods: Finally, you'll want to make sure that your preferred method of payment is available with the sportsbook platform. Some sites, like FanDuel, now offer Venmo which is an unparalleled level of convenience. No matter what you prefer, just make sure it's an option on that deposit and withdrawal page.
---
How To Get Started on an MLB Betting Site
To make this process as quick and painless as possible, make sure you have the following details and documents:
ID or driver's license
Utility bill from the last 3 months
The last four digits of your SSN
Active email address
Payment information
Once you have all of that, head to the platform that you're the most interested in using. The 'Register' or 'Join now' button should be very clearly displayed, usually in the top right or the middle of your screen. Click on it to get the process started. First, you'll have to share your full name and email address. After that, you usually have to share all your personal details including your title, address, full name, and the last four digits of your SSN. Finally, you'll submit a scanned copy of your ID and sometimes a utility bill to verify your address.
After that's done, it's simply a matter of heading to the deposit page, making your first deposit to trigger that welcome bonus, and then selecting the betting option that you're interested in.
---
How MLB Betting Odds Work
The odds you find on MLB matches work exactly the same as they would with any other sports betting market. The only difference is how the odds are presented, three formats are used; American, decimal, and fractional odds. Take a look at the table below for a comparison between the three.
| American | Decimal | Fractional |
| --- | --- | --- |
| +110 | 2.1 | 11/10 |
| +250 | 3.5 | 25/10 |
| +300 | 4 | 3/1 |
| -150 | 1.67 | 2/3 |
| -200 | 1.5 | 1/2 |
American
These are the odds you'll come across the most while betting in the US. It's always in the format of a plus (+) or a minus (-) in front of a number, usually in the hundreds. The + sign would indicate underdog odds and it simply means that if you bet $100, you would win the positive amount on top of your bet. For example, on +250, you'd win $350 total. The – sign indicates the favorite and gives you the amount you'd have to bet, to win $100. So, a $150 bet at -150 would win an extra $100, totaling $250.
Decimal
Decimal is a little easier to calculate your total winnings but it would probably require a calculator. Here, all you have to do is multiply your bet by the decimal odds. For example, the $100 bet on 3.5 would return a total of $350. You can also tell the sportsbook's favorite if the decimal odds are less than 2, anything above and you've got an underdog option.
Fractional
The last odds format is fractional and shown in the third column. It's a more basic version of American odds in that the number after the slash is your bet amount and the number before it is the possible winnings. The odds of 1/2 would mean that if you placed a $2 bet, you'd only be able to win another $1 if your prediction is correct. It's a little trickier to convert this amount for bigger bets, but bet slips will do that for you nowadays.
---
MLB Betting Strategies
Now to get down to the details that significantly help sports bettors to increase their chances of winning; MLB betting strategies.
Do your research
The first point might sound obvious but if you've seen Moneyball you're surely aware of the immense volume of data that baseball matches and players generate. There are a ton of statistical approaches that can be taken to gain insights into performance on the day, but we don't expect you to be a mathematical genius. You can start to build up a stream of information from reputable experts in the field to apply to your betting game. You'll also have to be somewhat familiar with the teams and the players but the easiest way to do this would just be by watching the sport itself.
Follow the latest developments
Another area to look for some insights would be sports media outlets and online personalities. This will take some time as the internet is filled with fake accounts and misinformation surrounding any sports market. We recommend joining some social media pages, checking what experts are saying on online forums, and recognizing who is consistently giving good information. You might come across a tip for an injury to a key player that tips the match's balance before the betting odds are adjusted.
Get to know your options
You're also going to have to use all of your information on the correct betting options. There are several betting strategies related to bet types that you can couple with your MLB strategies. Learn how to place some teasers or round robins to make the most of your predictions, or, if you're uncertain, simply go for the moneyline or spread on the team that you think will take it.
---
Types of MLB Bets on Sportsbooks
MLB bets are slightly different from other sports markets that you may have experience with. You'll find the majority of standard options like the moneyline, prop, parlay, total, and live bets but the main addition is the run line as well as the NRFI and YRFI bets.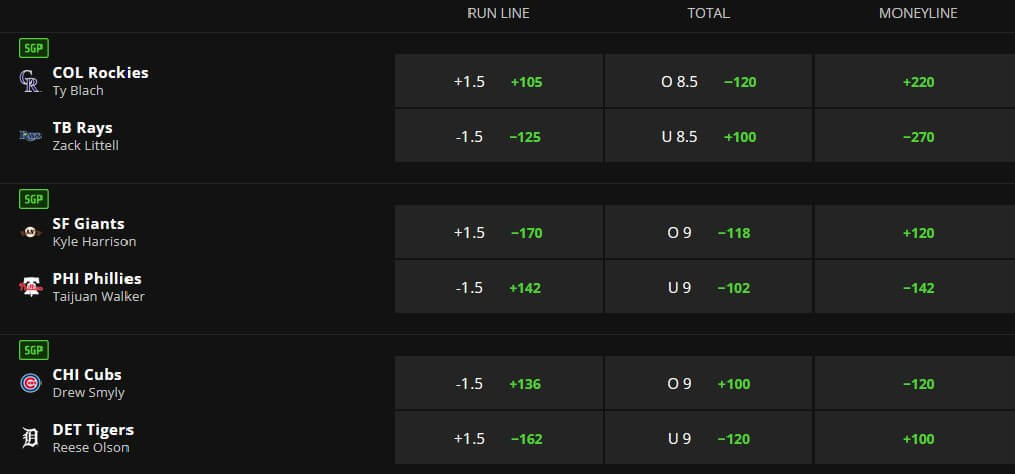 Runlines: This betting option is the baseball equivalent of a spread bet. You can add on, or subtract, some runs from either team and have an entirely different match result, with different odds. Got the Giants at +1.5 against the Phillies? Well, they'd have to lose by 2 or more for your bet to be lost.
Moneyline: A moneyline works the same as it would with any other sport. You're simply betting on the winner of the match. For example, you'd have +220 odds if you bet on the Rockies to beat the Rays. No runs were subtracted or added, just guessing the winner.
Total: The total bet is a little different. Here, you'll be betting on the sum of the two teams' runs. Say you put $10 on the O 9 Cubs and Tigers bet. No matter who wins, if there are more than 9 runs in that match, you'll win $10 on top of your initial wager at +100 odds. The O and the U simply represent over or under the total amount which is shown by the number.
Prop: If you've got something a bit more specific in mind, you could look at the list of prop bets. These will usually involve specific player performances or events that take place during the game. Below is an example of each individual batter's chance of scoring a home run. You can also bet on the first team to score or on an odd or even final score. It all really depends on your preferred sportsbook platform. Just remember that a walk does not count as a base in baseball prop bets.

Parlay: A parlay bet involves a combination selection of any betting options. It's available with just about every platform and of course, the payouts dramatically increase when you keep selecting more and more options. You can also place single-game parlays that involve multiple selections in a specific match-up. For example, you could place a moneyline on the Giants and a U8.5 total bet on the Rockies and Rays to have the multiplied odds of +340.
Live betting: Finally, live betting! It's becoming one of the most popular betting options as customers can bet their money while the match is underway. If you think there's a dramatic turn of events on the horizon, you still have time to place a bet with decent odds by using the live betting platform. These betting options differ significantly but they follow the same principles as the other betting options we've listed here.
---
Betting Mistakes to Avoid
Being a gambling game, there are some mistakes that sports bettors can't help but make. We're going to highlight the two most common factors so that you can think twice before confirming that betslip.
Using your heart
Everybody loves a passionate fan but unfortunately, the never-give-up attitude that some have when it comes to sports teams can be a major disadvantage when placing MLB bets. It's natural to believe that your team will be the favorite in a match-up or you might think your favorite players are going to have the games of their careers to cause a dramatic upset. It's usually not the case. If you plan on making a profit while sports betting, we highly recommend closely looking at the statistics behind each team and the form going into a matchup.
Double or nothing
The first mistake can also be coupled with this second factor which is even more frustrating. If a bet never went your way the first time, don't plan on betting on the team that's just lost because you think the next match will be any different. There's always a possibility that the team makes a dramatic turn but it's doubtful. Follow what the stats tell you, take a close look at all possible factors that you can during the build-up, and make an unbiased decision that is not influenced by your previous bets. Unless, of course, you're placing a hedge bet. Then it's a whole other story.
---
Legal and Regulatory Considerations
We highly recommend that you triple-check licenses when you sign up for a platform that involves sharing your payment information. There are so many online scams and illegitimate services nowadays that it's difficult to tell them apart. By verifying that a sportsbook has a license, you can rest assured that the platform is required to adhere to the regulations that have been clearly set out by the relevant state commission. This includes strict regulations when it comes to fair play policies and information protection.


Besides the license, you also have to ensure that your part of the agreement is upheld by refraining from any VPN use or fraud. All legal MLB betting states require that customers are over the age of 21 to be able to place a bet. If you try to work around this factor, you could have your account closed and be banned from the sportsbook service entirely. You also have to ensure that you follow responsible gambling practices to ensure your own financial security is not at risk. Sports platforms have limits that you can impose on your own account for most periods of time and this usually helps to lower the risks of gambling addiction.
---
FAQs
Where to bet on MLB games?
Many sportsbook platforms are now available in the US to place your MLB bets. The competition is tight between them and we can confidently say that the quality of each platform is remarkably different from the next. Through our experience, the best MLB betting sites would have to be Caesars, DraftKings, BetMGM, FanDuel, and PointsBet.
Can you bet on MLB preseason?
Yes, you can. Not all of the betting options will be available though. You can bet on the outright who you think will win the World Series but you can't bet on a match scheduled on the 20th week of the season. You'll have to wait until the odds become available to bet on a specific option.
Are there any welcome bonuses for new MLB bettors?
Yes, there are plenty. Nowadays, sportsbooks try not to limit themselves to specific sports markets for new customers. You'll find that most welcome bonuses are available for every market but it's always important to check. Besides that, sportsbooks like BetMGM, Caesars, DraftKings, FanDuel, and PointsBet have frequently updated existing customer promotions to keep the rewards coming.
Can I bet on live MLB games?
Live betting has become a staple of the sports betting industry. Just about every platform has it but the betting options on the live matches are vastly different. If you have a specific live bet in mind, we recommend first checking out some matches that are live at the moment to get a feel for what's available.