Gamble USA strives to improve your online gambling experience. We aim to help you play safely, make informed decisions when gambling, and increase your betting knowledge through our guides.
We adhere to strict editorial integrity; our content may contain links to products from our licensed & legal US partners.
Caesars Sportsbook has emerged as one of the leading sports betting sites in the US today, offering an awesome betting platform with tons of betting opportunities. Not only is it good for betting, but it's also a top operator for withdrawing your winnings. In this guide, we will show you how to withdraw your winnings and look at the different withdrawal times & methods.
The operator has covered more ground after it purchased William Hill PLC, one of the largest sports betting operators in the world. Now, you can access Caesars Sportsbook in numerous US states, including Colorado, Arizona, Indiana, New York, New Jersey, West Virginia, and Iowa.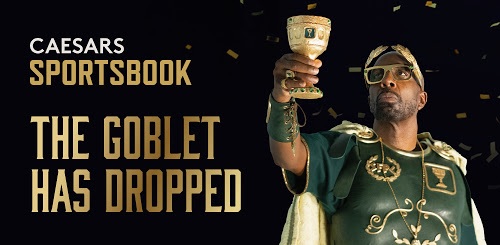 New players who register on the platform using the Caesars promo code "GUSAFULL" will be eligible for a first bet on Caesars up to $1,250. It is a classic bonus bet offer and one of the best on the market. This can be used to wager on the numerous sports markets for a chance to win even more rewards despite a lost first bet.
So, what happens when you use your bonus to land a bet and win more? How do you withdraw your cash, and how fast are payouts on the Caesars sportsbook?
Well, you'll be glad to learn that withdrawing cash from the Caesars Sportsbook is a very seamless process. You'll simply have to initiate a withdrawal using one of the numerous payment options available, verify your identity, which may need you to send in some documents, and wait for your withdrawal to be complete.
This guide will look extensively into how you can successfully withdraw your earnings from the Caesars Sportsbook app. Here, you will learn about the various payment methods and withdrawal times, where to insert your sportsbook promo code for Caesars, tips to ensure you don't experience delays, and other vital information. Before we go any further, let's look into how to make deposits as Caesars.
Promo Code: GUSA1000
$1,000 First Bet on Caesars
21+. T&C Apply
21+. T&C Apply
Promo Code: GUSA1000
Massive welcome bet offer
Earn Caesars Rewards
Promo Code: GUSA1000
$1,000 First Bet on Caesars
21+. T&C Apply
21+. T&C Apply
How To Deposit at Caesars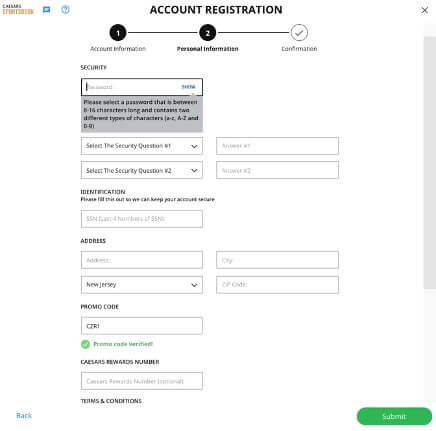 You'll need to register for an account to make a deposit at Caesars Casino. Once you have done this, follow the steps below to make a deposit:
Step 1: Head to the Caesars website at

www.caesars.com/sportsbook-and-casino

and sign in to your Caesars sportsbook account
Step 2: Click your account balance situated at the top-right of your screen and click on the deposit button
Step 3: Pick one of the payment options available
Step 4: Enter the amount you want to deposit in your account
Step 5: Click on confirm and wait till the funds reflect in your account.
Once all the above are completed, you can begin betting on Caesars Sportsbook.
How to Make Your First Caesars Withdrawal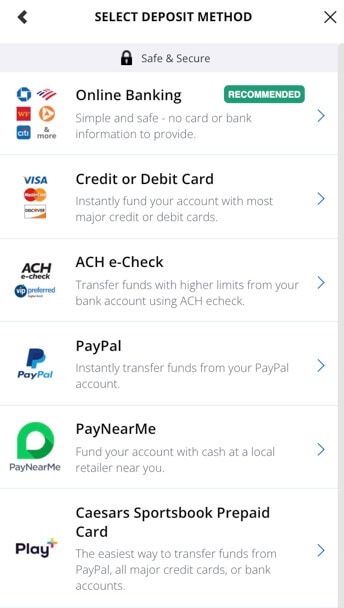 One of the best experiences you can have when playing on a sportsbook is landing your first win. When this happens, your goal will be most likely to withdraw your cash as quickly as possible. Some sportsbooks make this a highly frustrating process, but betting apps like Caesars make it seamless. This is the case regardless of whether you use the Caesars Sportsbook website or the Caesars Sportsbook app.
To get started, follow the detailed step-by-step guide below.
Step 1: Head to the Caesars Sportsbook website at

www.caesars.com/sportsbook-and-casino

and log in to your Caesars Sportsbook account
Step 2: Navigate to your account balance page and click the withdraw button. Sometimes, you may be required to verify your identity, so get your documents handy.
Step 3: Choose one of the available options for withdrawals
Step 4: Input the amount you wish to withdraw
Step 5: Click the confirm button and wait for your request to be processed.
The minimum withdrawal amount on Caesars is $20, so make sure you have up to that before you initiate a withdrawal. If you don't, your withdrawal will not be successful. Also, the maximum withdrawal limits vary per transaction, with most options ranging from $5,000 to $10,000. This is usually based on your selected payment method, so make sure you do your findings first to avoid delays.
In most instances, Caesars tries to process your withdrawal requests within 72 hours, and you'll get a notification once it is done. When this happens, you'll receive a message that the funds have been sent to your preferred payment processor. Our Caesars vs FanDuel review indicated the king of the sportsbooks is superior when it comes to cashing out, which shows how streamlined the withdrawal process is.
You do not need to be in one of the Caesars Sportsbook legal states to withdraw your winnings, you can initiate your withdrawal in any state.
Promo Code: GUSA1000
$1,000 First Bet on Caesars
21+. T&C Apply
21+. T&C Apply
Promo Code: GUSA1000
Massive welcome bet offer
Earn Caesars Rewards
Promo Code: GUSA1000
$1,000 First Bet on Caesars
21+. T&C Apply
21+. T&C Apply
Caesars Sportsbook Withdrawal Methods
Caesars Sportsbook understands the need for fast withdrawals, which is why it provides several reliable options. Most of these options will also work for making deposits, as is the case in most top sportsbooks. The minimum deposit allowed on a Caesars betting account is $20, while the maximum is dependent on the option you choose.
Knowing this, here's a look at some of the withdrawal options available on Caesars Sportsbook gaming account:
If you choose to withdraw cash from one of Caesar's sportsbook retail locations, you must provide a valid photo ID card at one of the sportsbook windows. When you do this, your digital account will be located by one of the ticket writers, who will send a message of the amount you want to withdraw and a passcode to your mobile device. The ticket agent will verify the code and pay your withdrawal amount in cash if the code is correct.
Withdrawal Processing Times & Fees
As mentioned above, Caesars takes up to 72 hours to process withdrawal requests, but it will be typically completed in 1-2 days. However, depending on your bank, the funds may take between 2-5 days extra before they show up in your account.
We recommend you don't make withdrawals during the weekend or public holidays as this may affect when you get your cash. Fortunately, Caesars Sportsbook has stated that it processes withdrawal requests thrice daily, so you should be fine when you target your withdrawals any day of the week. You may want to give some space for unforeseen circumstances, so we suggest you send requests Monday – Thursday.
Caesars also supports PayPal withdrawals, which we recommend if you want to experience fast sportsbook payouts. PayPal uses an e-wallet system which is known to be one of the fastest ways to withdraw cash. If you are already a registered PayPal user, you can transfer funds straight from your betting account to your PayPal account. Once it is in, you can send it without hassles to your linked verified bank account.
We have listed the various withdrawal methods available along with the processing time.
| Withdrawal Method | Processing Time | Min/Max Withdrawal |
| --- | --- | --- |
| Online Banking | 1-3 days | $20 - $5000 |
| eCheck by VIP Preferred | 1-3 days | $20 - $5000 |
| PayPal | 1-3 days | $20 - $10, 000 |
| Caesars Sportsbook Prepaid Play+ Card | 1-3 days | $20 - $5000 |
| Cash Withdrawal from retail locations | N/A | N/A |
Fees do not apply on any Caesars withdrawal method, but they might be issued by the payment processor you are using. For instance, PayPal always charges a small fee for all monetary transactions.
Caesars Withdrawal Hold
There are instances where your Caesars withdrawal requests may be placed on hold. If this happens, you don't need to panic as this could be for many reasons. You may have triggered a security alert due to a recent change in your email, address, bank details, or other important information pertaining to your Caesars Sportsbook player account.
Another reason could be that your account has not been correctly verified or that you requested to withdraw more cash than you typically would. Lastly, you could be missing some vital information, including your SSN.
Fortunately, all of these can easily be prevented. Make sure you register on the online sportsbook using recent and correct information, particularly the four digits of your SSN. Entering any information wrongly can trigger a security alert and place your withdrawals on hold. It will remain this way until everything has been appropriately verified and is done for your benefit.
Nonetheless, worry not, as this is not permanent except if you engage in activities that will cause Caesars to suspend your account. For instance, using a Visa card for betting belonging to someone else or using a VPN to claim more than one bonus.
Lastly, your withdrawal could be placed on hold because Caesars may require you to complete and send in a W9 to the platform for tax purposes. This could be another reason your withdrawal is on hold. Check out our complete Caesars troubleshooting guide for additional resources on what could be wrong with your sportsbook account.
Reasons for Caesars Withdrawals Delays
Aside from the above, other things may cause your Caesar withdrawal request to be delayed. These include:
Not Meeting Playthrough Requirements: If you earn cash from Caesars using your welcome bonus or other Caesars casino or sportsbook offers, you will need to meet the wagering requirements. Failing to meet them may cause your withdrawal request to be delayed. Before you initiate a withdrawal, reconfirm to ensure you have completed all playthrough requirements.
Not having up to $20 in your Account: The minimum amount you can withdraw on the Caesars Sportsbook to your money market account is $20. If you don't have up to this and try to withdraw, your request will be declined. Prevent unnecessary delays by ensuring you have accumulated enough funds first.
Using Multiple Accounts: Some players may use more than one account on sportsbooks in a bid to leverage bonuses multiple times. If you do this on Caesars, your account will be flagged when you request a withdrawal. Avoid doing this and stick with only one account when playing on Caesars.
Account Abuse: If you regularly abuse your Caesars account by breaking any of the rules, your account may be investigated first when you request a withdrawal. The operator will check to see if you have cheated the bookmaker in any way before withdrawal requests are processed.
Playing as an Underage Player: The legal age to gamble on Caesars and most US sportsbooks is 21 years and above. If you manage to sneak your way in, and there is reason to believe you used the wrong age when opening your account, your withdrawal may be delayed. This will be the case until the investigation is done and you prove you are within the betting age. If you are not, your account will be closed, and your funds will most likely be confiscated.
Paying Taxes on your Caesar Sportsbook Winnings
If you earn $600 in net profit when wagering on Caesar Sportsbook, the platform is required by law to use a 1099 form, which will be reported to the IRS. These are subject to federal tax if you are situated in the US. However, you won't be subject to any tax if you get below $600 in net profit.
Nonetheless, it is still required by law to report this additional income if you are in the US. Use our reliable gambling tax calculator to determine the amount you will have to pay on your earnings.
Tips to Reach The Caesars Withdrawal Stage
The money you have allocated to gambling on a sportsbook is your bankroll. When betting on a sports betting site like Caesars, the goal is to win and withdraw more than you lose. Learning how to manage your bankroll is the best way to achieve this feat and have a truly fun gaming experience. Here are some tips for sports betting that can help you achieve this when wagering on the Caesars sports markets.
Create a Budget: Having a budget allocated for betting and sticking with it is a great way to manage funds. Make sure your betting bankroll is different from other funds. This will ensure it is easier for you to monitor how much you have spent. It will also make it easier for you to stick with the budget and leave the betting site when you exhaust your funds.
Bet with a Clear Head: Making the right betting decisions will require you to be in the best state of mind. To do this, ensure you don't bet when you are sad, angry, or too happy. All of these create emotions that can affect your betting decisions. If you feel some way, leave the betting site and resume when your head is clear.
Keep Tabs on Your Bets: It is vital to keep a proper record of your standard and

parlay bets on Caesars Sportsbook

. This will allow you to note your flaws and how you can improve upon them. Once you do this, you can better improve your bankroll management and likely manage to withdraw decent cash from Caesars Sportsbook.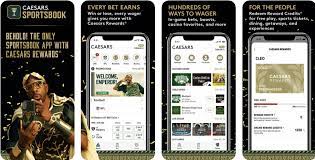 FAQs
Can you withdraw from Caesars Sportsbook out of state?
Yes, you can withdraw from Caesars outside of a licensed state. You only need to be in a legal state to place the initial wager.
How long is the withdrawal process on Caesars Sportsbook?
According to Caesars Sportsbook, withdrawals are processed within 72 hours, but they may sometimes be done within 1-2 business days. However, sometimes it may require 2-5 business days to reflect in your account, depending on the banking option.
What is the fastest Caesars withdrawal method for free withdrawal?
The fastest withdrawal method at Caesars is the Caesars Sportsbook Prepaid Play+ Card or PayPal.
What is the maximum amount I can withdraw from Caesars Sportsbook?
The maximum withdrawal amount is dependent on the payment method you use. Most options supported on the platform allow you to withdraw a maximum of $5,000 per transaction, while PayPal allows you to withdraw up to $10,000 per transaction.