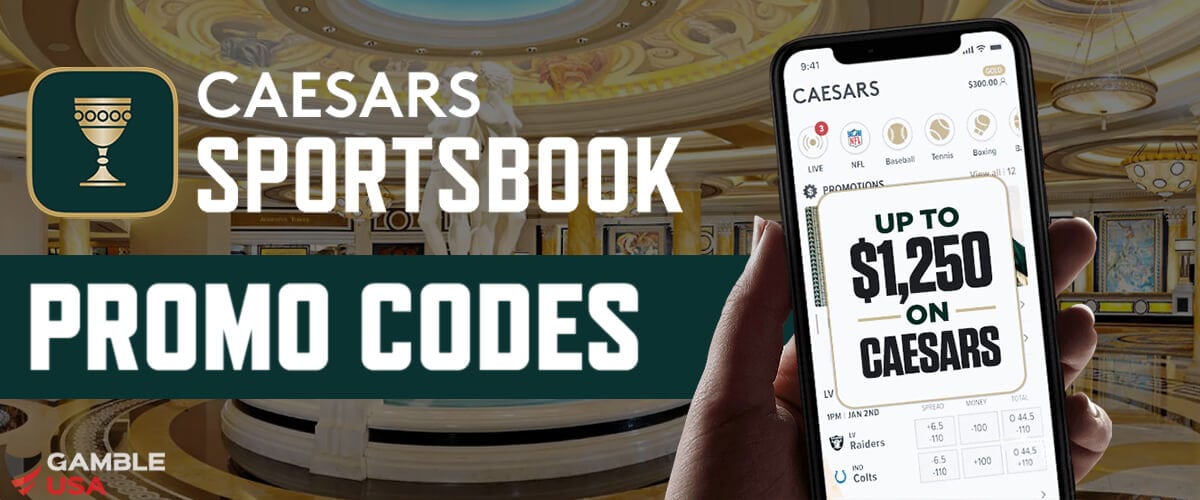 New players to Caesars Sportsbook can get a $1,000 Bet on Caesars when using the Caesars Sportsbook Promo Code GUSA1000.
US sports betting is growing in the United States, with operators both domestically and internationally looking to enter this rapidly growing market. One company that is synonymous with gambling and has been making waves in the online sportsbook market is Caesars. In April 2021, Caesars Entertainment acquired William Hill, a big name in the UK gambling space, to signal its intention to grow in the US industry. Consequently, all former William Hill platforms received new sportsbook branding and will now fall under the Caesars sports umbrella.
The Caesars sportsbook app is available in over 10 states, with more launches expected in the coming months. The Caesars online sportsbook was initially launched in NJ, but is now available in over 18 jurisdictions. Caesars sportsbook legal states now include AZ, CO, IN, IA, IL, KS, LA, MD, MI, NJ, NY, OH, PA, TN, VA, WV, & WY.
Caesars Casino is one of the most prominent casinos globally, but the company now has one of the best sports betting platforms available which ranks well against any other online sportsbooks. One of the primary reasons for that success is the generous bonuses and promotions the company provides. There is an extensive amount of promos that the app always has available, ranging from new customer bet offers to odds boosts, parlay insurance, and more. Existing customers who have created a Caesar's account can benefit from generous perks and also the Caesars' rewards scheme. In addition to the bonuses and promos, the Caesars sportsbook odds are some of the most robust around. Caesars Sportsbook offers the Caesars PlayPlus option, which is a smart way to access your money before you start to play at the online casino.
Because welcome bonuses are vital to attracting new customers, many sportsbook promo codes and casino bonus codes are available online. Finding a Caesars casino code and sports bonus code gives you instant access to the reward on offer. Fortunately, using any type of code is straightforward and requires little effort.
Caesars Sportsbook Promo Code
So you have created your Caesars sportsbook account, you have your Caesars Sportsbook bonus code, but what type of offer will you unlock? The excellent news is Caesars has the largest bonus bet around. New players at Caesars are rewarded with a $1,000 bet on Caesars, and 1,000 Reward Credits® & 1,000 Tier Credits. This new bonus replaces the old $1,000 bonus bet offer. Once your identity has been verified and your account has been confirmed, you can access this generous welcome offer.
If the bet loses, you will get back the value of your stake (up to $1,000) so that you can try again later. To get instant access to this offer, use the promo code GUSA1000. This Caesars Sportsbook promo code is valid no matter what state you're in. It doesn't matter if you are looking for a Caesars Sportsbook promo code AZ or Caesars Sportsbook promo code Tennessee; the above code will work as long as you are playing in a state with a legal online gambling market.
🏈Caesars Sportsbook Promo Code
📜Caesars Promo Code
GUSA1000
🎁Sports Offer Details
First bet on Caesars up to $1,000
🔞Eligibility
21+, $10 minimum deposit
US Available States
AZ, CO, IA, IL, IN, KS, LA, MA, MD, MI, NJ, NY, OH, PA, TN, VA, WV, & WY
⏱️Validity Period
December 2023
How to use the Caesars Sportsbook Promo Code
New users who sign up for an account at Caesars sports can unlock a $1,000 bet on Caesar bet by using the bonus code GUSA1000. Claiming this offer is straightforward; use our exclusive links or head to caesars.com/sportsbook-and-casino, which will take you directly to the site, make your first real money deposit, and then get betting on the Caesars sports betting app.
The code is simple to use. When you are on the Caesars site, click the Register button. You will then be asked to provide some personal details such as name, address, contact details, and the last four digits of your social security number. To verify your identity, these details are required, so you and the sportsbook are protected from fraudulent activity.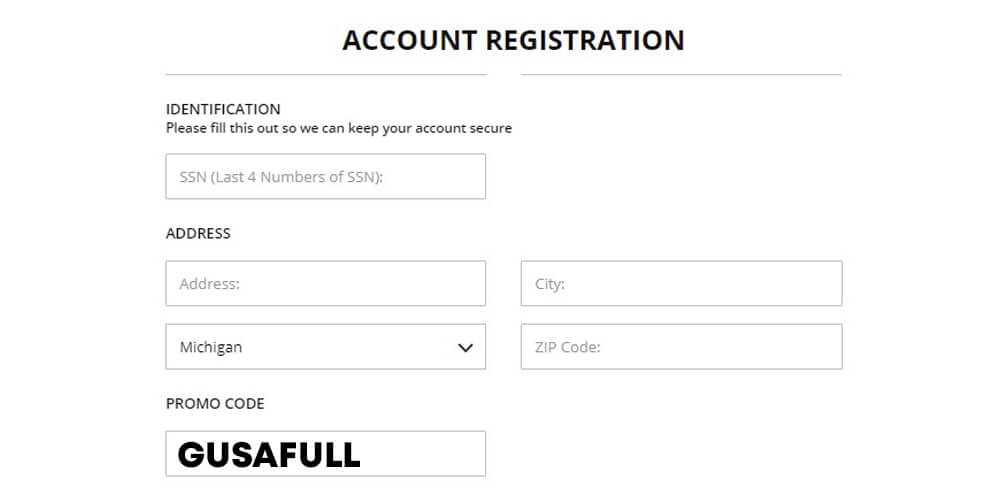 It is during this process where you will enter your promo code to access the bonus bet. When you are prompted, enter the code GUSA000, and you will have instant access to the generous opening offer.
The sportsbook from Caesars is packed full of exciting and handy betting features such as Caesars cash out, in game betting, parlay betting at Caesars, and hundreds of betting markets.
What States use the Caesars Sportsbook Promo Code?
Since the Caesars sportsbook app launched on August 3, 2021, the Caesars sportsbook legal platform has steadily expanded across the country. Sports bettors who are located in a state where Caesars operates can create a new Caesars sportsbook account and claim all of the bonus bets available and have access to a wide range of markets.
The legal Caesars sportsbook states where you can activate a promo code include:
Caesars Sportsbook Arizona
Caesars Sportsbook Colorado
Caesars Sportsbook Illinois
Caesars Sportsbook Indiana
Caesars Sportsbook Iowa
Caesars Sportsbook Kansas
Caesars Sportsbook Louisiana
Caesars Sportsbook Maryland
Caesars Sportsbook Massachusetts
Caesars Sportsbook Michigan
Caesars Sportsbook Nevada
Caesars Sportsbook New Jersey
Caesars Sportsbook New York
Caesars Sportsbook Ohio
Caesars Sportsbook Pennsylvania
Caesars Sportsbook Tennessee
Caesars Sportsbook Virginia
Caesars Sportsbook West Virginia
Caesars Sportsbook Washington D.C
Caesars Sportsbook Wyoming
If you are located in any of these states you can sign up today and claim your $1,000 bonus bet.
Tips to use Caesars Sportsbook Promo Code
As we mentioned above, it doesn't matter if you are betting on the Caesars mobile casino through a desktop; using a code is straightforward. During the sign-up process on caesars.com/sportsbook-and-casino, enter the code GUSA1000, and you will instantly access the $1,000 bet on Caesar. There is no code needed for weekly betting promos or a Caesars Super Bowl promo, only the welcome bonus.
Because the online sports betting market is so competitive, you will come across hundreds of bonus and promo codes. When you find one that is suitable and want to use it, keep it saved and enter it in the relevant space during the registration process. None of these codes are needed at the Caesars retail sportsbook in the Grand Victoria Casino, but some books require one online.
Pros & Cons of using Caesars Sportsbook Promo Code
Online gambling can be much more convenient for bettors as they can access numerous markets from the comfort of home. Bettors do not need to travel to the closest casino to place bets at a retail sportsbook and benefit from the bonus. Instead, they can sign up for the Caesars online sportsbook and claim the opening bonus and more free bets from home. Because the online gaming space is so competitive, codes are widespread in online gambling. However, some bettors do not like using them.
Some of the pros and cons of using a bonus code can be used below.
✅Pros
One of the plus points of using a promo code is that you will unlock a unique bonus that would otherwise be unavailable. Also, once you have a Caesars code that suits you, you can visit the promotions tab on the website and see which offers your code applies to.
Additionally, if you don't like surprises, then using a promotional code is perfect for you. There are no hidden extras or requirements; you know what you are getting, which is always preferred when gambling online for real money.
❌Cons
One of the negative aspects of using a code is that if you lose it, you lose the offer it unlocks. You must use any bonus code before it expires. It is common for people to forget to save their codes and then miss out on the rewards. Additionally, accuracy is vital when entering your promo code. If you enter inaccurate information, you will have exhausted the offer without gaining any benefits from it.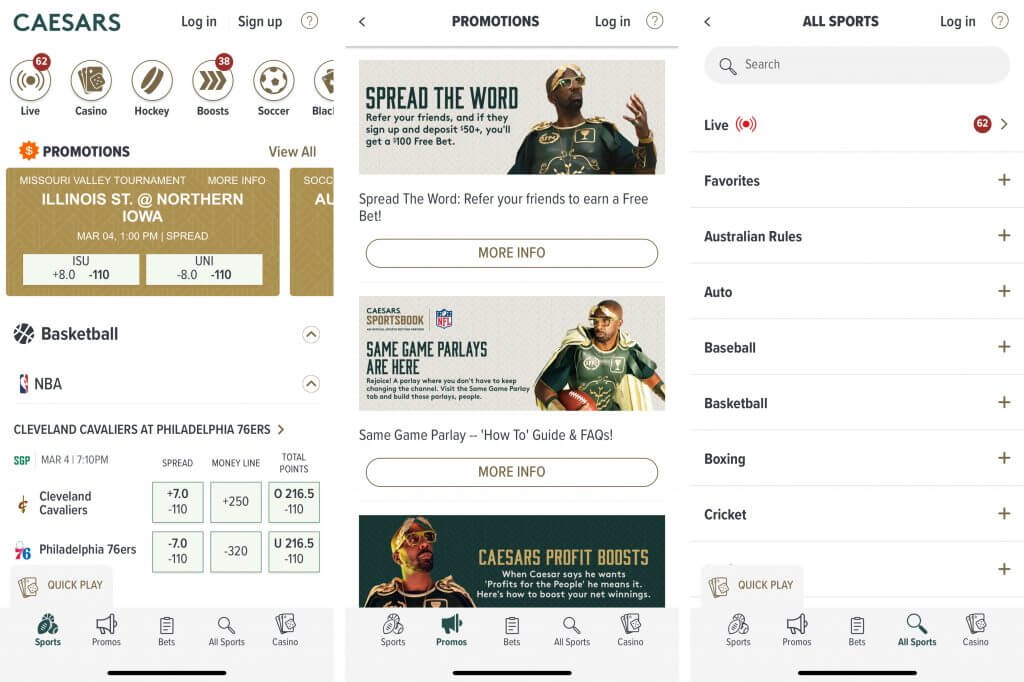 Other Promos from Caesars Sportsbook
Caesars runs one of the most robust loyalty programs in the industry. The sportsbook integrates into Caesars' national loyalty program that rewards users when they wager online and at more than 50 destinations. Essentially, the more you bet, the more you earn through Caesars Rewards.
Existing players rarely require any promo codes to benefit from the weekly and monthly bonuses at Caesars Sportsbook. At the minute, there are a few other promotions running, which you can opt-in after your first deposit:
Betting Markets and Features
Caesars sportsbook offers a huge selection of sports on its mobile app and desktop site. You have access to all of the major domestic leagues, such as the NFL, NBA, NHL and MLB. If you prefer college sports, you can also wager on the NCCA Football and Basketball with Caesars. Additionally, there are also plenty of options outside of North America, with plenty European soccer, golf and tennis options available.
In addition to the wide selection of betting markets, Caesars will provide odds on massive events like Olympics that only occur once every four years. Even if you enjoy more niche sports, Caesars will have you covered.
Other Sportsbook Promo Codes
If you want to get hold of the latest Caesars sportsbook promo codes, keep checking this page to stay updated with the latest promo information. If you are just curious to discover what else is out there, we got you covered. Caesars will often promote bet credit promos throughout the calendar year to coincide with all of the different sporting events, so make sure you keep your eyes peeled on the promotions page.
The BetRivers Sportsbook promo code is slightly different from Caesars, as it doubles all deposits up to $250. On the other hand, the BetMGM promo code is along the lines of the Caesars promo code, providing a $1,000 bonus bet to new players. The DraftKings and PointsBet promo code are also worth checking out, but you won't find any free bet that exceeds Caesars' offering.
FAQ's
Is there a Caesars sportsbook no deposit bonus code?
The promo code GUSAFULL applies to the welcome bonus at Caesars sportsbook, which consists of a $1,250 bet on Caesar.
How to claim the Caesars promo code?
Claiming the Caesars sportsbook code is straightforward. Use our links or go to caesars.com/sportsbook-and-casino, then enter the code GUSAFULL during the registration process. This will give you instant access to the opening bet offer.