Gamble USA strives to improve your online gambling experience. We aim to help you play safely, make informed decisions when gambling, and increase your betting knowledge through our guides.
We adhere to strict editorial integrity; our content may contain links to products from our licensed & legal US partners.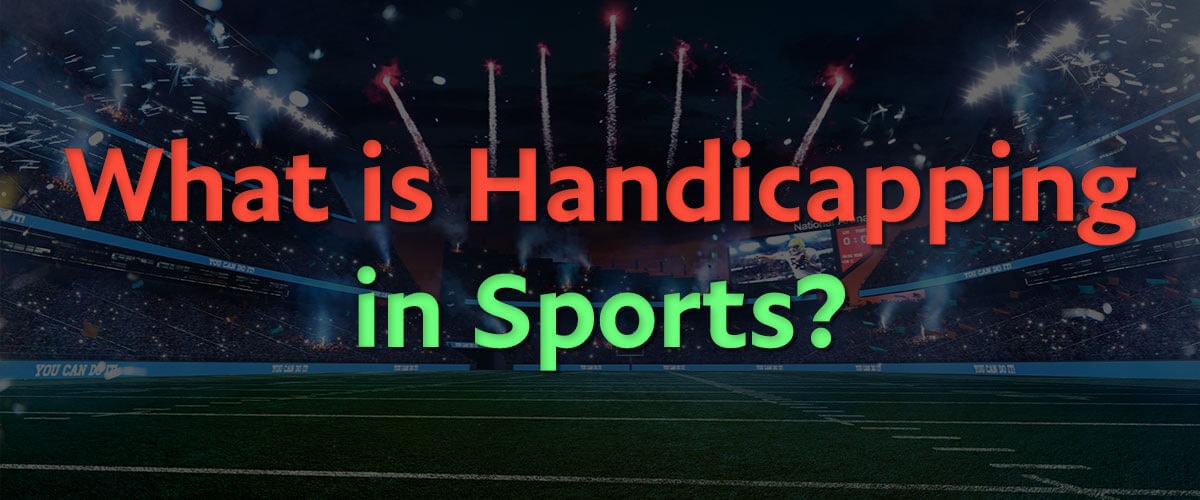 Handicapping sports is an overused and often misunderstood concept. There is no 100% way to use information and expertise to land a winning bet.
But using the handicapping principles while engaging in sports betting is a great way to not throw away your money, and potentially make some long-term profit.
The guide below explains how handicapping works with hands-on examples, providing in-depth information to help you get rid of myths and understand the concept.
Best Sports Handicapping Sites
How Handicapping Works in Sports Betting
If you have already placed any sports bets, you may have done some handicapping without even realizing it. Handicapping sports entails making use of available information to improve your chances of winning when you bet.
Sports betting, like any other form of gambling, involves an element of luck. However, those who are able to win their bets consistently over a long period of time do not rely on luck alone. They are also accomplished handicappers.
Of course, even the best handicappers don't expect to be 100% correct in their picks. So, rather than place bets on every game on the card, successful handicappers are selective and limit their action to those situations where their research findings tell them they have a solid edge.
Top handicappers not only compare the lines at different sportsbooks to ensure they bet at the most favorable odds available.
They are also very adept at setting their own odds on each sporting event they are considering.
They are able to do so with the help of either their own or already published power ratings for each team in the league.
Then they look for situations where their assessment of what the betting line should be differs sufficiently from that of the linemaker to justify making a wager.
However, these are advanced handicapping skills, so it is unrealistic to expect to acquire the same skill level overnight, especially if you are a new sports bettor.
Compared to professional handicappers who make their living betting on sports and therefore conduct an in-depth analysis of every matchup, a casual bettor's attempts at handicapping are much more cursory. For example, you might look at the teams' relative standing and whether either one is on a current winning or losing streak. You might also read expert handicappers' opinions. But as long as you are not simply going with your gut or betting on the local team only because you're a fan, you are handicapping.
That said, here are some of the many factors and relevant tidbits of information that good handicappers consider when deciding whether or not to make a particular wager.
1. Opening odds
The opening odds in a game indicate the sportsbook expert's view of the matchup. They also establish a baseline, compared to which the extent the line moves in either direction might reflect new late information such as a key player being out of the starting lineup.
2. Overall team strength
As a general rule, the team with the better win record is more likely to win. But there are exceptions.
3. Team matchup advantages
It is helpful to know how the same teams have fared against each other previously. History often repeats itself, and some teams or coaches repeatedly have another team's or coach's number.
For example, going into the last Super Bowl, Andy Reid, who coached for the Philadelphia Eagles before becoming the head coach for the Kansas City Chiefs, had a 6-0 record against whichever one of these teams he did not coach. The Super Bowl extended that record to 7-0.
On the other hand, some teams not only match up very well against each other but are noted for their long standing fierce rivalry. A review of the teams' records shows a strong tendency for the loser of their last game to get revenge and win the next time they meet.
4. Recent team and player performances
Some teams improve over the course of the season, while others start off strong and then go into a slump. Key player injuries are often a factor in why a formerly hot team is now struggling.
5. Home field advantage
Many teams play better in home games. However, very good teams also win a lot of road games. Conversely, bottom-rung teams have a losing record at home as well as on the road.
The above are, by no means, the only factors used to handicap sports events. But they serve as a good starting point for beginners.
Handicapping in Sports Examples
Certain basic principles of handicapping such as the five factors described above can be applied to handicapping any sport. However, there are also some aspects that experienced handicappers use that are sports-specific.
If you are new to sports handicapping, we recommend focusing on just one sport initially. Once you achieve your goal to become a proficient handicapper in that sport, you will have a good foundation on which to branch out into other sports.
Handicapping in Football
One of the most popular ways to bet on NFL and college football games is against the point spread. While occasionally the two teams are so evenly matched that the point spread line is set at "pick 'em," usually one team is regarded as having a higher probability of winning than the other. That team is designated the favorite, and the opposing team is designated the underdog.
One option is to make a moneyline wager. However, if you bet the moneyline on a huge favorite, you won't be getting good value because you have to risk much more money than you stand to win. Conversely, you can bet on the underdog in the hope of a big payday, but the bigger the dog, the less likely that will happen. Therefore, a viable alternative to the moneyline market is to make a point spread bet.
The point spread is the great equalizer because when you bet on the underdog, you have a chance to cash your bet even if the team does not win the game outright. All it has to do is not lose by more points than the spread. Conversely, if you bet on the favorite, to win your bet, the team not only has to win outright but win by more points than the spread.
You can make point spread wagers not only for the entire game but also for each quarter and half. In each instance, if your analysis suggests that the spread is too low and that the margin of victory will be greater, you should consider backing the favorite. Conversely, if your analysis suggests that the spread is too high, you should consider backing the underdog.
Handicapping in Soccer
If you think one of the two soccer teams has a matchup advantage over the other, but the moneyline is too steep, much like you can make a point spread bet on a football game, you can make a handicap bet in soccer. The better team is given a handicap, for example, -2, meaning that for you to cash your bet, the team not only has to win but must do so by 3 goals or more. Or, you might think that the underdog at +2 is worth a wager. Then you have two ways to win your bet, either by the team winning outright or by it not losing by more than a single goal.
Sometimes you will see a handicap line like + or – 1.5 or 2.5. The reason is to prevent the possibility of all bets on either side ending in a push.
The cost of betting on the favorite and the underdog won't necessarily be identical. For example, one side might have betting odds of -115 and the other side might have betting odds of -105. But the odds on the favorite won't be prohibitive, as is often the case with the moneyline. In fact, it is not uncommon to find a team that is -200 on the moneyline offered positive odds on the handicap line.
The time when the betting public gets most involved in soccer betting is in the World Cup finals. However, these sporting events can be especially tricky to handicap. If a knockout game where the World Cup is at stake ends in a tie after the regulation period, there is no sudden death rule as in the NFL. Instead, a fixed period of 30 minutes of Extra Time is added. Then, at the end of the Extra Time period, if the score is still tied, the winner is decided by a penalty shootout. Both teams take turns shooting the ball from the penalty spot, and the team that scores the most goals out of 5 tries is declared the winner. Since many knockout soccer games go into overtime (which comes with specific overtime betting rules), trying to determine not only which team will win but by how many goals is very difficult.
Handicapping in Golf
Golf handicapping is based on a comparison of the amount of money each golfer has won during the past year. The most popular golf tournaments at golf betting sites are the major ones – the Masters, PGA Championship, US Open, and Open Championship. However, golf betting lines are also available for many other tournaments all season long.
Most major legal online sportsbooks for US bettors offer those interested in golf a variety of ways to bet, including the following:
The player you pick to win the entire event. This can be either a futures bet before the tournament starts or a live (in-play) bet with updated odds.
A bet on a specific golfer to win the tournament or on the rest of the field.
Head-to-head or group wagering on which player of two, three, or four top golfers will prevail, both in the entire tournament and in each round.
How well a particular golfer will finish in the tournament – i.e., in the top 3, top 5, or top 10.
The golfer who will be leading after each round of the tournament.
Prop bets: For example, who will win Player of the Year and Rookie of the Year and the nationality of the winning golfer in a particular tournament.
Handicapping in Tennis
The most common types of bets using handicapping in tennis are on the over. The process entails selecting the best teams or players based on their recent win-loss record and then predicting the number of points they will score in an upcoming match. If it is more points than the number indicated on the betting line, a bet would be made on the over.
The most popular tennis events to bet on are the four tournaments that make up the Grand Slam: the Australian Open, French Open, Wimbledon, and the US Open.
Handicapping in Basketball
Basketball handicapping is a lot like football handicapping. Many basketball games, particularly among college teams, are mismatches on paper.
So, if you were to basketball betting on the moneyline, either you would be laying prohibitive odds on the favorite or probably throwing away money on a team with very little chance of winning. However, a point spread line where the favorite is giving points and the underdog is getting points is a much more attractive proposition.
Information Sports Handicappers Use
There are many different types of information that handicappers use. A lot depends on individual preferences, how much time you have available to devote to this activity, and how deeply you wish to delve into this subject.
If you are new or fairly new to sports handicapping, initially you might find the wealth of information that is available to you and the whole handicapping process a bit overwhelming. So, the best approach for you is to start with the basics. Don't be in too much of a hurry to master all of the intricacies of handicapping at once.
The first section of this article described five important types of information that most sports handicappers use. So, that is an ideal place to start.
How to find these resources
The following are a few suggestions on where to find the relevant information, so you can handicap upcoming games more effectively.
The Media
See what the expert commentators on TV networks that focus exclusively on sports coverage like ESPN and Fox Sports have to say. Also, follow the sports columnists in your local newspaper.
But don't stop there. Watch as many games as you can. There is no better way to get a real feel for each team's relative strengths and weaknesses and how they match up against each other than to see them in action on the field or court. The pregame and halftime comments can be very informative, too. They might include late-breaking injury news or alert you to external factors that could affect an upcoming game's outcome such as a player being arrested or getting divorced or a team's practice schedule being canceled due to a flight delay.
In addition, shortly before the playoffs, you need to know exactly where each team in the league stands with regard to all of the following:
Teams that have already clinched a playoff berth but have a chance for a higher seed
Teams that have already clinched a playoff berth but are locked into their present seed (likely to rest some of their starters for the balance of the regular season)
Teams that are still vying for a playoff spot and what they need to do to secure it
Teams that have been eliminated from playoff contention
The media will lay out all of the possible scenarios, which will be a big help in your handicapping.
Line movements
Whenever the current lines have moved from the opening number, there is usually a good reason.
Sometimes the shift in the line is due to a key injury, or another piece of news that might adversely affect a team's performance. But line movements can also reflect "smart money." Whereas the public typically waits until shortly before game time, money from sharp bettors starts trickling in much earlier. It will take a sizable amount of such money to move the line, so any line change in either direction shortly after the opening line is posted is worth noting and should factor into your handicapping.
Late Weather and News Reports
Lastly, it is important to check the weather reports and any other late-breaking news that might have an impact on an upcoming game. While in games played outdoors in very bad weather, it will be harder for any team to score, teams in the northern part of the US like the Buffalo Bills and Green Bay Packers are more acclimated to playing under conditions of snow and freezing temperatures than warm weather teams like the Miami Dolphins and Arizona Cardinals.
If something tragic or catastrophic happens to a player or a member of his family, one might think at first that it would impact the team's performance in a negative way. But sometimes the effect is the opposite. The whole team might rally together and put on a stellar performance. That is what happened in the Bills' next game after Damar Hamlin was critically injured.
Handicapping Process
Now that we have described some different types of information that most successful handicappers use and where to find it, how do you apply this knowledge to the process of handicapping a specific game? Here is a recommended sequence of steps to help you determine what play you have, if any, on a particular betting proposition.
1. What are the odds?
Compare the best existing odds from different sportsbooks to locate the best one. But also be alert to changes across sportsbooks from the original betting line as you get closer to game time. These line movements frequently reflect smart money.
2. Is the matchup competitive?
This step entails comparing the relative team strength of the two teams that will be facing one another. If your own analysis and the published power rankings of the teams both indicate that one team is clearly superior to the other, that is probably the side you should back. But first, compare the caliber of each team's opponents. A superior win record should not be given as much weight if the team coasted along with a very easy schedule, particularly if it is now stepping up in class.
Another important factor to consider is if the two teams in the upcoming game are big rivals. If they are, the team that lost the last game in the series might have this one circled as a revenge game. They might be extra motivated to secure a victory, even if it means beating a team that on paper would be regarded as superior.
3. Stay on top of the news.
Weather and injury reports are just two of the relevant pieces of late information to check for that could affect the outcome of a game.
4. Evaluate the home court or home field advantage.
Other things being equal, the combination of playing in its own stadium or arena and having the support of the home crowd in the stands cheering them on, automatically gives the home team a built-in advantage. But whether or not this advantage is too great for the opposing team to overcome depends on the matchup. Some teams post a winning record both at home and away, while others struggle on the road. If the team is on a current winning streak, it is probably less risky to ride that streak than to go against it even if it means backing the road team. Conversely, for a bottom-rung team coming home to face a far-from-capacity crowd after a long road trip, the home advantage will be largely negated.
Another factor that can affect the extent to which the home team advantage comes into play is each team's schedule. In college and pro basketball, pay close attention to their grueling schedule of multiple games each week. Think twice before backing a team on an isolated road game, the second of back-to-back road games in different time zones, or the final game of an extended road trip.
5. Consider recent play.
All teams undergo changes from year to year, and coaching and personnel changes and other factors can turn a previous noncontender into a contender and vice versa. In addition, a team can have peaks and valleys during the course of a season. Therefore, we recommend comparing a team's power ranking at the beginning of the season with the most recent ones and noting which teams are currently on a winning or losing streak both outright and against the spread. These data can be key indicators as to which teams are improving and which teams are regressing.
6. Decide whether or not to follow the money.
Early line movement tends to indicate money coming in from sharp bettors, while late action, particularly on the favorite, is likely to be public betting action. Either way, try to understand the reasons behind these money moves and treat them as only one factor in your handicapping arsenal rather than following them blindly.
Handicapping sports is not an exact science. Pro handicappers as well as the general public could get things wrong or overlook something important. In those instances, not only would you be getting excellent value going the other way, but the less popular side could wind up being the right side.
Is Sports Handicapping Legal?
Yes, sports handicapping is completely legal. Even if you do not live in a state that has passed legislation allowing sports betting, there is nothing in any state or federal law to preclude you from doing background research on any teams and games that interest you. However, if you wish to do more than armchair handicapping and back your opinion with a real money wager, you can only do so legally at a licensed retail or online sportsbook in a state where such wagering is legally authorized.
Alternatively, we strongly advise against playing at an offshore sportsbook. If you should win but the sportsbook fails to pay you, then you will have no legal recourse, so you would be taking a big risk. Fortunately, full-scale legalized sports betting is now available in many states.
Who is Considered a Sports Handicapper?
A sports handicapper is an individual who researches and bets on sporting events. In other words, a loosely defined sports handicapper can be anyone who takes the time to look for an edge in a sportsbook's betting line for the purpose of registering a profit.
As this article has shown, there are many different variables that a sports handicapper might consider for this purpose. Often, the results will show that neither side has a significant advantage over the other, and that is fine. The key to being a winning sports handicapper is not to bet on every game. It is to focus exclusively on those matchups where a bet on one side or the other, which can be a bet utilizing a point spread or another handicap, rather than a moneyline bet, has a solid chance of winning.
What is the average salary of a sports handicapper?
In case you are wondering, this is not a question that can be readily answered. A person who is hired to be the chief handicapper for a major TV or radio station or newspaper can command a very good salary, particularly if they post a winning record.
Other sports handicappers with varying abilities go into business for themselves and have varying degrees of success selling their picks. Amateur sports handicappers whose research on different teams is strictly for their use do not command any salary. But depending on how much they wager and how successful they are, some amateur handicappers, but probably not many, might make more money from sports handicapping than some so-called professionals.
Types of Sports handicappers
Sports handicappers can be divided into two broad categories: casual bettors and professionals. Casual bettors usually start with their own personal leaning toward one side or the other. Then they focus on a few of the most obvious types of information such as the final score the last time the same two teams met and each team's home vs. away records to solidify their pick. However, some casual bettors have an aversion to research. But they don't want to have to rely solely on their gut either, so they make their decisions based on what a consensus of experts thinks. They are opinion gatherers.
Professional handicappers can be either tech-savvy or old-school. However, either way, they are more inclined to downplay both their own personal biases and those of other handicappers and let the data speak for themselves. Therefore, they spend a lot more time and effort conducting their own in-depth research. As a result, the probability of success is higher for them, but winning is still, by no means, guaranteed.
Benefits of Handicapping
Only you can decide whether the potential benefits from handicapping are worth the hard work. But assuming your goal in sports betting goes beyond simply having fun and includes winning money, handicapping is a must.
The odds are still stacked against you, and you have your work cut out for you. But once you develop your handicapping skills to the point where you can apply them consistently, you have a much better chance of showing a long-term profit than if you simply bet on a hunch or go with your gut.
Start Handicapping on These Sports Betting Sites!
If you would like to give sports handicapping a try, we encourage you to use any of our convenient links listed on this page. They will ensure you'll register and start betting on a legal betting app, but not just that – one of the best betting sites in the USA.
Handicappers use betting bonuses to their advantage, and signing up on more than one sportsbook can give you an edge through welcome offers and risk-free bets. Varying odds boosts can also do the trick at times.
After you are accustomed with the resources on this page, have a look around and start handicapping! But remember, winning is never guaranteed and you should always bet responsibly.