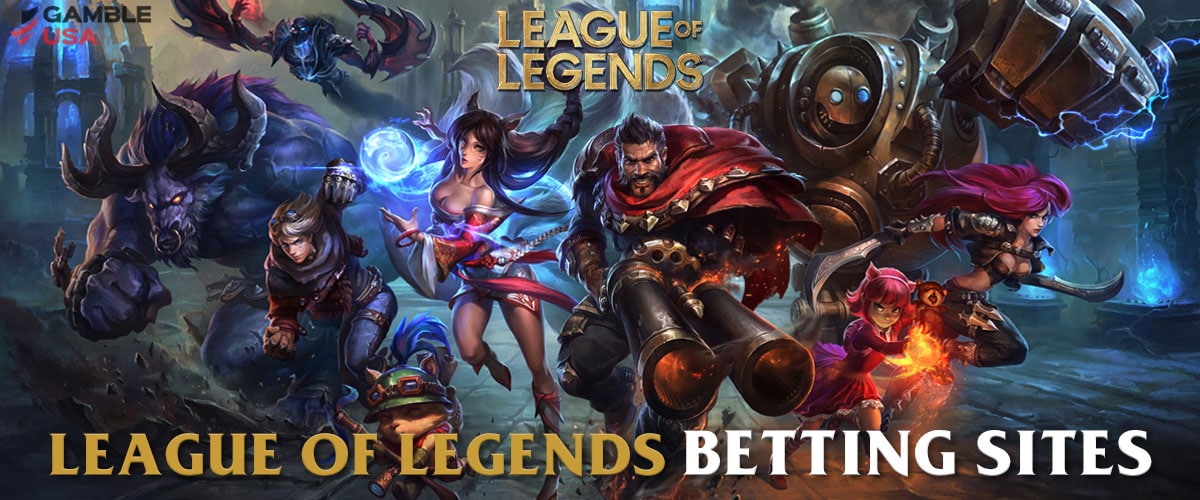 We live in a day and age where it seems like the two of the youngest industries have the power to overcome any obstacles and compete with industries that have been present on the market for decades.
By registering massive numbers of popularity and sizable chunks of profits, the video game and the sports betting industry are both booming. Luckily for you, the average American bettor enjoying the perks of what seems like a never-ending technological revolution, now there is a way to combine the thrill of both from the comfort of your living room.
In 2009, Riot Games, an American video game developer based in California, released League of Legends. A Dota-inspired multiplayer online battle arena game that took the entire gaming industry by storm and massively helped the Esports scene.
Fast forward to today, League of Legends is not only helping the Esports betting scene by producing some of the most exciting competitions watched by millions of people. It's also elevating the sports betting industry, forcing every elite online sportsbook to include it in its betting offer.
---
Is Betting on League of Legends Legal in the US?
Although the USA is the second-largest gaming market in the world and the progress in the legalization of sports betting has been tremendous, betting on Esports, including League of Legends, is currently entirely legal in only four states across the country.
While bettors in Nevada, New Jersey, Tennessee, and West Virginia have the opportunities of the Esports betting world in the palm of their hands, bettors from many other states have access only to strictly-regulated Esports betting.
Regarding online sports betting and gambling in general, the laws in the USA can be exceptionally convoluted and very different from one state to another. The fact that betting on League of Legends became legal for the first time only a few years ago shows that Esports betting started turning the heads of lawmakers very recently.
Although the current state of the process of legalization of betting on Esports in the USA is not ideal, and we can all feel the slowness of bureaucracy, there is still plenty of room for optimism.
The online sports betting revolution is happening in front of our eyes, and the video gaming industry has amassed levels of popularity that allow it to compete with any other already-established sources of entertainment. Thus, don't be surprised to see the full legalization of Esports betting in more states very soon.
List of states where you can bet on LOL
Although betting on Esports is entirely legal in only four states, there are other states where bettors have access to regulated Esports betting, which includes betting on League of Legends.
List of states where online betting on LOL is entirely legal:
List of states where online betting on LOL is regulated:
Arkansas
Rhode Island
Montana
New Mexico
Oregon
---
Top 5 Legal LOL Betting Sites in November 2023
Since no law prohibits American bettors from betting on League of Legends on foreign betting sites, many guides provide links to offshore sites that offer esports betting. However, that is a risk not worth taking.
The current esports betting horizon is continuously expanding, so always bet at sports betting sites that operate within the jurisdiction of the United States of America. That way, you can be sure that all your personal information and bank details are safe.
With the afoot esports betting legalization, new online sportsbooks are rapidly emerging. Nearly all of them provide bettors with abundant catalogs of esports betting options, including League of Legends betting.
Here are the best legal LOL betting sites where you can enjoy gambling on all the major tournaments from all the regions.
bet365
Bet $1, Get $365 In Bonus Bets
21+. T&C Apply
21+. T&C Apply
Easy and fast banking options
Huge welcome bonus bet
Bet $1, Get $365 In Bonus Bets
21+. T&C Apply
21+. T&C Apply
If you are looking for the best possible way to make money using your League of Legends knowledge, exploring the betting markets at bet365 is a thing you must consider. bet365 is so great that the fact that it is only available to esports bettors from New Jersey, Pennsylvania, Virginia, and a handful more states makes moving there a great idea.
✅Pros:
Largest offer of League of Legends competitions
Biggest catalog of League of Legends betting options
Available Bet Boosts for League of Legends matches during major events
Best odds for League of Legends totals
❌Cons:
Mediocre welcome bonus
Available in only 4 states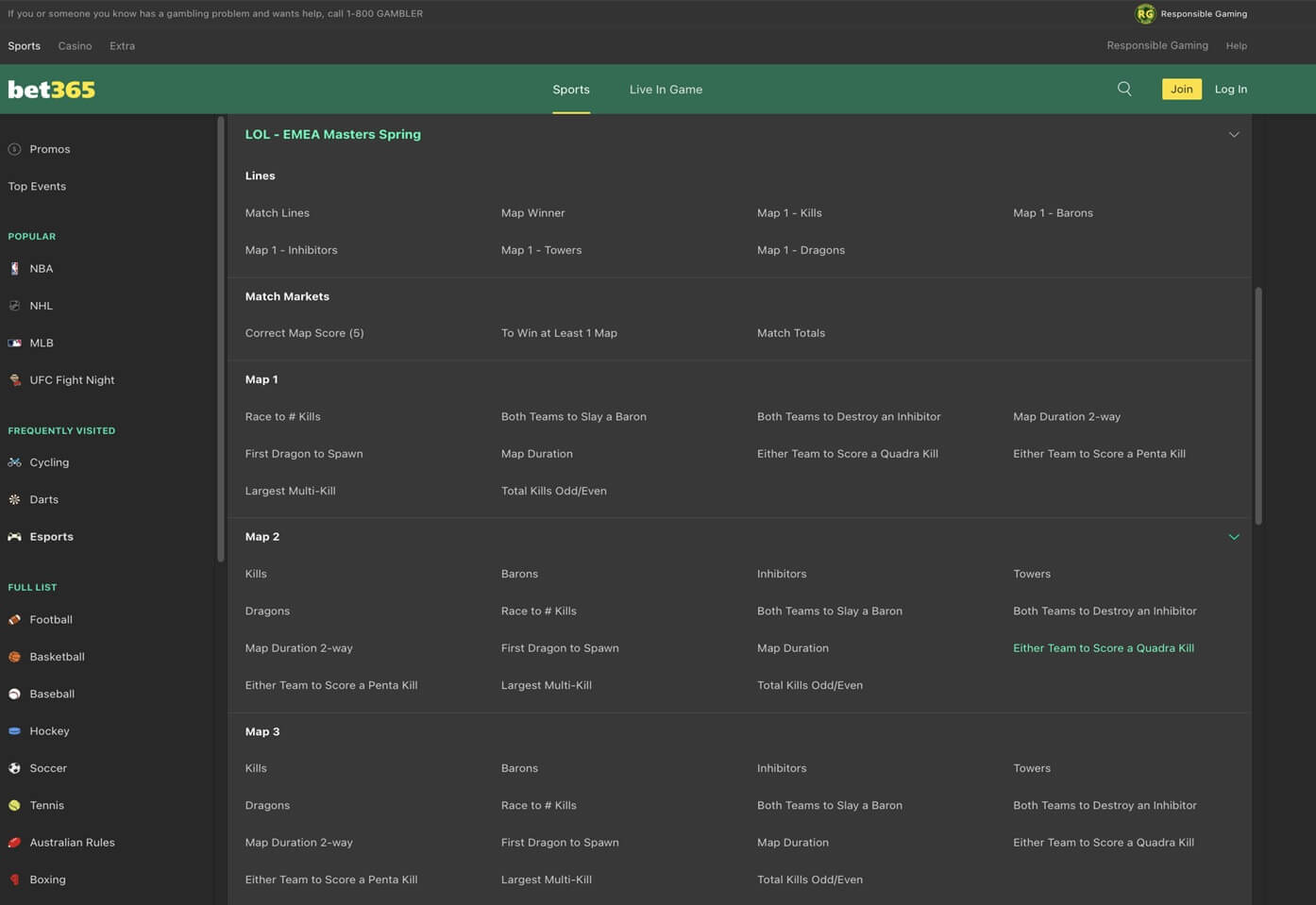 DraftKings
Up To $1,000 Deposit Bonus
21+. T&C Apply
21+. T&C Apply
The best sportsbook
Amazing odds & offers
Awesome betting app
Up To $1,000 Deposit Bonus
21+. T&C Apply
21+. T&C Apply
From generous DraftKings promo offers to great odds for League of Legends futures to a reliable esports betting app with a sleek design, DraftKings is the go-to place for millions of American esports and LOL betting fans.
✅Pros:
Known for best welcome bonuses
Home of the best League of Legends Fantasy Contests
Best esports mobile app
❌Cons:
Lack of League of Legends prop bets
Lack of prop bets for other popular video games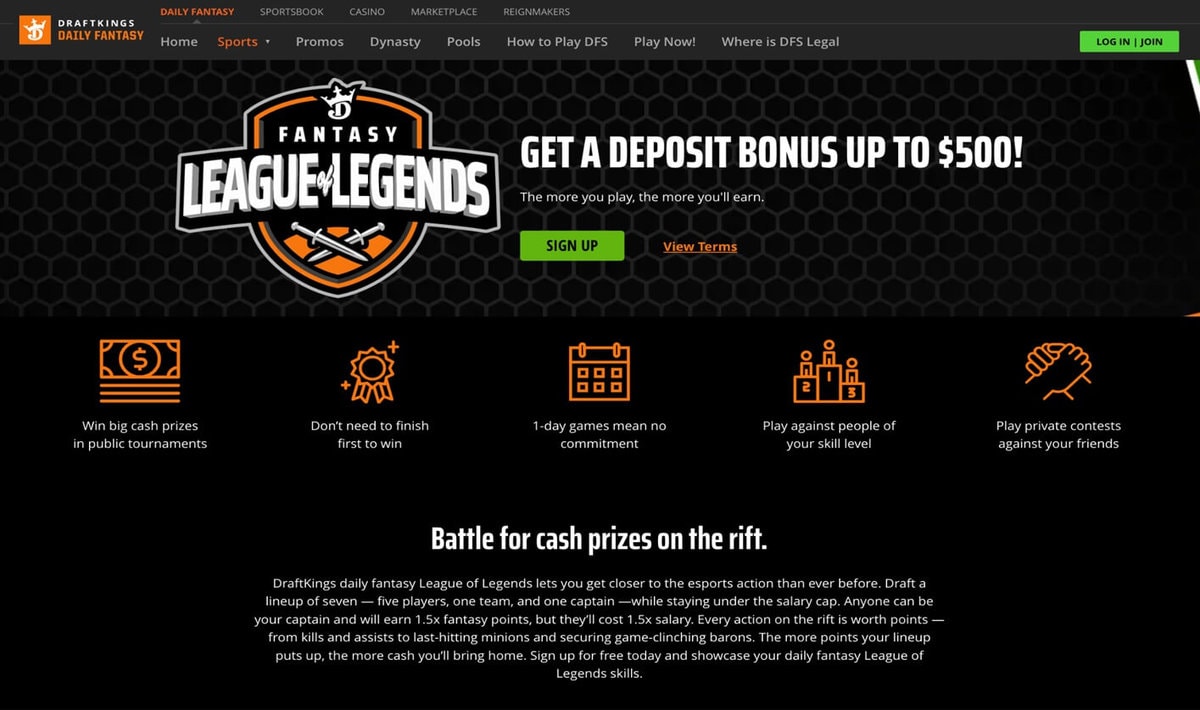 Betway
Up To $250 In Bonus Bets
21+. T&C Apply
21+. T&C Apply
Live In-Game Betting
Odds Boost
Up To $250 In Bonus Bets
21+. T&C Apply
21+. T&C Apply
Betway is not only one of the most respected sports betting brands in the country, but it's also home to some of the best esports odds on the market and one of the most sophisticated live-streaming platforms where bettors can watch the most exciting League of Legends competitions.
✅Pros:
Enhanced odds promo for esports
Best esports live-streaming platform
Great money line odds for League of Legends
❌Cons:
Subpar selection of Prop betting options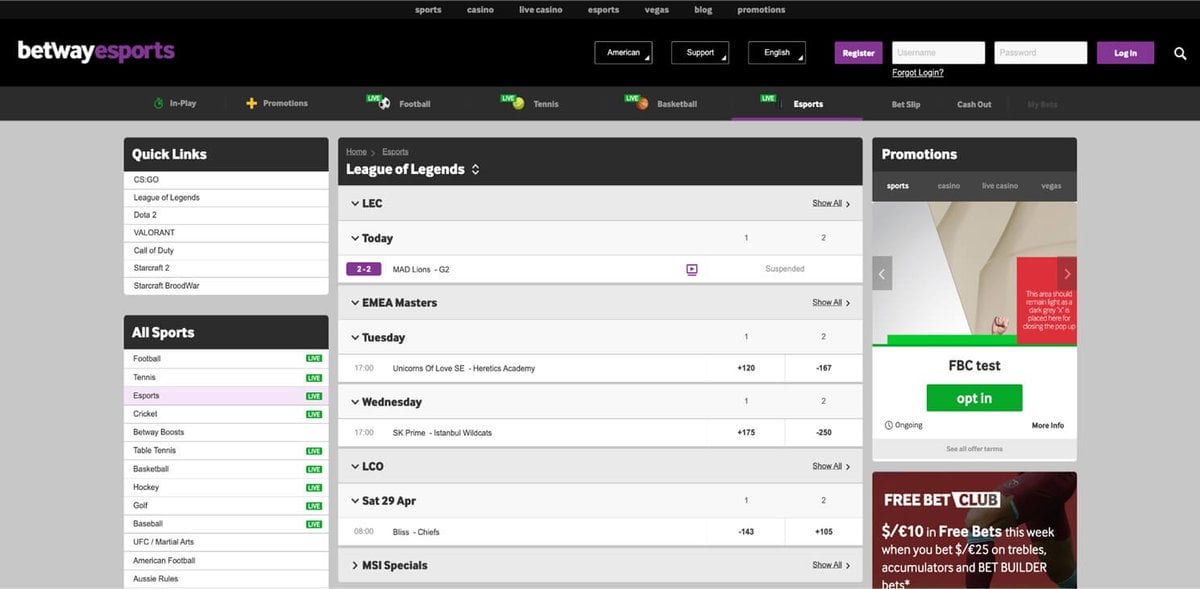 ---
How We Selected These League of Legends Sportsbooks
Our team of experts evaluated each of the listed LOL betting sites through a set of crucial criteria. Let's see how.
License for the US
We live in an era where we are literally a few clicks away from getting trustworthy information, so it would be a real shame to bet at League of Legends betting sites that do not own a valid license.
By betting on an offshore LOL betting site that does not hold a valid license for the US, you put at risk your personal and bank data and expose yourself to potential threats and scams.
To help you avoid such inconveniences, we only listed LOL betting sites that operate under a valid license issued by a government regulatory body that monitors all the activities.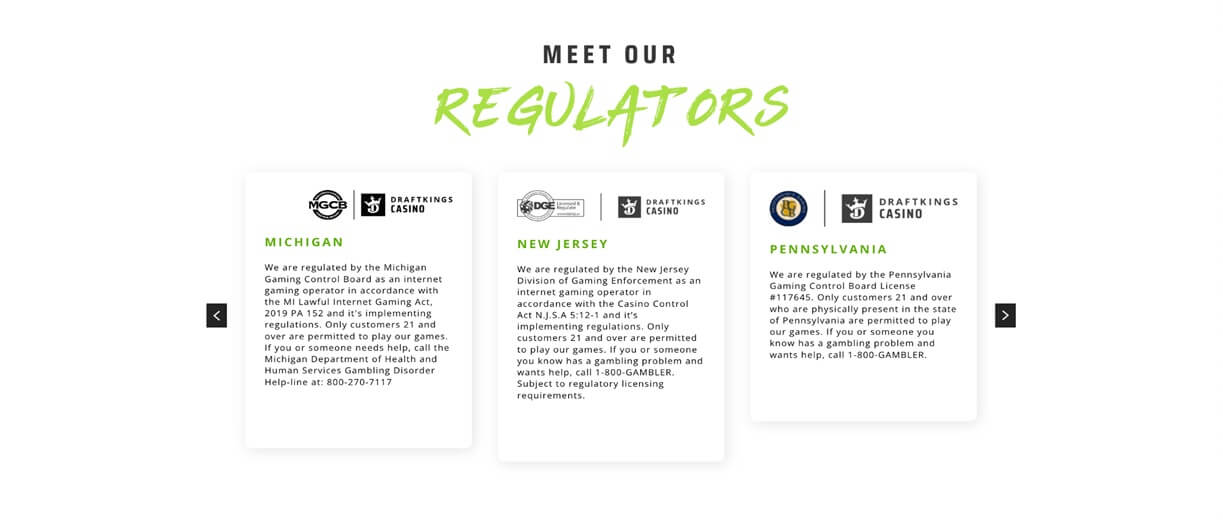 Competitive odds for LOL Betting
Many offshore betting sites offer enticing bonuses that might convince you to create an account, but once you make your first deposit, you might realize their odds for betting on League of Legends are considerably lower than what you expected.
To help you get the best value for your hard-earned money, our team of esports experts assembled a list of LOL betting sites where you can find competitive odds for a wide variety of betting markets and LOL competitions.

Fair and Big Bonuses
Big betting bonuses are most likely the first thing you will see on the homepage of every betting site, and that is for a reason. Bonuses are the primary marketing tool for betting sites to lure more customers to their sites. However, that doesn't mean that they are always fair.
Many betting sites use bonuses and welcome offers to get new customers and manipulate them through shady wagering requirements. Our team of betting experts is aware of how vital bonuses can be for bettors. Because of that, they made sure to list LOL betting sites with generous welcome offers with fair wagering requirements, low minimum odds, and simple terms and conditions.
Those bonuses can be a great way to start your League of Legends betting journey or rebound from your first loss during some of the major tournaments.
Safe and Secure
When betting on League of Legends online, ensuring the safety of your personal and bank information should always be your priority. Hackers are constantly attempting to exploit weak security systems hoping to steal your details. Because of that, licensed betting sites like those listed above utilize new cutting-edge technologies to ensure your safety.
All activities on licensed casinos and sportsbooks in the USA get monitored by regulatory bodies. These regulatory bodies enforce online sportsbooks to use encryption technology in order to retain their licenses. Each League of Legends betting site we mentioned uses Secure Socket Layer (SSL) to encrypt server-to-server communication and ensure the safety of your data.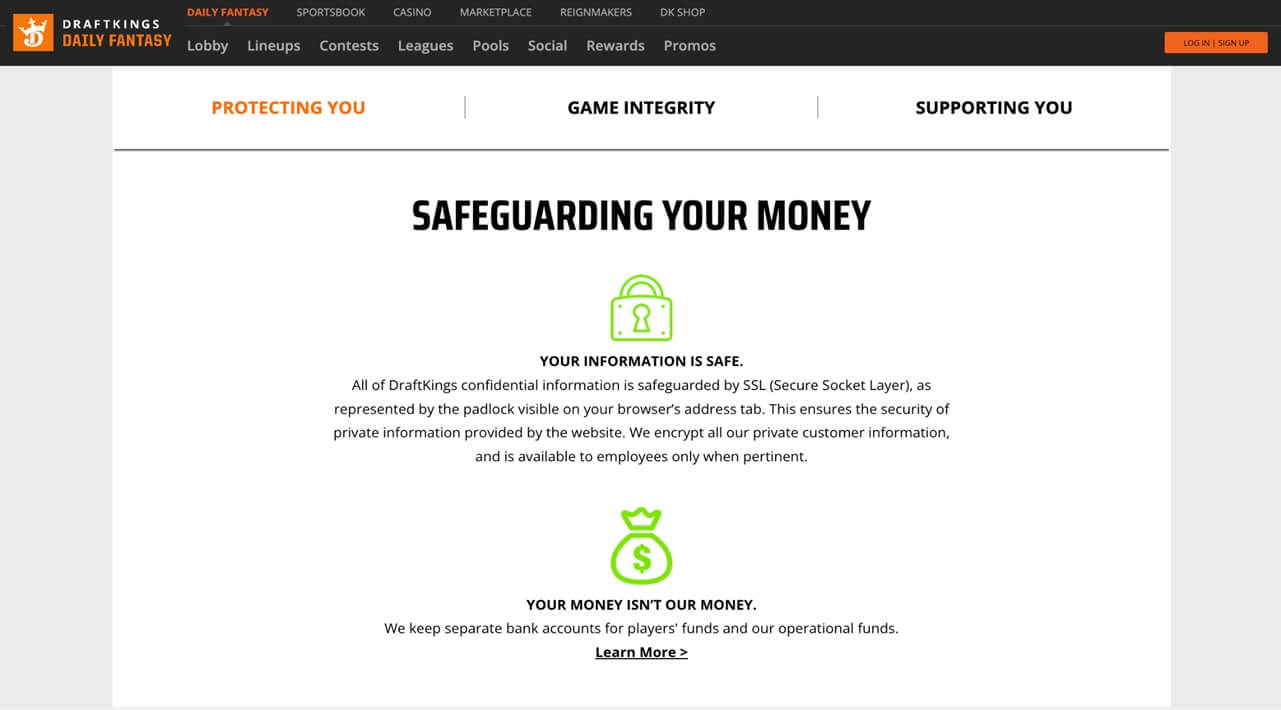 LOL Betting Apps
Although enticing odds and fair and big bonuses usually draw customers to the platforms, a highly intuitive and user-friendly mobile app is a must when your goal is to keep your tech-savvy clientele happy.
All of the League of Legends betting sites we have listed have mobile apps with layouts designed in a user-friendly manner. Besides the aesthetics, they also offer bettors fast processing times and excellent reliability.
---
How League of Legends Betting Works
Betting on League of Legends offers the best of both worlds. It can be super simple and also quite complex. However, when it comes to moneyline betting, it is very straightforward and can be illustrated with a simple example.
If you place a match-winner bet on Team Liquid in their match against Team Nexus, you are betting on Liquid to win the most maps in the best-of-three or best-of-five format. The odds work the same way as in any other sport and are easy to understand.
If you place a moneyline bet on Team Liquid at +130, you have to bet $100 to win a profit of $130. If you place a moneyline bet on the opposing team at -150, you must bet $150 to earn a $100 profit.
Besides the match winner bet, you can also bet on which team will win a particular map or bet by using some of the numerous prop bets displayed in the following paragraph. Understanding your betting options makes it super simple to place your LOL bet online:
Visit one of the listed LOL betting sites
Sign-up a new account by following the prompts
Make a first deposit to take advantage of any LOL betting bonus codes
Visit the eSports section, choose League of Legends from the markets, and find the match that interests you.
Then, you will be presented with the different League of Legends betting odds supported by the betting app. Any selection will be added to your betslip. Add your stake, review your picks and potential profit, and lock your bets.
Sit back, and live stream the selected bets to see if your bet turned out a winner.
---
LOL Betting Types
Although League of Legends is a niche betting market, most LOL bets work similarly to the most common betting markets for major sports. If you are not someone who takes great pride in their extensive League of Legends knowledge, you can stick to the simple LOL betting markets. Here are the most common ones you can find at any LOL betting site:
Match Winner – This is a moneyline LOL bet perfect for those who want to keep it simple and stick to outright bets. By placing a Match Winner LOL bet, you bet on which team you think will win a particular match.
Spread Bets – Spread bets are a form of handicap betting. When there is a massive discrepancy between two teams in a LOL match, the oddsmakers offer spread bets to balance the playing field by giving an advantage to the underdog or a disadvantage to the favorite. If you place a spread bet of -1.5, your team has to win the match by two map wins difference for you to win money.
Map Winner – Another super common betting market for those familiar with LOL betting. The professional LOL matches you can find in your sportsbook of choice are usually in a best-of-three format. So, instead of betting on the winner of the entire match, with Map Winner bets, you get an opportunity to bet on the winner of a particular map.
Totals – Totals are Over/Under bets used for betting on the number of maps played during a League of Legends match. If the match is in the best-of-three format, you can bet whether it will go over or under 2.5 maps, and if it is best-of-five, then you can bet whether it will go over or under 3.5 maps.
Those were the most common LOL betting markets available at any esports betting site during the best competitions of the LOL calendar. However, for bettors who want to make things more interesting, some of the best League of Legends betting sites as bet365, offer prop bets that can keep even the most experienced LOL bettors busy for hours. Here are some of them:
Correct Match Score
Team to win at least one map
First Blood – A LOL bet on which team will score the first kill on the map.
First team to slay a dragon or baron
First team to destroy an inhibitor
Team to record the highest number of kills during a map
Either team to perform a quadra kill
Either team to perform a penta kill
First team to perform a quadra or penta kill
Largest multi-kill during a map – Bettors can choose between single, double, triple, quadra, and penta kill.
Map Duration
Betting using League of Legends prop bets can be intricate and require an extensive understanding of the game. So if you want to keep it simple but avoid outright bets, you can check out some of the match totals where you can place over/under bets on various categories.
Total Kills
Total Towers
Total Dragons
Total Barons
Total Inhibitors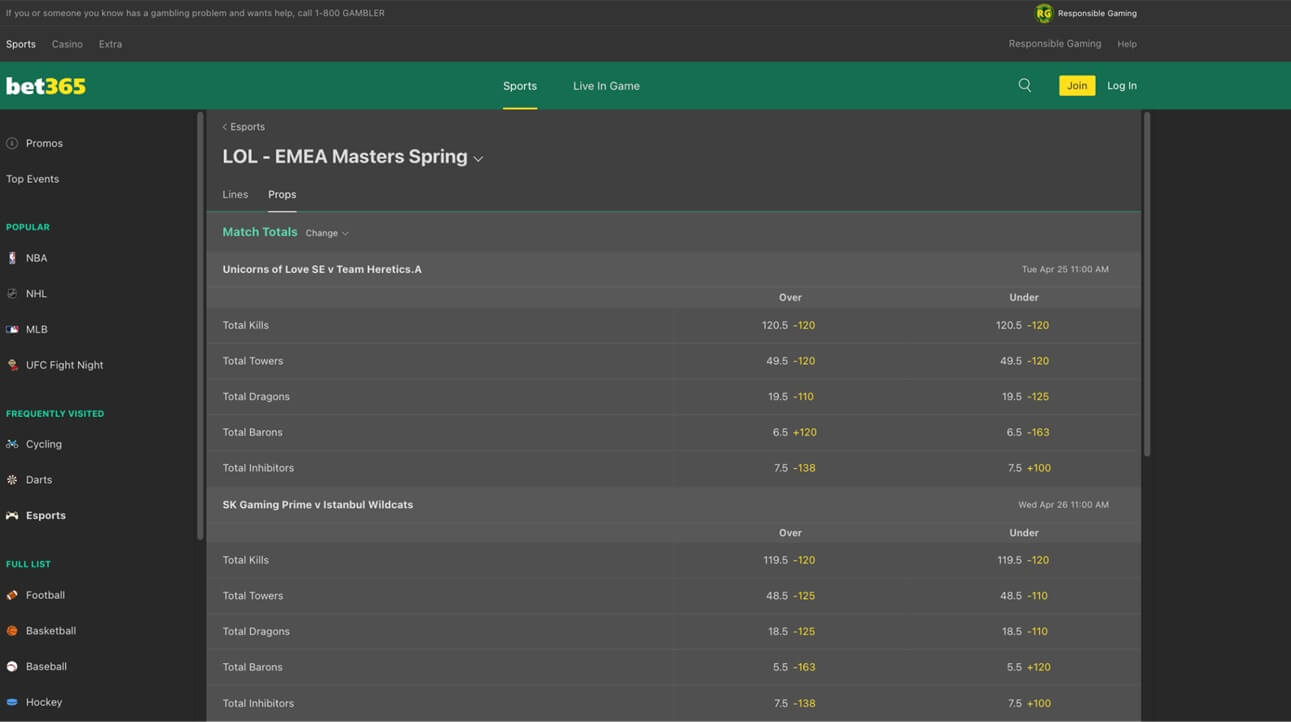 Besides the plethora of betting markets covered above, League of Legends is also known for another unique form of betting that involves gambling with LOL skins. LOL skins are digital assets that people can use as virtual currency for gambling on League of Legends competitions.
Bettors interested in skins betting must know that although there is no law that states that skins betting is not legal in any state in America, none of the League of Legends betting sites hold a license that allows it.
---
League of Legends Tournaments & Events To Bet On
The League of Legends pro scene is an ultra-complex network separated into several formats consisting of many leagues and tournaments for various League of Legends esports regions. Let's start with the most prominent LOL leagues bettors can find at the best League of Legends betting sites.
League of Legends Champions Korea (LCK)
League of Legends Pro League (LPL)
League of Legends Championship Series (LCS)
League of Legends EMEA Championship (LEC)
Pacific Championship Series (PCS)
Campeonato Brasileiro de League of Legends (CBLOL)
Vietnam Championship Series (VCS)
League of Legends Japan League (LJL)
Liga Latinoamérica (LLA)
By competing in each one of the tier 1 leagues, professional League of Legends teams can qualify for the pinnacles of professional League of Legends competition, the International tournaments also known as The Majors.
Mid-Season Invitational (MSI) – The tournament gets hosted annually and is known as the second most important LOL playground for the best thirteen teams of the Spring Splits in the respective nine qualifying regions. This year the Mid Season Invitational will be held from 2–21 May 2023 in London in the Copper Box Arena.
League of Legends World Championship – The League of Legends World Championship is the culmination of each LOL season. The tournament is known to fans as LOL Worlds and, without any doubt, is one of the most popular esports competitions watched by over 90 million spectators. During the LOL Worlds, the cream of the global professional esports crop competes for the Summoner's Cup trophy, arguably the most prestigious esports trophy in the world. The popularity of this tournament encourages all the best esports sportsbooks to include League of Legends in their betting offers.
---
Setting up your LOL Betting Account
Setting up your League of Legends betting account will be a straightforward process no matter which one of the top US esports betting sites listed above you decide to go with.
Start by visiting the official website of the LOL betting site or by downloading the official app. Once you are in, locate the Register or Sign Up button. Once you do that, a new screen will pop out where you will get asked to enter your email address and choose your password. To complete the registration process, enter your personal information, such as your first and last name, date of birth, address, mobile phone number, and last four digits of your social security number.
After you click the submit/complete button, the betting site will send an email with the confirmation link to the email address you entered during the registration. Once you click on that link, you can finally log in to your account and visit the Cashier section to make your first deposit.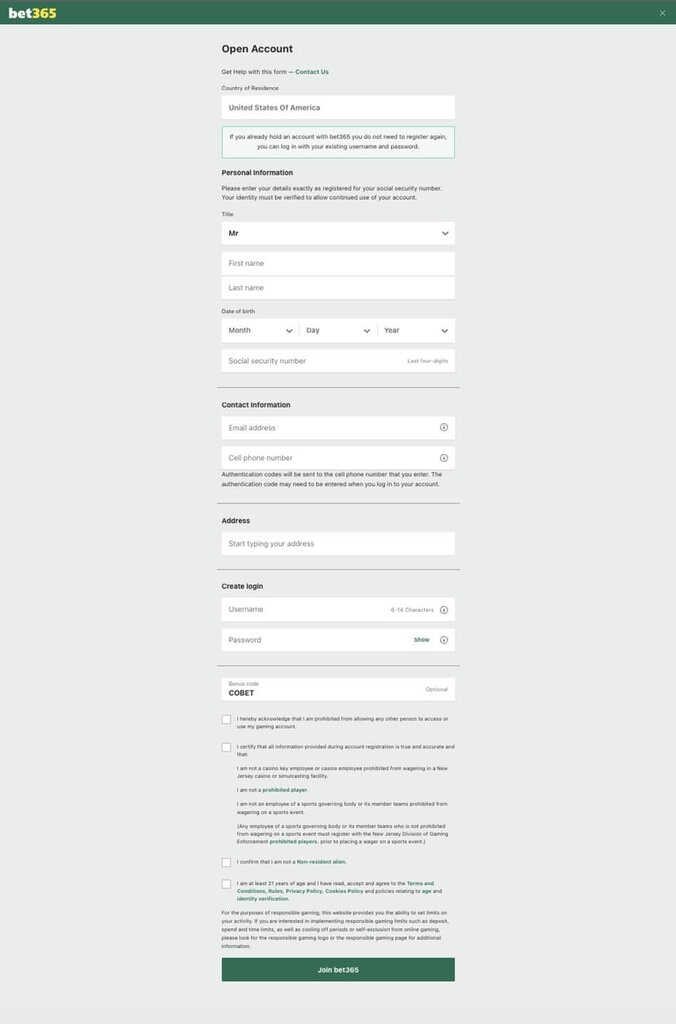 ---
Banking
After you set up your account successfully, the next step on your League of Legends betting journey will be making your first deposit. Whichever League of Legends betting site you choose from the best we listed above, the process will be simple and can get done in just a few minutes.
Start by visiting the Cashier or Banking section, where you can pick one of the available banking methods. Once you decide which banking method you prefer, click on it and enter your payment details and the amount you want to add to your account.
You should know that each betting site has a list of payment methods bettors can use for deposits and withdrawals. Luckily, each of our top League of Legends betting sites has a long list where you can find all the popular banking options. Here are the most prominent ones: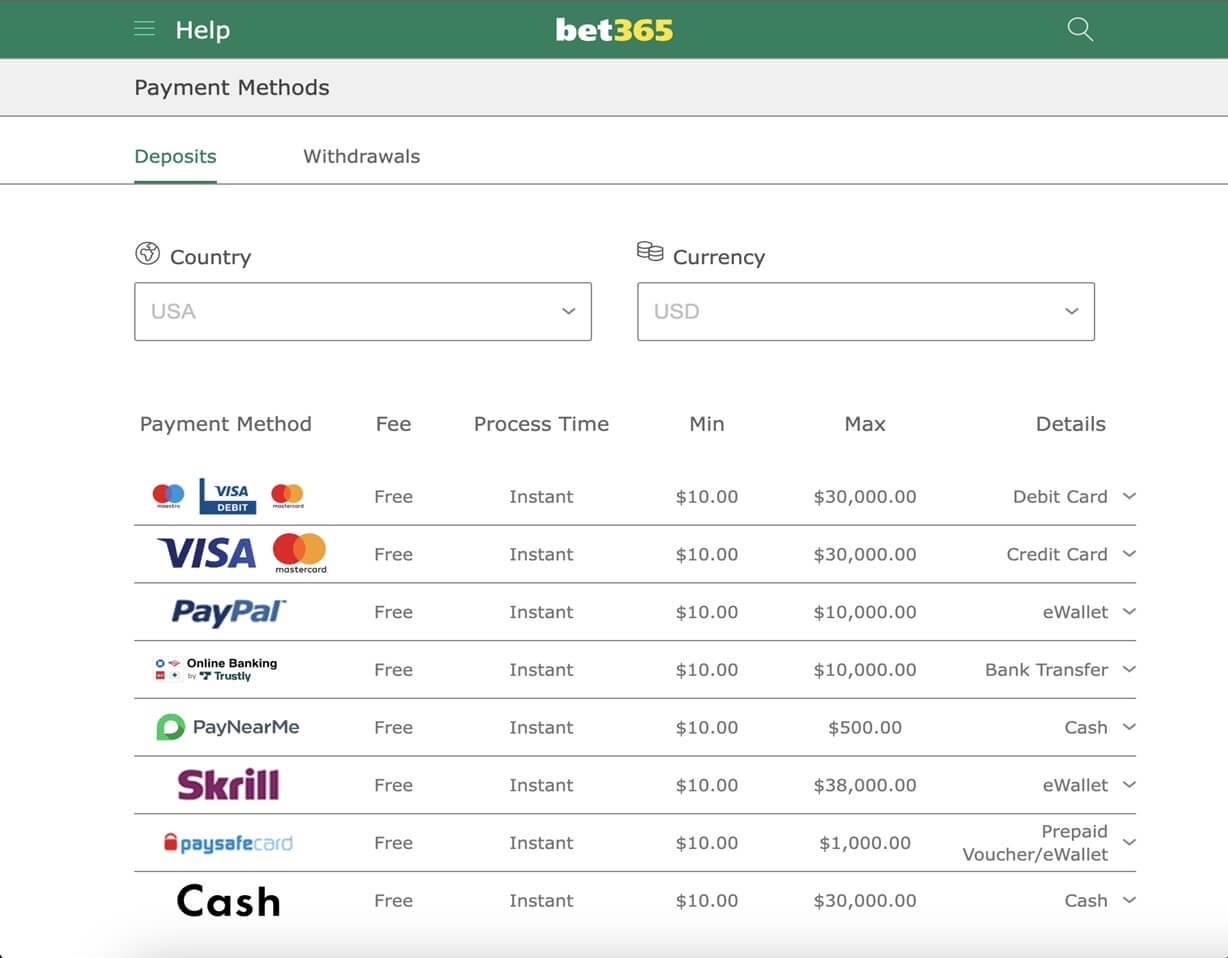 Each betting site has a minimum deposit limit, and each banking method for deposits has various processing times and possible fees. Because of that, we advise you to go through the FAQ section to learn about the characteristics of each banking method before making a deposit.
Withdrawing your funds is simple as well. All you need to do is visit the Withdrawals section, select your preferred banking method, and enter the amount you want to take out of your account.
Although most sports betting sites have fewer banking methods for withdrawals, the betting sites we listed above have more than enough options to provide a convenient betting experience. Here are the most popular ones you might find:
Online Banking
Play+ Prepaid Card
Cash at cage
Bank wire
The payment methods bettors use for withdrawals might have different processing times and possible fees, so it will be wise to check the FAQ section before selecting one of the options.
It is also vital to know that in order to comply with both regulatory requirements and to help ensure the security of each account, most betting sites might demand identification from their bettors.
In order to get your identity verified, the sports betting site will ask you to upload personal documents such as a passport, driving license, or state ID. Once your account is fully verified, you may proceed with making your withdrawal.
---
LOL Betting Tips and Strategies
Although set on a map very familiar to nearly every gamer out there, League of Legends is a complex game with over 140 different champions with unique abilities and numerous possible builds. So to win money by placing LOL bets on League of Legends tournaments, you will need a lot more than luck. Hence, here are some essential League of Legends betting tips and strategies that might help you.
Learn as much as possible about the game
Most of the esports betting sites from our list tend to offer various advanced sports betting markets that might seem incredibly tempting. Those betting markets are usually prop bets, and in order to be able to have success by betting on them, you need to have thorough game knowledge.
Playing the game yourself or watching the pro players on Twitch can significantly help you learn about the ins and outs of the game and all the intricacies and peculiarities of each champion.
Keep up with the latest news and updates
The world of League of Legends can be very turbulent, and things can change exceptionally quickly. To stay on top of your LOL game knowledge, you must keep up with all the latest news regarding the recent form of teams and player transfers.
Besides transfers, another critical aspect that can significantly change the League of Legends odds is the release of new patches. Each new LOL patch comes with a long list of tweaks and updates that can affect the ability of certain players, which can later affect the possibility of you winning your betting slip.
Embrace live betting
As sports betting fans, we are all familiar with live betting. It's available for most sports, and it works in a simple manner. However, when it comes to League of Legends, live betting is what separates the men from the boys during the League of Legends World Championship.
If you are a LOL bettor with extensive knowledge and understanding of the game, live betting is your best chance to beat the house and double your hard-earned cash. The nature of the game allows experienced bettors to notice many details and catch plenty of variables to which they can tailor their in play bets.
Due to their unique abilities, different champions can dominate at different times of the game compared to others. Because of this, the number of distinctive situations that can arise due to such variables is massive. While this might seem overly complicated to beginners, it creates lucrative opportunities for experienced bettors who can see the big picture and use their game knowledge to turn the League of Legends odds in their favor.
---
Are LOL Online Betting Legal States Expanding?
The popularity of Esports is skyrocketing, so it would be unimaginable for states where sports betting is legal to still not jump on the esports betting bandwagon and encourage lawmakers to deal with this issue in the near future. Although still not fully legal in most states across America, esports betting is a billion-dollar industry evolving at breakneck speed. Therefore, American bettors can expect to find LOL betting markets at their online betting site of choice soon enough as plenty more states are putting efforts to legalize esports betting.
---
Summary
The most recent data shows that the popularity of esports is going through the roof, and one of the most important contributors to the impressive statistic is League of Legends. This free to play multiplayer online battle arena game has over 150 million active players and a vibrant esports scene where professional LOL teams compete for prizes worth millions of dollars.
In the past few years, the sports betting industry has welcomed a new wave of bettors moving away from traditional sports and exploring niche betting alternatives. These bettors are looking for ways to test their esports knowledge and feed their betting appetites created by the thrill of the intense League of Legends competitions.
By looking for a way to lure the most enthusiastic esports bettors, many online sportsbooks started offering betting markets for some of the most prominent esports competitions. And although the lawmakers are currently not doing the esports betting sites any favors, there are still plenty of options where people can bet on League of Legends. Thus, our team of devoted betting experts tried their best to list the top League of Legends betting sites available to American bettors in states where esports betting is legal.
---
FAQs
Where can I bet on League of Legends?
DraftKings, FanDuel, BetMGM, bet365 and Betway all offer bets on League of Legends. These sportsbooks offer bets on all the biggest LoL events, such as the World Championships.
Is esports betting illegal in the US?
eSports betting is not illegal in the USA, but in some states it is regulated. In Nevada, New Jersey, Tennessee and West Virginia, it is completely legal to bet on esports.
In which states can I bet on League of Legends?
It is legal to bet on esports in Nevada, New Jersey, Tennessee and West Virginia. You do not need to live in any of those states or be a resident in them. As long as you are within state borders, you can place your League of Legends bets.
How do I bet on esports in USA?
There are numerous types of esports bets you can try out. The US sportsbooks that provide bets on league of legends offer you moneylines, totals bets and spreads. The totals and spreads refer to maps, and some sportsbooks also offer you LoL game props.
Does FanDuel have esports bets?
Yes, you can bet on League of Legends events at FanDuel Sportsbook. FanDuel is among the biggest sportsbooks in the US, and is available in over 20 states.