Gamble USA strives to improve your online gambling experience. We aim to help you play safely, make informed decisions when gambling, and increase your betting knowledge through our guides.
We adhere to strict editorial integrity; our content may contain links to products from our licensed & legal US partners.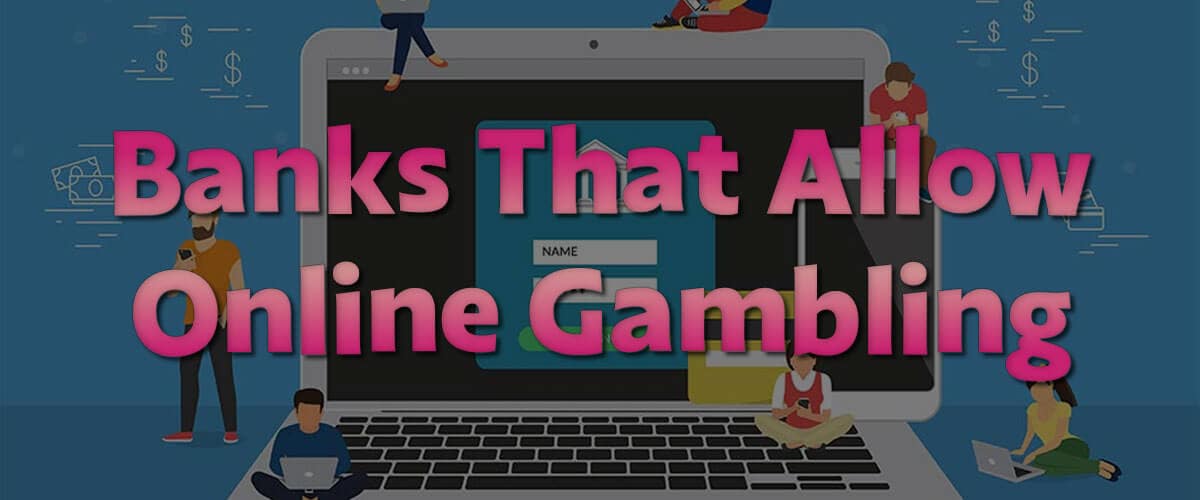 Online gambling has been growing in popularity over the decades in the US, with more players leaning towards playing games from home. The entire process is seamless, as all you need to do is register and fund your account to get started. To make this more accessible online sportsbooks and casinos have provided numerous banking methods to fund your account via e-wallets, prepaid cards, credit or debit cards, and even bank transfers.
Today, our focus will be on traditional bank transfers as it is the preferred method for almost every player. This is because it is easy for nearly anyone within the legal age to open an account in the US and transfer their funds as they please. The best part is that they also get a credit card or debit card, making online purchases easier.
However, not all banks in the US support online gambling payments, even if gambling is legal in the state. This drastically limits your options and implies that if this is your preferred method, you'll first have to find out if your Bank supports this form of payment. You are in luck if you don't know how to do it.
This guide will show you all you need to know about making gambling deposits via your Bank. You'll also learn how to transfer to your online gambling accounts, the alternatives to gambling if you have a restricted account and many more options. We will provide a full list of banks that allow online gambling, why some banks may only provide restricted transactions and how you can claim your winnings as an online gambler. No longer will you need to wonder about what banks allow online gambling and you can sign up for a betting account knowing all of the available options open to you.
---
Can I use Online Banking for US Gambling Deposits?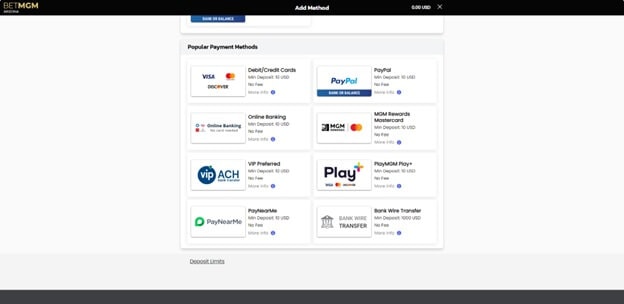 Yes, you can. However, this is dependent on the US bank and online sportsbooks. This has been notably worsened due to the 2006 Unlawful Internet Gambling Enforcement Act (UIGEA). This act summarizes that banks and other financial institutions are not meant to process payments from unauthorized gambling platforms.
It makes it extremely difficult and sometimes impossible to make online gambling transactions, regardless of if they are for deposits or withdrawals. This is because, in most instances, the Bank will decline the payment and prevent it from going through. We recommend you check with your Bank or online casino to see if they support these types of payments before you begin. Better still, you may want to use other intermediaries, like PayPal, which can be as quick and have fewer issues to make your payments on any of the following gambling sites:
---
How to Deposit with Bank Transfer at Online Gambling Sites?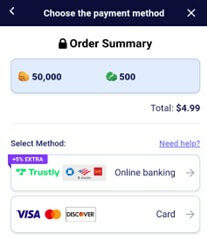 If your Bank supports bank transfers to a gambling site, you are in luck. You can quickly transfer your funds to your casino account and get started with your favorite games. The steps below will show you how to achieve this without a hitch.
Step 1: After you have determined that your Bank supports payments to online gaming sites via bank transfers, you'll need to find a casino that supports these forms of payments. Make sure you evaluate the casino using other criteria like licenses,

bonus offers

, customer support, etc.
Step 2: Find your way to the cashier section of your online casino or

online sports betting platform

and choose the deposit option.
Step 3: Next, check out the list of deposit methods available and pick the wire transfer or bank transfer option.
Step 4: You'll be required to input the amount you want to deposit. This is usually pegged at a

minimum of $10 on most online casino sites.

Step 5: Complete the security check of your Bank, if any. This could be a code you get via your phone or a unique password to approve the transaction. Most banks have this in place as a way to protect your account from falling into the hands of fraudulent individuals.
Step 6: If satisfied with your selection, hit the confirm button and wait for your cash to reflect in your account. Depending on the casino site and Bank, this could take up to 7 business days.
---
Which US Banks Allow Online Gambling in the USA?
No, not all US banks process gambling transactions. This means if you try to deposit into your online casino account from some US banks via online bank transfers, it will end up being declined. While some banks may be inclined to allow this form of payment, many others won't – as the 2006 Unlawful Internet Gambling Enforcement Act (UIGEA) has made it extremely difficult.
US Banks That Support Online Gambling
Bank of America
✔️
Chase
✔️
Citigroup
✔️
Goldman Sachs
✔️
PNC
✔️
Capital One 360
✔️
HSBC
✔️
Santander
✔️
TD Bank
✔️
Wells Fargo
✔️ (varies)
Banks like Chase, Bank of America, Citigroup, Goldman Sachs, and PNC support gambling payments. Wells Fargo doesn't follow a one size fits all approach, with several users saying they have deposited and others reporting they couldn't use it to transfer money to their casino and sportsbook account.
In other instances, a gambling site might not work with certain banks. Or, worse, they might support deposits but not withdrawals via wire transfer. Usually, you can see the supported sportsbook or casino banks within their cashier page, highlighted via the banks' logos (see pictures). You can always double-check this with their customer support team.
---
Ways to Find Out if My Bank Will Process My Deposit
Determining if your Bank will process deposits into your casino account via a credit card or bank transfer is very easy. Simply head to the website of the Bank and check the FAQs page. You should find information about this here. If you don't, you can reach out to the customer support team of the Bank via the telephone number or email provided on the site.
We recommend you do this before you make any deposit via your Bank. This will save you the stress of dealing with declined payments if your Bank does not support these types of deposits.
If they are hard to reach, you can contact FanDuel, DraftKings, or any other operator to ask whether they support payments via your Bank.
---
What Banks Allow Sports Betting?
Before you create your account at an online sportsbook, you will want to know if your current financial institution allows money to be transferred from a betting company. Whether it is an ACH transfer or another payment method, nobody wants to be ready to withdraw funds only to find they have been blocked. There are currently some banks out there that will support sports wagering activities, including:
US Banks That Support Online Sports Betting
Bank of America
✔️
Chase
✔️
Citigroup
✔️
Goldman Sachs
✔️
PNC
✔️
Capital One 360
✔️
HSBC
✔️
Santander
✔️
TD Bank
✔️
Wells Fargo
✔️ (varies)
It must be noted that you may encounter some issues along the way when using any of the banks above. For example, when a gambling transaction first appears on your statement, the bank may question this and you could be required to provide some further information or answer some security questions for any payments to be processed.
As online gambling continues to expand in the US, it is likely more banks will become more receptive to gambling payments and transfers. Of course, as long as you are using legal and licensed sportsbooks then all payments are secure and you can bet without worry of fraud or your personal details being compromised. Nearly all betting sites accept Visa as a deposit and withdrawal option, but your bank issuing the Visa card may block the transaction.
---
Why Would Banks Block Sports Betting?
You might likely think that major US banks would want to get in on the action on what is a fast growing sports betting market. You can imagine US banks and credit card issuers would be eager to really get into the industry and try and make their mark. However, this is far from the current reality.
Significant operators such as FanDuel and DraftKings have stated that multiple big banks reject their debit and credit cards to be used for any gambling transactions. The reason is there are lots of banks that still have lingering concerns. Factors such as chargebacks to money laundering and fraud come into the discussion. Additionally, banks really want to stay away from any potential conversations with federal authorities.
It is hard to forecast whether this problem will ease in the future. If sports betting continues to grow and expand, it will be hard for banks to stay away.
---
👑 Bank of America – Best Bank Account for Gambling
The best bank account for gambling is Bank of America as it is one of the most trusted, well-respected institutions in the United States. In addition to being well-known and holding an excellent reputation, Bank of America will push through your instant deposits without any delay or holdups even if it is a gambling transaction.
As long as you are using a legal and licensed gambling operator, you will encounter no issues with transferring money around with Bank of America. We have listed all of the banks that allow online gambling above and the best option is subjective as you may have a particular favorite that you have been using for a long time. However, for gambling purposes, we believe Bank of America to be the best option.
---
Alternatives to Gamble in Online Casinos with a Restricted Bank Account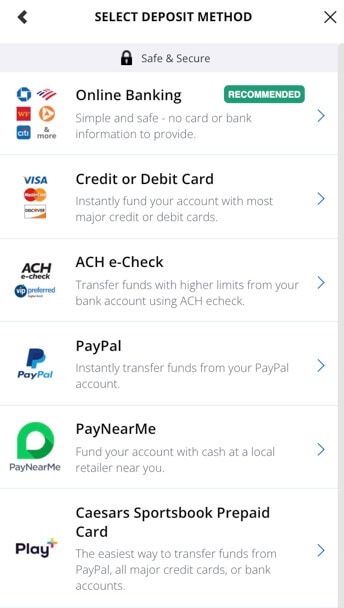 Unfortunately, there is a high chance that you have an account that restricts online gambling payments. If this happens to you, don't fret, as there are many ways you can still indirectly send money from your bank account to your online gaming account. The best part is that they are all legal too. Below, we will be looking into some of the best alternatives you can try out.
---
E-Wallets
E-wallets are rising in popularity as the world becomes more digital. This trend is expected to continue and has become an excellent option for making payments online, including in online casinos. They have fast transaction times and payout times, and are known to be highly secure, which is vital when playing for real money. Moreover, they come with minimal fees, making them a great alternative for players in the USA with restricted bank accounts to play online. There are many types of E-wallets available including:
PayPal
This is the most popular e-wallet you will come across today, especially when making payments in online casinos. It is supported on most US online gambling sites and boasts more than 350 million users worldwide. This is a very massive percentage which is a testament to its reliability.
You can link PayPal to your bank account and move funds into your PayPal account. Then, you can use the wallet in your PayPal balance to make deposits in your online casino. If you want to withdraw the funds, you do the opposite, and you should receive your funds in 30 minutes or less.
PayPal does not charge any fee when you use it to make payments to casino accounts. It is also highly secure, with numerous measures to keep your funds safe. What's more, it comes with a dedicated mobile app that you can use to credit your casino account and enjoy games from any location. You can find the best PayPal Casino and top PayPal betting sites through the above links to get started if your Bank doesn't allow payments for online gambling.
Skrill
This is another popular e-wallet supported by most US casino sites. This platform is owned by PaySafe and used to go by MoneyBookers before it was revamped. It is accepted in more than 200 countries and supports a range of currencies, including the USD. Using this payment method to deposit money is easy, and you can transfer funds from your bank account into the Skrill wallet. Then, fund your online casino account to get started on your favorite games.
This payment method also features a prepaid Mastercard that you can link to your account. With this, you can withdraw funds just like you would from your regular bank account. Skrill, like PayPal, boasts a high level of security and charges the least fees when you withdraw funds from your casino account. What's more, it has dedicated mobile apps you can install on your IOS and Android-powered devices. Find out the best betting sites that accept Skrill and see which Skrill casinos are available to players right here.
Neteller
You'll find several casinos that accept Neteller as a way to deposit funds into your account. It works no differently from the other e-wallets we have covered above, which is why it is extremely popular among online gamblers. Paysafe owns this payment option and accepts deposits from Visa or Mastercard accounts.
However, unlike the other options, it charges a monthly fee, and most online sportsbooks will attach a limit for deposits in betting accounts. Moreover, it can take 2-3 days for a payment to be processed with this method. Nonetheless, Neteller for betting is an excellent alternative if using bank transfers is out of the question.
Google Pay
One of the best and almost guaranteed ways to make a deposit to your sports betting account is using Google Pay. A lot of sportsbooks accept Google Pay as a deposit option making it a great choice for those looking to top up their bankroll.
Venmo
If you have been having issues making a casino or sportsbook deposit with your bank, a great alternative is to use Venmo. There are now several online casinos that accept Venmo as well as a growing number of Venmo betting sites that have embraced the online wallet. Venmo is fast, safe & secure, and as most of us now have an account, it's really easy to set it up and begin to use it with a sportsbook.
ecoPayz
This is yet another reliable e-wallet you can use to make payments in online casinos. It is not as popular as the other alternatives we have covered so far, but it is constantly growing rapidly. This payment option supports numerous currencies, including USD, so that you can make transactions on US casino sites without a hitch.
Gambling sites that support this option may attach some limits, so you may want to check the terms and conditions first. It also offers prepaid gambling debit cards branded in collaboration with Mastercard, which gives you the benefits you enjoy from your typical credit and debit cards.
Using typical bank cards such as American Express or a prepaid card to fund your betting account is also a good option. Additionally, if you are using an online casino and the physical casino isn't far, you could even collect your winnings at the casino cage in person. There are some sites that will offer other deposit and withdrawal methods as you look to fund your sports betting account. The best sites will provide a wide range of efficient and secure payment methods.
Trustly
Trustly is perhaps one of the most underused payment options when it comes to online gambling. Trustly has been around since 2008 and is one of the safest and widely accepted payment options online. Whilst a lot of stores accept the payment provider, there is a limited choice of online casinos that accept Trustly. There are now also several Trustly sportsbooks for those looking for a fast and safe option to deposit and withdraw to their sportsbooks account.
Cash at the Casino Cage
If there happens to be a brick-and-mortar casino affiliated with the online site you are using, you do have the option to bring cash and a valid photo ID to place your deposit in-person. Payments can be processed via a few different methods at the cage, such as credit/debit cards, casino chips, and personal checks. However, be aware that these options are dependent on state rules and regulations and also the individual casino rules.
This is a convenient way of adding funds to your account if you live near retail casinos. However, if you decide to go down this route, you will be excluded from some promotions and the funds won't always hit your account straight away. Withdrawals are available instantly once they have been approved and will be paid on casino chips or cash only.
PayNearMe
For any bettors who don't want to use their debit or credit card or link their bank account, there is another payment option that allows you to use cash. Choose the PayNearMe payment option when you sign in to your betting account and choose the amount you wish to deposit. Once you have clicked on PayNearMe you will receive a barcode that you will take with you to participating stores like CVS, Family Dollar, 7-11 and more. Present the barcode to the cashier and they will scan it and take your cash. The funds will be made available instantly for you to use to wager online.
Like cash at the casino cage, there are some negatives including having to physically move and leave the house and you also won't be able to take advantage from most of the promos. Additionally, PayNearMe can only be used to make deposits and is not valid for withdrawals.
FAQs
Which US banks allow betting and casino transactions?
Some banks supporting gambling payments include Goldman Sachs, Bank of America, Chase, and CitiGroup. Wells Fargo also supports gambling payments, but it is not stable in its approach. While some users have stated that they could deposit funds to their casino or sportsbook account, others have stated that they could not.
Can I deposit and withdraw with my bank at gambling sites?
Yes, you can. However, this is only if your bank supports payment to gambling sites. We recommend you contact your bank's customer care to find out if it does. You'll also need to check the casino site to see if it supports bank payments.
Which banks does FanDuel take?
Why can't I deposit at DraftKings with my bank account?
There are many reasons a deposit using your bank account at DraftKings won't work. The first reason may be that your bank does not support gambling payments. To resolve this, you will need to contact your bank's customer service to confirm that it supports gambling payments. Another reason could be due to information mismatch. If the name you used to register for your DraftKings account differs from that of your bank account, your deposit won't go through.
My bank transfer to a casino won't be processed, why?
If your bank does not support gambling payments, and you initiate a payment, it won't be processed. This is one of the major reasons you may experience this issue. Contact your bank's customer support for help.
What is the minimum I can deposit to a casino through a bank?
This usually depends on the casino, but most top sites will require a minimum casino deposit of $10, with some requiring more. It is best to first check with the casino to be certain.
Do gambling sites charge fees when you make a deposit via your bank?
You usually don't pay a fee when depositing your casino or sports betting account. However, this depends on the gambling site, as some may charge a fee for a specific method,

From the banking pages on casino sites the applicable fees if any should be clearly shown next to each deposit and withdraw method.
Are bank transfers faster than other payment methods on gambling sites?
No. In fact, bank transfers take the longest, especially if it is an international transfer. It will have to pass through numerous banks before reaching its destination. Nonetheless, it is still one of the most secure options available.

If you want speed, then prepaid cards or e-wallets are much faster.
Can I still make payments to an online gambling site from my US bank if I am abroad?
Certainly, but it is recommended you let your bank know of your movement. If you log into your bank account from another country, it may be categorized as suspicious activity, and your account could get blocked. This is for your own safety.
Do online casinos Echeck payouts work at USA banks?
Not all licensed casinos offer Echeck (ACH); they are growing in numbers, including several sweepstakes casinos in the US. Deposit and withdrawal options vary at each casino, so it is wise to check through the currently accepted methods before registering at a casino if this is your only viable option.

VIP Preferred tends to be the most widely accepted and is a great solution for hassle-free cash access that is far superior to paper checks.
Does bank of America allow online gambling?
Yes, Bank of America allows you to process a gambling transaction via an online bank transfer. As long as you are using a licensed online sportsbook, the Bank of America will push through your instant deposits with no gambling block in place.
Does Santander allow sports betting?
Yes, Santander does allow sports betting transactions. However, the bank also has features in place on the baking app that allow you to place blocks on any gambling transactions as part of a responsible gambling policy.