Online gambling has been growing in popularity over the decades in the US, with more players leaning towards playing games from home. The entire process is seamless as all you need to do is register, and fund your account to get started. To make this easier online sportsbooks and casinos have provided numerous banking methods to fund your account via e-wallets, prepaid cards, credit or debit cards, and even bank transfers.
Today, our focus will be on traditional bank transfers as it is the preferred method for almost every player. This is because it is easy for nearly anyone within the legal age to open an account in the US and transfer their funds as they please. The best part is that they also get credit/debit cards, making online purchases easier.
However, not all banks in the US support online gambling payments, even if gambling is legal in the state. This drastically limits your options and implies that if this is your preferred method, you'll first have to find out if your Bank supports this form of payment. If you don't know how to do it, then you are in luck.
This guide will show you all you need to know about making gambling deposits via your Bank. You'll also learn about how to make a transfer to your online gambling accounts, the alternatives to gamble if you have a restricted account, and many more.
Can I use Online Banking for US Gambling Deposits?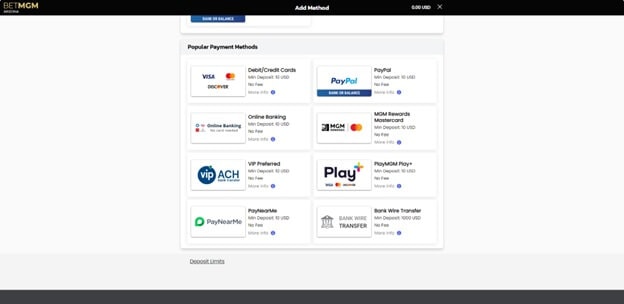 Yes, you can. However, this is dependent on the US bank and online sportsbook. This has been made notably worse due to the 2006 Unlawful Internet Gambling Enforcement Act (UIGEA). This act summarizes that banks and other financial institutions are not meant to process payments from unauthorized gambling platforms.
It makes it extremely difficult and sometimes impossible to make online gambling transactions regardless of if they are for deposits or withdrawals. This is because, in most instances, the Bank will decline the payment and prevent it from going through. We recommend you check with your Bank or online casino to see if they support these types of payments before you begin. Better still, you may want to use other intermediaries, like PayPal, to make your payments on any of the following gambling sites:
How to Deposit with Bank Transfer at Online Gambling Sites?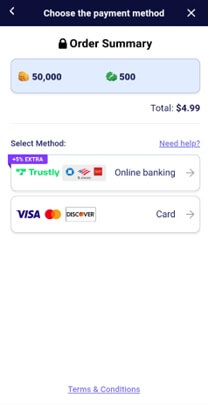 If your Bank supports bank transfers to a gambling site, you are in luck. You can quickly transfer your funds to your casino account and get started with your favorite games. The steps below will show you how to achieve this without a hitch.
Step 1: After you have determined that your Bank supports payments to online gaming sites via bank transfers, you'll need to find a casino that supports these forms of payments. Make sure you evaluate the casino using other criteria like licenses,

bonus offers

, customer support, etc.
Step 2: Find your way to the cashier section of your online casino or

online sports betting platform

and choose the deposit option.
Step 3: Next, check out the list of deposit methods available and pick the wire transfer or bank transfer option.
Step 4: You'll be required to input the amount you want to deposit. This is usually pegged at a

minimum of $10 on most online casino sites.

Step 5: Complete the security check of your Bank, if any. This could be a code you get via your phone or a unique password to approve the transaction. Most banks have this in place as a way to protect your account from falling into the hands of fraudulent individuals.
Step 6: If you are satisfied with your selection, hit the confirm button and wait for your cash to reflect in your account. Depending on the casino site and Bank, this could take up to 7 business days.
Do all US Banks Allow Online Gambling in the USA?
No, not all US banks process gambling transactions. This means if you try to deposit into your online casino account from some US banks via online bank transfers, it will end up being declined. While some banks may be inclined to allow this form of payment, many others won't – as the 2006 Unlawful Internet Gambling Enforcement Act (UIGEA) has made it extremely difficult.
Banks like Chase, Bank of America, Citigroup, Goldman Sachs, and PNC support gambling payments. Wells Fargo doesn't follow a one size fits all approach, with several users saying they have deposited and others reporting they couldn't use it to transfer money to their casino and sportsbook account.
In other instances, a gambling site might not work with certain banks. Or, worse, they might support deposits but not withdrawals via wire transfer. Usually, you can see the supported sportsbook or casino banks within their cashier page, highlighted via the banks' logos (see pictures). You can always double check this with their customer support team.
Ways to Find Out if My Bank Will Process My Deposit
Determining if your Bank will process deposits into your casino account via a credit card or bank transfers is very easy. Simply head to the website of the Bank and check the FAQs page. You should find information about this here. If you don't, you can reach out to the customer support team of the Bank via the telephone number or email provided on the site.
We recommend you do this before you make any deposit via your Bank. This will save you the stress of dealing with declined payments if your Bank does not support these types of deposits.
If they are hard to reach, you can contact FanDuel, DraftKings, or any other operator to ask whether they support payments via your bank.
Alternatives to Gamble in Online Casinos with a Restricted Bank Account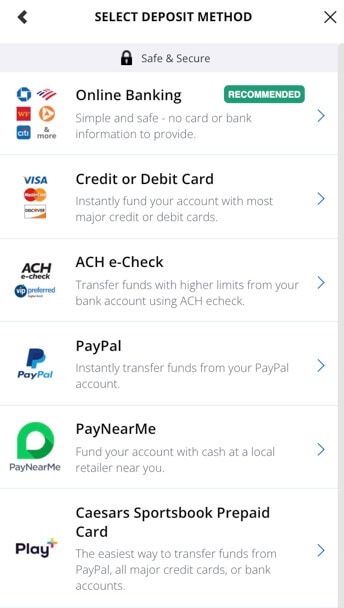 Unfortunately, there is a high chance that you have an account that restricts online gambling payments. If this happens to you, don't fret, as there are many ways you can still indirectly send money from your bank account to your online gaming account. The best part is that they are all legal too. Below, we will be looking into some of the best alternatives you can try out:
E-wallets
E-wallets are rising in popularity as the world becomes more digital. This trend is expected to continue and has become a great option for making payments online, including in online casinos. They have fast transaction times and are known to be highly secure. Moreover, they come with minimal fees, making them a great alternative for players in the USA with restricted bank accounts to play online. There are many types of E-wallets available including:
PayPal
This is the most popular e-wallet you will come across today, especially when making payments in online casinos. It is supported on most US online gambling sites and boasts more than 350 million users worldwide. This is a very massive percentage which is a testament to its reliability.
You can link PayPal to your bank account and move funds into your PayPal account. Then, you can use the wallet in your PayPal balance to make deposits in your online casino. If you want to withdraw the funds, you do the opposite, and you should receive your funds in 30 minutes or less.
PayPal does not charge any fee when you use it to make payments to casino accounts. It is also extremely secure, with numerous measures to keep your funds safe. What's more, it comes with a dedicated mobile app that you can use to credit your casino account and enjoy games from any location. You can find the best PayPal Casino and top PayPal betting sites through the above links to get started, if your bank doesn't allow payments for online gambling.
Skrill
This is another popular e-wallet supported by most US casino sites. This platform is owned by PaySafe and used to go by MoneyBookers before it was revamped. It is accepted in more than 200 countries and supports a range of currencies including USD. Using this payment method to deposit money is easy, and you can transfer funds from your bank account into the Skrill wallet. Then, make payments to your online casino account to get started on your favorite games.
This payment method also features a prepaid Mastercard that you can link to your account. With this, you can withdraw funds just like you would from your regular bank account. Skrill, like PayPal, boasts of a high level of security and charges the least fees when you withdraw funds from your casino account. What's more, it has dedicated mobile apps you can install on your IOS and Android-powered devices. Find out the best Skrill betting sites and Skrill casinos here.
Neteller
You'll find Neteller on most top online casino sites as a way to deposit funds into your account. It works no differently from the other e-wallets we have covered above, which is why it is extremely popular among online gamblers. This payment option is owned by Paysafe, and it accepts deposits from Visa or Mastercard accounts.
However, unlike the other options, it charges a monthly fee and most online sportsbooks will attach a limit for deposits in betting accounts. Moreover, it can take 2-3 days for a payment to be processed with this method. Nonetheless, Neteller for betting is an excellent alternative if using bank transfers is out of the question.
ecoPayz
This is yet another reliable e-wallet you can use to make payments in online casinos. It is not as popular as the other alternatives we have covered so far, but it is constantly growing rapidly. This payment option supports numerous currencies including USD, which means you can make transactions on US casino sites without a hitch.
Gambling sites that support this option may attach some limits, so you may want to check the terms and conditions first. It also offers prepaid gambling debit cards branded in collaboration with Mastercard which gives you the benefits you enjoy from your typical credit and debit cards.
US Banks for Online Gambling FAQ
Which US banks allow betting and casino transactions?
Some of the banks that support gambling payments include Goldman Sachs, Bank of America, Chase and CitiGroup. Wells Fargo also supports gambling payments, but it is not stable in its approach. While some users have stated that they were able to deposit funds to their casino or sportsbook account, others have stated that they could not.
Can I deposit and withdraw with my bank at gambling sites?
Yes, you can. However, this is only if your bank supports payment to gambling sites. We recommend you contact your bank's customer care to find out if it does. You'll also need to check the casino site to see if it supports bank payments.
Which banks does FanDuel take?
FanDuel supports numerous banks, including Citi Bank, JPMorgan Chase, Wells Fargo, Bank of America, and many more.
Why can't I deposit at DraftKings with my bank account?
There are many reasons a deposit using your bank account at DraftKings won't work. The first reason may be that your bank does not support gambling payments. To resolve this, you will need to contact your bank's customer service to confirm that it supports gambling payments. Another reason could be due to information mismatch. If the name you used to register for your DraftKings account differs from that of your bank account, your deposit won't go through.
My bank transfer won't be processed, why?
If your bank does not support gambling payments, and you initiate a payment, it won't be processed. This is one of the major reasons you may experience this issue. Contact your bank's customer support for help.
What is the minimum I can deposit to a casino through a bank?
This usually depends on the casino, but most top sites will require a minimum casino deposit of $20, with some requiring more. It is best to first check with the casino to be certain.
Do gambling sites charge fees when you make a deposit via your bank?
In most cases, you don't pay a fee when making deposits to your casino or sports betting account. However, this is dependent on the gambling site, as some may charge a fee.
Are bank transfers faster than other payment methods on gambling sites?
No. In fact, bank transfers take the longest, especially if it is an international transfer. It will have to pass through numerous banks before reaching its destination. Nonetheless, it is still one of the most secure options available.
Can I still make payments to an online gambling site from my US bank if I am abroad?
Certainly, but it is recommended you let your bank know of your movement. If you log into your bank account from another country, it may be categorized as suspicious activity, and your account could get blocked. This is for your own safety.