Gamble USA strives to improve your online gambling experience. We aim to help you play safely, make informed decisions when gambling, and increase your betting knowledge through our guides.
We adhere to strict editorial integrity; our content may contain links to products from our licensed & legal US partners.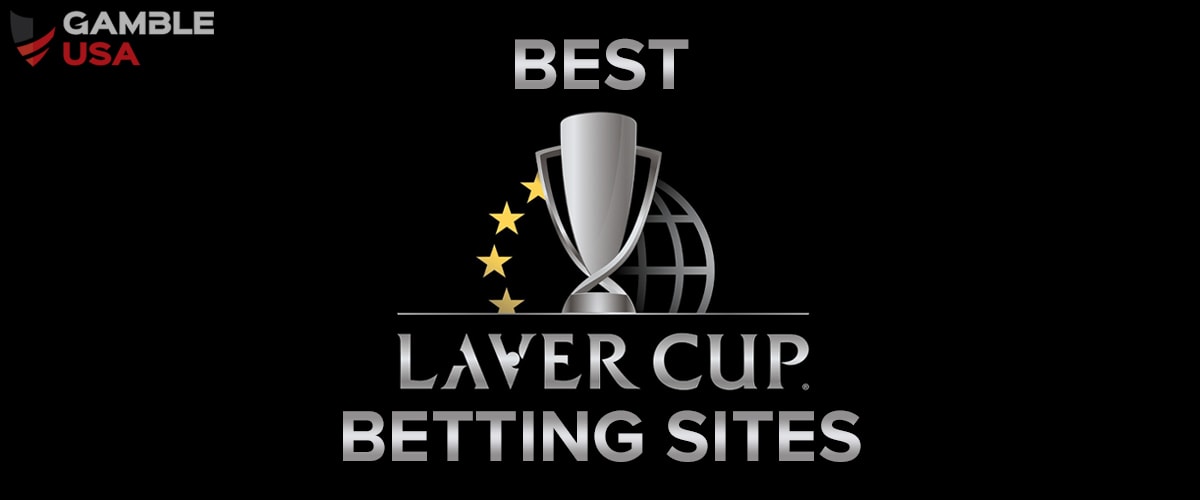 The Laver Cup is a unique men's tennis tournament that pits the best players from Europe against the top players from the rest of the world in a thrilling team event. Players compete in both singles and doubles in a bid to prove whether Team Europe or Team World has the best tennis players!
The Laver Cup has only been held since 2017 but has proved a massive hit with tennis fans as it creates an exciting team atmosphere and results in unusual matchups, for example, Federer and Nadal playing as doubles partners. So it is not surprising that the tennis betting markets come to life whenever the Laver Cup kicks off.
The Laver Cup typically takes place two weeks after the US Open wraps up, and the 2023 Laver Cup is no different, running from 22 until 24 September in Vancouver, Canada.
Below you will find the best Laver Cup betting sites, bonuses, and expert tips to turn your Laver Cup viewing experience into a profitable and enjoyable venture!
---
What Is the Laver Cup Tennis Tournament?
The Laver Cup is a team-based tennis tournament where six players are selected from each Team Europe and Team World, and they battle against each other in singles and doubles matches. The event takes place over 3 days, where 1 doubles match and 3 singles matches are played each day. Teams are awarded points based on wins, and the first team to get to 13 points is the victor.
The Laver Cup has been held annually since 2017, also takes place on a hard court, and features the highest-ranked players in the world. Previous participants include Rafael Nadal, Novak Djokovic, Nick Krygios, Andy Murray, and other tennis superstars.
Laver Cup History
Unlike other tennis tournaments, which are steeped in tradition, the Laver Cup is a new event that first took place in 2017. The tournament is now held annually two weeks after the US Open. The tournament is contested indoors and on a hard court. Team Europe is always coached by Bjorn Borg, while John McEnroe is in charge of Team World.
Previous Winners
It is no secret that men's tennis is dominated by Europeans, so it is not surprising that until 2022 Team Europe had comfortably won every edition of the Laver Cup. However, Team World's drought finally ended when they won their maiden Laver Cup title in 2022. And boy, did they do it in style with Jack Sock and Frances Tiafoe pairing up to defeat Rafael Nadal and Roger Federer in a thrilling doubles match.
It will be interesting to see if Team World can keep up the momentum and snatch another Laver Cup title with the likes of Frances Tiafoe, Félix Auger-Aliassime, and Nick Kyrgios on their roster, they definitely have a solid chance!
Prize Money
The 2023 Laver Cup prize money is yet to be revealed. However, expect it to be similar to last year's competition which had $2,250,000 up for grabs and saw each member of the winning team walk away with $250,000.
This Year's Competitors
The full 2023 Laver Cup lineups have not been revealed yet, but so far, these are the players confirmed:
Team Europe
Team World
We are waiting for two more players for both Team Europe and Team World to be announced. It would be great to see world number 1, Carlos Alcaraz and Novak, take part in the competition. Who doesn't want to see Kyrgios serving underhand against Novak?
---
Top Laver Cup Betting Sites
After spending hours and hours testing all of the different legal US sportsbooks, these are our top picks based on their fantastic Laver Cup betting markets, generous bonuses, ease of use, and competitive odds:
🥇1. Caesars – Best Overall Laver Cup Betting Site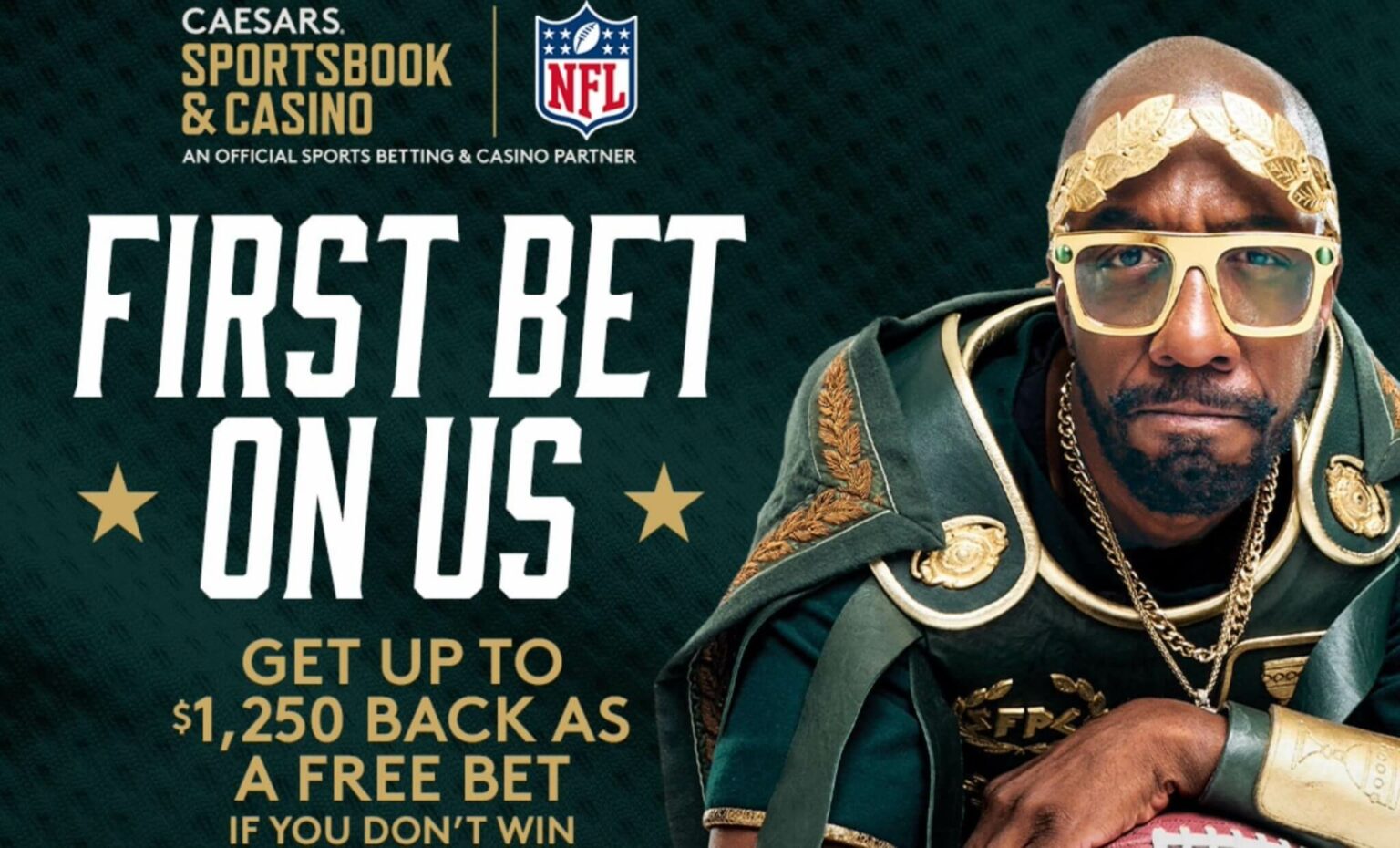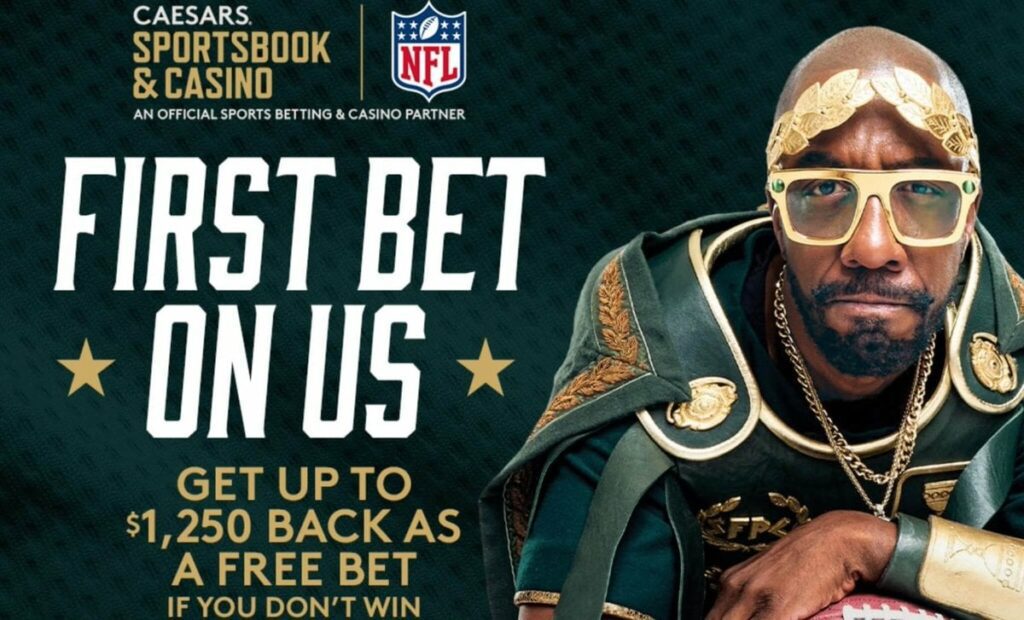 Caesars Sportsbook offers an incredibly smooth interface, you won't ever have to worry about lag which makes it ideal for Laver Cup live betting. They have incredible tennis betting markets, including 15 + bet types like spread, set winner, futures, correct score, and more. They have a world-class loyalty program that you can use for hotel stays, food, and experience at Caesars properties. Caesars also offers live HD streams, and when you use the promo code GUSAFULL you will get 100% of your first Laver Cup bet refunded up to $1,250!
Expert Comments:
"In my opinion, Caesars Sportsbook has the best HD streams of any betting site, which creates an epic live betting experience. I am also a big believer in Caesars loyalty program, by simply betting on tennis games, I have scored free trips to Vegas with my hotel rooms and food 100% comped!"
– Oliver Dickinson (Sports Editor)

---
🥈2. BetMGM – Best Laver Cup Betting Bonuses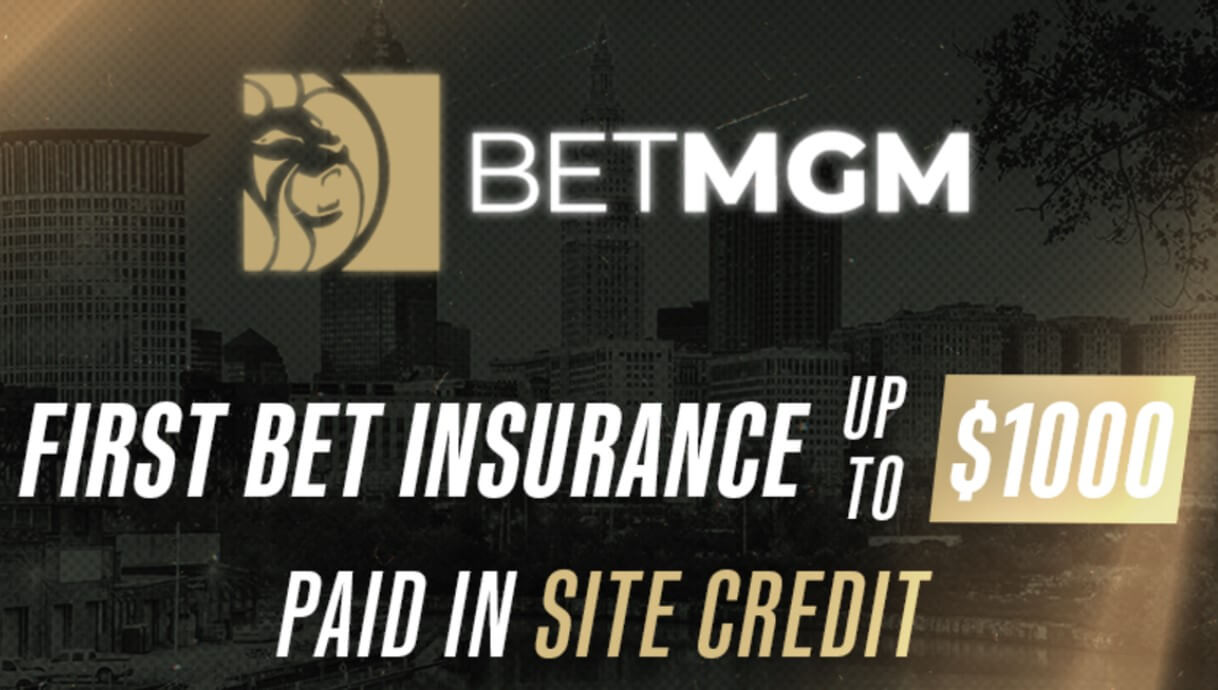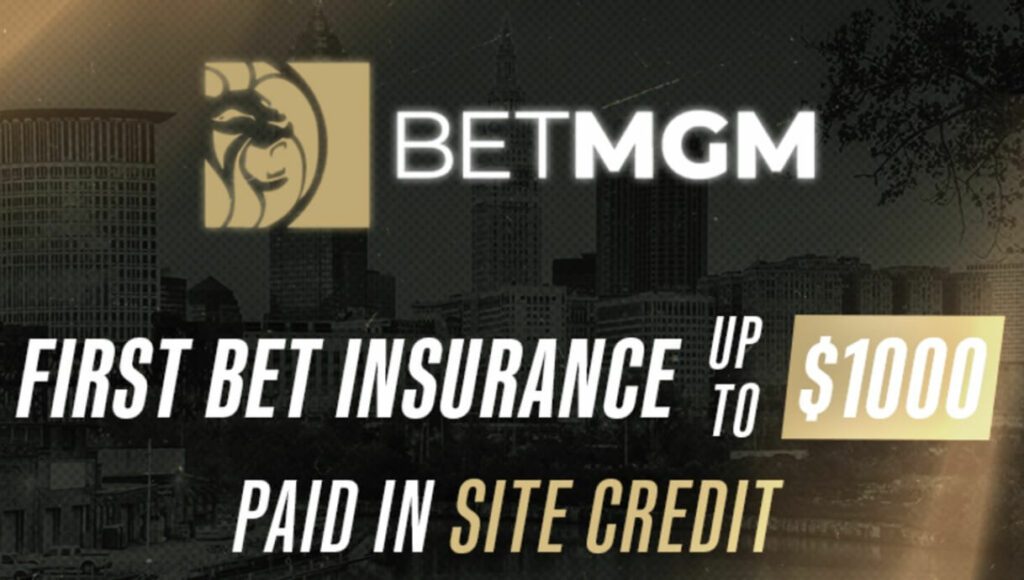 To place a Laver Cup bet, head to BetMGM via their website, tap the Register button, fill out the form, send them your ID, and head to the cashier to deposit. The funds will be added to your account instantly. Then head to the tennis betting markets and find a Laver Cup match worth betting on! If you have any problems, BetMGM's 24/7 customer support will quickly help you out.
BetMGM has a sleek site with a lovely black and gold theme. They have tons of exciting Laver Cup prop bets and classic match winner, set winner, and futures markets. Getting value for money is easy, thanks to their great odds, but where BetMGM really shines is its bonuses. Right now, you can score 100% insurance on your first Laver Cup bet up to $1,000 when you use the promo code: GAMBLEUSA!
Expert Comments:
"I like the simplicity of BetMGM's site, the design is on point, and everything is only a click away. They always have great tennis betting markets, and I had no problem finding value, especially when you claim some of their juicy bonuses!"
– Damjan Spajić (Sports Editor)

---
🥉3. PointsBet – Best Laver Cup Betting Odds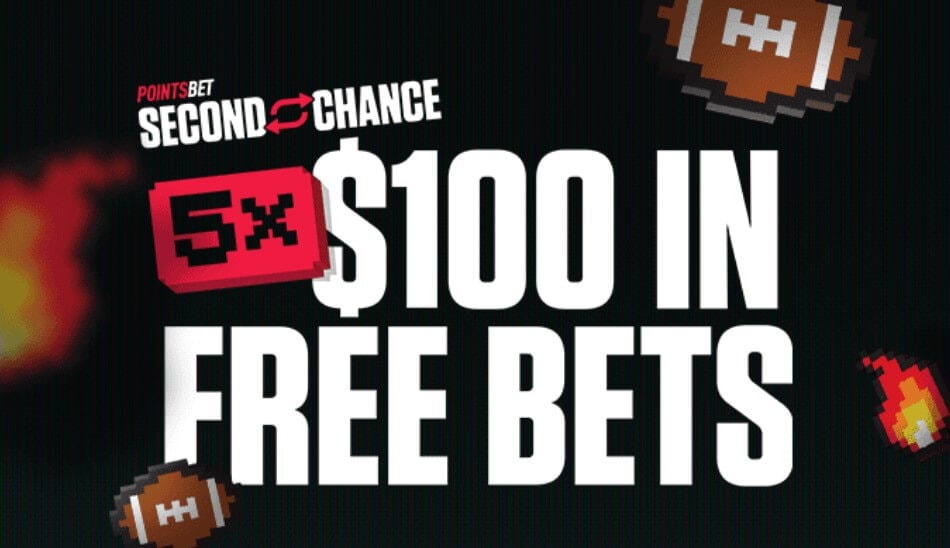 Do you have a spare 5 minutes? Then you can start betting with PointsBet. Simply enter your basic personal information, upload your ID to get verified, and then deposit instantly via credit/debit card, PayPal, or bank transfer. Now scroll through the betting markets, tap on tennis and Laver Cup, pick a match and bet type, and then type in your stake.
PointsBet is a young Australian sportsbook that has exploded onto the scene. They consistently offer the best odds for tennis thanks to their ultra-low juice. PointsBet also has an exciting, unique form of spread betting where you get paid extra based on how much you beat the spread. Make your first Laver Cup bet and get 5X$100 second chance wagers right now!
Expert Comments:
"I keep coming back to PointsBet due to their crazy low juice, which significantly undercuts the other sportsbooks. I appreciate the fast cashouts and their responsive customer support, any issue I have had PointsBet has been able to quickly solve it. Their Points Betting markets are also great fun, but be careful!"
– Paul Ricci (Chief Sports Editor)

---
🎖️4. FanDuel – Best Laver Cup Live Betting


FanDuel has a simple two-step sign-up process where you just need to share your name, email, address, date of birth, and last 4 digits of your SSN. Then FanDuel will quickly verify your account. Now simply tap the Deposit button and instantly add funds to your account via Visa, Mastercard, PayPal, bank transfer, and more! To place a Laver Cup bet, just enter Laver Cup into the search function, tap on a bet type, enter your stake, and confirm your bet.
At FanDuel, you can bet on every single match from the Laver Cup, including doubles and singles matches live. FanDuel has 15 + Laver Cup bet types and the best odds for handicap markets. They have a 100% mobile-optimized site and one of the best-designed betting slips we have come across.
Expert Comments:
"I am a sucker for the FanDuel theme and can't get over how easy it is to use their site. Navigating the different tennis betting markets is super simple, and I love all of the different over/under wagers they offer. Out of all of the tennis betting sites out there, FanDuel consistently has the best live betting odds."
– Paul Ricci (Chief Sports Editor)

---
🏅5. DraftKings – Best Mobile Laver Cup Betting

To place your first Laver Cup bet on DraftKings, you just need to fill out their simplified sign-up form and send them a picture of your ID and proof of address. Once verified, you can deposit instantly. Then making a bet is as simple as clicking on Tennis from the sports menu on the side of your screen, tapping on Laver Cup, making a prediction, entering your stake, and confirming your bet!
DraftKings has a sleek mobile-optimized site with some of the most extensive Laver Cup betting markets of any platform. You can enjoy 10 + Laver Cup bet types, and wager live on every single match. DraftKings regularly offers bet boosts and has a fantastic 20% first deposit match bonus up to $1,000 when you create an account!
Expert Comments:
"I have been betting with DraftKings for years and have nothing but good things to say. They always have great odds, and if you are a mad tennis bettor like me, you will appreciate the top-notch live markets. I also can't get enough of the consistent profit boosts for tennis matches."
– Paul Ricci (Chief Sports Editor)

---
Understanding Laver Cup Betting Options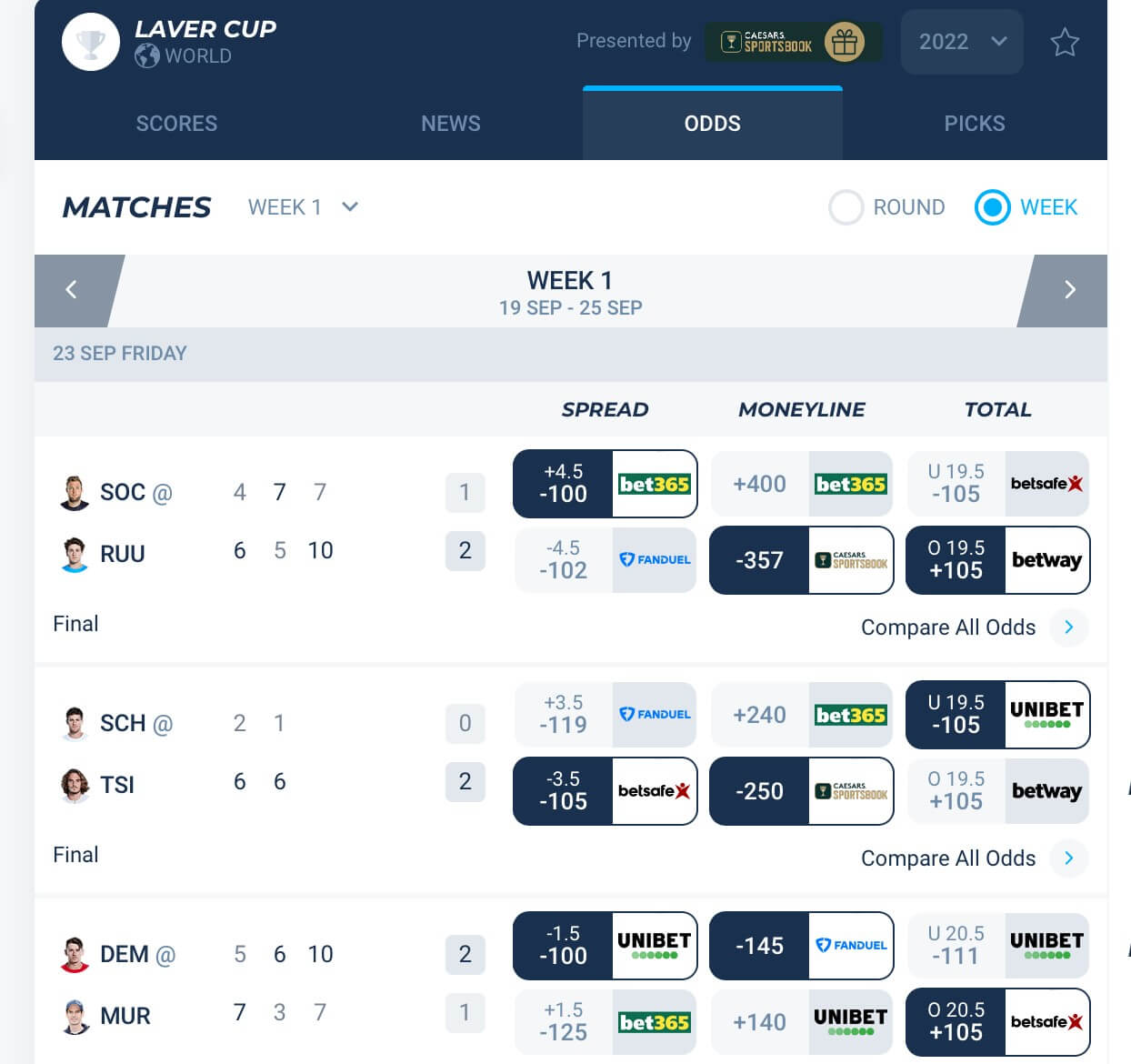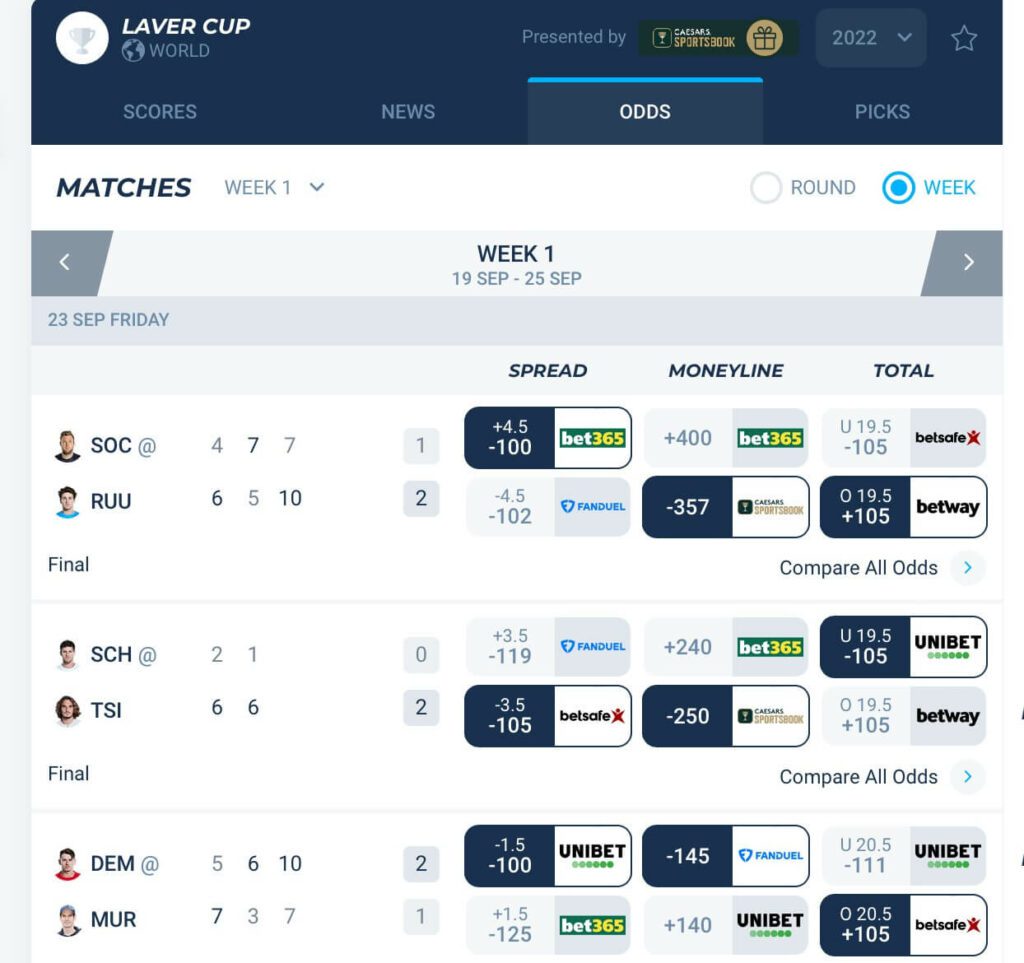 You can bet on all aspects of the Laver Cup, including individual matches, and even bet live. Here are the most popular Laver Cup bet types:
Futures – With this bet, you need to predict whether Team World or Team Europe will win the Laver Cup.
Match Winner – The Laver Cup is made up of individual matches, and with this wager, you need to predict the winner of a specific tennis match, for example, Andrey Rublev against Taylor Fritz.
Set Winner – Matches at the Laver Cup are best of 3 sets, with this bet, you can wager on a player to win a specific set. If your prediction is right, you get paid out even if the player goes on to lose the match.
Handicap – With handicap betting, a number of games are subtracted from the favorite, and a number of games are added to the underdog. You need to predict which player will win when factoring in the handicap. For example, if you bet on Nick Kyrgios with a +4.5 handicap against Andrey Rublev and he loses 6-7 and 4-6, your bet pays out (Krygios wins 10 games against Rublev's 13 games which is less than the 4.5 handicap).
Over/Under – With over/under wagers, the sportsbooks set the line for a specific tennis statistic, and you need to guess whether it will be higher or lower. You can bet on all sorts of stats, including the number of aces, unforced errors, and the number of sets.
Correct Score – If you want to chase a big payout, try your luck with this wager, you not only have to predict which player will win but the final score, for example, Félix Auger-Aliassime to beat Holger Rune 6-3, 6-4.
How Do Laver Cup Odds Work?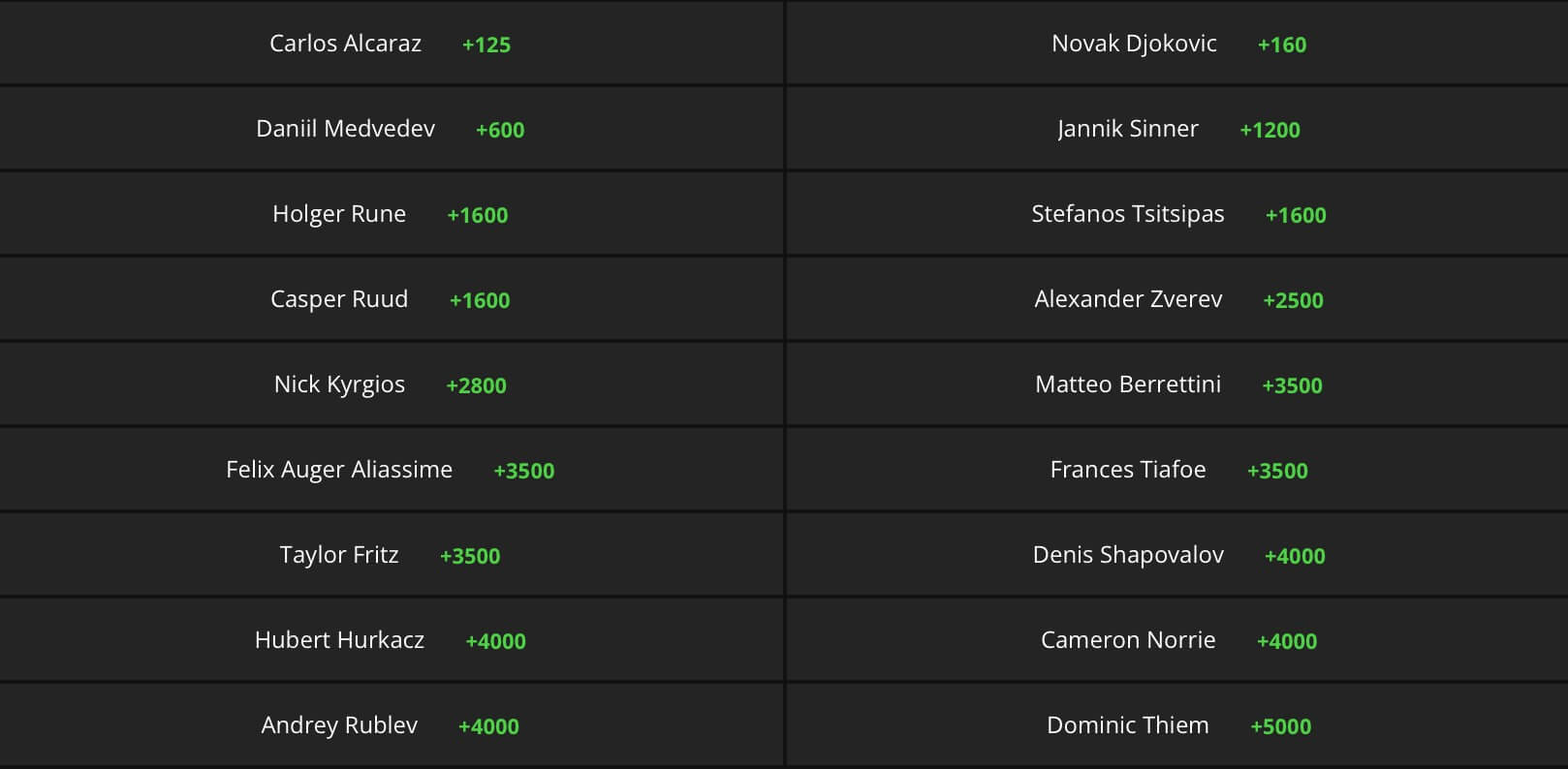 Laver Cup betting odds tell you two critical pieces of information, your potential winnings and your chances of winning based on the sportsbook's calculations. For example, let's say you bet $100 on Team World to beat Team Europe at +200 odds. Your total payout would be $300, and your profit $200. + odds reveal how much you will be if you bet $100, while – odds show how much you need to bet to win $100. For example, if you bet on Team Europe to beat Team World at -200, you need to bet $200 to win a $100 profit.
Now to calculate your chance of winning, also known as implied probability, you first need to convert the American odds to decimal odds, which you can do by altering the settings on the Laver Cup betting site. Then you divide 1 by the decimal odds and multiply by 100. For example, Team Europe at -200 is equal to 1.5 decimal odds, which means the sportsbook is giving them a 66.67% chance of winning (1/1.5 X 100). You should make bets when your own calculated implied probability is higher than the sportsbooks.
Tips and Strategies for Laver Cup Betting
Are you looking for some Laver Cup online betting inspiration? Try out these strategies and start making smart bets now!
Bet on Frances Tiafoe to cause an upset – The young American superstar continues to get better and better. Hard court is by far his best surface, and he is coming off an amazing 2022 US Open, where he made it to the semi-final. He will be a force to be reckoned with at the Laver Cup 2023.
Bet on Nick Krygios to win doubles matches – Nick Krygios is one of the most talented singles players on tour, but he also is incredible at doubles. Don't be surprised if he manages to upset some top-ranked doubles pairings. Thanks to his big serve and exceptional volleying, he is going to be a nightmare for Team Europe.
Casper Ruud is a reliable favorite – Casper Ruud is a fantastic hardcourt player with an incredible forehand. We don't expect Team World players to keep up with the Norwegian.
Betting on Team Europe is a safe bet – Team Europe has been dominant at the Laver Cup, winning all editions except in 2022. Despite last year's hiccup, we expect Team Europe to return to winning ways but don't expect a big payout!
Common Mistakes to Avoid When Betting on the Laver Cup
If you are new to betting on the Laver Cup, then you can save yourself a lot of money by avoiding these mistakes:
Don't just bet on your favorite player – If you want to consistently beat the betting sites, then placing cash on a player because you like their playing style or outfit isn't going to cut it. You need to spend time studying different players, analyzing their strengths and weaknesses, and immediately be able to tell when a player is in form.
Try live betting – You can increase the accuracy of Laver Cup predictions by watching a few games first before betting on a player to win. Within a few games, you will see how the two players' styles interact with each other and quickly identify who is hitting the ball well.
Don't bet too big – We know it can be tempting to ramp up your stake, especially when you see the potential winnings on your bet slip. However, the variance of tennis betting can be huge. To handle the ups and downs, you should not risk more than 1% of your bankroll on a single tennis bet. This should protect from streaks of bad luck.
Claim bonuses – Too many beginner bettors either forget to claim bonuses or don't think they are worth their time, this is a big mistake. Betting sites offer all kinds of promos for the Laver Cup, including boosted odds, deposit match, insurance, and more! These deals reduce your risk as you get to wager with the house's money while increasing your potential winnings.
---
Laver Cup 2023 Predictions
History doesn't repeat itself, but it does rhyme! Based on the previous performance of Team Europe, we are predicting them to win the Laver Cup 2023. Team World just doesn't have the talent to keep up with Team Europe.
Just look at the players confirmed for this year's Laver Cup, Team Europe's lowest-ranked player is Andrey Rublev, who is the 7th best player in the world, while Team World's highest-ranked player is Taylor Fritz at 8. We expect Team World to cause the odd upset, especially in double matches, but they don't have the depth to beat Team Europe at the Laver Cup 2023.
When predicting the outcome of the Laver Cup 2023 and individual matches, consider these factors:
Player Form – The Laver Cup takes place just two weeks after the US Open. We recommend finding top-ranked players who had a poor performance at the US Open and were eliminated early and then betting on them to cause the upset and beat players who made a deep run at the US Open, particularly those who played a lot of 5 sets matches. The logic is the player who made the deep run will be fatigued while the other player will be fresh and looking to make up for the poor showing at the US Open.
Playing Surface – The Laver Cup 2023 will take place on indoor hard courts at Rogers Arena in Vancouver, Canada. Bet on players who are hard-court specialists like Nick Krygios and Frances Tiafoe. Players that dominate on hard courts have big first serves and a powerful forehand, allowing them to hit their opponents off the court.
Bet against superstar players in doubles – Just because a player may be a top 5 player in singles does not automatically make them great doubles players. We saw this in the 2022 Laver Cup final, where Federer and Nadal lost. Nick Krygios is a surprisingly good doubles player, so consider betting on him to cause an upset irrespective of who his doubles partner is.
Look out for injuries – It doesn't matter how good a player is. If they are battling a serious injury, they will struggle and can easily be beaten by lower-ranked players. Stay up to date on the latest news, lurk forums to get insider details, and watch players closely when they are warming up.
Home crowd advantage – Team Europe are going to be the away team when they travel to Vancouver, Canada. The crowd will be going nuts for local Canadian player Félix Auger-Aliassime and expect a big roar for Frances Tiafoe too.
Prominent Laver Cup Moments and Upsets
The biggest upset at the Laver Cup came in 2022 when Team World finally managed to win the event for the first time. Up until that point, Team Europe was undefeated, and it seemed like it would be a given that every year the Laver Cup would stay in Europe. During the 2022 Laver Cup, Félix Auger-Aliassime managed to beat world number 1 Novak, which nobody expected!
The individual tennis match results at the Laver Cup can be harder to predict than at other tournaments. This is because players don't take this tournament as seriously as the Majors and play a looser, more fan-friendly style. Also, singles specialists end up playing doubles matches with partners they haven't played with more, resulting in some unpredictable results.
---
What To Look For In a Laver Cup Sportsbook?
Not all Laver Cup sportsbooks are made equal. When on the hunt for a legit Laver Cup betting site, make sure they excel based on these factors:
Licensing – Before you sign up at a Laver Cup sportsbook, double check they hold a valid sports betting license and are operating legally in your state.
Bonuses – The top sportsbooks have amazing promotions, including deposit matches, bonus bets, and insurance which you can use to win real money without risking your own bankroll.
Betting Markets – Prior to signing up, open the site's Laver Cup betting markets and make sure you can bet on every single match, that live betting is available, and that you have a wide choice of bet types like match winner, handicap, set winner, correct score, over/under number of sets and more!
Odds – To get the best deal and maximize your potential winnings, pull up 5 sportsbooks and navigate to their Laver Cup betting markets, stick to the site that consistently offers the best odds.
Customer Support – Don't put up with shoddy customer service. Find a betting site that offers 24/7 live chat and has professional agents who can quickly solve any issue you are facing.
Payment Options – At the best Laver Cup betting sites, you can deposit instantly, and withdrawals are processed within 72 hours. You never have to pay fees and have access to a range of secure payment methods, including credit/debit cards, e-wallets, and online bank transfers.
---
Getting Started with Laver Cup Betting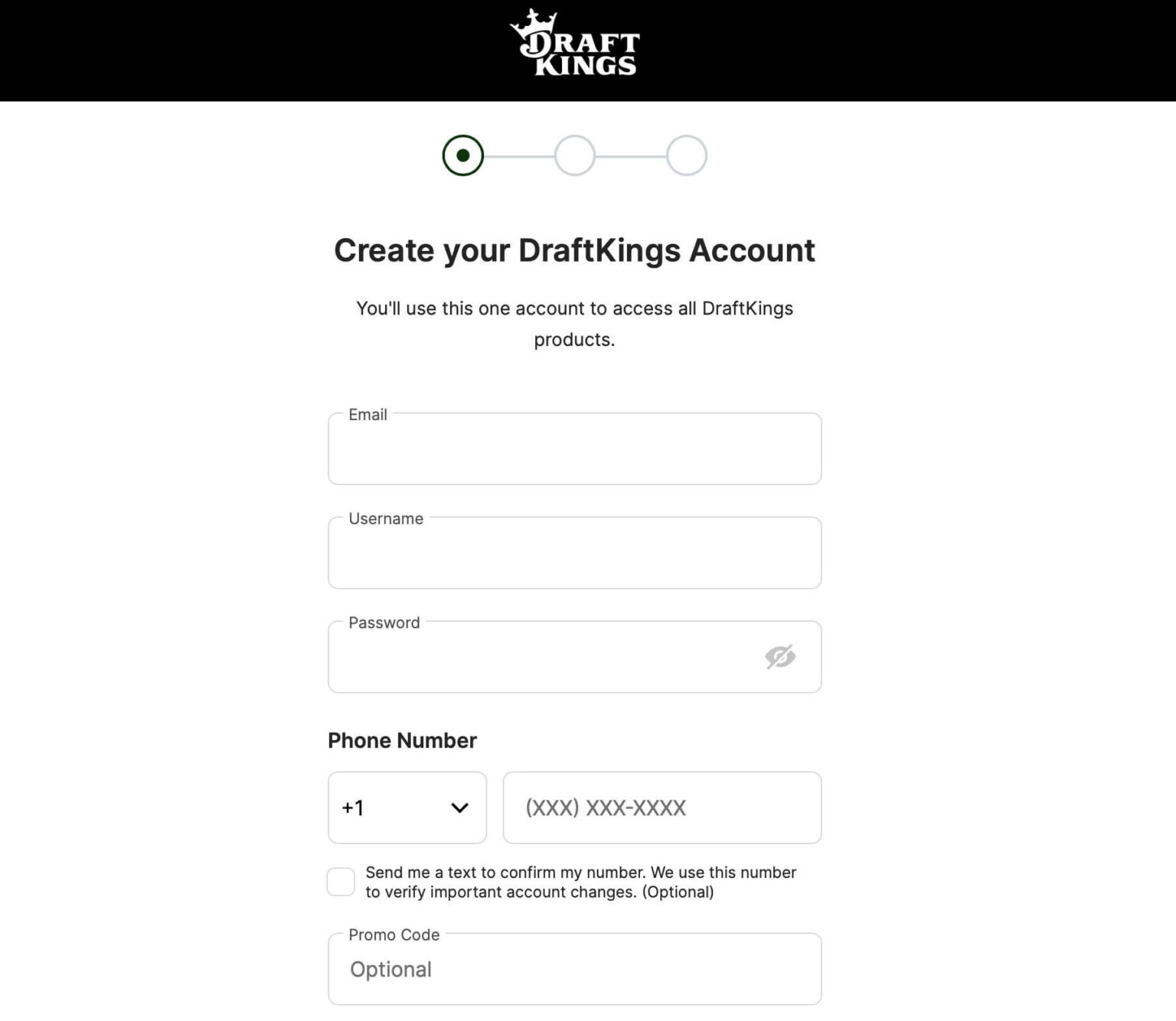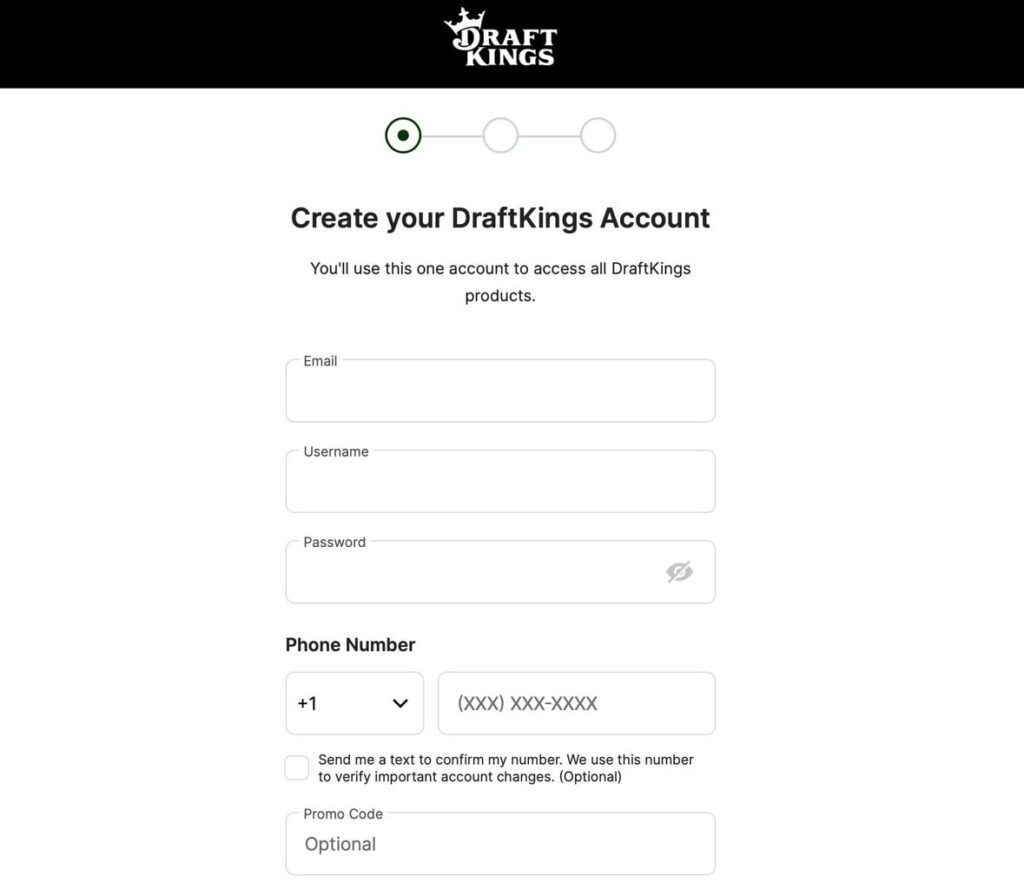 Our recommended Laver Cup betting sites have simplified the signup and wagering process so you can register, deposit, and place your first bet in under two minutes! To get started, just follow these steps:
Go to the official site of any of our top-rated Laver Cup betting sites
Tap the Sign Up button in the top right-hand corner
Share your name, date of birth, email, address, and last 4 digits of your SSN
Upload your ID and proof of address
Sign into your new account and tap the Deposit button at the top of the screen
Select your payment method, enter the amount you wish to deposit, and type in your payment details
Once the funds are added to your account, head back to the home screen and either type Laver Cup into the search bar or click on Tennis and then Laver Cup
Select a match and your bet type, for example, match winner
Make your prediction, for example, Nick Krygios to beat Casper Ruud
Type in your stake and confirm your bet!
---
FAQs
Can I bet on individual Laver Cup matches?
You can bet on every single match from the Laver Cup, this includes all singles and doubles matches. Even better, top betting sites have live betting markets for all Laver Cup matches.
What factors should I consider when placing Laver Cup bets?
When placing Laver Cup bets, you should consider a player's performance at the US Open, which takes place two weeks before the Laver Cup. Players who have a tough US Open often struggle at the Laver Cup, particularly if they were involved in some brutal 5 set matches.
Is Laver Cup betting legal in my country?
Laver Cup betting is legal in 20 + US states as long as you place your wagers with a licensed betting site. Tennis betting has been legal in Las Vegas since way back in the 1930s, and Laver Cup betting has been legal in numerous states since 2018 following the Supreme Court's decision on sports gambling.
How is the Laver Cup different from other tennis events for betting?
Laver Cup is different from other tennis events for betting because singles players often play doubles which they aren't used to, and with partners, they have never played alongside before. Also, the event is held shortly after the US Open, so players are often fatigued, resulting in upsets.
Which sportsbooks offer live streaming of Laver Cup matches?
You can live stream all Laver Cup matches at DraftKings, FanDuel, Caesars Sportsbook, BetMGM, and PointsBet. The live streams are free as long as you have made a deposit or placed a bet.