Gamble USA strives to improve your online gambling experience. We aim to help you play safely, make informed decisions when gambling, and increase your betting knowledge through our guides.
We adhere to strict editorial integrity; our content may contain links to products from our licensed & legal US partners.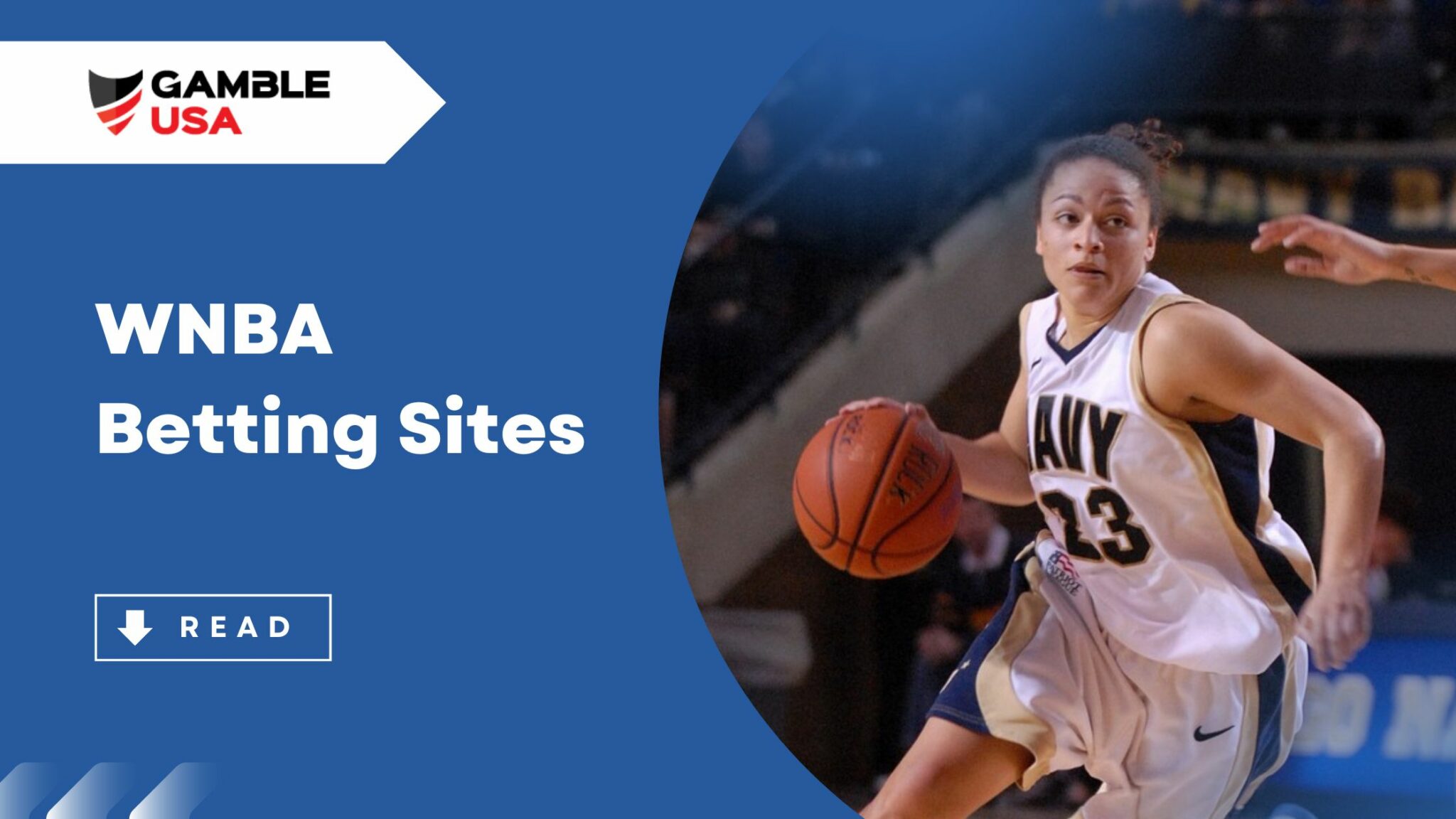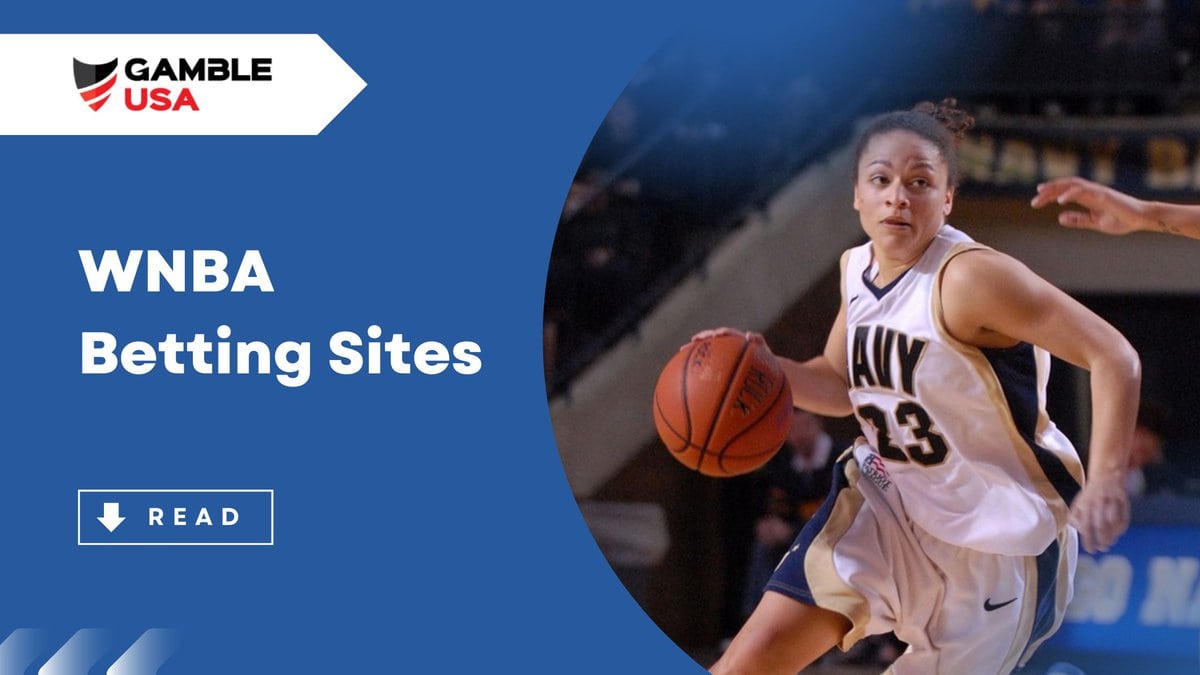 As women's sports become more professional and more girls are playing basketball, there has been a surge in popularity in the WNBA. The WNBA is predicted to generate up to $200 million in 2023, which smashes the US$102 million it made in 2019. As more people tune into the league, it is no wonder that basketball bettors have started taking notice. 
All of the top online sportsbooks now offer extensive markets for the WNBA, and you can bet on every game live. Online betting sites not only offer fantastic odds and bonuses, but they give you the freedom to bet on the go and come with all sorts of great features like cash out and live streams. Below are the best WNBA sports betting sites the we have personally tested:
---
What Is The WNBA?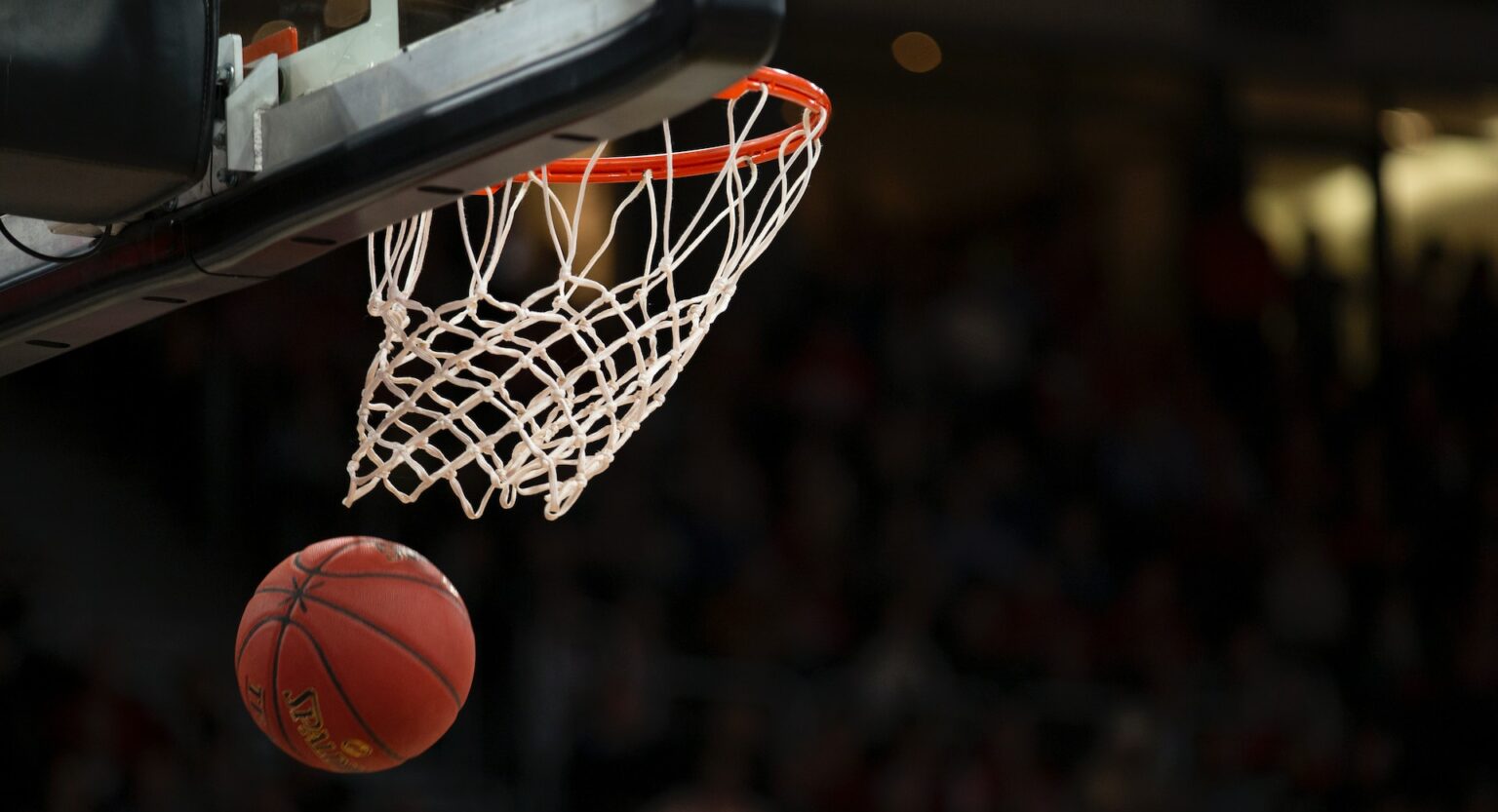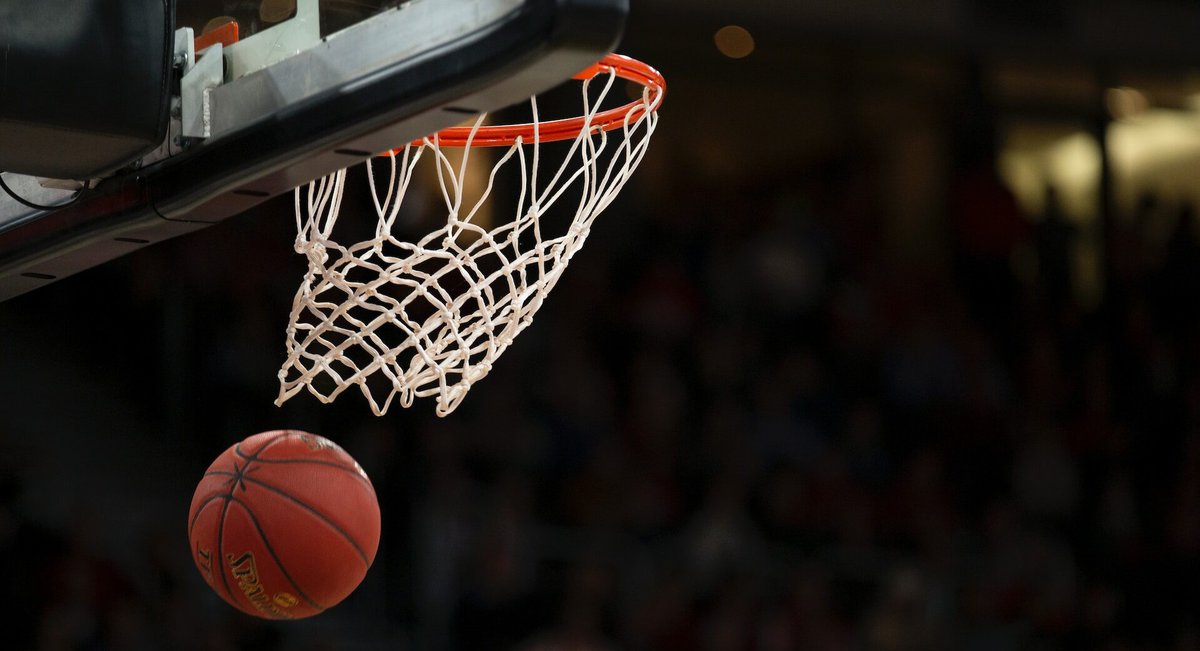 The WNBA is a professional women's basketball league based in America and is similar to the men's NBA. The WNBA is considered the top women's professional competition in the world and has a mix of local and international talent.
The WNBA basketball was founded back in 1996 and currently features 12 teams from around the US, including the Las Vegas Aces, Los Angeles Sparks, New York Liberty, and the Minnesota Lynx. Each team plays 40 games throughout the regular season, and then the top 8 teams advance to the playoffs. The average WNBA player is 6 ft 0, and the average salary is $102,000, while the average NBA player is 6 ft 6 and earns $9,662,447 per year.
The WNBA is slightly different from the NBA. An NBA roster consists of 15 players, while a WNBA team features 12 players. NBA games last for 48 minutes, while WNBA games go for 40 minutes. The size of an NBA basketball is 29.5 inches, whereas a WNBA basketball is slightly smaller at 28.5 inches. Interestingly, despite the height differences between NBA and WNBA players, the basket height is the same, standing at 10 feet.
---
Betting Strategies for WNBA Games
Online sportsbooks for WNBA betting are pretty good at handicapping games. If you want to become a long-term winner, you need to put in the work and develop a specific strategy. Here are some WNBA betting tips to get you started:
Study statistics

– Stats aren't just fun to look at, when used properly, they have substantial predictive power. Don't worry, you don't need to be Einstein and start crunching numbers, but we recommend checking out head to head record, record over the last 5 games, average points scored, and average points conceded.

Bet on home underdogs

– Home-court advantage can be a massive thing in the WNBA and cause some shocking upsets. We recommend finding an underdog with a strong home-court record and then betting on them to beat the away favorite.

Bet on teams with a high 3-point percentage to win

– We have all seen how the 3-pointer has changed the NBA, and the same strategy is slowly coming to the WNBA. We recommend finding WNBA teams with a high number of 3-point attempts and made percentage and betting on them to win.

Bet on teams who are on a losing streak

– This strategy can be a little risky, but essentially we are banking on mean reversion where a team on a losing streak is not as bad as people think and will eventually experience a rebound in form. Make sure you find a team that is getting unlucky and isn't seriously flawed.

Bet on WNBA teams and players you follow

– If you are an Atlanta Dream fan and know everything about Allisha Gray, then why would you bet on other WNBA games? Use your specialized knowledge to identify when the sportsbooks have miss priced the odds and bet on and against your favorite team/players.

Find bet types that suit you

– If you are a master at predicting score lines, stick to winning margin, correct score, and totals wagers. If you know when a player is on fire, bet on them to be the top scorer or rack up a double-double.
---
How to Choose the Right WNBA Betting Site?
Virtually every sportsbook offers WNBA gambling. With so much choice, it is actually difficult to tell the shady betting sites from the legit ones. Here are the factors you should consider when on the hunt for a WNBA-friendly sportsbook:
Licensing
To legally offer WNBA sports betting in your state, a sportsbook must have the appropriate license. We recommend only betting on WNBA games at a licensed sportsbook because they are closely regulated by the government in relation to odds, bonuses, site security, and protection of player funds. It is far too risky to bet with a non-licensed site as they can make up their own rules and ban your account or confiscate your deposit without warning.
Bonuses
Bonuses can seriously impact your winnings. Some valuable bonuses to look out for include deposit match, bonus bets, cashback, and insurance. When assessing bonuses, you need to pull up the terms and conditions and look at wagering requirements (the lower, the better), expiry dates (the longer, the better), and betting restrictions (you want high max win, low min odds).
WNBA Betting Markets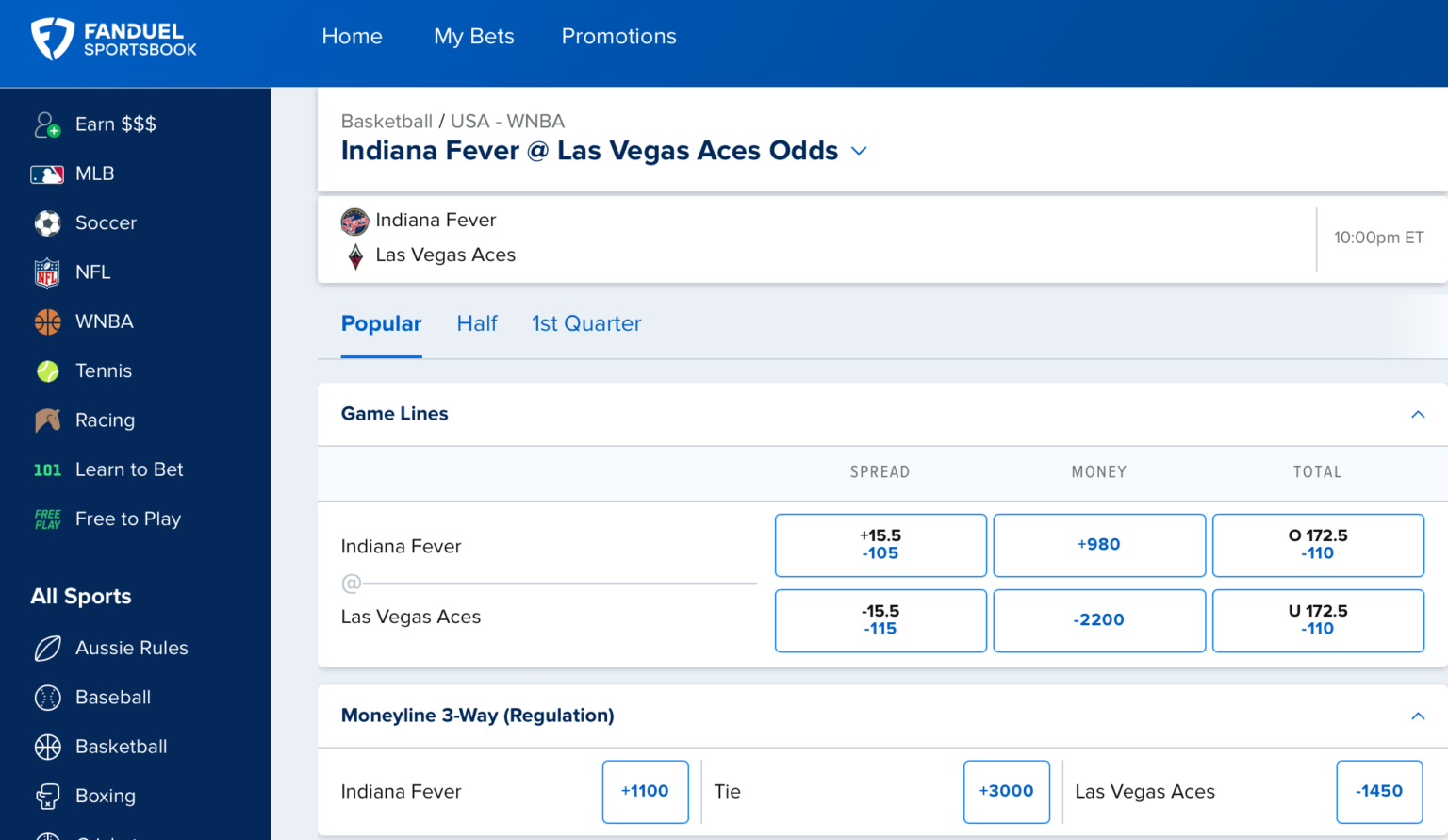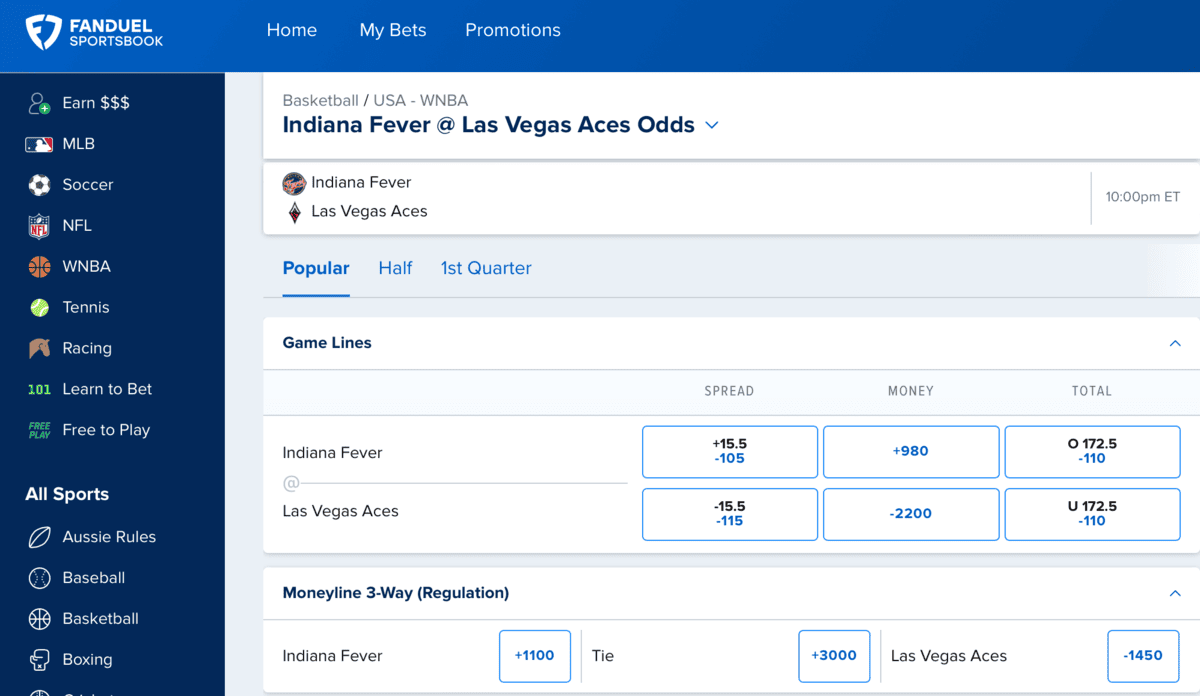 It doesn't matter if the sportsbook has epic bonuses if you can barely make a moneyline bet on WNBA games. The best betting sites have 30 + betting markets for all WNBA games, including moneyline, spread, totals, correct score, first-half winner, winning margin, first-to-score, and more. They also offer live betting markets for all games, including the WNBA playoffs.
Payment Methods
Is there anything worse than waiting weeks to receive your winnings and being hit with a big fee? At the best WNBA gambling platforms, you can deposit instantly and receive your winnings within 72 hours via secure payment methods, including credit/debit cards, online bank transfers, and e-wallets.
Reputation
Just because a sportsbook is licensed does not automatically mean it is worth signing up. You also need to see what real WNBA bettors think of the sportsbook. Checking out Reddit, TrustPilot, and reading reviews is a good way to separate the poorly run WNBA betting sites from the legit ones.
Customer Support
Shady sportsbooks like to cut costs by offering extremely limited customer support. This is a nightmare when something goes wrong with your account because you can't get a hold of anyone. Fortunately, legit WNBA betting sites offer 24/7 customer support via live chat, email, and even phone, and it is always easy to connect with a real customer support agent.
---
Key Features of the Best WNBA Betting Sites
On the surface, online sportsbooks for betting on the WNBA look similar, but when you dig a bit deeper, you can quickly identify features that the best WNBA gambling sites have that are lacking at the average sportsbook, including:
Live Streams
At top-rated WNBA betting sites like Caesars, you can live stream WNBA games in HD for free! This creates an incredible online immersive betting experience where you can easily follow the action and soak up all of the thrills of sports betting. These streams feature professional commentary and smooth camerawork making them perfect for live betting. To access these streams, you just need to deposit or have made a recent bet.
Cash Out 
A cool feature you will find at WNBA sportsbooks is the ability to cash out your bet early. For example, let's say you bet $100 on the Atlanta Dream to beat the Indiana Fever at +200, and the Dream are up 8 points at the start of the 4th quarter, the betting site might offer a partial payout of $230 instead of the full $300. Cash-out is a great way to reduce risk and secure payout before the game is over.
Mobile Betting
Betting on WNBA games on your phone at a sportsbook without an app or mobile-optimized site is a pain! We recommend finding sportsbooks that have official apps for iOS and Android that you can pick up from Google Play and the App Store, as well as mobile-optimized sites that auto-adjust to your device's screen and are easy to navigate.
User Interface
Average sportsbooks try to cut down on their expenses by designing their platform on a shoestring budget. While the site may work, it is terrible to use. In contrast, the top WNBA betting sites hire top talent and create a platform with the user in mind. Signs of a well-designed interface include all pages loading instantly, super easy to navigate between different markets, an intuitive betting slip platform, and an aesthetically pleasing theme.
VIP Program
There are now tons of online sportsbooks for WNBA betting. In a competitive market, your chosen sportsbook should be fighting hard to keep your business, and this means offering a generous VIP program that includes cashback, exclusive deposit match promos, and bonus bets. Many of the top sportsbooks are also connected with brick-and-mortar casinos and can offer free hotel rooms, tickets to shows, and more!
---
Types of WNBA Gambling Markets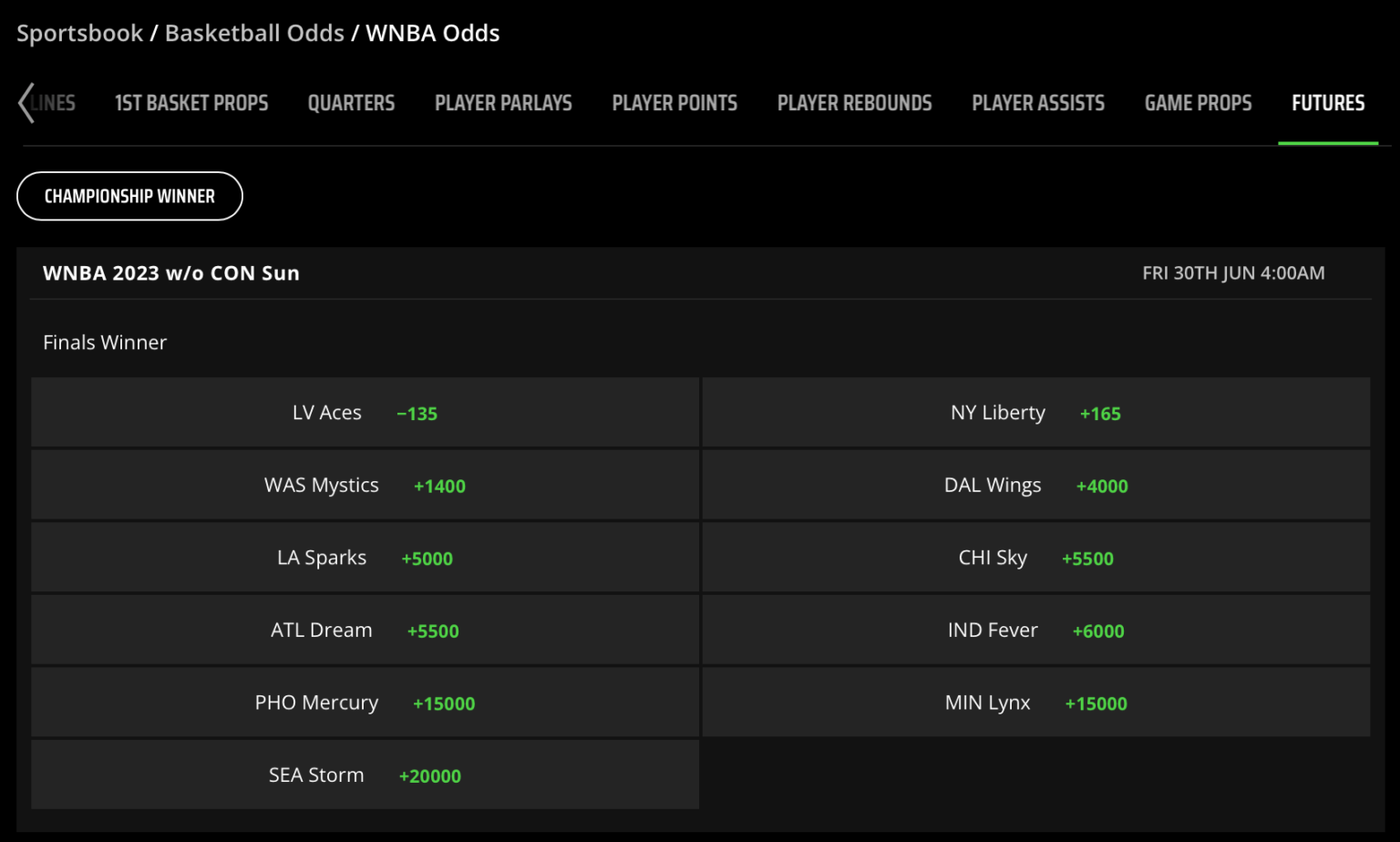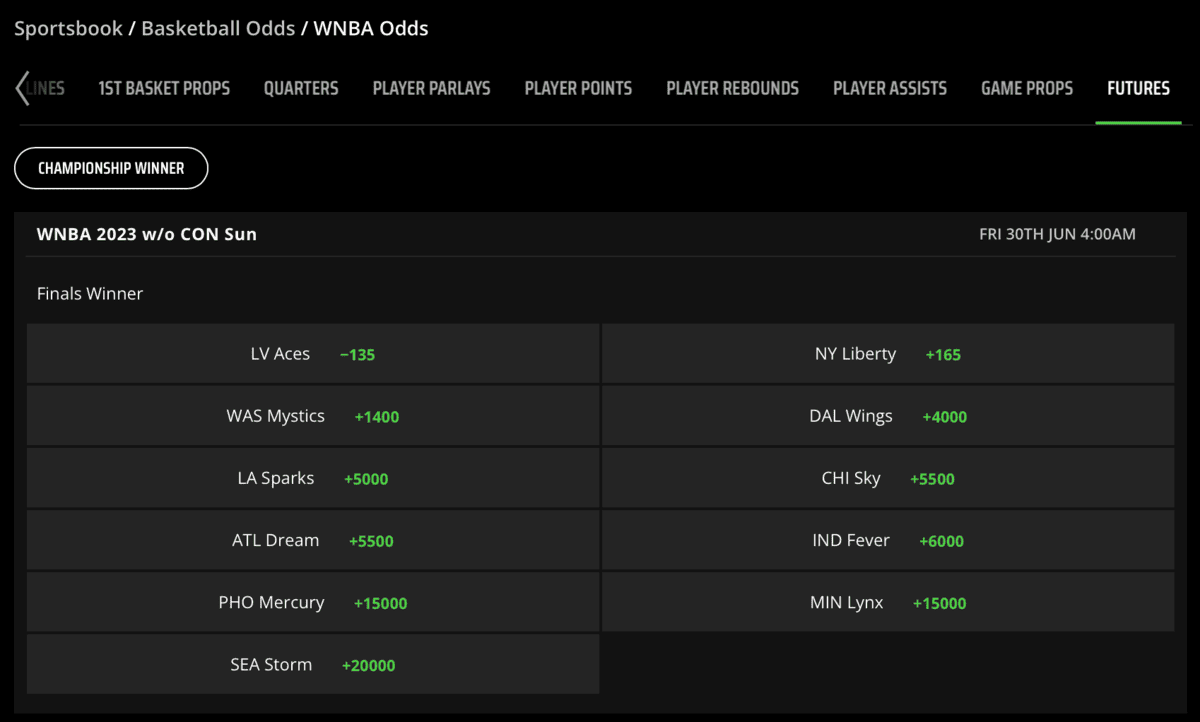 Sportsbooks now offer extensive betting markets for the WNBA, which allow you to bet on all aspects of a game. Here are some of the best WNBA bet types:
Moneyline

– This is where you bet on a particular WNBA team to beat another team. For example, you bet $100 on the Los Angeles Sparks to beat the Phoenix Mercury.

Spread

– With a spread bet, the sportsbook places a -/+ points handicap on each team, and you need to predict which WNBA team will win when factoring in the handicap. For example, if you bet on New York Liberty to beat the Las Vegas Aces with a +5 points handicap and the Liberty lose 93-97, your bet still wins because they only lost by 4 points.

First Half Winner

– Don't have time to watch the whole game? Then bet on a certain team, and if they are leading at the end of the second quarter, your bet wins. It doesn't matter what the final score is at the end of the game.

Futures

– With a futures bet, you need to predict which WNBA team will win the league. You can also bet on players to win certain awards, like MVP or Rookie of the Year.

Totals

– With a totals wager, you need to predict how many points will be scored in a WNBA game. Totals are presented as an over/under where the sportsbook sets the line. For example, the line might be 169 points, if you take the under, you win if 168 points or less are scored.

Winning Margin

– If you can guess not only which WNBA team will win but by how much, you will score a serious payout. For example, you can bet $100 on the Las Vegas Aces to beat the Connecticut Sun by 3 points.

Correct Score

– This is a very tricky bet, but the odds can make it worth the risk. You need to guess exactly how many points each WNBA team will score. For example, you bet $50 on the game between the Washington Mystics and Chicago Sky to end 84-86.

First Team To Score

– If you are looking for fast-paced action, this is the bet for you. Simply place cash on a particular WNBA team and hope they score the game's first points.
Top Recommended WNBA Betting Sites
Do you want incredible WNBA betting odds, world-class mobile betting, live streams, and exclusive bonuses? Here are the best WNBA betting sites personally tested by us!
---
🥇 #1 FanDuel Sportsbook
FanDuel is the home of WNBA gambling! They legally operate in 18 + US states and have live betting markets for all WNBA regular season and playoff games. They consistently have below-market odds for WNBA games and often tons of profit boosts. FanDuel has an iOS and Android app + a 100% mobile-optimized site which makes betting from your device a pleasure. FanDuel sportsbook has 20 + WNBA bet types, including moneyline, spread, totals, and great futures markets. Sign up above and enjoy a no-sweat first bet on any WNBA game up to $1,000!
✅ Pros
$1000 insurance on your first WNBA bet

Profit boosts for WNBA games

Cash out feature for WNBA games

20 + WNBA bet types, including same-game parlays
❌ Cons
---
🥈 #2 DraftKings Sportsbook
Up To $1,000 Deposit Bonus
21+. T&C Apply
21+. T&C Apply
The best sportsbook
Amazing odds & offers
Awesome betting app
Up To $1,000 Deposit Bonus
21+. T&C Apply
21+. T&C Apply
DraftKings has the most extensive WNBA betting markets we have come across! They have classic markets like moneyline, totals, and spread but also tons of player and team WNBA prop bets like first field goal, player points, player rebounds, and same game parlays like Player A to score 20 points + Team A to win. 
DraftKings consistently has the best odds for futures markets, including the WNBA championship winner. DraftKings is a fully legal US-based sportsbook and operates in 20 US states, they are famous for their generous bonuses. When you sign up above, get a 20% deposit match promo up to $1000!
✅ Pros
Available in 20 US States

Well-designed Android and iOS app

Exclusive bonuses for WNBA games

Great range of props and exotic bets for the WNBA
❌ Cons
Withdrawals are a little slow
---
🥉#3 PointsBet Sportsbook
10 x $100 Second Chance Bets
21+. T&C Apply
21+. T&C Apply
Awesome live betting
Multiple bet types
Huge range of sports & markets
10 x $100 Second Chance Bets
21+. T&C Apply
21+. T&C Apply
PointsBet may not have the reputation as some of the other sportsbooks on our list, but they are an up-and-coming Australian betting site that has been killing it in the US market. They offer all kinds of exciting bet types, including same-game parlays, the best WNBA betting lines for totals, and awesome dynamic odds for live bets.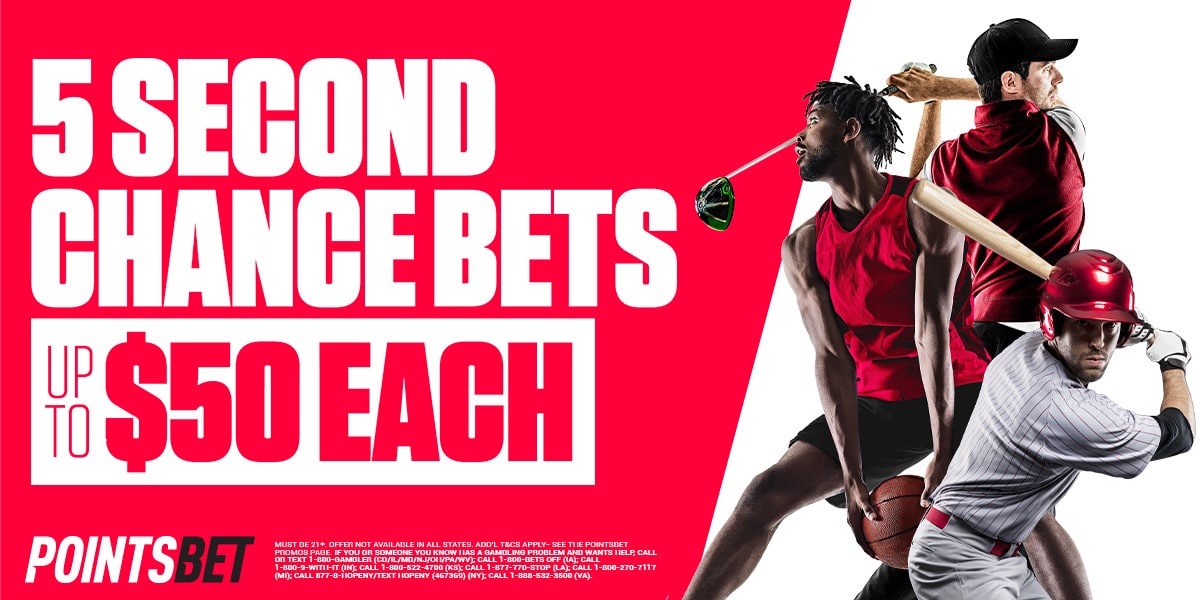 They also offer PointsBetting, where you get rewarded based on the accuracy of your predictions. For example, if you bet $100 on the Phoenix Mercury and they win by 2 points, you pocket $200, if they win by 5 points, you walk away with $500. Register above and get up to 5 x $50 second chance bets which you can use on all WNBA games! 
✅ Pros
Unique PointsBetting bet type for WNBA

Great mix of bonuses for new and existing players

Fantastic odds for WNBA totals bets

Cash out for all WNBA games
❌ Cons
---
🎖️ #4 BetMGM Sportsbook
Promo Code: GAMBLEUSA
Up To $1,500 In Bonus Bets
21+. T&C Apply
21+. T&C Apply
Promo Code: GAMBLEUSA
Super fast payouts
Live streaming
Promo Code: GAMBLEUSA
Up To $1,500 In Bonus Bets
21+. T&C Apply
21+. T&C Apply
BetMGM Sportsbook is run by MGM Resorts and has to be the safest WNBA sports betting site on the market. They are fully licensed and operate in 20 + US states. 
BetMGM has live betting markets for all WNBA games, you can bet from the opening whistle until deep into the 4th quarter. They have the best game lines markets, you won't find better odds for moneyline and prop bets. 
BetMGM also has awesome same-game parlays options for every single WNBA game throughout the season. Sign up to BetMGM and use the promo GAMBLEUSA to get up to $1000 in bonus bets if your first WNBA bet loses!
✅ Pros
Highly responsive + easy to use mobile optimized site

Extensive live WNBA betting options

Juicy $1000 insurance on your first WNBA wager

Great odds for moneyline and spread WNBA betting markets
❌ Cons
Betting markets are a little difficult to navigate 
---
🏅 #5 Caesars Sportsbook
Promo Code: GUSA1000
$1,000 First Bet on Caesars
21+. T&C Apply
21+. T&C Apply
Promo Code: GUSA1000
Massive welcome bet offer
Earn Caesars Rewards
Promo Code: GUSA1000
$1,000 First Bet on Caesars
21+. T&C Apply
21+. T&C Apply
Caesars Sportsbook is run by Caesars Entertainment, one of the biggest gaming companies in the world! So it is no surprise they have 30 + WNBA bet types and live betting markets for all regular season and playoff games. 
They have everything you need to have an incredible WNBA betting experience, including live streams, cash-out feature, league stats, and juicy odds. Caesars also has some amazing exclusive WNBA bonuses like profit boosts on big games, same-game parlays, and a $100 bonus bet referral promo. 
Sign up now and use the promo code GUSAFULL and get up to $1250 in bonus bets if your first WNBA bet loses!
✅ Pros
Stellar reputation and legally operates in 18 US States

30 + WNBA bet types

Top-rated Android and iOS app available at Google Play/App Store

100% insurance up to $1250 on your first WNBA bet
❌ Cons
Live streaming needs some improving
---
WNBA Betting Sites FAQs
How to find legit WNBA sports betting sites?
The most reliable WNBA betting platforms are fully legal and licensed. They offer legit bonuses with favorable terms and conditions, have extensive WNBA betting markets including live betting options, and tons of features like live streams, stats, cash out, and edit bet.

What to look for in a WNBA betting platform?
The most important factors when choosing a WNBA betting site are checking whether the site has a current license, comparing the WNBA odds to the market, assessing the number of markets and bet types they have WNBA games, checking what payment methods they offer and how fast the sportsbook processes cashouts.

Which WNBA betting sites have mobile apps?
WNBA betting sites with mobile betting apps are DraftKings, FanDuel, and BetMGM. These 3 sportsbooks have official apps for iOS and Android, which you can download free from Google Play and the App Store. These apps give you total functionality and let you stream, claim bonuses, and bet from your device.

What types of bets can I place on WNBA games?
You can make 30 + different bets on WNBA games, including moneyline, spread, totals, first to score, player to score a double-double, first-half winner, correct score, winning margin, and more!

What bonuses and special offers do WNBA betting platforms have?
FanDuel and DraftKings regularly offer profit boosts for single and parlay WNBA bets. And top sportsbooks like BetMGM and Caesars have bonus bet and insurance promos which you can use for all WNBA games.

Which WNBA sports betting sites live stream games?
FanDuel and DraftKings offer live streaming for 20 + sports, including WNBA games. The live streams are free when you deposit or place a bet on WNBA games.