Gamble USA strives to improve your online gambling experience. We aim to help you play safely, make informed decisions when gambling, and increase your betting knowledge through our guides.
We adhere to strict editorial integrity; our content may contain links to products from our licensed & legal US partners.
Prop bets online have quickly taken the sports betting community by storm and become some of the best ways to bet on your favorite sports! The BetMGM Sportsbook has seen that interest from sports bettors and responded by becoming one of the best prop betting platforms in the sports betting industry.
Prop bets are unlike the typical moneyline or spread wagers that most sports bettors are accustomed to, but they are way more fun because of their endless possibilities. Plus, you get a chance to bet on individual and team performances in the different sports available which gives bettors a new and different way to watch their favorite games.
If you're new to prop betting, don't worry and keep reading. This guide will teach you what a prop bet is, how to bet on the BetMGM Sportsbook app, the different types of prop bets available, and how to study player props for new bettors to get ahead.
Promo Code: GAMBLEUSA
Up To $1,500 In Bonus Bets
21+. T&C Apply
21+. T&C Apply
Promo Code: GAMBLEUSA
Super fast payouts
Live streaming
---
What is a Proposition Bet?
Prop bets, or proposition bets, are wagers that can be placed on almost anything in a sporting event, from who will win the coin toss in the Super Bowl to whether or not Marcus Rashford will score a goal in his next game for Manchester United.
Essentially, prop bets allow bettors to bet on whether or not specific aspects of the game will happen throughout an event. Will Kevin Durant score over 28 points? Will the Kansas City Chiefs game go into overtime? Will the Golden State Warriors score the first basket?
Users can bet on all of these scenarios and more through prop betting, and it gives bettors much more control over their betting destiny than moneyline betting. Game props, player props, and team props give users hundreds of betting options for a single event.
Any online sportsbook as good as BetMGM will also offer parlay betting on prop bets throughout every event that most new sportsbooks have named "Same-game Parlays." These parlays can combine player outcome prop bets, game props, and team props for huge potential winnings!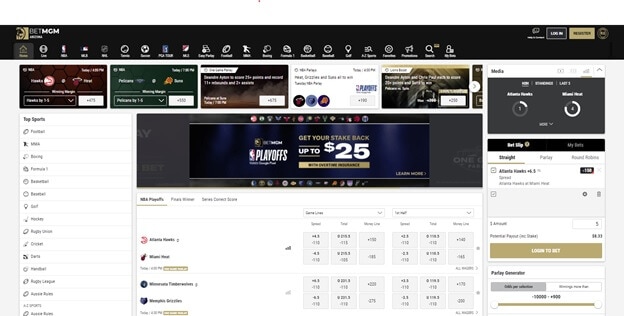 ---
How to bet on Props on BetMGM Sportsbook
To bet on the BetMGM Sportsbook app, you'll need to log in with a previous account or create one, which will only take about 3-5 minutes. If you need to create an account, click our link here, and use the BetMGM sportsbook promo code "GAMBLEUSA" to get $1,000 extra betting credits to boost your first bets! You'll need to provide the following information during registration for a BetMGM account:
Email Address
Password

creating a password requires 8-20 characters with at least one number and lower- and upper-case letters

Full Name
Last four digits of your SSN
Date of Birth
Mobile number
Address
After you've logged into or created an account, find the sport you'd like to bet on by choosing it in the "A-Z menu" tab and deciding which event you'd like to wager on.
After you've decided on an event to bet on, press on it, and you will be redirected to all of the bets offered. You can choose from the different types of prop bets available (more on that later) to build your bet.
Once you've found the props bet you like most, click on it to add it to your bet slip, then decide on how much money you want to wager for the bet. Review your bet and betting amount before submitting and then place your wager, which will add the bet to your open bets in the bet slip.
Promo Code: GAMBLEUSA
Up To $1,500 In Bonus Bets
21+. T&C Apply
21+. T&C Apply
Promo Code: GAMBLEUSA
Super fast payouts
Live streaming
---
BetMGM Prop Builder Tool
Prop building tools are available on a select number of sportsbooks because they allow bettors to bet on custom props that they create themselves. Users set their lines on various prop bets available for distinctive bets that can't be found as an option on the prop bets page.
This tool is only available on a few sportsbooks, and unfortunately, BetMGM is not one of them. They have a different betting tool called the parlay generator that helps users create quick and easy parlays to their exact specifications.
Unfortunately, this tool can't be used for prop bets but can be used on moneyline, spreads, or over-under bets. Users can select the range of odds they'd like to have or the winnings they'd like to receive, followed by how many legs the parlay would have. Once you're all set, click "spin selection," and a new parlay will be generated to that description.
If BetMGM props are not covering your needs, you can instead use the tools offered by DraftKings Sportsbook and FanDuel app. Among the other BetMGM alternatives, the above offer closest or even better experience according to some users.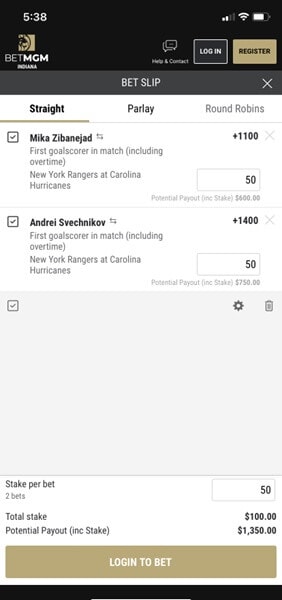 ---
Player Props on BetMGM
A player prop bet is a bet on a player's performance and whether or not they will do well. Player prop bets are quantified by specific stats, with a given total quantified by the player's averages, recent performances, matchups, and more.
For example, NBA player prop bets allow bettors to bet on the over-under for stats such as total points, rebounds, assists, three-pointers made, steals, and blocks. To find the NBA props page, click on the game, then scroll over in the tabs to "player props." Bettors can bet on NBA player prop bets through alternate totals at different odds, effectively line shopping for better NBA odds.
Most betting markets offer over-under totals bets, while some offer bets like a player will score a goal or touchdown and even the first or last player to score in the game. These odds will be higher because scoring a touchdown in an NFL game is more complex than scoring a basket in the NBA. Similarly, betting on the first or last player to score will increase your odds.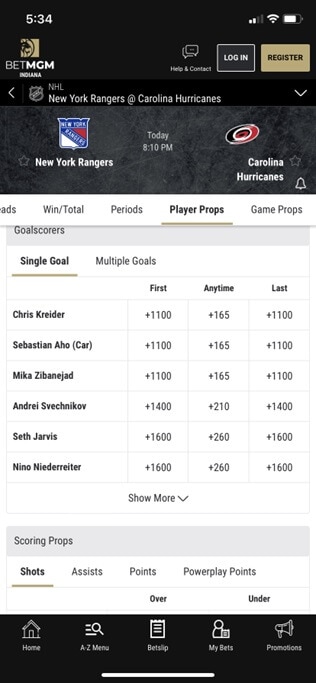 Below are some examples of different NFL, NHL, and NBA player prop bet types that are available on the BetMGM app today:
Steph Curry over 26.5 points -125
Evander Kane first goalscorer +1200
Patrick Mahomes to win AP MVP +700
These player prop bets would be considered a total points player prop bet, a first scorer player prop bet, and a futures player prop bet. To win these bets, Steph would need to score 27 points, Kane would have to be the first to score a goal, and Mahomes would have to win the MVP award at the end of next season.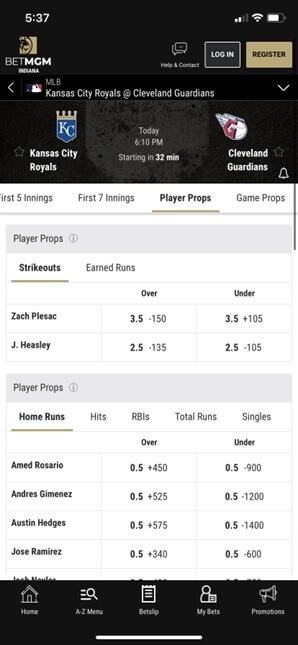 BetMGM Sportsbook Team Props
Generally speaking, if you choose to bet on team props, it will be similar to the player prop bet options for the entire team. This means the NBA props page would contain team props on specific aspects of the game, including total points (or final score), total assists, etc.
Team prop betting is essentially betting on a team's performance, so if you think a team will have a bad game, you can place bets on that too! There are team prop bets that are pretty simple and others that are on particular aspects of the game, such as the race to 5 points in an NBA game.
The more complex the team prop bet, the higher odds it will have. Some examples of the different types of team prop bets currently available on the BetMGM app are:
Winning margin Heat by 1-5 +650
Las Vegas Raiders to win the Super Bowl +3500
Colorado Avalanche first to reach three goals -130
Bettors would need the Miami Heat to win their game against the Boston Celtics by exactly 1-5 points, the Las Vegas Raiders to win the Super Bowl next season, and the Colorado Avalanche to be the first team in their game to score three goals in regulation time to win these bets.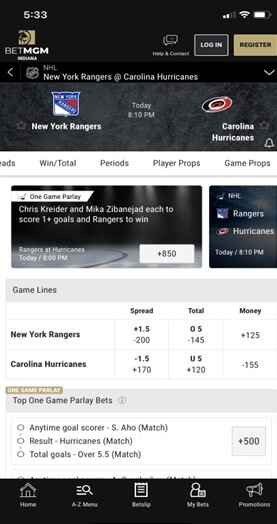 ---
Other Prop Betting Options
There are tons of different prop bets available on the BetMGM Sportsbook because of the hundreds (possibly even thousands) of ways to bet on each game. Other than the types of prop bets that I've mentioned above, there are a few that I'd like to recommend because of how much fun they are.
The BetMGM app offers live bet props and can be taken up until the last few minutes of the event. Live betting on prop bets, like spread bets, will not always have the same line as before the event started because of the current outcome of the event so far.
Other live prop bets can be as specific as who will score the next touchdown or how many runs a team will score in the next inning. These bets generally have better betting odds because you're betting on the specific time frame rather than the entire game.
This is similar to another type of prop betting which is betting on an event by the quarter, period, first five innings, etc. The difference between the two is users can place these bets before the game or live if they're betting on a time frame that hasn't happened yet.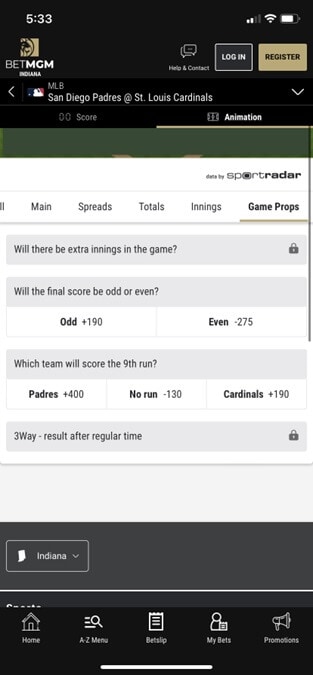 Below are a few examples of these types of prop bets that are currently live on the BetMGM app right now:
Both teams to score both halves (12 de Octubre de Itaugua vs Guairena FC) +2500
San Francisco Giants to score over 0.5 runs in the 5th inning +195
Padres to win the 8th inning +340
As you can see, the odds are typically higher than regular prop bets because of the current circumstances of their live game.
Another type of prop bets that BetMGM excels in are Novelty props. Such bets are used by bettors who want to have fun mostly, indifferently to whether they team will win the game or not. Anyone can bet on these, without conducting any research or advanced planning. Betting on the weather, the coin toss, how many people will be watching the match, etc. are some Novelty prop bets examples.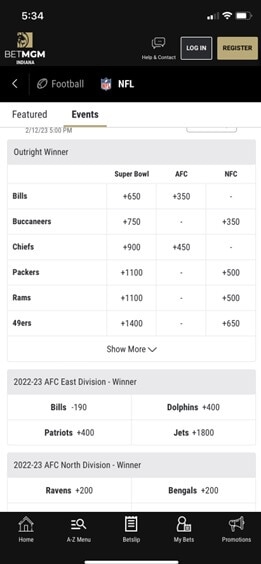 ---
3 Strategies & Tips to Bet on Props on BetMGM
When you visit BetMGM to bet online, be sure that you have a strategy for prop betting before you start blowing your whole account balance on your favorite player or a specific game. Everyone loves their star players, but unfortunately, they don't always win their props and often have pretty low odds.
Before you start prop betting, think of the three following tips for the best way to discover how good of a prop bettor you can be.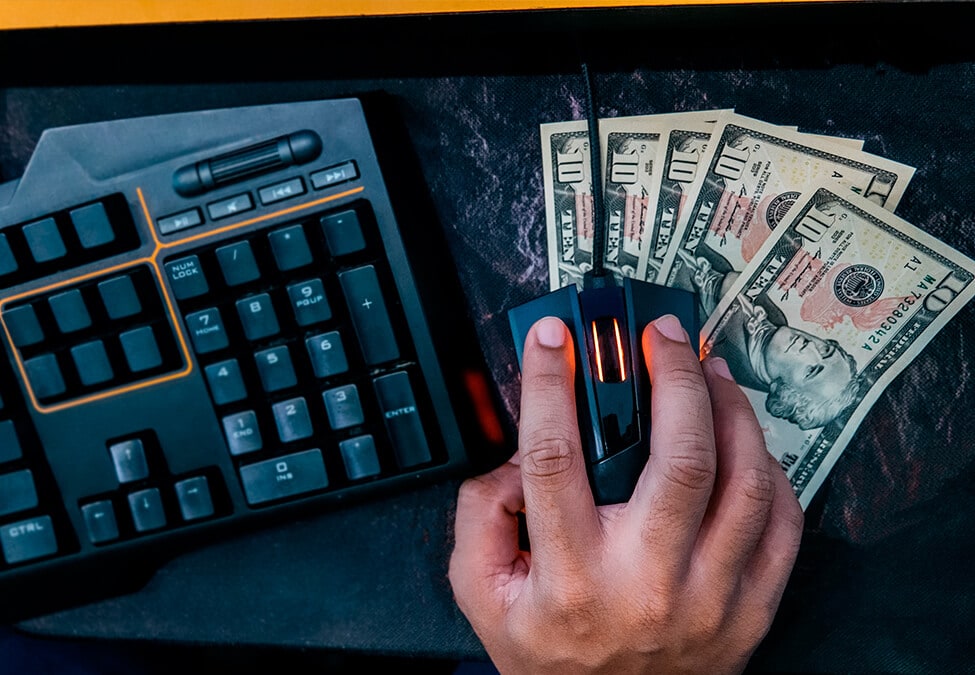 1) Be comfortable with the sport you bet on
Before anything else, you need to understand and be comfortable with the sport that you decide to bet on. When I prop bet online, I stick to NBA, NFL, NHL, and MLB bets because those are the prop betting markets that I watch regularly and completely understand. By also following the live events, I can capitalize on the BetMGM cash out and often get a reduced juice early pay out which works well enough for me.
Betting on markets you don't fully understand is a wrong move for many reasons, mainly because you're going in completely blind, but hey, if that's your betting style, then more power to you. However, if you want to fully understand your betting odds, you must bet what you know.
As I stated above, I only really watch four leagues, so I feel entirely lost when I try to bet on European Soccer. Outside of the big stars such as Ronaldo and Messi, I don't know the other players or matchups, which makes it a hazardous sport for me to bet on.
2) Study who/what you bet on
This prop betting tip is very similar to the last one, except it requires more work. Especially for prop betting, studying the players or teams you bet on or against is incredibly important.
First, when making prop bets on a player's stats, you need to look at their averages and who they are being matched up against. Kevin Durant is a great basketball player, but if he's being matched up with Kawhi Leonard, he's less likely to have a great game because of Kawhi's defensive ability.
Similarly, if you want to bet on a team to win the Super Bowl or World Series, it's essential to look into their offseason moves. For example, a team could have had a great season the previous year, but if they lose their MVP level quarterback in free agency, then they won't be anywhere near what they were the season before.
Lastly, one of the most important things to study before betting is a player or team's recent trends and performance. While this is not always the deciding factor, it should be looked into because of the way athletes are affected by momentum. For example, Steph Curry traditionally has a one or two-month shooting slump every year during the middle of the season, so betting on him to hit 4+ three-pointers in a game would be a bad bet.
3) Bet what you can afford to lose
Sports betting is very volatile, and even though you may think a bet is a lock, it can still potentially lose, so never bet money you can't afford to lose. If you notice yourself betting too much and too often, even if it is money you can afford to lose, please get help because this is a sign of a gambling problem.
The best way to discover if you have a gambling problem is to have an honest conversation with yourself and check out this website. This link is to a website that characterizes gambling addiction and is a resource for bettors to use before it's too late.
The BetMGM sportsbook also has available tools to prevent users from overspending. Users can find these features by clicking on their account settings and clicking on the "responsible gaming limits" page. This page gives users the ability to set daily, weekly, monthly, or any combination of account limits for their BetMGM account, which can help users from betting more than they can afford.
Promo Code: GAMBLEUSA
Up To $1,500 In Bonus Bets
21+. T&C Apply
21+. T&C Apply
Promo Code: GAMBLEUSA
Super fast payouts
Live streaming
---
FAQs
Does BetMGM have player props?
BetMGM provides a variety of player props. This will depend on each sports market and event, but you can expect alter totals, over/under, last player to score, and more player props. These create excellent opportunities to make money betting on BetMGM.
Can you parlay props on BetMGM?
Yes! you can combine numerous props into one parlay, and that includes props on the same game. However, you have to make sure that your bets do not contradict or overlap each other. For example, you cannot bet on the Chiefs to win the race to 10 points and score the first touchdown. In the same way, you cannot bet on Inter Miami to win a game exactly 2-0 and combine that with a spread bet of Inter Miami -1.5, as they overlap.
Why can't I see any player props?
Player props will usually pop up a few days before a game is going to start. Two weeks ahead of time it is near impossible to know which players will start, whether there will be a change in the lineup, whether a player will get injured, and other off-field factors that can affect this betting market. For example, how could you bet on Kevin Durant to score 10.5+ points three weeks ahead of a game, when you do not know whether he will be rested or not.
Can I make money on prop bets?
Props betting suits those fans with a great understanding of their favorite sport. They will sometimes pick out great deals, take the risk, and can bring in some big winnings. This is because they are so detailed, and therefore you can easily find some props with massive odds, or those that your gut instinct will want to pick out. By using props, you broaden your choice of bets for each game, giving you a better chance of winning.
Does the BetMGM app have prop bets?
The BetMGM app has all the same bets that you can find on the betting site. They are easy to find, and you can add them to your bet slip, form a parlay, and even cash them out during a game.