Parlay betting is now one of the most popular ways to place a bet. Most sportsbooks offer parlay betting, but there are some sports betting sites and apps that are better than the rest.
In this guide, we will look at the best sites and apps for parlay betting, and if you are new to this way of wagering, we will explain the ins and outs of parlay betting as well as listing some tips to maximize your betting.
As the legal US sports betting market continues to become more competitive, there are many things to consider when it comes to choosing the best sports betting apps and online sports betting sites. Any new sports betting app must make it as easy as possible for bettors to wager on their favorite teams by providing numerous betting options in addition to offering bonuses and promotions such as free bets.
It is only a few years ago that there were a limited number of sportsbook app options available, with most betting activity strictly limited to Nevada. However, times have changed, and online sportsbooks are now legal in more states with more betting options than just a basic moneyline wager.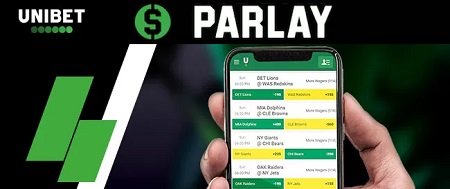 One of the most popular types of bet on sports betting apps is parlay gambling. Online parlay betting has snowballed in the last couple of years due to the potential to win big from a small outlay on a sports parlay wager.
With that said, this article covers all of the critical information regarding placing parlay bet online. We will provide a list of some parlay betting apps, reveal what we think is the best app for parlay betting and explain how to judge the best parlay odds.
Best Sportsbook For Parlay Betting
As bettors throughout the country are eager to get involved in sports betting, more and more online sportsbooks have launched promising, the best risk-free bet offers and online betting experience. We have thoroughly tested multiple sports betting sites to find the sportsbook offering the highest parlays and the most parlay options. Consequently, we have listed the top three sportsbooks for parlay betting below.
BetMGM Sportsbook
BetMGM is one of the most established US operators. This sportsbook has seen a lot of parlay bets in its time. Because MGM Resorts is such a large company and has numerous resources and ways of making money, it offers some of the fairest odds around. The odds are important when calculating the payout from a parlay, so it is crucial you get the best odds on the game no matter what.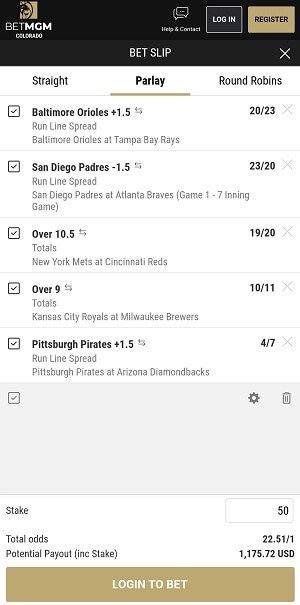 Players can take advantage of regular parlays, BetMGM Same Game Parlays, and a Bet Builder feature where they can create a parlay and see in real-time what the payout odds would be for the bet slip. Placing a parlay is very easy on BetMGM, just click on your selections, open your betslip, add your stake then press place bet.
Available in: AZ, CO, DC, IN, IA, MI, MS, NJ, NV, NY, PA, TN, VA, WV & WY
FanDuel Sportsbook
The FanDuel sportsbook is one of the top sports betting options for parlay wagers because you can parlay on basically anything you like. FanDuel was one of the first operators to highlight big player prop parlays that have been discussed at length in the media. Some of the FanDuel Parlay Betting features available include:
Euros Parlay Insurance
UFC Parlay Insurance
Multi-Sport Parlay Insurance
NBA Risk-Free Same Game Parlay
MLB Parlay Insurance
Many things across several sports can be parlayed. This enables bettors to create a diverse bet slip with all of their ideas and limit the risk by betting a little to win a lot. This is a sportsbook that really hones in on the parlay options and provides numerous features for customers.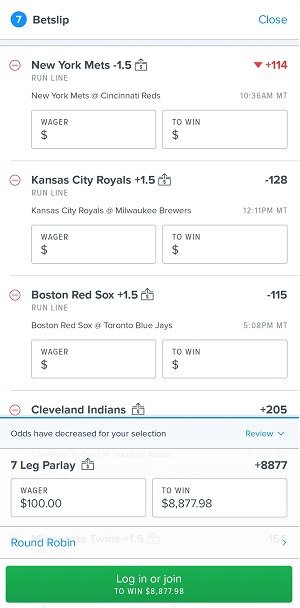 Available in: AZ, CO, CT, IL, IN, IA, MI, NJ, NY, PA, TN, VA, & WV
Caesars Sportsbook
Parlays are extremely popular in Europe (normally called accumulators or accas). They were not really known when betting in the United States was restricted to Nevada, but have quickly grown to become one of the significant bet types in the US.
William Hill has been around since the 1930s, and the London-based company had operated in the UK and other parts of the world well before it entered the US market. The company was purchased by Caesars entertainment earlier on in the year and has since been renamed the Caesars Sportsbook. Consequently, William Hill has been a market leader in the parlay betting business for longer than US online sportsbook sites have been in existence. Additionally, Caesars has fair pricing on odds, which means fair pricing on parlays as well.
Available in: AZ, CO, IN, IA, IL, MI, NJ, NY, TN, VA & WV
Best Apps For Parlay Betting
As technology has developed, the way we consume content and access resources have also changed. It is no different for sports betting, and many bettors now prefer to use sportsbook apps to place their wagers. The best operators will have a mobile app available so customers can bet on the go. Regarding mobile betting, it is vital that users access all of the same features as the desktop site, including parlay betting. We have listed the top three apps for parlay betting below.
Unibet Sportsbook App
Unibet Sportsbook app has been expanding its footprint in the United States. It has become one of the best real money sportsbook options in New Jersey, Pennsylvania, Indiana, and West Virginia. The company is based in Europe, so they have significant experience in parlay betting, and the app offers fair odds and substantial payouts on its parlay tickets. Soccer is the most popular sport in Europe for parlay wagering, so Unibet has a wealth of experience with that, which transfers over to the other sports.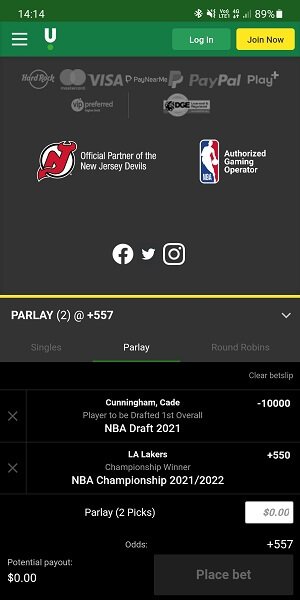 Additionally, Unibet offers a Level Up Parlay Booster. Players can get a  50% cash boost on their parlay. With these boosts, bettors can add what they want to their parlay, and all of their winnings are 100% cash. It's easy to place a parlay bet on the Unibet app. To do this select your bets by clicking on the odds, open your betslip, add in your stake at the bottom, then press Place bet.
Available in: NJ | IN | PA | IA
DraftKings Sportsbook App
DraftKings is perhaps better known for its daily fantasy sports contests; however, the sportsbook also offers Parlay Insurance with many different props and odds to parlay together. The insurance policy has a vast amount of betting options that are a lot bigger than many of its competitors. Making a parlay bet on the DraftKings sportsbook app is super easy to do. DraftKings parlays offer some of the best odds around and the Same Game Parlay feature is an awesome addition.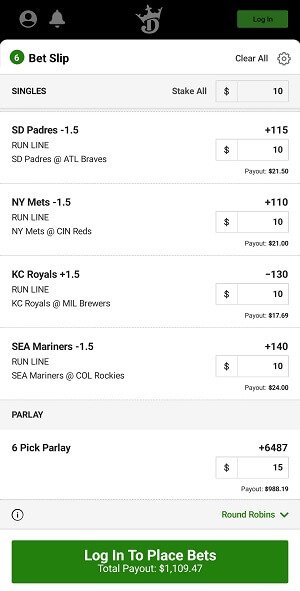 Additionally, DraftKings has weekly promotions that often include parlay bets for customers to benefit from.
Available in: AZ, CO, CT, IL, IN, IA, MI, NH, NJ, NY, PA, TN, VA, WV, & WY
BetRivers Sportsbook App
BetRivers app is one the best apps when it comes to parlay betting. The BetRivers (and SugarHouse app in NJ & CT ) sportsbook has similar parlay options to other betting sites in terms of odds, but the app makes it very easy to bet a parlay. The feature that makes Rivers online stand out from the crowd is the Jackpot Parlay at BetRivers. These are bet types with long odds because eight bet options are randomly chosen and sent to you. Usually, you would want to bet a parlay where you are interested in most of the things in it; however, the jackpot parlay adds more of a gambling feel.
You can bet small to win big, but make sure you do it responsibly and don't overdo it.
Available in: AZ, CO, IL, IN, IA, MI, NY, PA & VA
Before recommending out any of the sportsbook apps offering parlay bets, we make sure they are easy to use and reliable. There is no point in offering parlays and serving up an awful interface on the app. The 3 apps listed above proved to not only be the best for betting parlay, but the easiest to use too.
Which Sportsbook Offers The Highest Parlays?
Searching for the sportsbook which offers the highest parlay is worthwhile but requires time and research. Parlay bets are big business, and the unlikely probabilities shouldn't deter you from wanting to access the best chances of gaining profits. Most bettors will know that this means finding the best online sportsbooks is crucial.
Knowing which sportsbooks provide the best parlay odds is a deciding factor for players that enjoy the increased reward from increased risk. The only way to do this is to compare the odds of several sportsbooks on parlay bets and see which is the most suitable for you.
You should shop around for your parlay odds in the same way you would if you were looking for moneyline, spread betting, or totals options. To help you along the way, we have listed some excellent sportsbook sites, and apps above that have fair odds and multiple parlay options for you to get stuck into.
Whilst most sportsbooks do offer the option to parlay a bet, a lot of books limit parlays, and some experience technical issues that mean that parlays won't work.
What Is A Parlay?
A parlay is a single sports bet that involves two or more wagers combined into one. This bet could include moneylines, futures, and point spreads. These bets are attractive because they offer the potential of a higher payout over choosing a single team to win. On the flip side, there's more of a risk to these types of wagers because every "leg" of the parlay needs to win. If just one leg loses, the whole parlay is unsuccessful.
The flexibility of a parlay is also attractive to gamblers. Players can combine multiple sports into their parley bet. For example, you could include the Seahawks from the NFL, the Lakers from the NBA, and the Maple Leafs from the NHL into one single bet. If they are all victorious, so are you.
Parlay Calculator
If you really want to get into the nitty-gritty of working out the potential payout from your parlay bet, you could use a parlay calculator. You can access our free-to-use parlay calculator here: Parlay Calculator.
This gives you the opportunity to calculate the odds on any amount of parlays, with the option to add up to 15 teams or selections. It is straightforward to use, and the calculator works equally as well on a sportsbook app or desktop site. Additionally, you can use it to decide if you should do a two-team parlay or add more teams.
FAQs
Which sportsbook offers the highest number of parlays?
This varies from book to book and what markets and events you are betting on. There is no set figure available.
Which sportsbook offers the best parlay odds?
Again this varies depending on the event. It's worth checking a few operators to compare pricing.
Where can I bet parlays online?
Nearly all licensed US sportsbooks now offer parlay betting as a bet type.
Can you parlay Moneyline bets?
No. You can't parlay a bet against the spread and a moneyline bet on the same game.