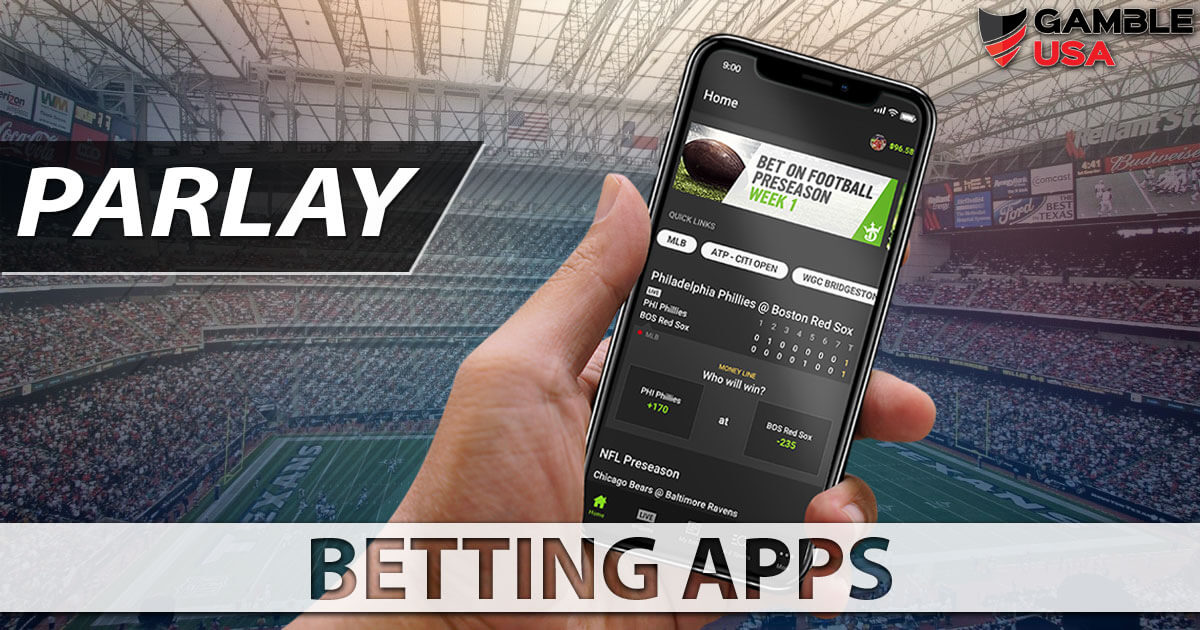 Parlay betting is now one of the most popular ways to place a bet. Most sportsbooks offer parlay betting, but there are some sports betting sites and apps that are better than the rest. You will find the best parlay betting apps on this page. 
In this guide, we will look at the best sites and apps for parlay betting, and if you are new to this way of wagering, we will explain the ins and outs of parlay betting as well as listing some tips to maximize your betting.
Recommended Sportsbooks For Parlays
---
Parlay Betting Growing In Popularity
As the legal US sports betting market continues to become more competitive, there are many things to consider when it comes to choosing the best sports betting apps and online sports betting sites. Any new sports betting app must make it as easy as possible for bettors to wager on their favorite teams by providing numerous betting options in addition to offering bonuses and promotions. Additionally, features such as cash out and live betting has seen the mobile sports betting market boom.
It is only a few years ago that there were a limited number of sportsbook app options available, with most betting activity strictly limited to Nevada. However, times have changed, and online sportsbooks are now legal in more states with more betting options than just a basic moneyline wager.

---
Best Sports Betting Apps For Parlay Betting
As bettors throughout the country are eager to get involved in sports betting, more and more online sportsbooks have launched promising, the best offers and betting experience. We have tested multiple sports betting apps to find the sportsbook offering the most parlay options. We have listed our top sportsbooks for parlay betting below.
BetMGM Sportsbook
FanDuel Sportsbook
Caesars Sportsbook
DraftKings Sportsbook
Unibet Sportsbook
BetRivers Sportsbook
---
🥇

#1. BetMGM Sportsbook

BetMGM is one of the most established US operators. This sportsbook has seen a lot of parlay bets in its time and is an excellent parlay betting app. Because MGM Resorts is such a large company and has numerous resources and ways of making money, it offers some of the fairest odds around. The odds are important when calculating the payout from a parlay, so it is crucial you get the best odds on the game no matter what.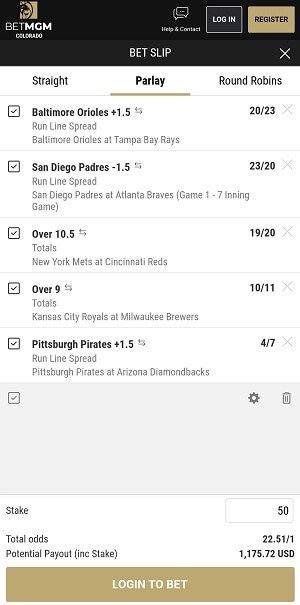 Players can take advantage of regular parlays, BetMGM Same Game Parlays, and a Bet Builder feature where they can create a parlay and see in real-time what the payout odds would be for the bet slip. Placing a parlay is very easy on BetMGM, just click on your selections, open your betslip, add your stake then press place bet.
BetMGM is available in: AZ, CO, DC, IL, IN, IA, KS, LA, MD, MI, MS, NJ, NV, NY, OH, PA, TN, VA, WV & WY
Expert Comments:
"The BetMGM app makes creating a parlay bet very easy. I found that finding sports betting lines was really quick and this mean't I could find all of the bets from different sports I wanted to parlay together without too much headache. The odds were generally among the best I've seen although it does vary for each sport."
– Damjan Spajić (Sports Editor)

---
🥈

#2. FanDuel Sportsbook

The FanDuel sportsbook is one of the top sports betting options for parlay wagers because you can parlay on basically anything you like. FanDuel was one of the first operators to highlight big player prop parlays that have been discussed at length in the media. Some of the FanDuel Parlay Betting features available include parlay insurance & same Game parlay on a range of sports.

Many things across several sports can be parlayed. This enables bettors to create a diverse bet slip with all of their ideas and limit the risk by betting a little to win a lot. This is a sportsbook that really hones in on the parlay options and provides numerous features for customers.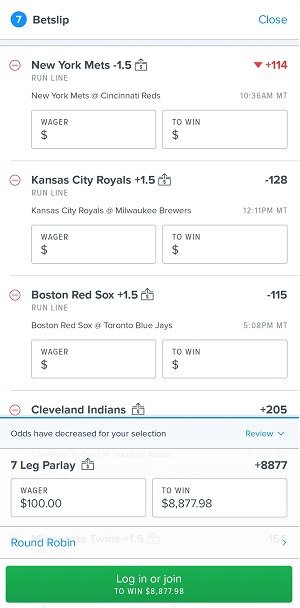 FanDuel is available in: AZ, CO, CT, IL, IN, IA, KS, LA, MD, MI, NH, NJ, NY, OH, PA, TN, VA, WV & WY
Expert Comments:
"Using the FanDuel app for putting a parlay together was a pleasant experience. The app is intuitive to use so I was able to find everything I wanted to place a wager on. The betslip is also easy to edit with the parlay option being readily available for most bet combinations."
– Paul Ricci (Chief Sports Editor)

---
🥉

#3. Caesars Sportsbook

Parlays are extremely popular in Europe (normally called accumulators or accas). They were not really known when betting in the United States was restricted to Nevada, but have quickly grown to become one of the significant bet types in the US.

William Hill has been around since the 1930s, and the London-based company had operated in the UK and other parts of the world well before it entered the US market. The company was purchased by Caesars entertainment earlier on in the year and has since been renamed the Caesars Sportsbook. Consequently, William Hill has been a market leader in the parlay betting business for longer than US online sportsbook sites have been in existence. Additionally, Caesars Sports has fair pricing on odds, which means fair pricing on parlays as well.

Caesars Sportsbook is available in: AZ, CO, IN, IA, IL, KS, LA, MD, MI, NJ, NY, OH, PA, TN, VA, WV, & WY

Expert Comments:

"Caesars worked well for placing parlay bets. I do think Caesars stands out above the rest for their boosted parlays. Under the boost tabs you can often find pre-made parlays for a range of different sports and the odds are usually really good if you can see one that you like the look of."

– Oliver Dickinson (Sports Editor)

---
🎖️#4. DraftKings Sportsbook App
DraftKings is perhaps better known for its daily fantasy sports contests; however, the sportsbook also offers Parlay Insurance with many different props and odds to parlay together. The insurance policy has a vast amount of betting options that are a lot bigger than many of its competitors. Making a parlay bet on the DraftKings sportsbook app is super easy to do. DraftKings parlays offer some of the best odds around and the Same Game Parlay feature is an awesome addition.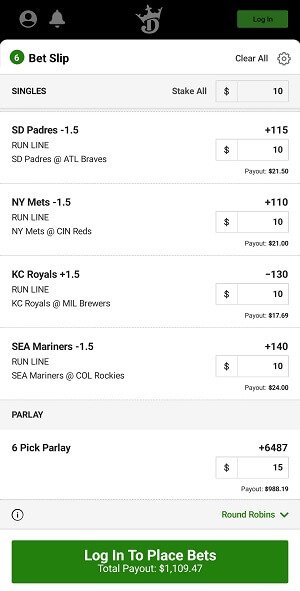 Additionally, DraftKings has weekly promotions that often include parlay bets for customers to benefit from. There is no promo code needed for the DK welcome bonus and ongoing promotions.
DraftKings Sportsbook is available in: AZ, CO, CT, IL, IN, IA, KS, LA, MD, MI, NH, NJ, NY, OH, PA, TN, VA, WV & WY
Expert Comments:
"Putting together a parlay bet on DraftKings app is very simple to do. I would say that they are my number one choice for parlay bets on the NFL but they are also pretty good for other sports."
– Oliver Dickinson (Sports Editor)

---
🏅#5. Unibet Sportsbook App
Unibet Sportsbook app has been expanding its footprint in the United States. It has become one of the best real money sportsbook options in New Jersey, Pennsylvania, Indiana, and West Virginia. The company is based in Europe, so they have significant experience in parlay betting, and the app offers fair odds and substantial payouts on its parlay tickets. Soccer is the most popular sport in Europe for parlay wagering, so Unibet has a wealth of experience with that, which transfers over to the other sports.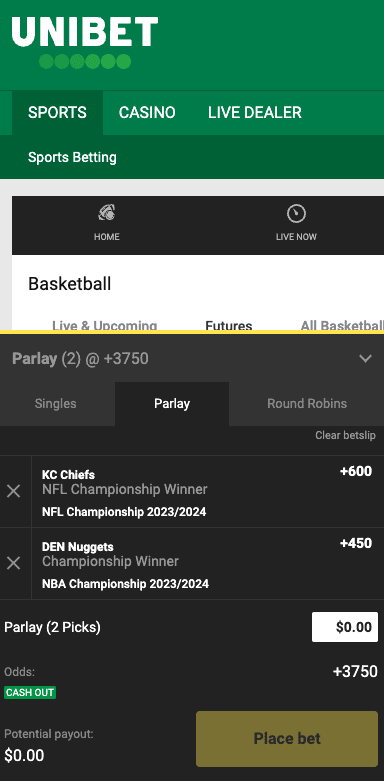 Additionally, Unibet offers a Level Up Parlay Booster. Players can get a  50% cash boost on their parlay. With these boosts, bettors can add what they want to their parlay, and all of their winnings are 100% cash. It's easy to place a parlay bet on the Unibet app. To do this select your bets by clicking on the odds, open your betslip, add in your stake at the bottom, then press Place bet.
Unibet is available in: AZ, IN, NJ, PA & VA
Expert Comments:
"With UniBet being a European based company I had high hopes for their parlay functionality as it's the most popular bet type over there. I wasn't disappointed though, UniBet has a great app for parlay betting with easy to find lines and great odds."
– Oliver Dickinson (Sports Editor)

---
#6 BetRivers Sportsbook App
BetRivers app is one the best apps when it comes to parlay betting. The BetRivers (and SugarHouse app in NJ & CT ) sportsbook has similar parlay options to other betting sites in terms of odds, but the app makes it very easy to bet a parlay. The feature that makes Rivers online stand out from the crowd is the Jackpot Parlay at BetRivers. These are bet types with long odds because eight bet options are randomly chosen and sent to you. Usually, you would want to bet a parlay where you are interested in most of the things in it; however, the jackpot parlay adds more of a gambling feel.
You can bet small to win big, but make sure you do it responsibly and don't overdo it.
BetRivers is available in: AZ, CO, IL, IN, IA, LA, MD, MI, NJ, NY, OH, PA, VA & WV
Expert Comments:
"BetRivers has done a really impressive job with their app and although it doesn't standout in anyone aspect it just does everything well. I didn't have any issues placing or finding parlays to place in the BetRivers app. If you haven't tried them out yet I would recommend using their welcome offer and testing out a few parlays."
– Paul Ricci (Chief Sports Editor)
---
Best Same Game Parlay Apps
Using an app to bet same game parlays is now the most popular way to wager with a sportsbook. Most books now SGP betting. Some are amazing, some are awful. Below you can see what we feel are the 3 best US sportsbooks offering same game parlay betting:
---
#1 FanDuel Sportsbook
FanDuel was the first site to offer the same game parlays. It is the original same game parlay sportsbook! Consequently, the brand offers SGPs on every NFL and NBA game and most soccer games. Other online sportsbooks currently offer a more limited amount of markets for an SGP, with FanDuel still at the top of the leader board for this type of parlay.
If you want to wager on an SGP with FanDuel, use our links to visit the sportsbook and click on the NFL or NBA tab. You will then see a list of all of the matches currently available. Click on the game you want to bet on, and you'll see a Same Game Parlay tab on the top navigation bar. Click this and then choose all of the prop bets you want to combine in your parlay.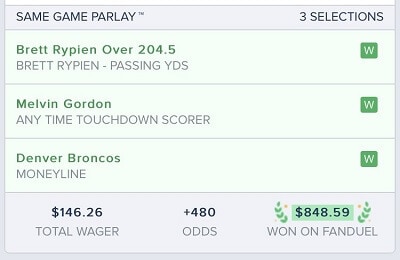 Each choice will be added to your bet slip on the right side of the page, and the odds will be updated with each pick. Once you have added all of your selections, enter your stake and hit 'place bet.' Then you can sit back and hope to see those winnings roll in!

---
#2 DraftKings Sportsbook
DraftKings, like FanDuel, is known for DFS contests but is one of the latest one-game parlay betting sites. They launched SGP's on their app in August 2021 and offer the same game parlays on NFL, NBA, MLB, Soccer, and have recently announced they will be available on the NFL, as well.
It is a straightforward process to place an SGP on DraftKings. Just find a game with the +SGP icon in the top-left corner that you want to build a parlay for. Then toggle the 'Same Game Parlay' button to show the available SGP betting options. Select your wagers from the same game to build your DraftKings SGP. Once you have chosen your bets, add your Same Game Parlay to your bet slip, enter your stake then submit.

---
#3 BetMGM Sportsbook
The BetMGM version of an SGP is called a 'One Game Parlay.' Although the layout may need some tweaking, they make the list as they currently offer the broadest range of sports that bettors can access for one game parlays.
BetMGM also has several insurance options for you when betting on One Game Parlays. For example, if you place a 3+ leg One Game Parlay on any NBA game and one choice lets you down, you will get your bet refunded up to $25. For huge events like the Super Bowl, if you opt-in and place a $25 One Game Parlay, you will receive a $10 free wager to use on any market of your choice.

---
Which Sportsbook Offers The Highest Parlays?
Searching for the sportsbook which offers the highest parlay is worthwhile but requires time and research. Parlay bets are big business, and the unlikely probabilities shouldn't deter you from wanting to access the best chances of gaining profits. Most bettors will know that this means finding the best online sportsbooks is crucial.
Knowing which sportsbooks provide the best parlay odds is a deciding factor for players that enjoy the increased reward from increased risk. The only way to do this is to compare the odds of several sportsbooks on parlay bets and see which is the most suitable for you.
You should shop around for your parlay odds in the same way you would if you were looking for moneyline, spread betting, or totals options. To help you along the way, we have listed some excellent sportsbook sites, and apps above that have fair odds and multiple parlay options for you to get stuck into.
Whilst most sportsbooks do offer the option to parlay a bet, a lot of books limit parlays, and some experience technical issues that mean that parlays won't work.
---
What Is A Parlay?
A parlay is a single sports bet that involves two or more wagers combined into one. This bet could include moneylines, futures, and point spreads. These bets are attractive because they offer the potential of a higher payout over choosing a single team to win. On the flip side, there's more of a risk to these types of wagers because every "leg" of the parlay needs to win. If just one leg loses, the whole parlay is unsuccessful. It can be heart-breaking to see just one team mean the entire parlay bet loses, but those are the high stakes surrounding this type of wager.
The flexibility of a parlay is also attractive to gamblers. Players can combine multiple sports into their parley bet. For example, you could include the Seahawks from the NFL, the Lakers from the NBA, and the Maple Leafs from the NHL into one single bet. If they are all victorious, so are you.
---
Parlay Calculator
If you really want to get into the nitty-gritty of working out the potential payout from your parlay bet, you could use a parlay calculator. You can access our free-to-use parlay calculator here: Parlay Calculator.
This gives you the opportunity to calculate the odds on any amount of parlays, with the option to add up to 15 teams or selections. It is straightforward to use, and the calculator works equally as well on a sportsbook app or desktop site. Additionally, you can use it to decide if you should do a two-team parlay or add more teams.
---
How we rank Parlay Apps
Ranking the best parlay apps requires a different approach than judging betting apps as a whole. One operator may be popular among bettors due to its attractive bonuses and promotions, while another may attract new users with a huge range of betting markets.
We consider multiple factors when choosing the best parlay betting apps. The key criteria includes:
Does the app provide features that can't be found elsewhere?
Are the odds competitive?
Does the app have an easy to use same game parlay option?
Can you cash out your parlay?
Are there any promos or bonuses targeted specifically at parlays?
Is there a broad range of sports and markets available for parlay wagering?
The apps we have listed on this page meet all of the above criteria. Additionally, these apps are easy to use and navigate around, so you won't have any trouble finding those parlay betting options.
---
How do Parlays pay out?
Most of us just enjoy it when our bets win and we give ourselves a pat on the back for a job well done. However, parlays are different as you could place a three team parlay or even an eight team parlay and while essentially they are the same bet the winnings can vary wildly. They are more complicated than a point spread but placing a moneyline parlay is still straightforward and can result in big profits.
Once your online sports betting site accepts your parlay wager, they create a multi-level bet where each wager that wins then becomes bigger on the next leg and so on. In this example with two traditional -110 legs, the first wager is $100 on the 49ers +3 or under 55.5 on the spread. In this instance both bets finish at the same time so there is no real 'first leg' as it doesn't matter. Because the 49ers  +3 covered the spread, your $100 wager turns into $190.91.
With this profit, you use the $190.91 for the sake on your second leg, under 55.5. That was a winner as well, and a -110 bet for that price results in a pay out of $173.55. Both winning wagers give you a total of $364.46. Bear in mind that you started with a $100 stake, so you have a made a nice $264.46 from this particular parlay wager.
If you fancy yourself as a bit of a math genius and are trying to figure out what a parlay bet will pay out, the most straightforward formula is to work to -110 wagers. Above we have outlined how a two-team bet pays out approximately 2.6-to-1. Add to that to make it a three-team wager and the pay out becomes 6-to-1. The odds will double from that point for every -110 bet added to the parlay.
---
Parlay Bet Strategies
Whether it is a single game parlay, NFL parlays or the standard multiple bets parlay wager, they are one of the most talked about types of bets out there. There is one group of bettors that feel you should avoid parlays as they feel they are extremely difficult to win. On the flipside, there are some bettors who are very much pro parlay and feel they can make sports wagering enjoyable and you can win huge amounts of money very quickly. Both sides are correct to a degree, and you are entirely free to choose how you want to spend your money on an online sportsbook. But if you are interested in parlays, then some research to ensure you are doing it right will be helpful.
It is important not get carried away with the potential payout. Some tend to add too many legs onto their parlay and therefore massively reduce the chances of winning. It is best to stick to adding a few at a time, perhaps 2 legs to 4 as the more you add, the riskier the wager becomes.
Parlays naturally come with risk due to their low probability of success. However, a round robin type of parlay gives you more room for error. A round robin is a selection of smaller parlays where you can make a profit even if one of the legs doesn't hit.
Additionally, getting a grasp of how parlay odds work will improve your chances of winning. It would be wise to use a parlay calculator to check the implied probability and the payouts odds of your parlay.
---
What happens to my parlay if a game gets canceled?
Because traditional parlays consist of multiple legs, those who are new to online betting often question about how parlays are graded. As we have mentioned, a single loss sees the whole parlay fall down, but sometimes these wagers can neither win or lose.
The most common outcome would result in a push. Imagine a four-team parlay where one team loses by three but the other three legs won. Consequently, the push drops off the bet and then the wager is a three-team parlay.
Also keep an eye out for is a game being canceled or rescheduled. Again, the most common outcome in this case is that the wager would come off and then it becomes a smaller overall parlay.
---
FAQs
Which sportsbook offers the highest number of parlays?
This varies from book to book and what markets and events you are betting on. There is no set figure available, but you can get some parlay ideas by visiting each site to see what they offer.
Which sportsbook offers the best parlay odds?
Again this varies depending on the event. It's worth checking a few operators to compare pricing.
Where can I bet parlays online?
Nearly all licensed US sportsbooks now offer parlay betting as a bet type and you can use them as a parlay app to place bets on the move.
Can you parlay Moneyline bets?
No. You can't parlay a bet against the spread and a moneyline bet on the same game.
Can you parlay Futures?
No matter which betting site you choose to sign up with, you can't parlay correlated futures markets. If you attempt to do this on a sports betting site the request will be rejected. If you keep trying consistently the sportsbook may decide to suspend the parlay function on your account. An example of a correlated parlay would be betting on the San Francisco 49ers to win the NFC Championship game and the Super Bowl. You can still place parlay bets using lots of other types of wagers such as spreads and props.