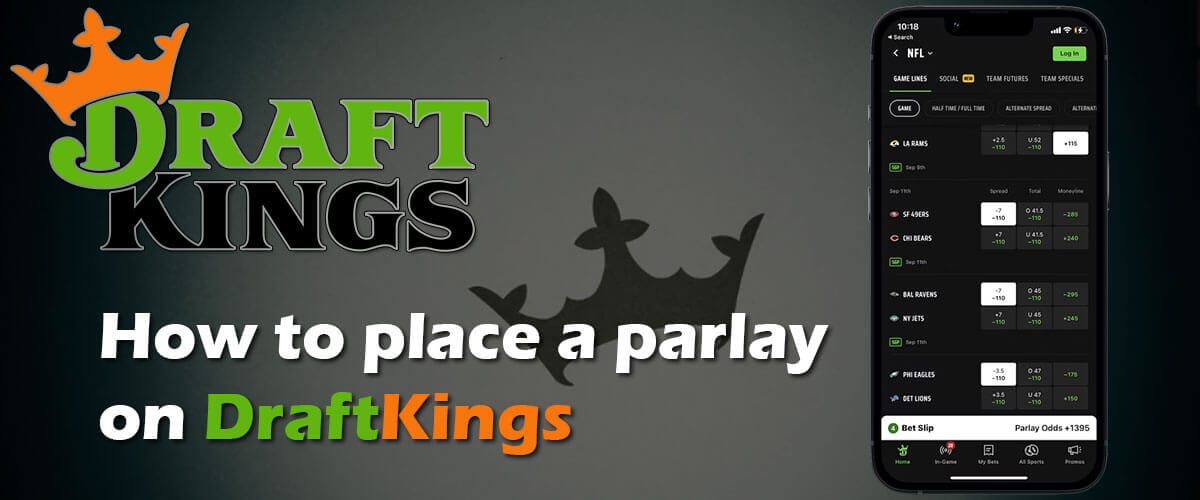 Parlay betting is one of the most popular bet types with DraftKings. If you are new to the sportsbook, you may be wondering how do you parlay with DraftKings?
Online sports betting is expanding across the United States. Sports bettors located in states with a legal gambling market have access to numerous top-quality betting apps and features. Whether you like to wager recreationally or are a more serious player, you can bet on a football game on the go via the latest innovative gambling software on mobile apps. With new online sportsbooks frequently launching, there are also a considerable amount of bet types available. Whether you want to use your bonus bets on a straight wager or combine multiple bets, there is lots of choice.
This article provides an extensive DraftKings parlay guide for anyone wondering how to bet parlay at the popular US Sportsbook. We will cover how to do a parlay on DraftKings, how to cash out a parlay on DraftKings, how to do a 5 team parlay on DraftKings, DK same game parlays, and more. We will also cover the basics of a parlay wager, such as the decimal odds and what goes into a parlay bet.
Up To $1,000 Deposit Bonus
21+. T&C Apply
21+. T&C Apply
The best sportsbook
Amazing odds & offers
Awesome betting app
Up To $1,000 Deposit Bonus
21+. T&C Apply
21+. T&C Apply
---
How to Place a Parlay bet on DraftKings
One of the most popular types of wager you can place on a sports betting site is the parlay bet. Parlay sportsbook apps will allow you to place game parlay bets on all significant domestic leagues such as the NFL, NBA, and MLB. It is not often these days to find an online sportsbook that won't let you parlay or bet on more than two teams or multiple games with the same wager. Parlays have certainly become a favorite among sports gamblers worldwide.
Placing a parlay wager on DraftKings is straightforward, but before you go looking into player props or point spreads, you must first create an account. DraftKings is one of the most trustworthy brands around and has a fantastic welcome bonus consisting of up to $1,000 in bonus funds in the form of site credit that you receive just for signing up. If you don't already have an account, you can create one in a matter of minutes at sportsbook.draftkings.com. There is no requirement to have a sportsbook promo code to claim this bonus.
Simply follow the on-screen instructions to set up your account, and you can bet betting on your favorite sports in no time. Please be aware that you must provide some personal details such as name, address, email, and birth date to complete your registration.
As mentioned above, placing a multi-game parlay on DraftKings is simple.
Make sure you have an account and are logged in
Navigate to the sport you want to bet on
Tap on the odds boxes of two or more selections
Open the bet slip, select parlay
Enter your stake
Press the green Place Bet button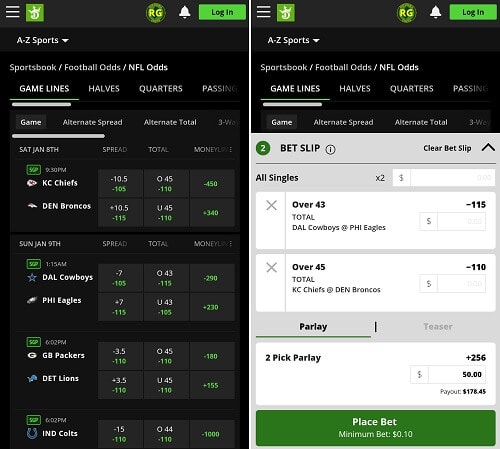 Easy enough? So let's look at an example of how a parlay with DK would work. For the purposes of this article, we are going to bet betting on two games in the NFL.
Once you have navigated to the NFL betting page on the DraftKings site, you will see the list of games displayed and the bets you can choose. The two bets we will make in our example are:
Parlay Bet Example
Bet
Seattle Seahawks Vs. San Francisco 49ers Over 50 points
Dallas Cowboys Vs. Philadelphia Eagles Over 50 points
American Odds
-104
+102
Decimal Odds
1.96
2.02
Parlay Decimal Odds
3.96
Parlay American Odds
+296
To place your wager, select the two boxes for those bets. When you have done that, the two boxes will be highlighted, and the bets will appear on your bet slip on the right of the screen. Notice that if you stake in a $10 bet for both as single-game wagers, which is the automatic choice of the site, your potential payout will be $39.60.
You could opt to use a parlay calculator to view your potential DraftKings parlay payouts on any parlay bets you make. There is no DraftKings parlay limit, and you can bet on up to 13 teams on one slip at any given time.
Confirm Parlay Wager
To make your bet a parlay wager, click the parlay tab of your bet slip. Once you do that, the parlay will be underlined in green, and your bet will become a parlay. You need to enter your total bet amount for the parlay below the games, and your potential payout for the same $20 bet mentioned above now becomes $79.59 if both games win.
When you are ready to submit your bet, click the big green Place Bet button under the Bet Slip, and the wager will be confirmed.
---
What is a Parlay Bet?
Parlay bets are attractive as the potential payout for players is huge. One of the best sportsbooks that offer parlays is the DraftKings sportsbook. DraftKings, along with rival FanDuel sportsbook, built its reputation through daily fantasy sports but is now one of the best sportsbooks available. It has expanded from the New Jersey sports betting market and is now available across the country. Additionally, DraftKings has partnered with data experts such as Genius Sports to provide exclusive data for NFL bets. This means when you come to wager on Thursday Night Football, Monday Night Football or place a parlay on an NFL week slate of games, you have the most up to date and sophisticated data available.
You can parlay on DraftKings by using either the desktop site or the excellent DraftKings app. DraftKings is well-known for being one of the premier daily fantasy sites, and the brand also offers several DraftKings parlay betting options.
Before you choose your preferred online sportsbook or decide to try parlay wagering, it's vital to understand precisely what a parlay bet is and how it differs from a single-game bet. Put simply; a parlay bet is a single wager that involves at least two teams or game totals winning. For you to win a parlay bet, every leg within the bet must win. You could choose to bet on the New England Patriots, Detroit Lions, Cleveland Browns, New York Giants and Chicago Bears in the NFL. There are also parlays available on other sports such as the World Series or NBA playoffs. There is a betting market for everyone.
So, for example, if you were betting on the NFL DraftKings markets, you could choose a parlay bet that combined the Los Angeles Rams -10 Vs. the Buffalo Bills and the Tampa Bay Buccaneers -4.5 Vs. the Las Vegas Raiders in any game week. For the parlay to succeed, both the Bills and Buccaneers would need to cover the spread.
There must be at least two different bets in a parlay wager, but you can have more than two legs if you wish as well. The more teams you choose, the higher the return on a winning bet. You can also use the DraftKings cash-out option if some of your legs have won and you would rather cut your losses than wait to see if the remaining legs are successful.
---
DraftKings Same Game Parlay in 8 Steps
DraftKings also offers the same game parlays (sometimes called single game parlays), letting use the parlay option on the same event. The operator launched this feature in 2021, and it offers SGP's on NFL, NBA, MLB, Soccer, and has recently revealed they will be available for NHL games.
This would be a great option to use on an event such as the Super Bowl. For example, for Super Bowl LVI, you might have bet on Rams QB Matthew Stafford throwing over a certain amount of yards and combined that with other wagers on the same game. Additionally, sportsbooks typically offer unique Super Bowl odds to mark the occasion.
On the DraftKings sportsbook, same game parlay over/under rushing total options are listed in increments of 10. Unlike some other sportsbooks, they are not priced individually. Same game parlays have grown to become incredibly popular among bettors, and DraftKings has fantastic options if this is your preferred method of wagering. You can see which games are available for a same game parlay with DraftKings by looking for the little SGP icon next to the time, like on here:

To place a same game parlay bet with DraftKings, just follow these steps:
Make sure you have an account and are logged in
Navigate to the sport and game you want to bet on
Click on the game and slide the toggle over
Tap on the odds boxes of two or more selections
Click on the Add To Bet Slip button
Open the bet slip, select parlay
Enter your stake
Press the green Place Bet button
The image below shows exactly what the screen looks like when you select the SGP option with DraftKings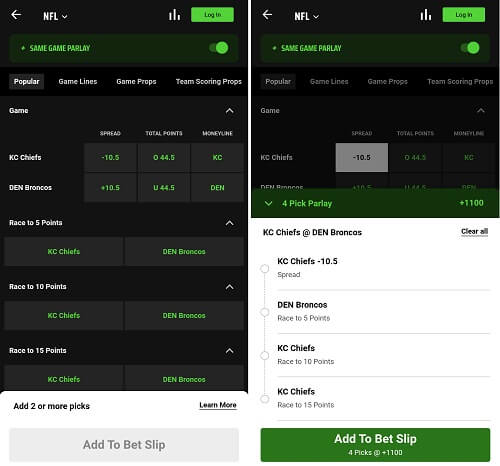 It's very easy to place a normal or SGP on DraftKings. The interface on the app (and regular desktop site) makes parlay betting a breeze.
DraftKings Same Game Parlay Rules
Before you decide to place your SGP on DraftKings, there are some rules you should be aware of. Please note the following information:
A same game parlay is only available for pre-match bets. You can't wait to see how the action unfolds and if one team is doing particularly well then add them to your SGP.
There is no cash out feature available for an SGP.
To bring up the bet odds on any SGP, you must make at least two selections.
In relevant states, if an SGP has a player that didn't participate and

a parlay leg becomes voided

, the odds will be adjusted and settled based on the outcomes of the remaining selections.
As SGPs are a unique bet type, the odds are calculated differently than with more traditional parlay wagers. Always check the odds before placing a same game parlay DraftKings bet.
---
DraftKings Same Game Parlay X (SGPx)
In August 2022, DraftKings introduced the Same Game Parlay X, giving any bettor the opportunity to combine their same game parlays into one bigger overall bet. So, you can combine several single wagers and Same Game Parlays into one big SGx.
If you want to bet on NFL football, you could add a Sunday Night Football game with some college football action. There are also numerous markets to choose from, including the NBA, NHL, MLS, and more niche sports such as cycling, tennis, and cricket.
Placing an SGPx bet on DraftKings is straightforward. When you sign in to your sportsbook account, find the event you would like to add to your SGPx wager, whether it is a Golden State Warriors game or a Green Bay Packers game. Then click toggle on for Same Game Parlay. Then make your SGP picks for the first match.
DraftKings SGPx Example
Let's take a look at an example of how an SGPx bet would work on the DraftKings sportsbook. In this scenario, we will take two NFL games and combine two SGPs. The first game is between the Seattle Seahawks and the San Francisco 49ers, and the second game features the Miami Dolphins and the Buffalo Bills.
In our 2 pick SGPx parlay we will pick four selections from the first game and then 3 picks from the second game:
SGP Bet Example
Game
Seattle Seahawks vs San Francisco 49ers
Miami Dolphins vs Buffalo Bills
Bet
Under 51.5 Total Points
Brock Purdy Over 249.5 Passing Yards
Kenneth Walker III Under 89.5 Rushing Yards
49ers to Win Moneyline
Total Points Odd Number
1st Score Home (Dolphins)Touchdown
Dolphins to Win Moneyline
American Odds
-310
-114
-114
-150
-120
+160
-120
Decimal Odds
1.32
1.88
1.88
1.67
1.83
2.6
1.83
SGP Parlay Betting Odds
+679
+770
SGPx Betting Odds
+6677
The more selections you add to your parlay, the larger your potential reward grows. In the example, you can compare the difference between simple SGP wagers and the gigantic SGPx bet, which suddenly takes you into massive potential winnings. However, it is probably best to start off with smaller SGPx bets, using 4 or 5 legs, until you get the hang of them. Also, you can vary your bets by combining SGPs with other SGPs or SGPs with single bets.
They add even more fun to parlays and if you want to go bigger and better, give them a try. This form of parlay betting suits bettors with deep knowledge of their favorite sports and the teams that play in those sports. Using that knowledge, they can pick out more Same Game Parlays to add to their selection and ramp up the odds on their SGPx.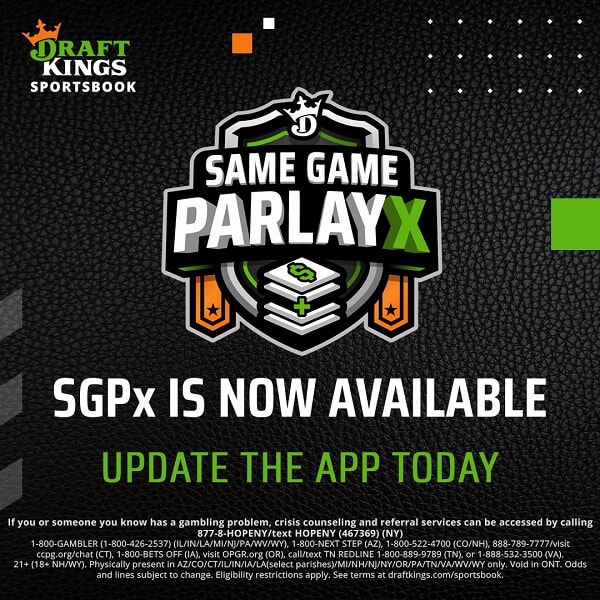 Make sure you don't place your wager until you are finished adding to your SGPx
Repeat these steps on each wager or SGP you want to add to your SGPx. Just be aware that if you are adding another SGP to the SGPx make sure you toggle SGP on. If you are only adding one leg from a match you must add it from the non-SGP markets.
Then tap on your bet slip to review all of the selections you have added. In the parlay section of the slip enter your stake. The American odds for the parlay will be available alongside the SGPx line of your bet slip. Then click place bet, and the wager will be submitted.
An SGPx is also available for round robin combinations. You can use any risk-free bets or free bets given to you by DraftKings on an SGPx wager, but any single prop bet and SGP bets can't be parlayed from the same event.
---
DraftKings Parlay Rules
Parlay betting is pretty straightforward. There aren't a huge amount of rules to follow for your bet to qualify as a parlay. The stipulation is that your bet must include at least 2 selections, and in order for you to win the bet, all your picks must win.
Big wins from DraftKing Parlays
The main reason parlays are so popular with bettors is that you can win life-changing sums from a small bet. Sure the odds are in the books favor and your 15 bet parlay will probably never come in, but what if it did? Bettors always share crazy parlay wins online on places like Twitter and Reddit. Take this DK parlay for example that bagged $47,258.22 from a $5,000 wager.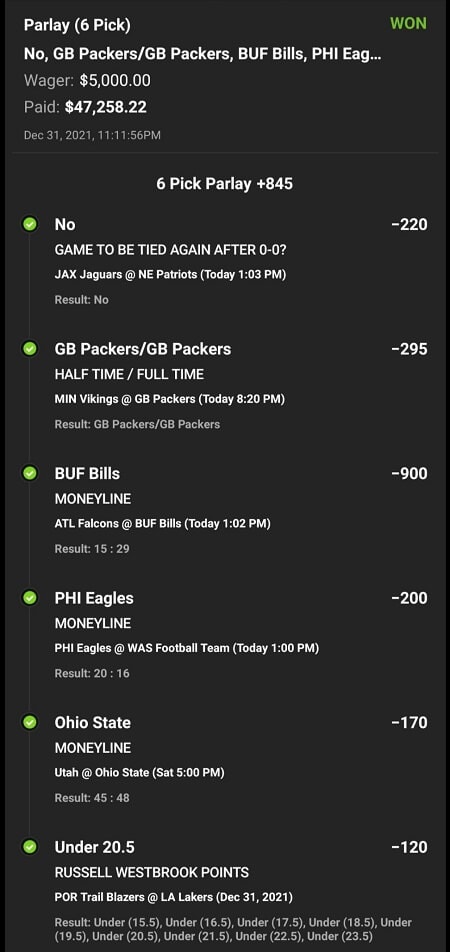 ---
DraftKings Parlay Betting Specials and Promotions
DraftKings Sportsbook knows that parlays are hugely popular among US bettors, and to sweeten the deal it sometimes throws in a few promotions and specials. These come in many forms and each promotion has its own wagering requirements, events it relates to, and other criteria. By signing up for these bonuses at DraftKings Sportsbook, you can extend your funds and get more opportunities to make moneymaking predictions.
DraftKings Sportsbook Parlay Insurance
DraftKings occasionally offers Money Back Specials on parlay bets, which gives you a bonus if your parlay falls short. This is basically a form of parlay insurance, as it reimburses you with credit that you can use to try your luck again. It is called a Money Back Special, but you may also get another similar type of parlay insurance in the form of a No Sweat Bet.
Once the NFL season finishes, the best sporting promotions typically end. However, the DraftKings sportsbook keeps the action moving along into the spring with a great deal for new customers.
One recent example of this is the NBA season from two years ago. From September 2020 until the end of that NBA season, DraftKings offered parlay insurance for parlays of five or more legs. If one of the legs failed, the site refunded the bet as site credit, up to $25.This provided bettors with a fantastic opportunity to try out one of the best legal sportsbooks in the US.
A parlay bet consists of two or more legs; an example of a parlay bet would be:
Atlanta Falcons -4.5 on the point spread against the New Orleans Saints (-112)
La Lakers to cover 5.5 points against the Brooklyn Nets
Some rules come with the DraftKings parlay insurance feature. It has to be a straight parlay card with five as-is bets. There are no odds boosts, round-robins, teasers, and bonus bets allowed. Any attempts to cash out while the parlay is still active will remove the chance to get the insurance.
DraftKings Sportsbook SGP Odds Boost
As if the boosted odds on a parlay bet are not enough, DraftKings Sportsbook occasionally boosts your Same Game Parlay. This boost favors bettors who add more legs to their parlay bet, so you can be even bolder with your picks. The parlay boost is offered for all the major sports leagues, which all have extensive betting markets, so you can go into lots of specifics with your bet. For example, for an NFL game you can combine standard markets such as moneyline, spreads or totals with exciting game props and player bets. The sky is the limit, but just remember that each leg will increase the risk of the SGP bet.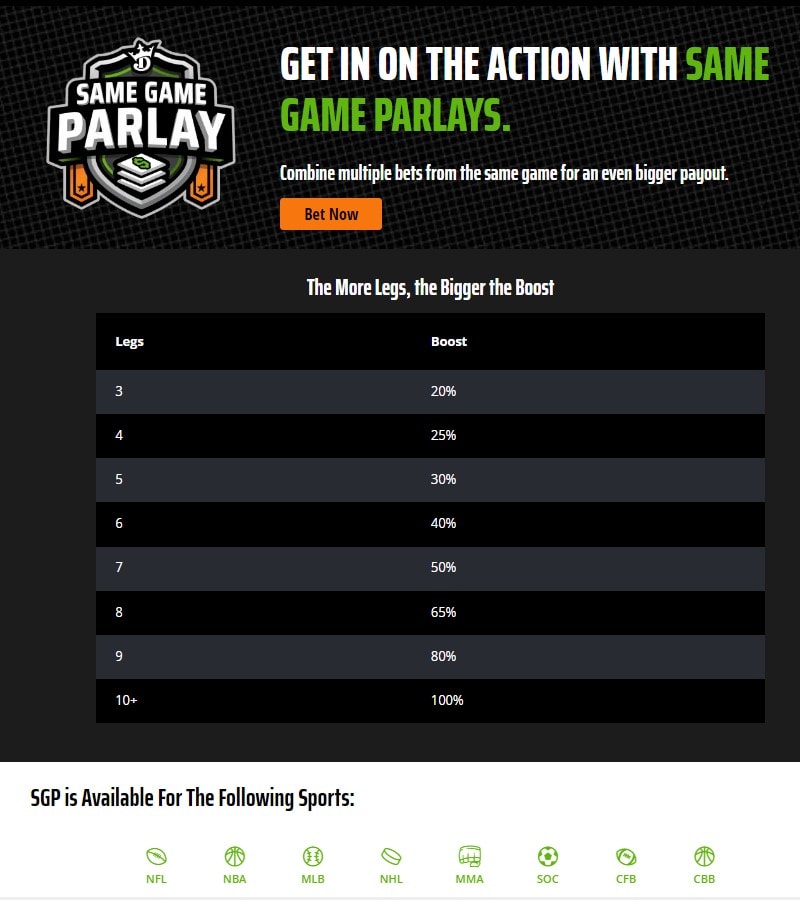 ---
Issues With Parlay Bets On DraftKings
If you come across a DraftKings parlay not working message or are still unsure how to do parlay bets on DraftKings (though this guide should avoid that), you can get help 24 hours a day. Like most legal online gambling apps, DraftKings has round-the-clock customer service that is available. You can contact customer support via both live chat and email. The live chat feature is excellent as it allows you to instantly get in touch with the bookmaker, while email inquiries are typically resolved within 24 hours.
How to place SGPx bet on DraftKings
When you have got to grips with the basics of how to parlay on DraftKings, and you have used your DraftKings promo code to claim your bonus, you might want to try even more exotic bets. In addition to the single game parlay, another type of parlay bet you can place on the Draftkings betting app is the Same Game Parlay Extra (SGPx). This type of parlay allows you to combine numerous single bets and Same Game Parlays (SGPs) into one, large, SGPx wager.
These can be created on the DraftKings sportsbook app by following the below steps:
Log into your DraftKings betting account.
Find the first game you want to add to your SGPx.
Make sure you toggle on for same game parlay.
Make your SGP picks for the first game (Ensure you don't place your bet until you are finished adding to your SGPx).
Repeat the above process on each wager or SGP you'd like to add to your overall SGPx (Please note that when adding an additional SGP to the SGPx toggle SGP on. If you only want to add one leg from a game you must add it from the non-SGP offering).
Click the bet slip to review all of the wagers you have added.
In the parlay section of the bet slip, enter your stake. The parlay odds will appear next to the SGPx [] Pick Parlay line.
Click place bet to submit.
You can add prop bets as part of your SGPx, and same game parlay rules apply. You can place an SGPx on all legal DraftKings sites, whether you are playing in New Hampshire or using the New York sportsbook.
DraftKings Parlay Betting FAQs
How does parlay insurance work on DraftKings?
On DraftKings, parlay insurance is available. This covers you or up to $25 in the event you lose one leg in the parlay. It is a nice little insurance policy that can soften the blow if only one leg lets you down. Parlay odds are favorable but it is unlikely you will win so having insurance is an excellent option.
Can you cash out a parlay early DraftKings?
On selected parlays, you can cash out your bet early. You can check the bet by logging into your account, then selecting my bets, and using the cash out button if it is available. Check if cash out is available on the sporting event you are interested in before betting.
Can you cash out on a DraftKings same game parlay?
Yes! On selected Same Game Parlays with DraftKings, you can cash out and settle your bet early. You can check in your account, under my bets. If a game is eligible, you will see the yellow cash out button.
What is an SGPx on DraftKings?
SGPx stands for Same Game Parlay Extra on Draftkings. The idea is that it is bigger than a typical parlay bet. It allows you to combine multiple Same Game Parlays and single bets into one SGPx.
What is the difference between SGP and SGPx?
A same game parlay (SGP) allows you to combine numerous bets from the same game on a single betting slip, such as an over/under on the total score, a prop bet on player performance or a straightforward moneyline bet on which team will win. However, an SGPx goes even further by allowing punters to multiple single bets AND same game parlays into one, large SGPx wager.