Gamble USA strives to improve your online gambling experience. We aim to help you play safely, make informed decisions when gambling, and increase your betting knowledge through our guides.
We adhere to strict editorial integrity; our content may contain links to products from our licensed & legal US partners.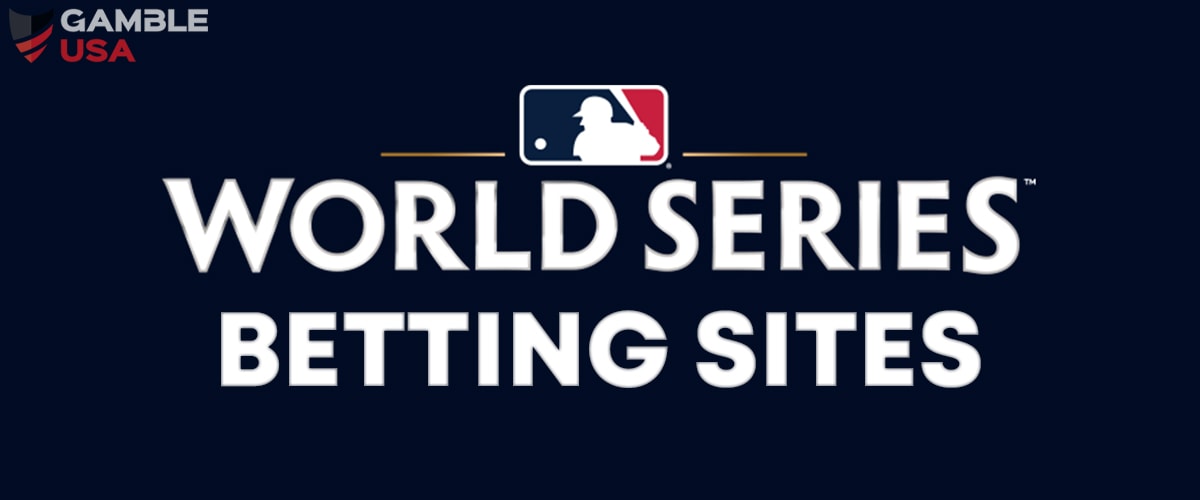 Looking forward to the biggest baseball event of the calendar year? So are we! The MLB World Series is the grand finale of the championship season and allows one team the bragging rights of taking home the Commissioner's Trophy.
Of course, there are plenty of fans who like to put their money down on a World Series game and we're looking to run through all the information you'll need to get started with an online sportsbook. The world of online sports betting has never been more active and there are plenty of great offers to get started with, let's dive right in!
---
What is The MLB World Series?
While being America's favorite pastime, the sport of baseball has gathered a major following from international sports fans. Other leagues have started up all over the world but Major League Baseball (MLB) will always hold its position as the most prestigious baseball tournament.
The league consists of 30 teams from the USA and Canada who compete in regional groups for playoff positions. There are two leagues in the MLB, the American League and the National League which consist of three divisions each with five teams. Each team plays a total of 162 games throughout the season which can either be won or lost; there are no draws in the MLB. At the end of the match schedule, the leaders of each division will head into playoffs as well as four wild-card teams.
Playoffs always begin with the wild-card matches, two teams from each league who have the best record but unfortunately never qualified for the playoffs by winning matches. This matchup is a best-of-one elimination that offers some great betting odds and opportunities. The two wild card teams then progress to the respective Division Series of each league, American and National. This involves the three division winners from each league and the wild card team in a best-of-five series, also seen as the quarter-final.
Finally, the two victorious teams in each league will face off in the Championship Series which is a best-of-seven decider, this can be seen as a semi-final match. Each league winner will then qualify for the World Series to play the team that won the other league. This is the final match of a standard MLB season and is played in a best-of-nine format, the first team to win five matches wins the Commissioner's Trophy.
---
Top World Series Betting Sites
With the major interest in World Series betting sites, some sportsbooks have put together comprehensive platforms that are consistently leading the industry. Let's take a look at some of the best MLB sites to place your World Series bets and check out our expert's comments after each section.
🥇#1. Caesars Sportsbook


Whether it's the New York Yankees or the Los Angeles Dodgers, Caesars Sportsbook has got you covered for the entire MLB season! Every match will have a wide variety of betting options and competitive odds.
The welcome bonus is perfect for high rollers with a maximum value of $1,250 coverage for your first bet. On top of that, you'll receive 1000 Reward and Tier credits that contribute to the loyalty program.
Expert Comments:
"Caesars rewards customers with a betting experience that's fit for a king. The mobile app and website were incredibly easy to use and I placed my bets within an hour of registering my account. I found every bet I could think of for a match between the Red Sox and the Mariners, the game never went the way I thought but I managed to cover with a decent live wager."
– Oliver Dickinson (Sports Editor)

---
🥈#2. PointsBet Sportsbook
Even though the sportsbook is Australian, the focus on MLB World Series odds has earned PointsBet a spot within our list of top World Series sportsbooks.
There are plenty of existing customer bonuses that are specific to baseball and you can use the generous 5 x $100 welcome bonus when you open your account. It's great for MLB games as you'll have to bet quite frequently.
Besides the bonuses, the platform has a sleek design and it's very easy to use. All your expected betting options are covered and the odds are inline with the rest of the sportsbooks listed in this section.
Expert Comments:
"While the Points Betting feature won't apply much to my World Series bets, I still find that the online and mobile platform has got to be considered one of the best on the market. It's so easy to top up my account and place bets that I frequently head back to the PointsBet app when I can't find decent odds with other sportsbooks."
– Paul Ricci (Chief Sports Editor)

---
🥉#3. FanDuel Sportsbook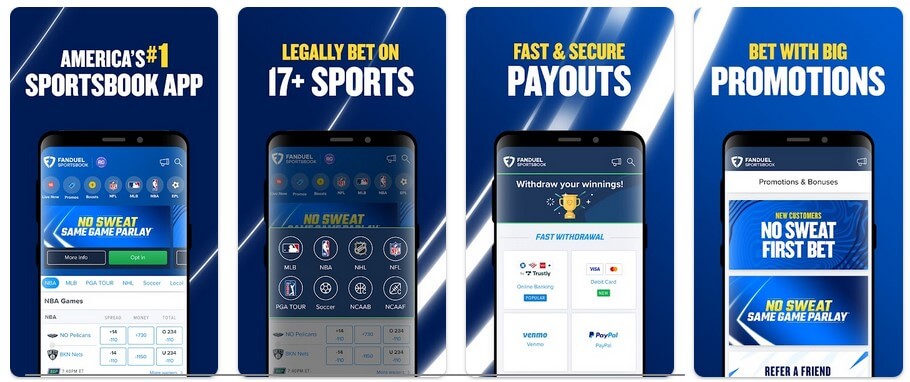 Another contender for the top spot on the US sports betting scene would be FanDuel. There is currently a $1,000 No Sweat First Bet promotion that all new customers can claim and it can also be used on any WS match.
You'll also have no trouble placing your bets as the platform layout has been optimized for customers on the hunt for the best odds. If you're a fantasy fan, you'll also have the option of switching to the service with the same FanDuel account. Another remarkable benefit is that you'll be able to fund your sportsbook account by using Venmo as a payment method.
Expert Comments:
"Being a fantasy fanatic, FanDuel has got to take the cake for me when it comes to an online sportsbook. The standard betting platform is well-designed and easy on the eye with a high-value welcome bonus to get started. Plus, you can switch over to the fantasy section of the sportsbook whenever you want to put an MLB team together."
– Paul Ricci (Chief Sports Editor)

---
🎖️#4. DraftKings Sportsbook
The DraftKings sportsbook is considered the leading option here at Gamble USA thanks to the endless betting options that are available for just about every sports market you can think of. This quality extends to their MLB World Series bets and you'll find options you've never seen before on the platform.
The odds are some of the best on the market and there is also an option of creating a fantasy baseball team while using the platform. We'd suggest this sportsbook as a starting point for any sports bettor with the 20% deposit match up to $1,000 that'll carry your bankroll even further for the first couple of months.
Expert Comments:
"DraftKings are quite similar to FanDuel with their fantasy sports betting, but the amount of betting option variety with the platform is unmatched. No matter what MLB game I looked at, there was every conceivable option covered. This sportsbook is a must-have for all experienced sports bettors who make niche picks."
– Paul Ricci (Chief Sports Editor)

---
🏅#5. BetMGM Sportsbook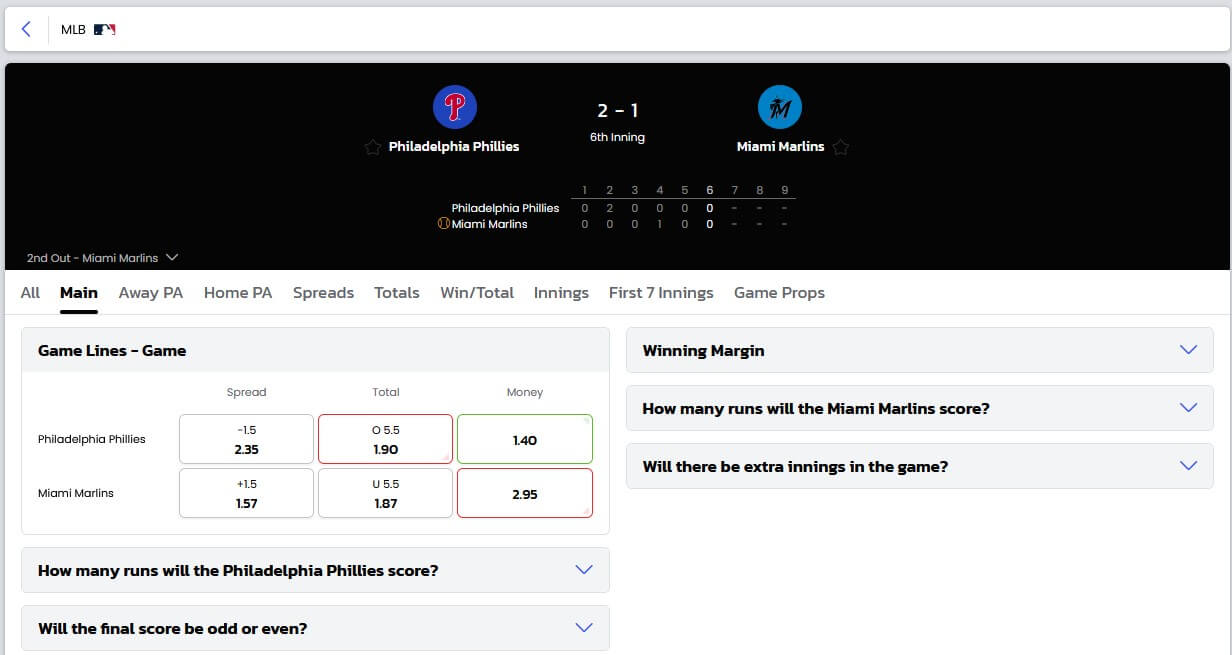 Finally, we have the BetMGM online sportsbook. They're the last entry on our list but by no means worse than any of the other betting sites listed. BetMGM offers new customers up to $1,000 in bonus bets if you don't win the first time around.
Their World Series futures odds are in line with the rest of the industry and you'll find a decent variety of betting options on the platform. The pinnacle of the online sportsbook would have to be the live betting odds that are available for all MLB matches. Not only are there plenty of betting options, but you can time your bets for the biggest payouts as each option is frequently updated.
Expert Comments:
"The King of Sportsbooks and for good reason too! The BetMGM app really makes me feel like a king scrolling through the black and royal gold platform. There's great coverage of MLB matches and a live platform that has detailed updates for anyone looking to bet on the live action. You can't go wrong with BetMGM and the best part is you'll receive decent points for rewards that can be used at most of the MGM resorts."
– Damjan Spajić (Sports Editor)

---
Understanding World Series Betting Odds
Once you've opened your account with one of the World Series betting sites, you'll be confronted with a wall of numbers and options specific to all the matches of the season. These numbers are the odds on each bet and are very closely linked to the probability of the bet's outcome.
Simply put, a + odd will indicate the less-likely, or underdog outcome and a – odd will be the most likely outcome. The number after the + will be the winnings from a $100 bet, e.g. $100 at +140 odds would win $140. The number after the – indicates how much needs to be bet to win $100, e.g. $140 at -140 odds would win $100.
World Series Betting Options
Now you can browse through the matches with a rough idea of how much you'll need to bet to win. Every betting option will have its own payout since it has its own probability. The most basic bet would be the moneyline option that's quite straightforward – you'll only have to bet on which team you think will win. Take a look at the example below.

No matter what phase of the World Series we're in, the moneyline bet will always have odds that the bookmaker decides is a fair probability of each team winning. This is a great betting option for new sports bettors.
The leftmost column of the Guardians vs. Astros shown above represents a spread bet, which is called a run line when we're betting on baseball. This boosts a team's runs or reduces the total amount of runs scored to change the outcome. This is done to narrow the difference between the two teams.
Example: The +1.5 run line on the Guardians at -180 means that if the final score is 7-6 to the Astros, you can add on 1.5 runs to the Guardians' score and have a new final score of 7-7.5 and win the bet at -180 odds. Similarly, a -1.5 bet on the Astros with the same 7-6 score would be a losing bet as the Astros would lose 5.5-6 with the run line.
Finally, you have the total betting option which is shown in the middle column. As the name suggests, you'll have to bet on the total amount of runs scored in the match, by both teams. This option is ideal if there is no clear winner before the first pitch, you can just bet on whether it will be a high-scoring or a low-scoring game.
Example: The O 5 would mean that both teams would have to score over 8.5 runs for the bet to be won at odds of -120. U 8.5 would mean a low-scoring game of less than 8.5 runs at odds of +100. You can also change the total amount by betting on alternate lines if you think 8.5 is not a realistic middle point for the match.
---
Tips and Strategies for Successful World Series Betting
The world of sports betting can be highly unpredictable but there are a few things you can do to give you a better chance of claiming some winnings. In this section we'll run through our experts' best tips and strategies to make the most of the MLB World Series.
As with any sport, you need to analyze the teams and the players that are announced before the match. Every baseball match provides bettors with an enormous amount of data specific to each player and team. Read up on the players, watch matches, and start to identify trends in performance. This will always help you to make an informed decision before you finalize your bets. Spend some time reading up on the matches afterward so that you can become familiar with expert analysts and follow their breakdowns through the MLB regular season. Also, use some of the online tools like the one shown below on teamrankings.com.

By having all the information you should be able to decide with a better probability than just going in blind. Don't get caught up though, you always need to have a set bankroll/budget for your bets and stick to it! Even though you're researching the bet, you will be gambling on the outcome and this should always be done responsibly.
---
World Series Betting Predictions
It's always difficult predicting a World Series outright winner. There are plenty of opportunities for wild card teams to make a comeback and there are so many elimination rounds that the favorites could slip up in any match and be out. We recommend watching the entire season, throughout the Division round-robins to get a feel for the players and the teams. When it gets midway through the season, you should have some data to use in your favor.
Check out the teams that have a high win rate in their division for the moneyline odds. If you're betting on totals, take a look at the standings and keep an eye out for teams who tend to score a lot of runs. If you consider the below situation, you'll see that Baltimore might be first in the AL East division, but the Tampa Bay Rays have scored almost 50 runs more than them. The Rays are on a hot streak and their expected win/loss (X-WL) is higher than Baltimore, so they'd be a good pick for both moneylines and over bets on totals.

Keep using this sort of analysis going into the World Series final. Any data or information you use to make your bets will always be useful to increase your odds of predicting the correct outcome.
---
Popular World Series Prop Bets
With all the basic betting odds covered, let's explore some of the more entertaining prop bets. The most popular prop bet would be betting on the MVP of the World Series. There'll be a list of odds related to each player and it usually comes down to form before the match. You can also bet on the first team to score in each match, this is mostly down to luck but you can make the most informed decision by looking at previous game stats.
There are a couple of riskier options, such as betting on a grand slam. This requires a home run to be hit while all the bases are full; it's not impossible but it's unlikely and the payouts are usually huge. Most sportsbooks provide bettors with a variety of options, so you can also predict specific player performance ahead of the match, e.g. Altuve to hit 1 run or more. Just scroll through the platform ahead of time and find an option that has a decent payout and probability.
---
How to Get Started with World Series Betting
Getting started with one of these sportsbook platforms usually follows the same three-step process: opening your account, verifying your ID, and making your first deposit.
Opening your account will require an active email address, the last four digits of your SSN, your full name, and your physical address. Once all of that has been shared, you'll have to verify your account by opening the email that was sent to you.
Next up, a betting site might request a copy of your ID. You can either scan a copy or just send through a clear photo.
After a couple of hours, you'll receive a notification to say that your account is active and you can finally head to the payments page to make your first deposit. You can usually find it in the top-right corner of the website and mobile app.


Share your payment information and select the amount that you'd like to deposit. Make sure it meets the minimum deposit criteria of the online sportsbook's welcome bonus. Once that's done, you can head to the MLB World Series odds that you're interested in, select your bet amount, and place your wager!
---
Safety and Security
To end off this World Series betting guide, we need to highlight the importance of safety and security. There are plenty of illegitimate sites on the market and you might be scammed out of some cash if you make the mistake of opening an account with one of them. The sites we list here at GUSA have all been thoroughly checked for the necessary licensing and security methods.
Always scroll to the bottom of a sportsbook platform to see what state licenses they've been awarded, what is done to protect your sensitive data, and how they promote responsible gambling. These factors should give you a clear insight into the legitimacy of the sports betting site.
---
FAQs
How does World Series betting work?
Betting on the World Series will be quite similar to betting on any baseball match. The only major difference is that the World Series will be decided through a best-of-seven series. You can bet on each match individually and you can bet on an outright winner for the series - it's up to you!
Where can I find the latest World Series odds?
Most industry-leading bookmakers will constantly update their odds. You can visit any platform and usually see the odds that are on offer before opening your account.
Is online World Series betting legal?
It depends on where you're betting from. Not all states in the US have legalized online sports betting and placing a bet from one of these states could void the bet entirely. Each sportsbook also has its own limitation as to the states where it can offer its platform. We highly recommend either scrolling through the specific sportsbook review here or double-checking when signing up.
What are the popular prop bets for the World Series?
The most common prop bets for the World Series would be related to specific player and team performance. You'll usually find an option to predict the total home runs that would be hit by a specific player in the match/series. You can also bet on a team's total runs or even the first team to score a run. There are plenty of prop bet opportunities, so just browse through each platform until you find what you're after.
Can I bet on individual player performances during the World Series?
Yes, you can! Although your sportsbook might not have the option. Betting options are specific to sportsbook platforms and sometimes they can be limited. We recommend using DraftKings if you're hoping to bet on individual player performance; they cover the widest range of bets.
Are there any bonuses for new users on World Series betting sites?
Yes, there are quite a few. Just about every sportsbook has a welcome bonus that can be used on any market and when it comes to big matches, they also include promotions that are specific to baseball betting. Keep an eye on our page for any offers that become available.
How do I choose the right betting platform for the World Series?
That's a difficult decision to make. The platforms can dramatically differ and some of them just have better value for money and time than others. The choice will mostly come down to your preferences, how you like to bet, what you like to bet on, and whether the sportsbook has those options covered. You can then start to look out for just who has the best platform on the market.