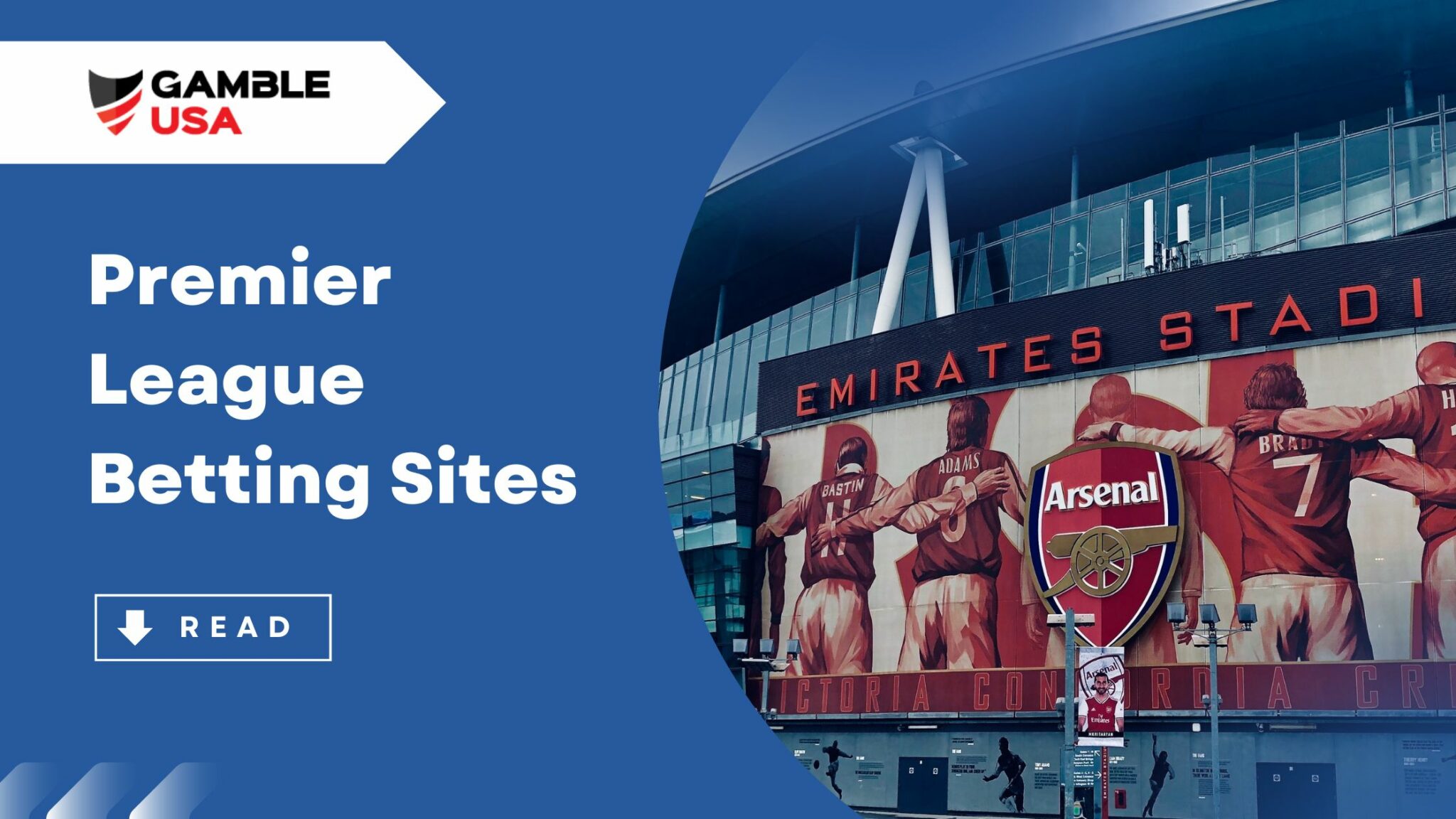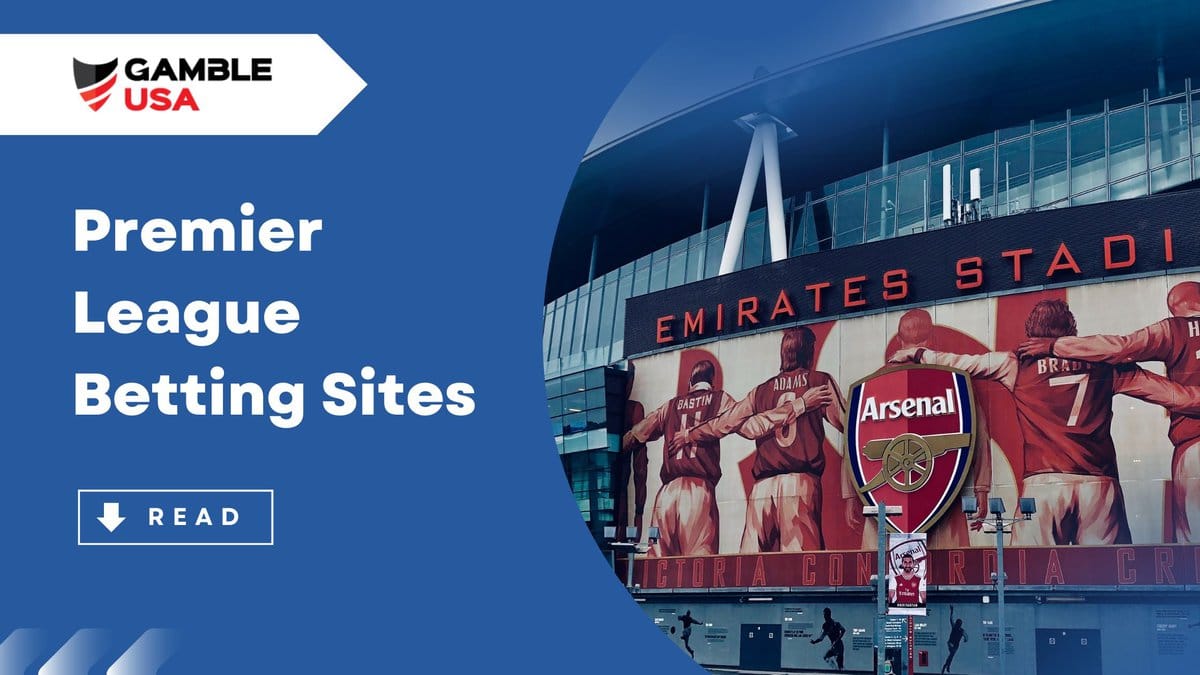 The Premier League has become the most watched and popular football league in all of the world. With clubs such as Manchester United, Manchester City, Liverpool, Chelsea, Tottenham Hotspur and Arsenal all attracting millions of fans from all over the world, billions tune in to watch the drama unfold on a weekly basis.
What makes Premier League soccer so popular is its competitiveness. Shock results occur regularly and new and unexpected teams are often in the running for the coveted European places.
Due to the fact that there are no easy matches in the Premier League, Premier League betting odds and Premier League betting markets are often highly competitive and have become hugely popular.
With Premier League betting sites set to remain hugely popular across America, this article will breakdown aspects you need to know before betting on the EPL in 2023.
---
Best Premier League Betting Sites: An Overview
Despite still ranking some way behind sports such as the NFL, NBA and MLB, soccer is the world's biggest sport and it isn't a surprise that America's biggest and best sportsbooks have comprehensive Premier League betting markets available to its players. 

We will review some of the very best online betting sites where you can bet on the Premier League below, but firstly it's important to know what contributes towards being a successful Premier League betting site.
Competitive Odds
Due to the fact that the Premier League is one of the most competitive sports leagues in the world, there is usually fantastic value to be found. With three results able to be backed – home win, away win and the draw, there is always plenty of choice and value on offer. Bettors often look to take advantage of the generous odds by combining different combinations into parlay bets.
Top sportsbooks manage to offer all these bets at competitive rates. If not, you should pass them by. 
In play markets
Premier League and soccer matches are often fantastic sports to bet on in play. With the odds constantly fluctuating as a result of goals, cards, chances and possession, bettors can bet on just one game or can look to combine bets through same game parlays.
Finding a sportsbook with a large pool of in play bets and live streaming of events is the way to go. 
Range of markets
Another area which makes betting on the Premier League so attractive is the huge amount of betting markets available. Bettors can place bets on the result, but also on team and player markets, such as team goals, player goals, team cards, goal totals, half goals and total goals. There is usually a market for everyone when browsing the best Premier League betting sites.
---
USA Premier League Betting Sites 2023
As the English Premier League is one of the most popular sports to bet on across the US, there are a huge range of online sportsbooks where you can look to place your Premier League bets. Here are our top five Premier League sports betting sites.
🥇 #1 DraftKings Sportsbook
Up To $1,000 Deposit Bonus
21+. T&C Apply
21+. T&C Apply
The best sportsbook
Amazing odds & offers
Awesome betting app
Up To $1,000 Deposit Bonus
21+. T&C Apply
21+. T&C Apply
Available in several states across America across both desktop and mobile devices, DraftKings has long been regarded as one of the best sportsbooks in the US.
Due to the huge volume of Premier League matches and length of the Premier League season, there is a huge variety of Premier League bets that DraftKings players can make. As well as containing Premier League odds on each and every game, DraftKings bettors can place a variety of different team and player prop bets.
Bettors can also bet on its massive range of futures markets which cover specific bets such as the overall Premier League winner, which teams will end up getting relegated, which teams will finish in the top 4, which teams will finish in the top half of the table and which player will end up as the highest Premier League goalscorer.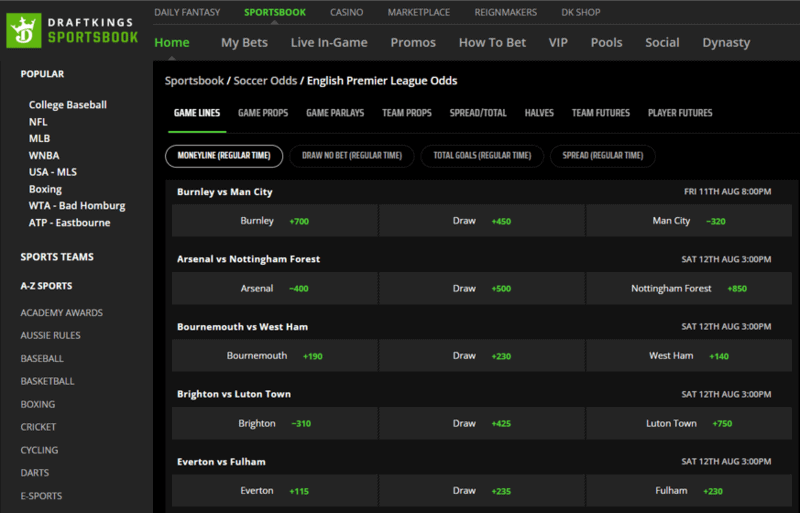 With so many different markets to choose from, it isn't a surprise that so many have turned to DraftKings for all their Premier League betting needs.
---
🥈 #2 FanDuel Sportsbook
Bet $5, Get $150 In Bonus Bets
21+. T&C Apply
21+. T&C Apply
Convenient banking
Massive choice of sports
Bet $5, Get $150 In Bonus Bets
21+. T&C Apply
21+. T&C Apply
Another hugely popular sportsbook across the US is FanDuel. Known for its value and huge plethora of bet types, FanDuel bettors can bet on the outcome of several futures markets including different outright and relegation markets.
Each and every Premier League game can be bet on with FanDuel players able to bet on dozens of specific match markets. Markets such as the correct score, over or under the total amount of goals, double chance, both teams to score or clean sheet prop bets can all be placed.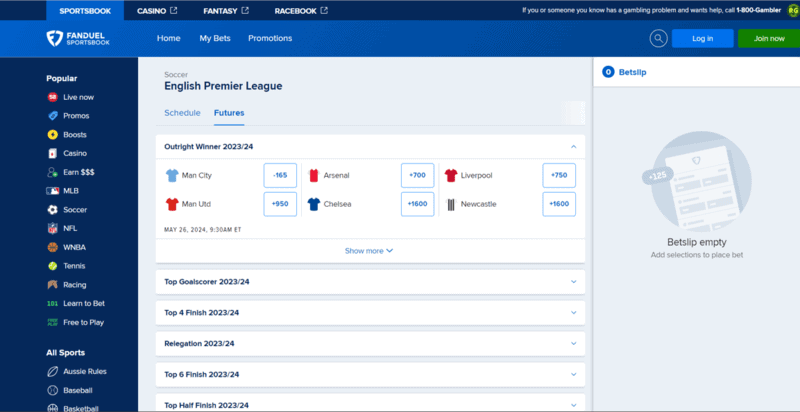 Many elements from these markets can also be included within same game parlays which help create a new betting element that few rival betting sites can match.
---
🥉 #3 BetMGM Sportsbook
Promo Code: GAMBLEUSA
Up To $1,500 In Bonus Bets
21+. T&C Apply
21+. T&C Apply
Promo Code: GAMBLEUSA
Super fast payouts
Live streaming
Promo Code: GAMBLEUSA
Up To $1,500 In Bonus Bets
21+. T&C Apply
21+. T&C Apply
A huge name in the gambling world, it isn't a surprise that many bettors across the US have chosen BetMGM as their sportsbook of choice. Long regarded as having one of the best sports betting apps in the industry, BetMGM has hundreds of Premier League betting markets available to its players.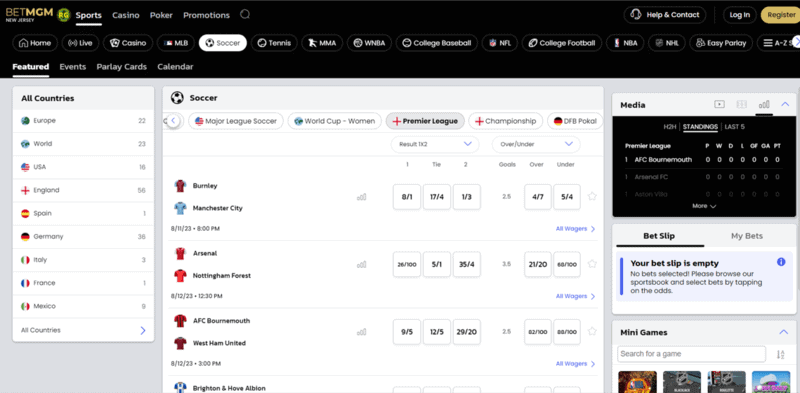 One area that helps set BetMGM apart from its competitors is its loyalty program, MGM Rewards. BetMGM bettors can earn reward points when they take the odds, which includes any bets that are placed on the Premier League.
---
🎖️ #4 Caesars Sportsbook
Promo Code: GUSA1000
$1,000 First Bet on Caesars
21+. T&C Apply
21+. T&C Apply
Promo Code: GUSA1000
Massive welcome bet offer
Earn Caesars Rewards
Promo Code: GUSA1000
$1,000 First Bet on Caesars
21+. T&C Apply
21+. T&C Apply
Caesars is one of the biggest names in the gambling industry and they have one of the best US sportsbooks and apps that can be downloaded on any device. Offering a massive range of sports to its sportsbook customers, Caesars offer a comprehensive Premier League betting service.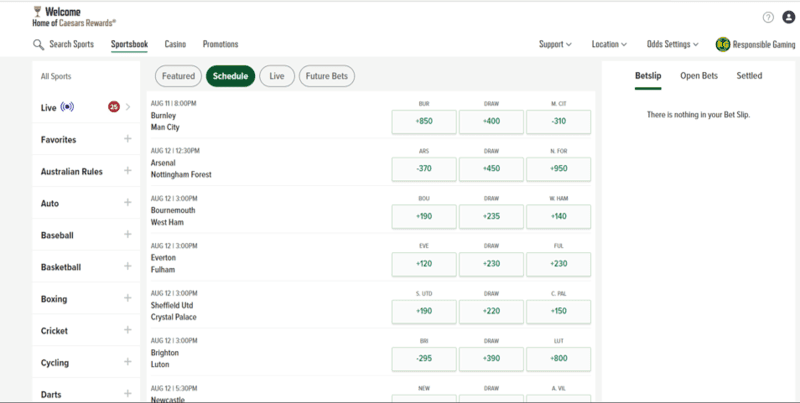 Every game of the Premier League season can be bet on, and bettors can also look to use Caesars sophisticated in play service. New Caesars bettors can also bet on the Premier League whilst taking advantage of Caesars exclusive Welcome Bonus. New players can get their first bet covered up to a value of $1,250. The bonus funds can be used across Caesars Premier League markets.
---
🏅 #5 PointsBet Sportsbook
PointsBet is one of the best US Sportsbooks and has attracted legions of customers due to its friendly layout, innovative features and mobile app.
With every Premier League game able to be bet on across the season, PointsBet has a huge range of futures bets able to be bet on – covering markets such as who will finish inside the top 4, top 6, which London club will finish highest, who will get relegated and who will win the league – PointsBet odds are amongst the most competitive across the US.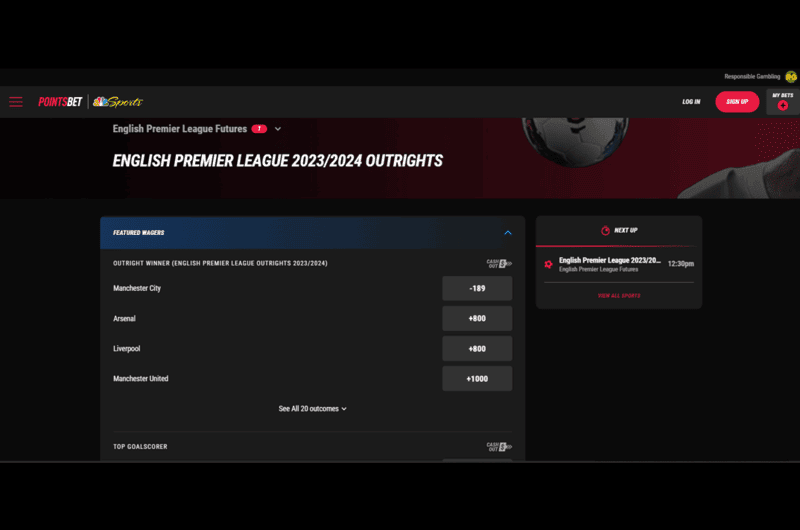 Premier League bets can be placed via the PointsBet award winning app.
---
Premier League Betting odds and predictions
Unlike the majority of popular American sports such as the NFL, NBA and MLB, Premier League betting allows for three outright bets to be placed. 
Bettors can choose to back the home team or away team to win, they can also back a draw to take place. Betting on a draw is a valid bet as the Premier League doesn't have any extra time if the game is tied at full time.
Each Premier League team will play 38 games throughout a Premier League season, 19 games at home and 19 games away. Often ahead of a Premier League game the home team will have lower odds than the away team, this is due to the advantage of playing at home in front of thousands of fans. Backing the draw often returns the greatest odds as although they are frequent, they aren't as common as home and away victories.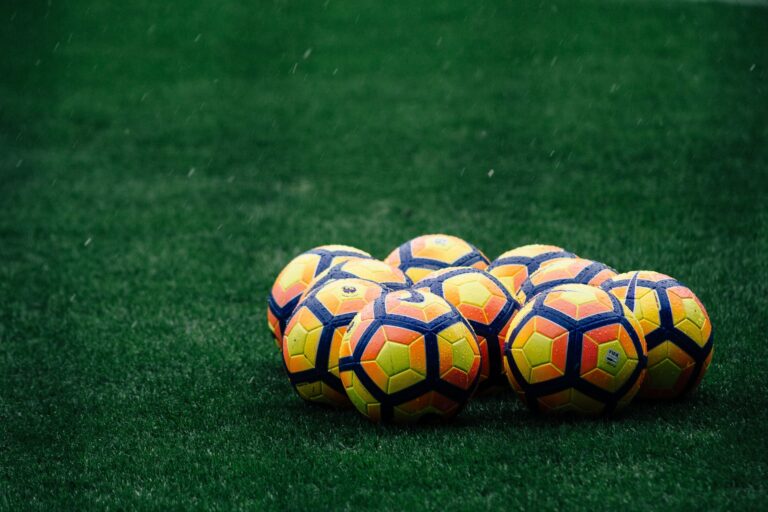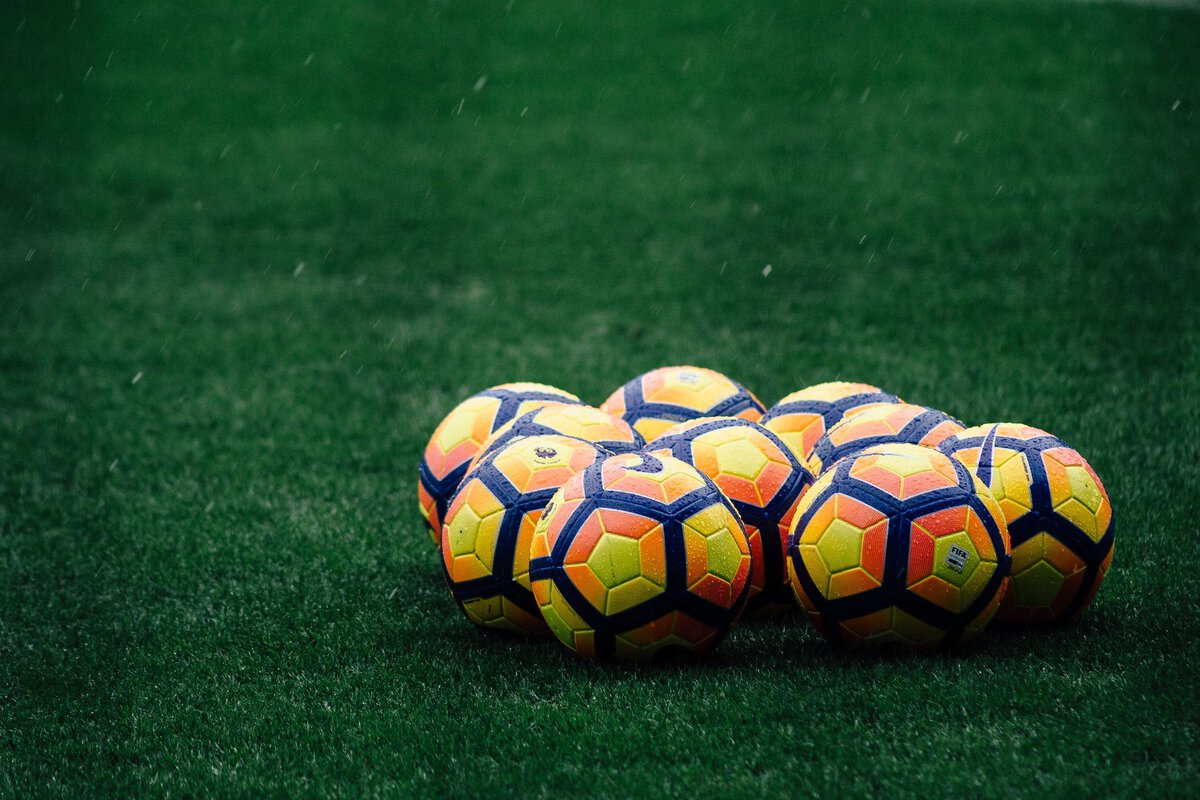 Due to how competitive the Premier League is, Premier League games are often hard to call and when looking to get involved in English Premier League betting, it makes sense to pay attention to certain things.
Unlike in American sports where teams are divided into different conferences, all twenty Premier League teams are placed within one Premier League table. With teams earning three points for a win and one point for a draw there is an old adage 'that the table never lies' and it can often be a good starting point when trying to evaluate which team might come out on top over another.
Due to the majority of the twenty Premier League teams being mainstays of the league, there is often a huge amount of head to head information that can be accessed. Bettors can see which teams have enjoyed the upper hand over another – with head to head data often spanning over a period over twenty years. The Premier League also produces form guides and tables so that you can see which teams are experiencing good or bad periods of form. Using this information can help you make better informed betting decisions. Also take a look at our guides section for more Premier League betting insight. 
With teams playing nineteen matches home and the same away – there are some Premier League teams that can excel at home but can struggle away. It makes sense to look at the overall home and away records of teams as they can lend vital clues and could help you find some hidden value within the odds.
---
How to Get Started with Premier League Betting
Getting started with Premier League betting couldn't be easier. Below we will outline some of the steps you need to be aware of.
1. Creating an Account
To place a bet on the Premier League, you first of all need to ensure you have registered an account.
When visiting the website of the sportsbook that you wish to place a bet on there will be a 'Register' button clearly located at the top of the page. The sportsbook will require some personal information such as your address, email address and date of birth to be entered. Once your details have been provided, you might have to provide additional forms of identification which confirm your address and identity. Once these have been approved your account should be created.
Once your account has been created, you will be invited to register your deposit and withdrawal method. Most sports betting sites accommodate numerous different payment methods. Once comfortable with your deposit method, you can deposit money into your account and are now ready to place bets on the English Premier League.
2. Making Your First Bet
Now that you have registered and made your first deposit, you can place a bet.
Most online sportsbooks have their most popular sports positioned in the primary navigation. This will include soccer and the English Premier League.
Once you have opened up the English Premier League section, you will see all of the markets available to you, this should show all of the upcoming matches and different futures markets.
When finding the match you wish to place a bet on – you will have the option of backing the home or away team or betting on the draw. With each match – you will also see a link that will take you to more wagers. Clicking this link will take you to some of the less popular markets such as specific team or player bets.
Once you have found the bet you want to place – click on the odds and this will appear in your bet slip. Your last task is to decide your wager, once entered, your potential returns will display. If you are happy with both your odds and returns, confirm your bet and your bet will now be placed.
3. Depositing and Withdrawing Funds
Within your main account you will be able to access the cashier or banking section. The cashier will hold all of your personal account details and let you withdraw or place deposits. Most modern US sportsbooks will cater for both traditional and e-wallet payments.
When looking to place a deposit, it's important to note any deposit limits, deposits are usually made instantaneously and will appear in your statements within 24 hours.
There are also withdrawal limits that you need to be aware of. When withdrawing it's important to look at how long withdrawals will take to reach your account. Withdrawals usually take between 24 – 72 hours to reach your account.
---
Responsible Gambling and The Premier League
With the gambling industry booming all over the world, there is a huge requirement for online betting sites to ensure they encourage and promote sensible gambling.
There are many different ways in how an online sportsbook can promote responsible and sensible gambling. Usually positioned on a homepage will be a 'support' or 'contact us' option. Clicking on these should open up the different range of customer support options available to you. This usually includes an email address, phone number or series of FAQ's.
FAQs usually cover a huge range of topics from deposits, withdrawals and general account information.
As well as customer support methods, there is also a raft of safe gambling features that customers can apply to their accounts. This can take the form of deposit limits, time outs and even the option to close an account.
With the rise of online sportsbooks – it's also essential that your sportsbook is fully licensed. Provided by the state, a license ensures that a bettor's finances and identity will be safe from fraud. Licensed sportsbooks also have the most sophisticated security features which ensure extra layers of protection.
FAQs for Premier League Betting
What are the most trusted Premier League betting sites?
There are a huge range of trusted Premier League betting sites available to US bettors. DraftKings, FanDuel, BetMGM, Caesars and PointsBet are amongst some of the best sportsbooks you can make Premier League bets with.
How do I find the best Premier League betting odds?
Each sportsbook has their own odds, but odds comparison sites can be a great tool to compare odds across a range of different sportsbooks.
Can I bet on individual Premier League matches or only on the overall winner?
Premier League betting provides a huge range of markets. Sportsbooks such as FanDuel allow bettors to bet on every Premier League game as well as the overall winner of the Premier League title.
What are the popular types of bets available for Premier League matches?
Outright bets are often the most popular bet types. This is where you can back either the home or away team to win as well as backing the draw. Goal markets and other player prop markets are also immensely popular.
Are there any Premier League betting sites that offer live streaming of matches?
Certain betting sites do allow live streaming of matches but not all US sportsbooks will provide this service. When signing up to your sportsbook, check the live betting section to see if your chosen sportsbook provides this service.
How do I claim bonuses and promotions on Premier League betting sites?
Any welcome bonuses can be taken advantage of when you sign up with a betting site and make your first deposit of $10 or more. In some instances, we highlight a promo code you need to enter to qualify.
Is it legal to bet on Premier League matches in my state?
If your chosen sportsbook has been licensed in your state, it will be perfectly legal to place Premier League bets. All listed operators offer EPL betting odds in most states where online betting is legal. Currently about 24.
How do I know if a Premier League betting site is licensed and regulated?
At the bottom of the homepage of your betting site, the licensing agreements should be visible. Sportsbook reviews that our website provides should also help inform you whether your chosen sportsbook is licensed or not.