Gamble USA strives to improve your online gambling experience. We aim to help you play safely, make informed decisions when gambling, and increase your betting knowledge through our guides.
We adhere to strict editorial integrity; our content may contain links to products from our licensed & legal US partners.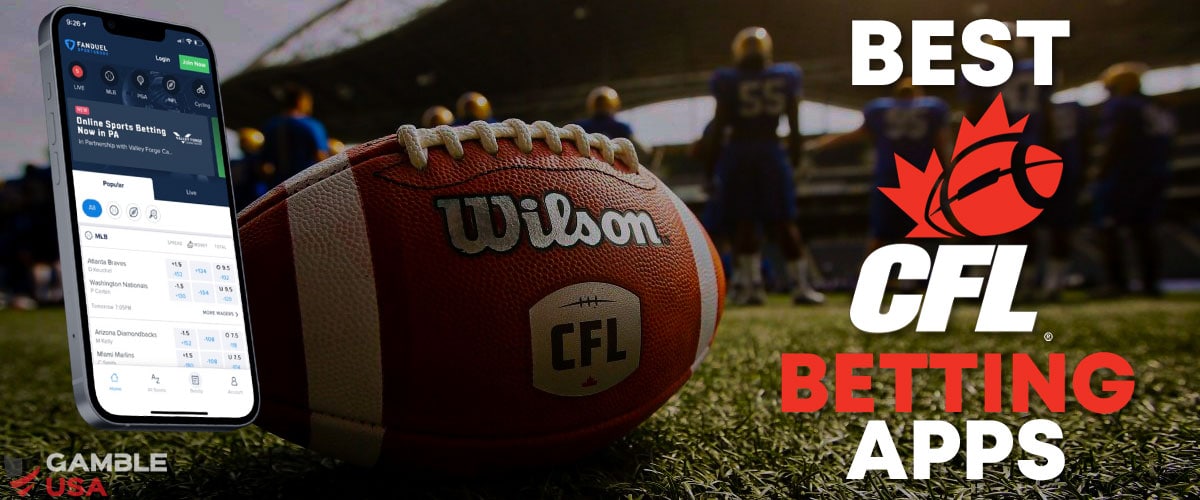 If you can't wait for football to start in the US, the Canadian Football League may offer you a chance to have a wager on your favorite sport.
To those of you out there who are massive NFL fans, love the Super Bowl and have an excellent knowledge of US College Football, did you know that just over the border, there is a thriving professional football league that has been around since the 1950s? The Canadian Football League was launched in 1958 and gave Canadians and people from other countries an exciting product. Just like the NFL is a popular gambling sport in the US with numerous NFL betting apps, there are also several CFL betting apps in Canada.
We have created this guide to highlight the differences between the CFL and betting on American football. Additionally, we will inform you of how to make CFL picks and parlays, how to bet on the CFL, using CFL scores and stats to make your selections, and more.
---
Our Best CFL Betting Apps
Canadian football betting is widespread, and because the game features some slight rule changes, this can have a stark impact on the outcome of bets.
Using Canadian football league betting apps is easier than you might think. The regular CFL season culminates in the CFL Grey Cup, with bettors having access to generous Grey cup odds from different betting apps and Canadian football betting apps. As the CFL is still relatively new, people may be unsure on the types of CFL bets, when Canadian football league games take place, how to read CFL Grey Cup odds and the overall CFL games betting process.
Not all licensed US sportsbooks and operators actually offer betting on the CFL. Listed above, you will find the 5 best licensed US books that you can use to wager on the CFL this season. CFL betting is growing in popularity in the States, and we expect more sportsbooks to start taking bets on the CFL in the near future.
We consider many factors before completing our list. Let's take a look at what to consider before choosing the best Canadian football betting apps.
---
Top #5 CFL Betting Apps
We will start by taking a look at the best sportsbooks for betting on the CFL. Outside of Canada, the CFL isn't as widely recognized as the NFL, even though the basic principles and rules of the game are very similar to the version in the US. We review hundreds of sportsbooks and consider various factors before recommending any apps for you to use. In this case, we have provided a list of the 5 best CFL betting apps below.
---
🥇

#1. PointsBet Betting App

You can take advantage of the generous odds and exceptional features offered on the PointsBet betting app. It has a slick black backdrop and a clean interface, which makes it feel like quality stuff. Heading into the sportsbook, you can find all sorts of amazing betting markets, and with features such as the Partial Cash Out and the Same Game Parlay Combo, you can go wild with your predictions.

✅ Features: Easy navigation and great live betting features ❌ Disadvantages: Not the largest range of CFL bets

Available in: CO, IL, IN, IA, KS, LA, MD, MI, NJ, NY, OH, PA, VA & WV

Expert Comments:

"

I like the feel of the PointsBet sportsbook app, there is no clutter on the screen and it looks tailor-made. It covers all CFL games and provides some really competitive odds, but if I were to find a fault, I would like to see more CFL betting market, such as props.

"

– Oliver Dickinson (Sports Editor)

---
🥈

#2. DraftKings Betting App

DraftKings operates in many states across the US, and is one of the most reputable sportsbooks. The DraftKings betting app brings CFL fans all the great features of this sportsbook, including detailed stats for each game that will definitely come in handy. Diving into these stats, there is a Betting Trends tool that shows you the % of which the teams in the game cover the spread, their records as favorites and underdogs, and even a chart to show their betting line (and how it has changed in the past few days). These are just the right tools all pro bettors will need.

✅ Features: CFL Season Specials betting markets; Easy payments ❌ Disadvantages: Lots of promos, but not many specifically for CFL

Available in: AZ, CO, CT, IL, IN, IA, KS, LA, MD, MI, NH, NJ, NY, OH, PA, TN, VA, WV & WY

Expert Comments:

"

I'm a big fan of DraftKings Sportsbook's betting app, which is my go-to place for checking out CFL bets. I find myself referring back to the CFL Season Specials markets every now and again, as I have made some of my best predictions from there.

"

– Paul Ricci (Chief Sports Editor)

---
🥉

#3. Caesars Sportsbook Betting App

Caesars Sportsbook, which bought William Hill in 2021, brings a dynamic and extensive range of betting opportunities to CFL bettors. The sportsbook is known for running promotions and handing out lavish offers to customers, and these can all be found on Caesar Sportsbook's dedicated mobile apps for Android and iOS devices too.

✅ Features: Lots of options for deposits and withdrawals ❌ Disadvantages: Slow to release bonus funds; Sometimes slow to update lines

Available in: AZ, CO, IN, IA, IL, KS, LA, MD, MI, NJ, NY, OH, PA, TN, VA, WV, & WY

Expert Comments:

"

The crisp design of Caesar Sportsbook's betting app is something I can really get behind. It is so simple and intuitive to use, and yet there are tonnes of fun features and diverse betting markets to explore. For CFL betting, it has some really competitive odds and intriguing betting markets.

"

– Oliver Dickinson (Sports Editor)

---
🎖️

#4. Unibet Betting App

Unibet may be bigger in Europe than it is in the states, but this versatile sportsbook covers all the major US leagues, and of course, has markets dedicated to CFL. The sportsbook has lots of handy promos such as SGP Insurance, the occasional Parlay Boost and a UnibetSport club you can be a part of and claim weekly rewards.

✅ Features: Lots of promos; wide variety of banking options ❌ Disadvantages: The app interface is a bit dated, and occasionally runs slow

Available in: AZ, IN, NJ, PA & VA

Expert Comments:

"

Though there are no promotions specifically for CFL games, I have used some of the general offers here to bet on CFL games or boost my CFL bets. The app runs a bit slow when it is opened, but I cannot complain about its performance when I am placing live bets on CFL games.

"

– Damjan Spajić (Sports Editor)

---
🏅

#5. Bet365 Betting App

Like Unibet, bet365 is another sportsbook that has a massive following in Europe. Bet365 is an English sportsbook with a reputation for giving out bonuses, insurances and various other perks to its customers. It may not have the biggest welcome package, especially if you are sizing it up against DraftKings or Caesars Sportsbook, but in return you will get loads of specials and running offers.

✅ Features: Diverse CFL betting markets; frequent promos ❌ Disadvantages: Smaller welcome package

Available in: NJ, CO, IA, OH & VA

Expert Comments:

"

I really like bet365 Sportsbook's betting app, as it does a great job of bringing all the features you can find on the website to your cell phone. I can always find my CFL bets, and just like DraftKings, there is a Specials with all sorts of interesting wagers.

"

– Paul Ricci (Chief Sports Editor)

---
CFL Betting Odds Explained
If you are new to the CFL and unsure how to read CFL odds, we will explain the basics that will help you get up and running.
CFL Moneylines
When wagering on a CFL game, as with any other betting market such as the World Cup, NFL playoffs or the Premier League, a moneyline wager is the most straightforward type of bet. A CFL bettor may see a line like this:
Toronto Argonauts +250
Montreal Alouettes -300
A moneyline bet on this East Division regular season match is as simple as making your pick of who will win the game. The minus sign shows the amount of money you need to put up to win $100. In this instance, if you wager $100 on Montreal you would win $100 in profits if they win the game. Meanwhile, the plus sign shows how much a player would win if you bet $100. So, you would receive $250 on a $100 bet on Toronto.
CFL Point Spreads
When you first sign in to your online sportsbook, you might notice prop bet options, CFL football listings and CFL football lines that look something similar to this:
BC Lions +6.5
Winnipeg Blue Bombers -6.5
In this West Division Bombers are the favorites and with the example odds above would have to win  by seven or more points to cover the spread. It states that the Lions are getting 6.5 points, shown by the plus sign. Consequently, they can lose the game by 1-6 points or win the game and you will still win your overall bet.
CFL Over/Under
Over/Under or Totals are also a popular form of CFL bet. You may see an over/under type of wager such as the below:
An over/under bet refers to the combined score of both teams. If you are betting on a match that involves two teams that usually score a lot of points, you may be inclined to bet on the over. In the example above, that would mean 58 points or more. If you think it may be more of a tactical battle and the defenses will come to the fore, then you would wager on the under.
---
Best Promotions
Anyone who participates in online sports betting is always on the lookout for generous bet promotions. The best CFL betting apps will give customers the best bang for their buck and will therefore make it onto our list of the best CFL betting site options. Gambling on sport isn't easy, but having access to a good bonus can improve your bottom line without having to win a wager.
---
Betting Options
Top CFL betting apps will have a wide range of options for gamblers, featuring CFL spreads to futures and live betting. As the sport isn't as prominent as some others, some sportsbooks don't have anyone knowledgeable to cast their eye over the lines. The betting apps on our list clearly understand the game, which can be seen by the number of wagers from point spread to futures on each matchup.
Live Streaming
If you don't live in Canada, you may find it challenging to find a broadcaster of the games. However, this is where a sportsbook with CFL betting odds readily available can come to your aid. Several CFL betting apps offer their real money customers live streaming of fringe sports such as the Canadian Football League.
Best Mobile App
Whether you are in the stadium watching the game live or out and about on the go, the in-play betting options provide an excellent enhancement to your CFL betting experience. The best CFL betting apps will either have a dedicated mobile app or a top-quality browser-based interface allowing users to place their bets quickly and efficiently. The lines are updated in real-time, and following the bets on your smartphone or tablet is straightforward.
---
Differences Between CFL and NFL
Regarding betting on the Canadian Football League, there are a few subtle differences that you need to be aware of before placing your bets. We have listed the most important differences below.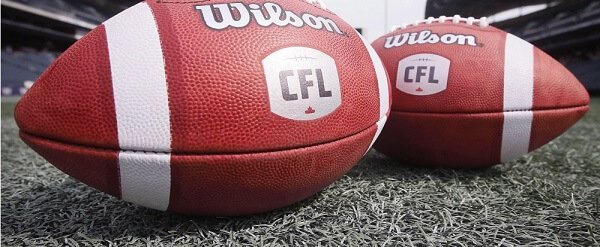 Size of the Field
Although the CFL field looks like an NFL field, there are some differences. First, the field is ten yards longer, which means that potential drives and scores could be 110 yards instead of 100. Additionally, the field is wider, giving creative quarterbacks more freedom to make plays than on a traditional US football field.
The makeup of the End Zone
The configuration of the end zone in the CFL has a major impact on scoring. The end zone is 30 yards long, 20 yards longer than a traditional NFL field. Consequently, there is more room for receivers to break away from their defenders, and QBs have more room to throw the ball and remain inbounds.
Another difference is that the goalposts are at the goal line in the CFL, instead of at the back of the field like in the NFL. This can impact the scoring as the kickers only need to reach the goal line to get it through the posts.
Number of Downs
This is arguably the most significant and biggest difference between the two sports and therefore has the most impact on betting. There are only three downs in the CFL to gain 10 yards. Conversely, in the NFL, it is four downs. This means each CFL team has one less play to keep their drive going, which could determine how a player bets.
Additionally, there are more passing attempts in the CFL than in the NFL and significantly fewer rushing attempts. This impacts individual prop bets at CFL Betting apps.
Number of Players
With a more extensive field size in CFL games, there is an additional player on each team on the field at one time, with 12 instead of 11. This means the quarterback has more targets to hit, which will impact the number of passing yards. Another impact on total passing yards is that the receivers get a running start at the line of scrimmage. This means they have reached maximum speed as the ball is snapped, giving them greater opportunity to get down the field faster than if they were standing still. This is crucial to know before you place a bet on the Canadian Football League.
---
A Look at the CFL Teams
We feel it is worth providing you with some basic information on how the league shapes up and which teams compete. The league has been running since 1958, and many teams and owners have come and gone in that time. Some of you may remember a time when the CFL has expanded into the United States, but that proved to be a flop. There are currently nine teams in the league, which are listed below:
BC Lions
Calgary Stampeders
Winnipeg Blue Bombers
Montreal Alouettes
Ottawa Redblacks
Saskatchewan Roughriders
Edmonton Eskimos
Toronto Argonauts
Hamilton Tiger-Cats
The above teams are split into two divisions, the East (4 teams) and the West (5 teams). The league runs on an 18-game schedule which runs from June to October. This is followed by a playoff campaign and the championship, the Grey Cup, in November.
---
FAQs
What is the difference between CFL and NFL?
Both are gridiron football sports, but there are a few minor differences. The field size, number of players, number of downs and the scoring system are all slightly different in CFL. However, if you know your football, then you will have no problem understanding CFL, and you may even come to like it. The level of the CFL is not far off from the NFL, so you can expect some premium football action in the CFL season.
What is the biggest game in CFL?
The Grey Cup is the championship game of the CFL, and is the largest event on Canadian television. It is held every year in mid November, and played between the winners of the East and West Divisional playoffs. Even if you are not a CFL fan, this event is a big must, and the action goes down usually around 1 week before Thanksgiving.
What is the most common bet on CFL?
Like for NFL betting, point spread bets are the most popular wagers among CFL supporters. As it levels out the playing field and the odds are virtually level, you can pick the team you like better. For pro bettors, there is a lot more to spread betting, as they shop for better lines, value the cost of the line, and calculate how much it is worth spending on certain lines.
What is a Canadian Bet?
A Canadian bet is a type of round robin bet, and nothing to do with CFL. To place a Canadian bet, you need to pick 5 single bets. Then, you will place 26 stakes, on 10 double bets, 10 treble bets, 5 four-fold bets and 1 five-fold bet.
Who plays in the CFL?
There are 9 teams in the CFL, of which 4 play in the East Division and 5 in the West Division. In the East Division, you can bet on the Toronto Argonauts, Ottawa Redblacks, Montreal Alouettes or Hamilton Tiger-Cats. In the West, you can pick between BC Lions, Calgary Stampeders, Edmonton Elks, Saskatchewan Roughriders and Winnipeg Blue Bombers. The teams play for the prestigious Grey Cup. The most successful team in the league is the Toronto Argonauts, but the Winnipeg Blue Bombers and Edmonton Elks are also highly successful teams.