Gamble USA strives to improve your online gambling experience. We aim to help you play safely, make informed decisions when gambling, and increase your betting knowledge through our guides.
We adhere to strict editorial integrity; our content may contain links to products from our licensed & legal US partners.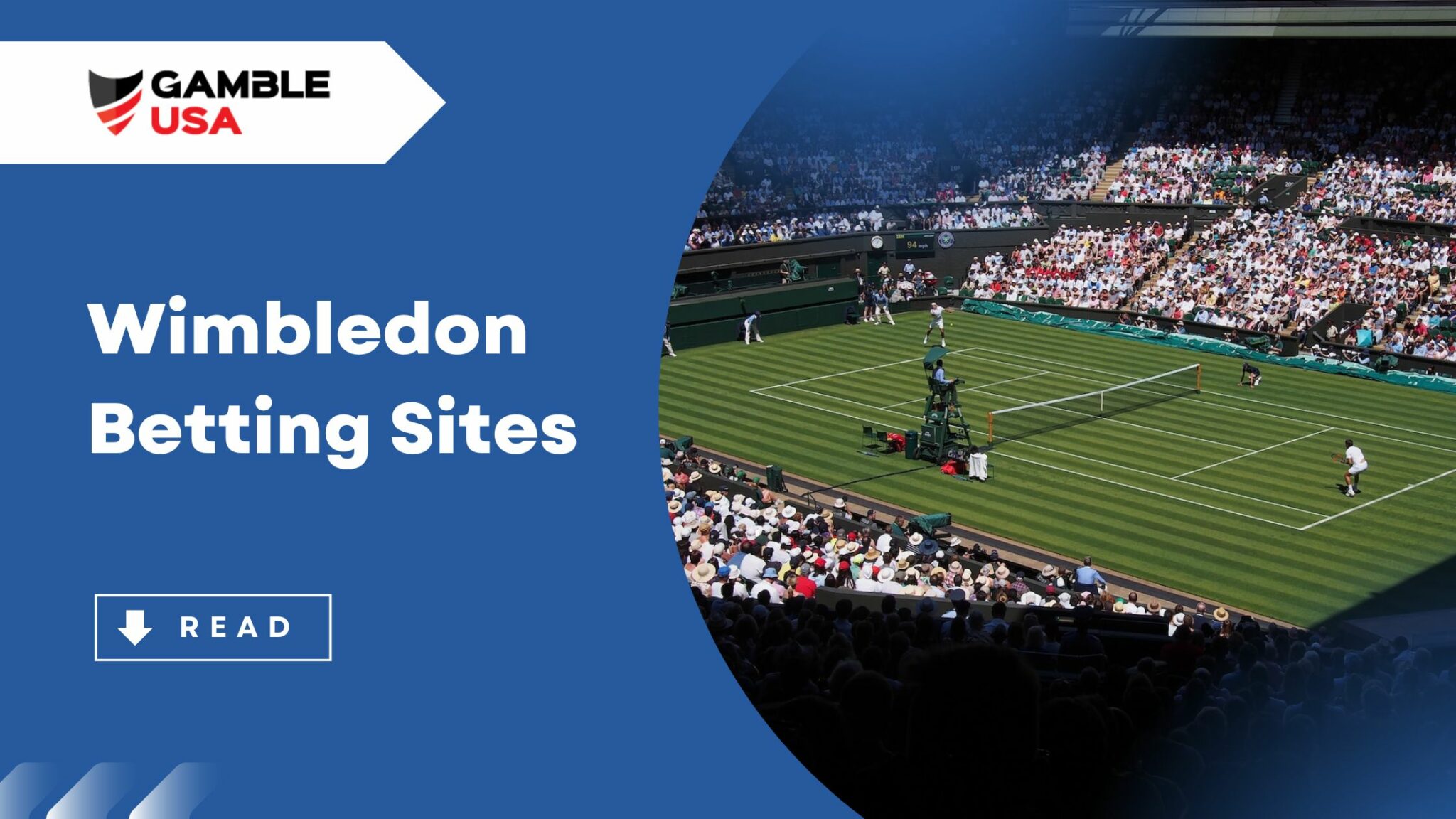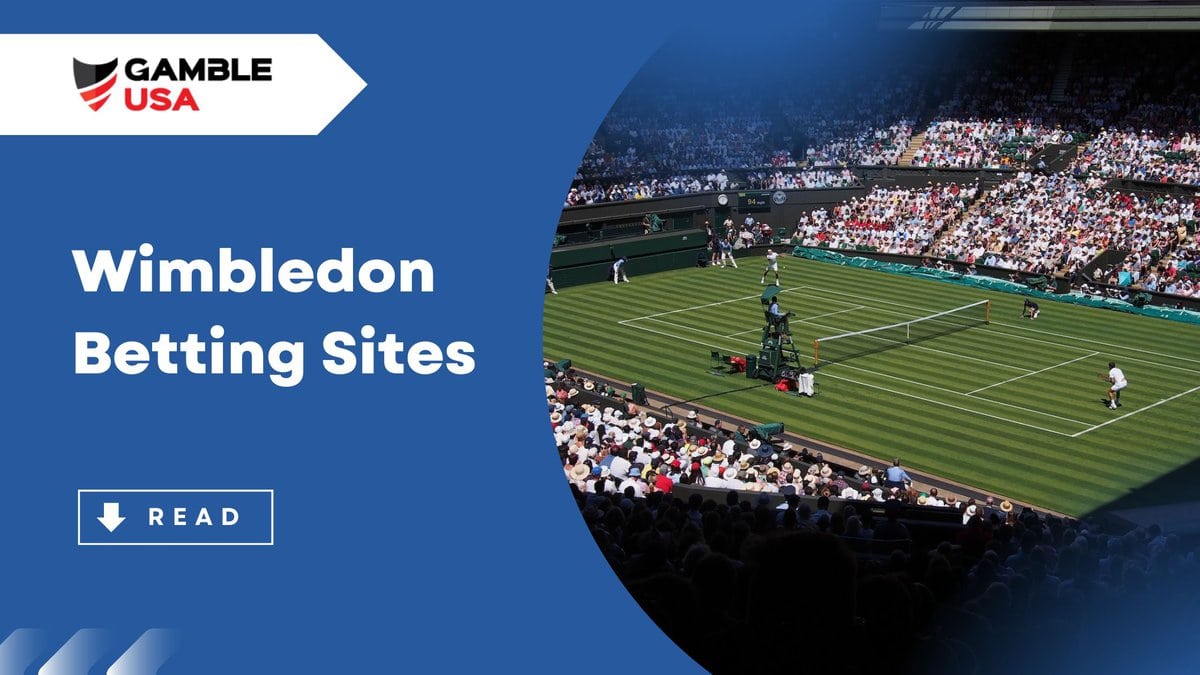 Wimbledon is the oldest tennis tournament in the world and attracts the most media attention and viewership to the sport throughout the year. Naturally, Wimbledon betting is also one of the most highly anticipated events on most bettors' calendars.
While being the third grand slam tournament of the tennis season, it is without a doubt the most sought-after of all the majors. Matches are played on grass so some players tend to dominate the Wimbledon betting odds as specialists of the playing surface.
Roger Federer has been the favorite in the modern era but with his retirement, we've seen the rise of Novak Djokovic and a host of younger players considered as top contenders by Wimbledon betting sites.
There's plenty of action available for the two weeks that the tournament takes place, you'll be able to bet on different markets within the tournament and apply different betting options to your Wimbledon gambling. To do all of this, you'll need one of the best sportsbooks at your disposal, let's take a closer look at the tournament itself and the best Wimbledon betting sites to place your bets.
---
Understanding Wimbledon Betting
If you've bet on tennis matches before, you're probably familiar with the betting options and markets but Wimbledon is an entirely different ballgame compared to the likes of the other major championships and the ATP tour. Let's take a look at what you can expect to find.
Betting options
The tournament structure of Wimbledon allows for some interesting betting options and coverage of the classic match-winner bet. Since the first round will be played in the first two days, you'll have plenty of opportunities to get involved with some set bets. It's usually available on the live betting platform of most online sportsbooks while the match is underway or you can bet beforehand on some prop betting options which usually involves predicting who will take the first set in the match.
Betting markets
The markets are similar to the other tennis majors with categories including; men's individual, women's individual, men's doubles, women's doubles, and mixed doubles. Each market has 128 players who are seeded* in the tournament, matches are then drawn accordingly. The first round of the individual markets has 64 matches which are quite easy to predict since you have the highest-ranked players playing the lowest. It's a perfect opportunity for a parlay bet to build up some bankroll.
If you're feeling confident in your predictions, you could also select an outright winner in each category which will have huge payouts (if you're not betting on the tournament favorite). Take a look at the men's odds available at DraftKings for 2023.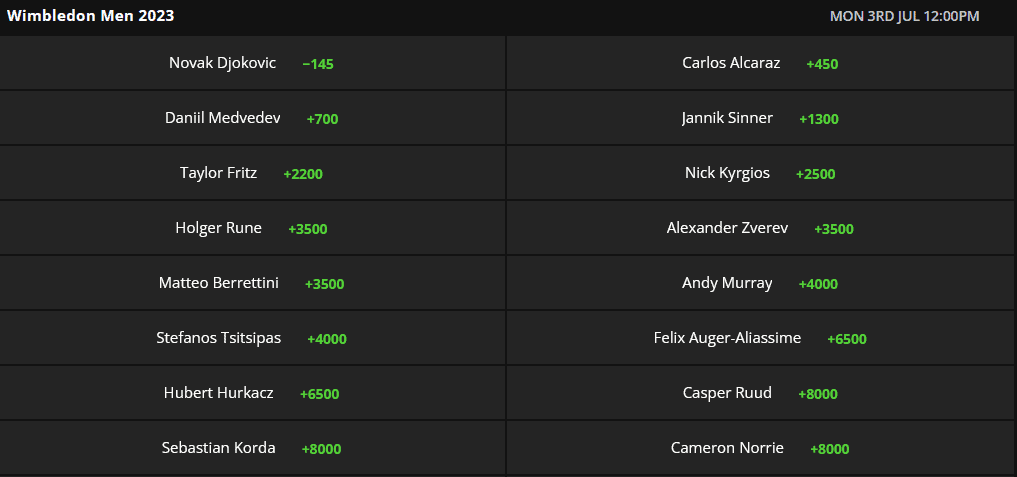 Otherwise, you can always just bet on individual matches that will be easier to predict but, unfortunately, have lower payouts. If you're accurate throughout the tournament, you might earn more than you would with outright betting.
*a ranking that is given to the top players to ensure they do not meet early on in the tournament.
Betting insights
Every tournament has its own characteristics that give just a little extra insight for bettors to use before making a call. Having plenty of experience, we can highlight a few factors that will help you place your Wimbledon bets.
Check the opposition
It sounds more obvious than it is, but check who your preferred player/team is playing against. You might find that Medvedev suffered from cramping in the previous round and that'd make for an easy bet for Alcaraz to beat him. Wimbledon only allows one day's rest for each player progressing to the next round. This is incredibly demanding on the players and it's unlikely a full recovery can be made from an injury in time.
Trust the experts
Each tournament has its own metric for determining the player seeds. These have been around for decades and you'll rarely find an unseeded player winning a tournament, if they do, it'll be front-page sporting news. That's why we recommend trusting the seeds in the first couple of rounds. You should be able to take some small payouts to place bigger bets during the knockout phases.
Follow the other tournaments
Finally, you need to have an idea of each player's form going into the tournament. To do this, you can either keep up with the Grand Slam tournaments or you can just check the results. You might find that the player you're looking to bet on recently played his opponent and dominated the match.
Wimbledon is also played on grass courts so the game can be a little slower than the clay or hard court surfaces. Games can literally last for days, as you can see below. So you need to consider the shape that each player is in, if coaches are concerned about fitness levels or even slight cramping during the tournament, steer clear of that bet.

---
Choosing the Best Wimbledon Betting Site
Just about every sportsbook will include tennis options on their platform and if Wimbledon isn't included, they've missed the plot completely. Wimbledon tennis odds are arguably the most sought-after of all for tennis bettors. Matches are frequent and highly competitive, allowing for some awesome betting opportunities. To make the most of it, you're going to need a top-quality sportsbook.
The decision will be yours but our experts have been put to the task of identifying the best Wimbledon betting sites to guide you to an operator that is fair, rewarding, and secure. To determine this, there are a couple of categories we look at:
Tournament coverage
Our first consideration is always towards Wimbledon betting. At the very least, you should be able to pick an outright winner and bet on all the scheduled matches. Beyond that, we look at each platform's X-factors. 
For instance, DraftKings always ensures that they have a wide range of betting options available for Wimbledon matches. BetMGM will have the best live-streaming option with frequently updated graphics and statistics. These factors will be highlighted and play the biggest part in our rankings.


Platform reputation & legitimacy
Next up, we verify that the sportsbook is legitimate and licensed in at least one state in the US. Verifying the license details is fairly easy, but to get down to the platform experience, we try out opening an account and placing a few tennis bets. While we get familiar with the mobile app and the website, we also browse through some of the customer reviews directed at the sportsbook. If someone hasn't been paid or is struggling to get the basics done, we take a closer look and try it out for ourselves.
If the experience is exciting and easy while having a license from the necessary gambling commissions, we'll award full points and move on to the next section of our review process.
Wimbledon bonuses
Our final consideration towards Wimbledon betting sites is the bonuses they have available that can be used on the tournament. Just about every sportsbook will have a bonus, but we rate them with the Wimbledon schedule in mind.
The bonus needs to have a value that is competitive with the rest of the market and you should be able to either place a qualifying bet on a Wimbledon match or use the bonus rewards on the Wimbledon schedule. 
A top-quality bonus that's currently on the market is the Caesars Sportsbook First Bet up to $1,250 with additional loyalty credits. You can easily opt-in for the offer and choose your first bet as one of the Wimbledon matches, if you're on the losing end, you'll receive a bonus bet of equal value to be used within 14 days.
Promo Code: GUSA1000
$1,000 First Bet on Caesars
21+. T&C Apply
21+. T&C Apply
Promo Code: GUSA1000
Massive welcome bet offer
Earn Caesars Rewards
Promo Code: GUSA1000
$1,000 First Bet on Caesars
21+. T&C Apply
21+. T&C Apply
---
Our Top 5 Wimbledon Betting Sites for 2023
Of course, our rating system does give us a little bit of an edge when it comes to sports betting, we use the specifics of each platform to find the best deals on the market at any given time. Take a look at our top five below and what's given them the edge to be considered the best Wimbledon betting sites.
| Best Betting Sites for US players | DraftKings | FanDuel | PointsBet | Caesars | BetMGM | Unibet |
| --- | --- | --- | --- | --- | --- | --- |
| Betting offers for new players | 20% deposit bonus worth up to $1,000 | No sweat bet up to $1,000 | 5 x $50 2nd chance bets | Up to $1,250 on Caesar, 1,000 rewards tier credits, and 1,000 rewards credits | Bonus bet worth up to $1,000 | Second chance bet worth up to $500 |
| Average minimum deposit | $5 | $5 | $10 | $10 | $10 | $25 |
| Legal betting states | AZ, CO, CT, IL, IN, IA, KS, LA, MI, NH, NJ, NY, OR, PA, TN, VA, WV, & WY | AZ, CO, CT, IL, IN, IA, KS, LA, MI, NJ, NY, PA, TN, VA, WV, & WY | CO, IL, IN, IA, KS, LA, MI, NJ, NY, OR, PA, VA, & WV | AZ, CO, IL, IN, IA, KS, LA, MI, NJ, NY, PA, TN, VA, WV, & WY | CO, IN, IA, MI, NJ, PA, TN, VA, WV, & D.C. | AZ, IN, IA, NJ, PA, & VA |
| Support methods | Email, Phone, Live Chat | Email, Phone, Live Chat | Email, Phone, Live Chat | Email, Phone, Live Chat | Email, Phone, Live Chat | Email, Phone, Live Chat |
---
🥇 #1 DraftKings – leading the way with Wimbledon betting options
Up To $1,000 Deposit Bonus
21+. T&C Apply
21+. T&C Apply
The best sportsbook
Amazing odds & offers
Awesome betting app
Up To $1,000 Deposit Bonus
21+. T&C Apply
21+. T&C Apply
Our top pick for Wimbledon gambling would have to be DraftKings sportsbook. Their wide range of betting options set the pace for the rest of the competition and they have some of the lowest vigorish on the market, so you'll be spending less to play.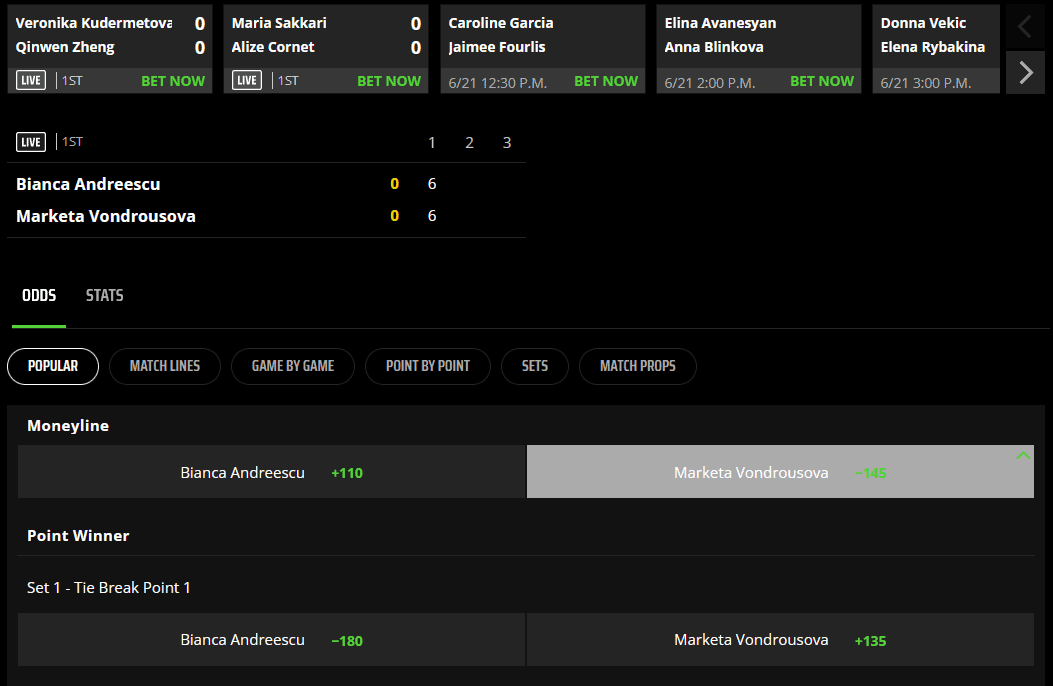 The 20% deposit match is great for customers looking to boost their bankroll from the start. You'll need to deposit a minimum of $5 with a brand new account to claim the bonus and you'll only be able to claim up to $1,000. There are also plenty of existing customer promotions available alongside the Dynasty Rewards program that is exclusive to DraftKings.
🥈 #2 BetMGM – a live betting experience like no other
Promo Code: GAMBLEUSA
Up To $1,500 In Bonus Bets
21+. T&C Apply
21+. T&C Apply
Promo Code: GAMBLEUSA
Super fast payouts
Live streaming
Promo Code: GAMBLEUSA
Up To $1,500 In Bonus Bets
21+. T&C Apply
21+. T&C Apply
Another massive name on the sportsbook scene is BetMGM. It's the sportsbook with the greatest reach in the US, being available in over 20 states. This is ideal for any tennis fan that's usually on the road. 
Their comprehensive live betting platform will provide you with endless options as the action unfolds. You can also claim the $1,000 of bonus bets when you sign up, as long as you've placed the minimum deposit of $10 and bet above that amount on any matches. Perfect for Wimbledon!
🥉 #3 Caesars – the highest value bonus to boost your account
Promo Code: GUSA1000
$1,000 First Bet on Caesars
21+. T&C Apply
21+. T&C Apply
Promo Code: GUSA1000
Massive welcome bet offer
Earn Caesars Rewards
Promo Code: GUSA1000
$1,000 First Bet on Caesars
21+. T&C Apply
21+. T&C Apply
If you're a sports betting high roller, Caesars is the place to go for Wimbledon. Their welcome bonus will cover a massive $1,250 bet that is placed on any sports market. It's a form of insurance as your bet will have to lose and the rewards will be restricted to the sportsbook service in the form of a bonus bet.
You'll still be able to use one of the top sportsbook platforms on the market to place your bonus bets throughout the Wimbledon schedule.
🎖️ #4 FanDuel – frequent bonus opportunities for all
No Sweat First Bet Up To $1,000
21+. T&C Apply
21+. T&C Apply
Convenient banking
Massive choice of sports
No Sweat First Bet Up To $1,000
21+. T&C Apply
21+. T&C Apply
The FanDuel sportsbook keeps up with the competition with their $1,000 No Sweat First Bet. It's similar to the Caesars bonus but lower in value. You simply have to place your first real money bet on a match and if you're on the losing end, the matched amount will be awarded in bonus bets.
FanDuel customers can also expect a variety of odds boosts and bonuses to be made available before all the Wimbledon gambling gets underway. The sportsbook does its best to keep things fresh and exciting so we recommend browsing through their site before placing your bets.
🏅 #5 PointsBet – coverage for the first five days of Wimbledon gambling
10 x $100 Second Chance Bets
21+. T&C Apply
21+. T&C Apply
Awesome live betting
Multiple bet types
Huge range of sports & markets
10 x $100 Second Chance Bets
21+. T&C Apply
21+. T&C Apply
Finally, we have the Australian sportsbook, PointsBet. The key feature you'll be using on your Wimbledon bets would be the 5 x $50 second chance bets. These allow customers to receive a matched amount of bonus bets to their initial wager on each day, for five days! That means that you could bet on a couple of Wimbledon rounds and if you lose, you'll have another chance at placing a bet the next day.
---
Tips and Strategies for Successful Wimbledon Betting
If you already have an account with one of these sportsbooks, you can also apply some expert tips and strategies to your betting game. While you won't be guaranteed a win, it should give you a thorough approach to Wimbledon betting and how to make the most of sportsbook offers.
Research the players
Wimbledon changes drastically every year, there's plenty of tennis that's played throughout the season and this gives rise to completely different matchups. While you may be familiar with the history of the tournament, we recommend you do some research into the players that have been invited/qualified. You might find that an unranked player seems to have the edge over his opponent in one of the matchups and this would be the perfect opportunity for an underdog bet.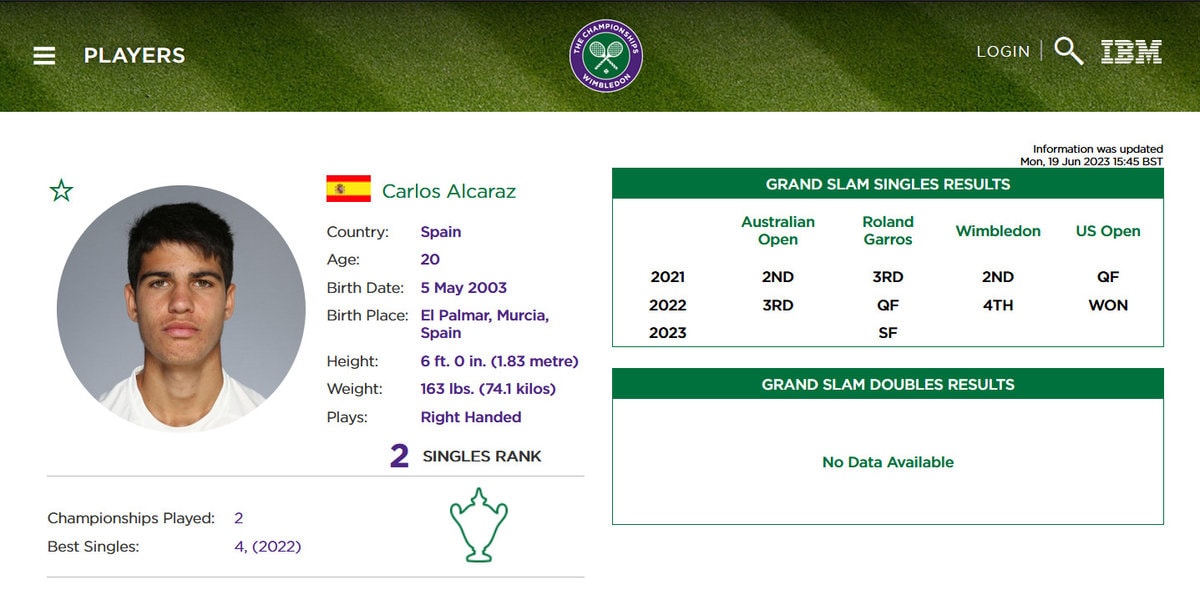 Look around for the best betting odds
As we've said before, the seed system that is used in tennis majors will usually result in a predictable first and second round. The occasional upset will happen but for the most part, you will have to take advantage of these early matchups. To do this, you're going to need the best odds on the specific match. To shop around, simply visit each website of our top five listed here to see who has the best payout for your bet. It's usually a small difference but it's always worthwhile to get the best deal.
By identifying a key underdog bet with decent odds, you've essentially discovered a value bet. This happens when a sportsbook's probability calculation is off; the variables are a bit skewed and your chance of winning is high even with low odds. It's scarce and it takes a fair amount of tennis knowledge to identify.
Manage your bankroll
Betting on Wimbledon can be quite demanding, so make sure you have both the time and money to make the most of the tournament schedule. It's easy to get carried away with the format, but we recommend splitting up your bankroll into each section of the tournament. If you've got $200 to spend, split that up into $100 for the first week which will be the round robins, and then the other $100 you can spend on all the knockout matches.
If the odds are in your favor, you could win a couple of parlays in rounds one and two to carry you through to the finals. Be realistic though, don't bet on every single match in each round! There are upsets and you'd be better off taking the smaller wins from the predictable matches.
---
Notable Wimbledon Betting Moments
All this talk of upsets and underdogs must have you wondering just how often it happens with Wimbledon betting. Well, you'll be glad to know it happens more often than you think! Go back to any year in the tournament's history and you'll find that a player seeded in the top 10 has been knocked out in the first round. It's all a matter of figuring out who.
Predicting the next big betting moment
If there was a surefire way of figuring out the results, the entire team here at Gamble USA would be billionaires with banned sportsbook accounts. Unfortunately, there's not. So the best you can do is get your hands on the schedule as early as possible and follow the news from each player's camp during the buildup. The ATP tour news section is perfect for some pre-tournament research.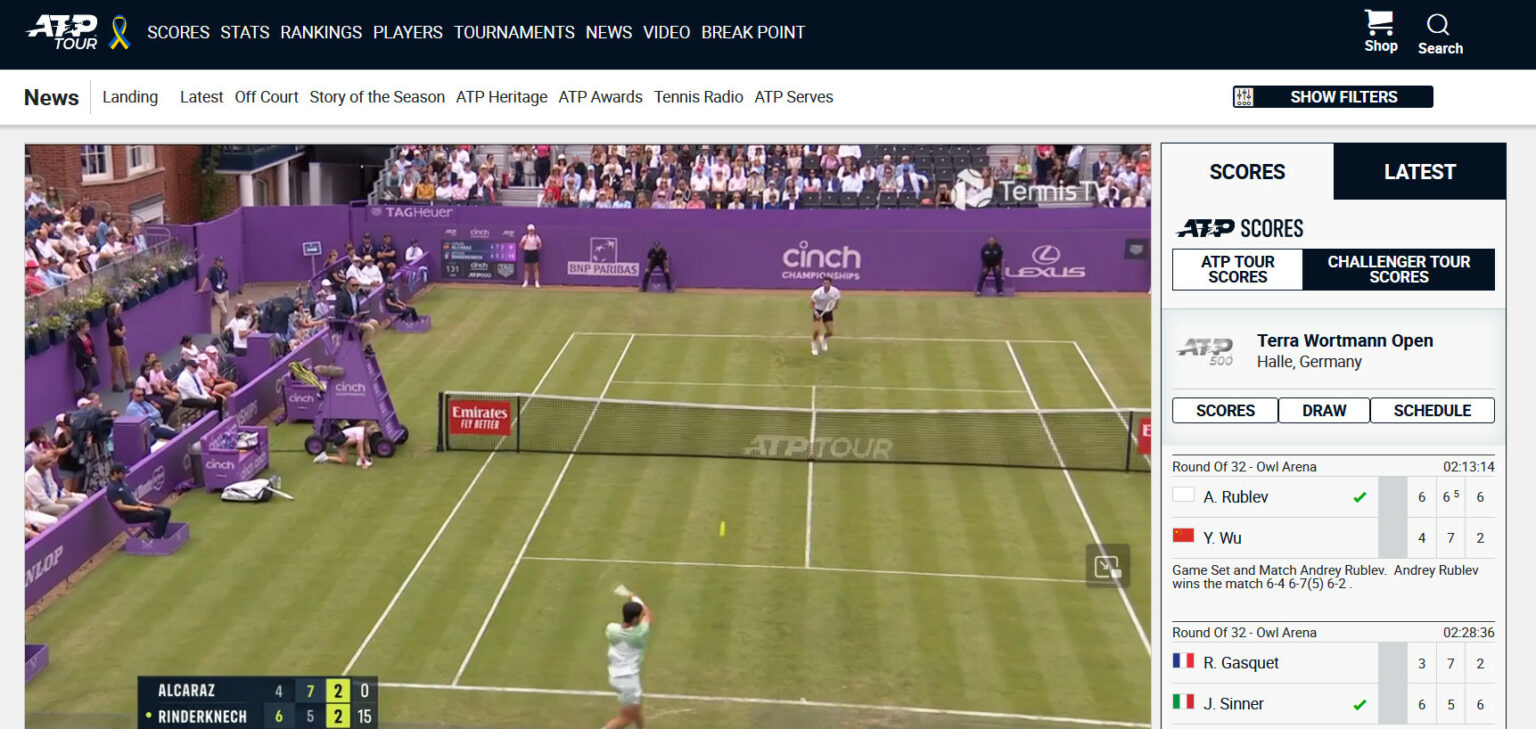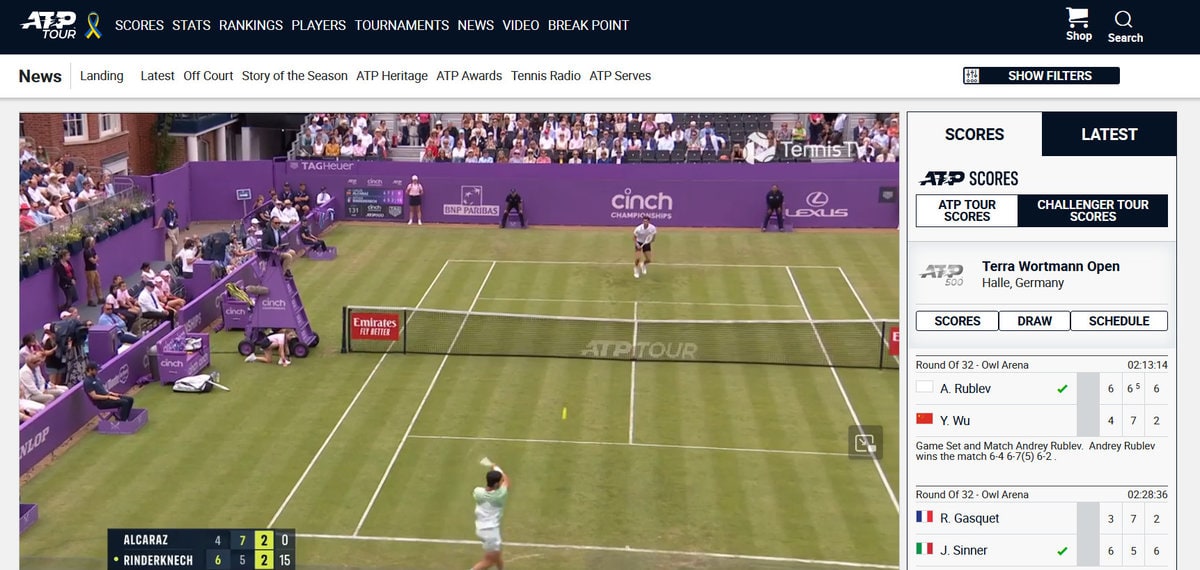 For instance, the massive upset between Felix Auger-Aliassime and Maxime Cressy had some slight indications before the match started. Aliassime had been showing signs of strain since the quarter-final in the Australian Open, he was also knocked out in the fourth round of Roland Garros. Cressy, on the other hand, was attending his first Wimbledon and was eager to impress.
Most memorable matches
Being the oldest tennis tournament in the world, there are plenty of memorable moments for any fan but we'd like to highlight some of the best betting opportunities that our team took advantage of by using the tips and tricks we've listed.
2019: Roger Federer vs. Novak Djokovic
Arguably the greatest game of tennis ever played and no wonder it was a betting boom with most sportsbooks as the odds swung in each player's favor throughout the match. This is fairly common when it comes to Wimbledon betting, the final is extremely competitive and near-impossible to predict. The match ended with Djokovic eventually winning 3 sets to 2 (7-6, 1-6, 7-6, 4-6, 13-12). Most expected a crumble after the rough second set but Djokovic showed his class as he fought back to claim his 5th Wimbledon title.
This is a great example of live betting. If you were following the match, you could bet on each set instead of a match-winner bet before the first serve.
2010: Andy Roddick vs.Yen Hsun Lu

Another memorable day for Wimbledon betting tips would be the 2010 Wimbledon match between Andy Roddick and Yen-Hsun Lu. A thorough tennis fan could see the decline of the past world number one in the first couple of rounds at Wimbledon. Roddick fought tirelessly to reach round four but the end of the tournament was inevitable after losing 3 sets to 2 against Lu, who was ranked 82nd at the time.
The Wimbledon betting odds naturally favored Roddick before the match but after watching each player in their previous matches, I decided to take the chance and it ended up paying off. These bets are value bets, where a player's reputation outweighs the recent performance of their opponent and you actually have a decent chance when betting on the 'underdog'.
2013: Steve Darcis vs. Rafael Nadal
The biggest upset of all in Wimbledon history would have to be the infamous match between Darcis and Rafael Nadal. We doubt there was any sports bettor in the world who had the guts to bet on this one with Darcis being ranked 130 below his opponent and Nadal being in great form, with a slight physical concern. As it always is with tennis, it doesn't take much to rattle an opponent, and the Belgian won in straight sets (7-6, 7-6, 6-4).
This result is a complete wild card, there's no amount of research that could have been done to predict the outcome of this match and if anyone did claim the huge payouts, it must have been down to luck. If you're ready for some Wimbledon betting, don't be afraid to put some small bets on matches like these, it might just pay off.
---
Frequently Asked Questions (FAQs)
What is the best betting site for Wimbledon?
It's up for debate but from our team's experience, we have to rank DraftKings as the ultimate betting destination at the moment. You'll be welcomed with a competitive bonus and have the best Wimbledon betting options and odds to look forward to. Their mobile app also makes it easy for users to bet on the go.
How can I place a bet on Wimbledon?
You'll first need to sign up with a sportsbook before you can place any bets. Each of them has their own platforms developed but for the most part, you'll have to verify an account with four digits of your SSN and then submit some documents to prove the information is correct. After that, you can top up your sports betting account by using a variety of payment methods. Once that's done, head to the match you're interested in and place your Wimbledon bets!
What types of bets can I place on Wimbledon?
There are a variety of bets available for tennis. The most common of these are moneylines for each scheduled match but you will also have the option of predicting the outright winner throughout each tournament. There are also spreads, totals, and prop bets available for some of the more famous tournaments, like Wimbledon. You can also bet on some exclusive options such as 'First to break' or 'First set winner' which will be available with live betting.
Can I bet on Wimbledon from my mobile device?
It depends on the sportsbook platform you are signed up with but most of the time there should be a mobile app or at least a mobile version of their Wimbledon betting schedule. You can then sign in to your online account and place Wimbledon bets as usual.
Is it legal to bet on Wimbledon?
It's legal to bet if you are in a state that supports online sports betting. Currently, Arkansas, Arizona, Colorado, Connecticut, Delaware, Illinois, Indiana, Iowa, Kansas, Louisiana, Maryland, Massachusetts, Michigan, New Hampshire, New Jersey, New York, Nevada, Ohio, Oregon, Pennsylvania, Rhode Island, Virginia, Washington, West Virginia, and Wyoming have all legalized online sports betting platforms with Wimbledon betting odds.