Gamble USA strives to improve your online gambling experience. We aim to help you play safely, make informed decisions when gambling, and increase your betting knowledge through our guides.
We adhere to strict editorial integrity; our content may contain links to products from our licensed & legal US partners.
With more states legalizing sports betting, understanding how to read odds is becoming ever more important.
Understanding betting odds is vital when considering which bets are worth taking and determining if you will be successful or not. If you have no idea about how betting odds work or implied probability, you will likely struggle to make money wagering on sports long term.
Odds are displayed in numerous different formats, but they are easy to understand. Essentially, you use the odds to calculate the implied probability of a particular outcome of a sporting event. There is no need to be a genius with numbers to grasp how sportsbook odds work. However, if you have no knowledge of what betting odds reflect, your chances of winning diminish significantly.
Understanding odds is possibly the most crucial factor in becoming a successful sports bettor. It will determine how much money you want to bet and figuring out which wagers provide the most value. So, if you have read your sports gambling for dummies book and are still wondering 'how do odds work'? Let's delve into this odds explained article.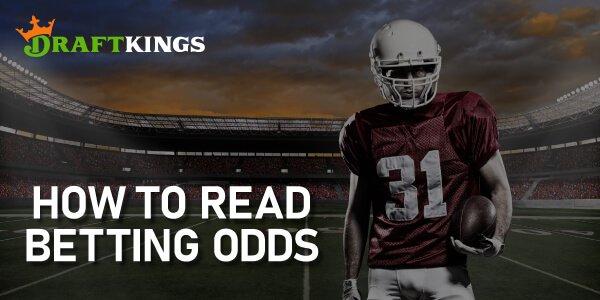 American Odds
There are three classic formats in which odds are displayed; Fractional odds, decimal odds, and American odds. In this section, we are going to focus on American odds. Most online sportsbooks will display their odds as 'American odds.' There are different versions of sports betting odds, but American odds are the most typically used.
American odds are displayed as either positive or negative odds. The odds represent who is favored in the match.  The below is an example of an NFL game between the New England Patriots and Seattle Seahawks.
New England Patriots +120
Seattle Seahawks -140
The number in the bracket is the odds for the match. In American betting, there are two components to the odds, a positive and a negative sign and the number that follows the sign. Positive odds reflect your profit, while negative odds reflect the amount of money you would need to bet in order to win $100.

When placing a bet, if the odds are negative, it means the outcome is more likely to happen, so wagering on that outcome would mean the payout would be less than the amount you bet. On the other hand, a positive sign indicates that the outcome is less likely to occur, and the payout would be more than the amount you wagered. Essentially it is showing you who is the favorite and who is the underdog.
The next step is calculating exactly how much the bet pays out, where understanding US betting odds come into play. A listed odd with a – shown in front of it, like in our example above, tells us how much money we need to bet to win $100. So if as above the odds are -140, you would need to bet $140 to make a profit of $100. Alternatively, you could replace the $100 bet with a $10 bet by moving the decimal point across one spot, showing you must wager $14 in order to win $10 in profits.
Any listed odds with a + sign in front informs us how much money you would win with a $100 bet. If we use the +120 odds, a $100 bet on that outcome will pay out $120 in profits. Once again, this can be converted to a smaller or larger bet depending on how lucky you feel. Betting $10 on +120 odds would pay out $12 in profits. Learn more about + and – betting meaning here.
One of the perks of odds in sports and betting with online sportsbooks is that they calculate everything for you before you place your wager. Players can click on the outcome or team they want to bet on, then enter the amount they wish to wager, and it will display how much you could potentially win before you click confirm and submit your bet.
Football fans may want to check out our dedicated guide on how to read football odds as well.
How To Calculate Implied Probability
Implied probability reflects the likelihood of a particular outcome, as shown by the odds. Calculating this involves converting odds into a percentage, which then indicates how likely that event will occur against the alternative. It is beneficial to have a grasp of implied probability as if your estimate of the likelihood of an event happening is different from a sportsbook's; you will need to adjust your bet accordingly.
For example, if you believed one team had a 60% chance of winning, and the implied probability was 52.4%, you should take that bet. In our example of the NFL game above, the Patriots have odds of +120 to win the game, so what is the implied probability of these odds?
Implied probability=100 divided by (120 + 100)
Implied probability = 100 divided by 230
Implied probability = 0.4545
Using this example, the Pats' implied probability of winning the game is 0.4545 (or 45.45%). So the chances of the Pats winning the game, according to the bookmaker, are rated at 43.45%.
It can be challenging to calculate implied probability, so using the below formula may be helpful:
Risk/Return = Implied Probability 
Decimal Odds
Decimal odds are the most straightforward to understand. They are mostly used across Europe, so you are less likely to encounter them in the United States. To calculate decimal odds, you will need to multiply the amount you wish to bet by the decimal odds shown to get your payout. Below is an example of how decimal odds are displayed:
LA Lakers 2.40
Chicago Bulls 1.55
If you chose to place a wager on the LA Lakers at 2.40, you need to multiply your $10 bet by the 2.40 odds given (10 x 2.40) to determine that the payout is $24. It is crucial to understand when you read betting odds that decimal style already includes the amount you wagered. Consequently, to find out your potential profits, you need to subtract your wager ($24 – $10), and you will realize your payout is $14 in profits.
If you decided to bet $10 on the Chicago Bulls, again, you would multiply $10 x 1.55, and you will find out you could win $15.50 total or $5.50 in profits. Betting using Decimal style odds is straightforward, but they are not commonly offered in American sportsbooks. However, most online betting sites you come across will give players the option of choosing the style of betting odds they want to be displayed, with American odds typically the default option.
Fractional Odds
Similar to decimal odds, fractional odds are more commonly used in Europe, particularly on horse racing in the UK. These may look unusual to an American bettor, as the odds are displayed like 10/5 or 1/2 that you would encounter if you were to watch the Kentucky Derby.
The number of the left (10) reflects how many times the operator expects the relevant outcome to fail. The number on the right (5) shows us how many times the outcome is expected to succeed. For example, let's look at a soccer match in the English Premier League between Chelsea and Liverpool. The odds for Chelsea are 8/13. This means that if the game took place 21 times (8+13), Chelsea would lose eight times but win 13.
Therefore, the potential winnings are more significant when betting on Liverpool in this particular scenario. When you wager on the underdog in any sporting event, you risk less for a potentially greater total payout.
Additionally, in sports such as the NFL, you can choose different types of bets, such as a point spread, which gives players the chance to bet on which team will win by a specific number of points. For example, a +7 and -7 point spread means that the favorite has to win by at least 7 points or that the underdog loses by less than 7 (or wins) for your bet to succeed. The best sportsbooks will offer numerous sports betting options.
How To Read Vegas Odds
Las Vegas is known as the gambling mecca of the world. People flock from all corners of the globe to experience the Vegas strip's bright lights and thriving atmosphere. Before you make the trip, it would be extremely beneficial if you have an understanding Vegas odds.
Odds in Vegas are typically displayed on massive boards, similar to something from the New York Stock Exchange. The boards are updated continuously, giving the bettor all of the up to date information needed to make a sensible bet. There are literally thousands of bets all listed above you as you.

These boards tell us the favorites, the underdogs, total payout, and where the decent money is. It is vital players know how to read Vegas odds in order to make a smart bet. You may think you know the sport you are betting on very well, and understanding how the odds work is equally as important.
The types of wagers you can expect to see in Vegas include:
Moneyline
American Odds
Point Spread
Totals
Placing A Vegas Bet
So, you understand reading Vegas odds NFL and the time has come to lay your money down. You will notice another set of numbers on the big boards, and these are known as the rotation numbers. These numbers are assigned to a team so the bookmaker can distinguish one from the other.
They appear to the left of the sports and teams on the board, such as in the example below:
101 New York Yankees +350 212.5
102 LA Dodgers -440 -8(-110)
The numbers are there to help the sportsbook, and the player keeps track of the bet. This is required as there are so many sports, teams, and bets that are occurring at the same time. Ultimately, the action in Las Vegas doesn't stop. We have mentioned above in this article how to read odds. You must take this knowledge with you if you are planning a trip to Las Vegas. The biggest difference here is the odds are displayed on huge boards rather than on TV screens in a sportsbook.
What does the term 'push' mean in betting?
We have talked in depth about a range of odds, what they mean in relation to Team A and Team B of a bet and more. However, in addition to moneyline odds for a moneyline bet, soccer odds, NFL odds, decimal betting odds and more, there are other phrases to be aware of in the gambling world.
When you come to place a bet on the money line or other betting line, you will not notice the term 'push'. Although this isn't technically related to odds, every player should be aware of the possibility of a push before they submit their wager. Basically, a push is a tie. As have mentioned, there will be no pushes when betting on the money line. If you are wagering on a sport where ties are possible, it is an outcome you can wager on.
A bettor only needs to consider  the possibility of a push when placing a totals bet or betting against the spread. If a push occurs, you will get your money  or stake back as it will not count as a win or a loss. Of course, this won't happen when betting on the Super Bowl but will happen in major competitions like the soccer World Cup.
It must be said it is very tough to have a winning bet predicting a push. So if you are looking for a higher potential payout on a sports bet it may be better to wager on a straight moneyline where you feel more comfortable. There are plenty of these sports to find where a money line is better in North America.
What US Sportsbooks offer the best odds?
This is always a tricky question as there are so many sports and so many operators now available. Some are better at offering the best odds on football, while another sportsbook may be best at offering the best odds on soccer. However, the two most used sportsbooks with low vig that we recommend and use for the best odds are
10 x $100 Second Chance Bets
21+. T&C Apply
21+. T&C Apply
Awesome live betting
Multiple bet types
Huge range of sports & markets
10 x $100 Second Chance Bets
21+. T&C Apply
21+. T&C Apply
Now that you have the knowledge of how to read betting odds, you can go put them into practice! Go check out our sportsbooks for New Jersey, Pennsylvania, Indiana, and Colorado and see what you can do!
FAQs
How are sports odds calculated?
The operator will calculate the probability of each outcome happening and will subtract the margin. If the actual probability is 2/1 (3.0 in decimal, 200 in American), the sportsbook will subtract their 5% margin, and the odds offered will be 19/10 (2.90, 190).