Gamble USA strives to improve your online gambling experience. We aim to help you play safely, make informed decisions when gambling, and increase your betting knowledge through our guides.
We adhere to strict editorial integrity; our content may contain links to products from our licensed & legal US partners.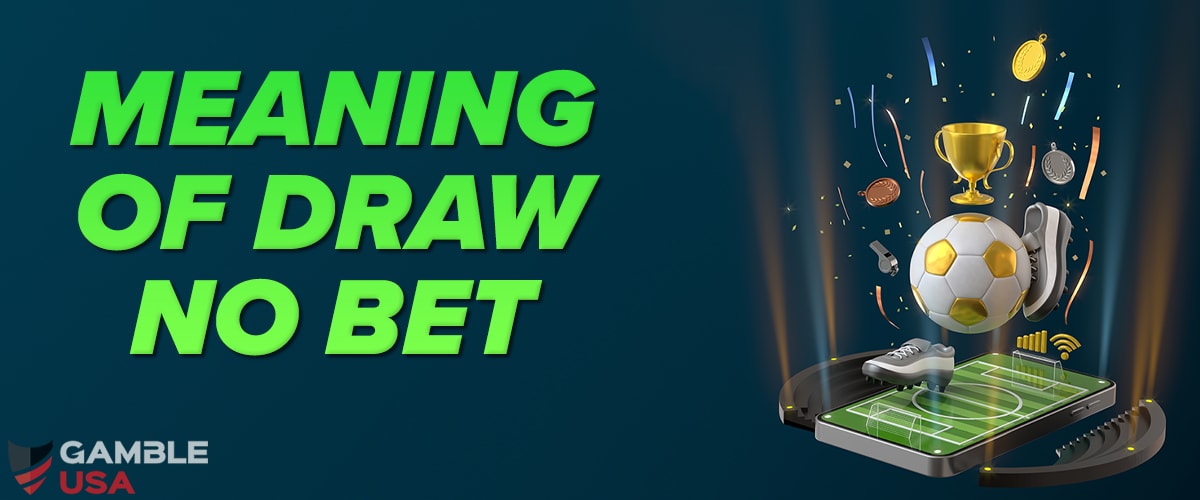 Ever wondered what the draw no bet option means on your betting selection? Well, it's basically limiting the possible outcomes of a match and giving you some insurance if the scores are tied at full-time.
This betting option can be incredibly useful with some sports betting markets, so you need to have a solid understanding of how it works. We'll break down all the details in a way that's easy to understand so that you can also add the betting option to your game.
How Does Draw No Bet Work?
To understand a draw no bet, you have to understand the basics of a moneyline bet. Let's take an example of the two English teams, Burnley and Man City. Burnley is in the Premier League and Man City are recent champions of Europe.
Of course, we'd assume that Man City would beat them in this match so the odds are in the favor of the away team at -330. This means you'd have to bet $330 to win $100. On the other hand, if you bet on Burnley, you'd use the +850 odds. This means that a $100 bet would pay out $850.

If you've watched a game or two of soccer, you'll know that a tie happens quite regularly. Since this is the first game of the league, anything can happen! If it is a tie and you've bet on either team to win, you'll lose your wager. Quite risky for such a competitive sport! You also have the choice to bet on the tie at odds of +480 but that's also quite a risk.
To minimize the gap, some sportsbooks offer customers the option of draw or tie no bet which has reduced odds since you're picking out of 2 outcomes now instead of 3.
You can see that the straight Burnley win bet is at +850 while the tie no bet, Burnley to win is set at +670. If you feel there's an upset on the cards, this is a safer option which still has a significant payout and you avoid the possibility of Man City scoring a late equalizer and tying the match. If they do, you'd simply have your funds returned to your account, since it is 'no bet'.
How are the Odds & Winnings Calculated?
A draw no bet market has a similar odds calculation to a standard moneyline bet. After the standard moneyline odds are calculated, a fair offer can be calculated using the formula below:
(Original Team Odds) x (1-1/(Original Draw Odds)) = Draw No Bet Odds
Your betting odds will need to be converted to decimal odds, so just use our calculator to switch between the standard value. The table below shows how the calculation works and how far off FanDuel was with the match shown in the previous image.
| ⚽Team | Standard | Draw No Bet (Actual) | Draw No Bet (Calculated) |
| --- | --- | --- | --- |
| Manchester City | -330 | -1050 | -1282 |
| Tie | +480 | N/A | N/A |
| Burnley | +850 | +670 | +786 |
While they are close, the odds are quite a bit off. This could be due to many factors, just keep shopping around for the best offer.
Does the Draw No Bet Wager Include Overtime?
The addition of overtime in bets will depend on the terms and conditions of the sportsbook platform that you are using. Most of them would look at the match result instead of the result after standard play time but we highly recommend clarifying this before you place your bet. FanDuel sportsbook makes it easy and highlights the condition above your selection, if there isn't such a feature with your sportsbook, reach out to customer service and double-check.

You may also have the option of including or excluding overtime. DraftKings sportsbook is a great example of this where customers can choose an outcome at half-time, full-time, or even after extra time.
Draw No Bet Eligible Sports
The draw no bet is quite unique compared to standard sports betting options and is not available within every sports market that a platform includes. Some sports have little to no draws, like baseball and basketball, so there'd be no point to include the betting option. The most common draw no bet wagers would usually be on soccer, hockey, boxing, football, cricket, chess, and rugby.
⚽Soccer
Soccer betting definitely the most common draw no bet market and this is due to the numerous draws throughout a standard league season. If the scores are tied after full-time in a league game, it's usually just recorded as a draw. If it's a cup or knockout match, the teams will go to penalty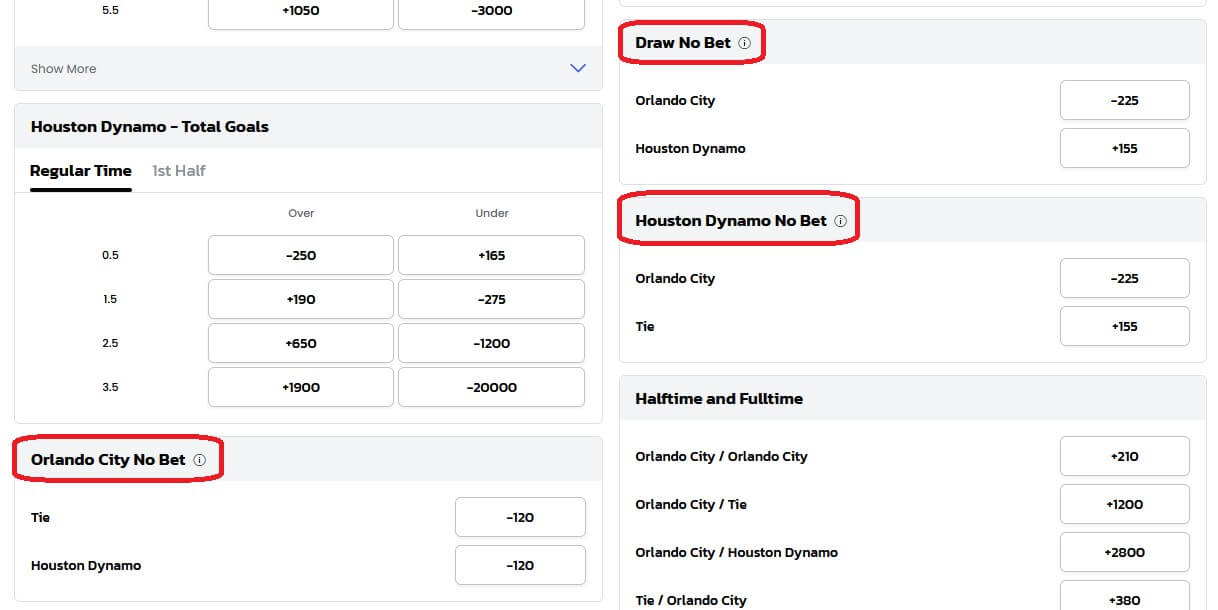 🏒Hockey
NHL matches cannot be tied, they include the standard overtime of 5 minutes if scores are tied after full-time. Other leagues do have matches that end in draws though. The NCAA is one of them and if scores are tied after standard playing time, the teams accept a tie. The betting option is scarce here but you might find it with some sportsbooks.
🏉Football
While a draw is possible in the NFL, it's quite rare. Teams first have to go through overtime and if the scores are still tied, the match will be drawn. The betting market is quite limited for football betting in terms of a draw no bet, very few sportsbooks have it available. We have come across it a few times, so just keep looking through offers if you'd like to rule out the possibility of a tie.
Draw No Bet Strategies
The draw no bet wager can be considered a strategy in itself but there's another approach you could use to guarantee that you can make some winnings in a match.
Hedging
Since you're reducing the outcomes of a match down to two, it is possible to hedge your bets by checking out the odds at another sportsbook. To do this, you'd take the draw no bet option for the home team with a sportsbook that has the best odds.
You can then place the hedged draw no bet on the away team with another sportsbook platform. This strategy requires a bit of math as you need to ensure that either bet's winnings will exceed the money placed on the losing bet. You also won't make massive winnings by using this strategy but you are guaranteed one winning bet out of the two.
Where to Make a Draw No Bet?
Most sportsbooks have the feature available. It's just a matter of looking for the specific option. We've thoroughly reviewed each of the platforms and we'd recommend using one of the sites listed below.
📖Sportsbook
🎁Welcome Bonus
💵Minimum Deposit
⭐Highlights
DraftKings
20% Deposit match up to $1,000
$5
Widest variety of betting options
Flash bets for instant payouts
BetMGM
Up to $1,000 in bonus bets
$10
Comprehensive sports market coverage
Decent betting options with great odds
Caesars
100% up to $1,250 first bet and 1,000 Tier and Reward credits
$20
Highest value welcome offer
Quality loyalty program
FanDuel
$1,000 No Sweat First Bet
$10
Unique betting options on a variety of markets
In-depth league coverage for all sports
PointsBet
5 x $100 bonus bets if your first bet loses
$5
Unique Points Betting option
Great live betting platform
When to Make a Draw No Bet?
The decision will always be yours. If you have a feeling that two teams are just too equally matched, you should definitely opt for the draw no bet. Otherwise, it's not usually worth it for sporting markets other than soccer.
You're always reducing your payout no matter which team you're betting on. If you are an avid soccer bettor, just research the teams and make an informed prediction of the draw possibility.
Pros & Cons of Draw No Bet
| ✅Pros | ❌Cons |
| --- | --- |
| Minimize the risk when betting on tight matches | Payout odds are decreased |
| Draw not bet can be coupled with other bets to make a parlay bet | Match outcome is not likely with some sports |
| Useful when betting on the favorite team | |
| Guaranteed opportunity to hedge bets | |
FAQs
How does draw no bet work?
The draw no bet option just eliminates the possibility of a draw on your moneyline or spread bet. This means that if the team you predicted won, you'd receive your winnings as usual. If the team lost, you'd lose the money. If they draw, your bet is just returned to your account.
What is an example of draw no bet?
An example of a draw no bet would be putting $10 on the USA to beat Wales in a soccer match. The odds would be around +140, so if you were to win, you'd have $24 including your bet. You decide to take the draw no bet option as insurance and the score ends 2-2. Your $10 bet is just credited to your account. By doing this, you avoid the possibility of losing your money if the game ends in a draw.
What is the draw no bet meaning in soccer?
The draw no bet option in soccer just means that your bet amount will be returned to you if the game ends with a tied score.
What are the advantages of draw no bet?
The main advantage of draw no bet is the insurance of getting your money back if a game ends in a draw. It's usually not the case but there is always a possibility and by selecting draw no bet, you can rule out that option.
Is extra time included in the draw no bet?
This will depend on the specific sportsbook platform that you are placing the bet with. It is usually not included but we recommend contacting customer service to make sure of that before you place your bets.
Is double chance bet and draw no bet the same?
Not quite. With a double chance bet you are including the possibility of a draw in your bet. If you're selecting a draw no bet, you're ruling out the possibility of a draw. They can be quite similar so just check the odds of each option to make your decision.