Gamble USA strives to improve your online gambling experience. We aim to help you play safely, make informed decisions when gambling, and increase your betting knowledge through our guides.
We adhere to strict editorial integrity; our content may contain links to products from our licensed & legal US partners.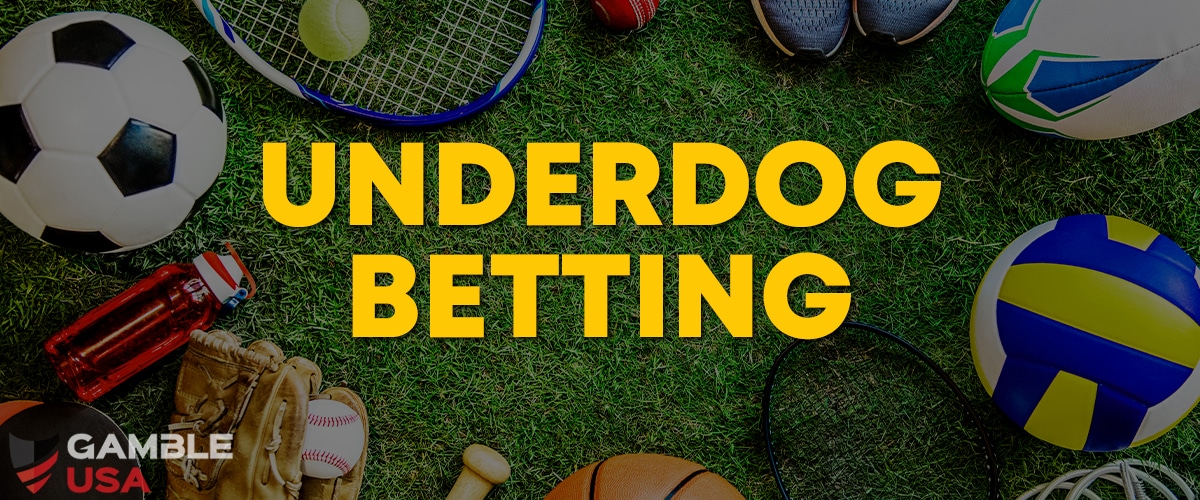 Do you have what it takes to chase those big payouts and take a contrarian approach to sports betting?
In this article, we will explain how underdog betting works and break down the best sports, markets, and sportsbooks, and even share some actionable advice that you can use right now to win more money with underdog betting!
What Is Underdog Sports Betting?
An underdog is a team or player that the sportsbook expects to lose. In contrast, the favorite is the team or player that is expected to win.
Underdog in sports betting is when you defy the sportsbook and bet on the underdog team or player to cause an upset. For example, you bet on the Detroit Pistons, who were the worst team in the NBA Eastern Conference, to beat the Milwaukee Bucks, who had the best regular season record.
Underdog sports betting is all about being a contrarian. The general public and the sportsbook is predicting Team A to win, but you are saying everyone is wrong and gambling on Team B. It takes courage to go against the grain, and it is definitely risky, but you get rewarded with bigger payouts.
How to Spot the Underdog?
The easiest way to spot the underdog is to just look at the betting odds. The team or player with the + odds is the underdog. The higher the odds, the bigger the underdog.
For example, if the Detroit Lions are +235 to beat the Kansas City Chiefs, that means the sportsbook is predicting they have a 29.85% chance of winning. However, if they were a +400 underdog, their implied probability would only be 20%.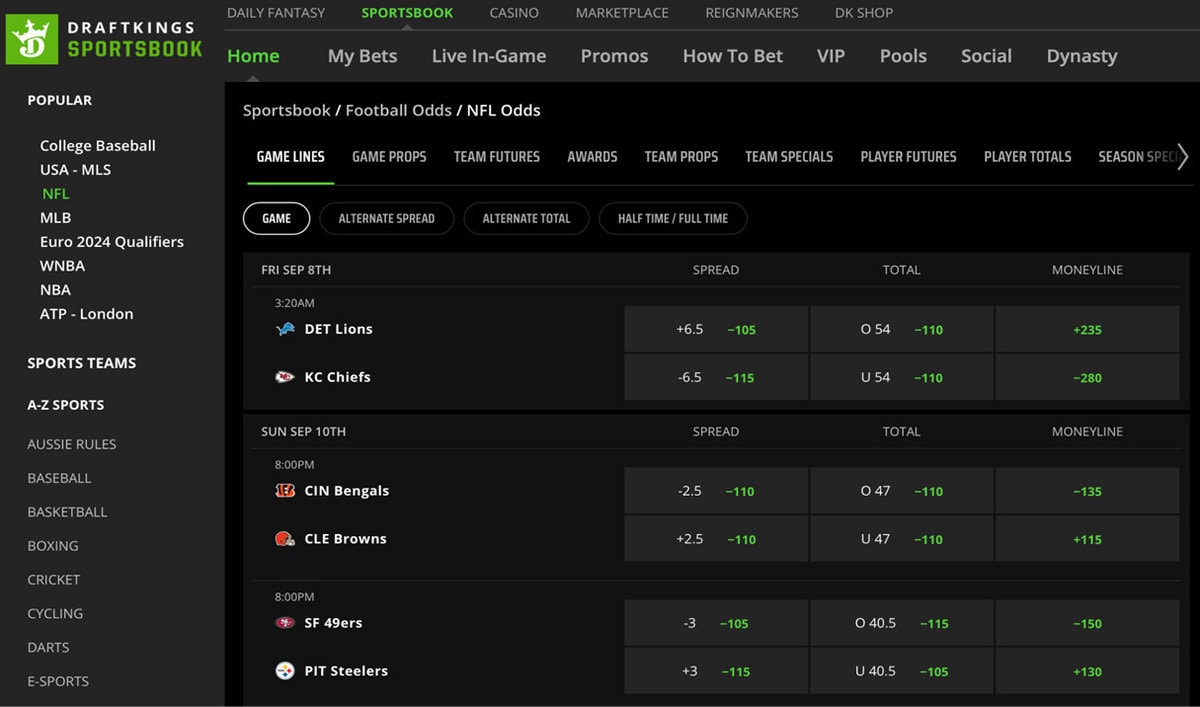 The team with the negative odds is considered the favorite, and the sportsbook is predicting them to win the majority of the time. The lower the favorite's odds, the more likely they are to win. For example, a -300 favorite is expected to win 75% of the time, while a -500 favorite is expected to win 83.33% of the time.
Favorites vs. Underdog Betting
Betting on favorites and underdogs can both be viable sports betting strategies, but they require different approaches. When you are betting on underdogs, you need to reduce your average bet size because the chance of losing individual bets is high. If you risk too much of your cash on underdogs, you can easily lose a number of wagers in a row and put a serious dent in your bankroll. When betting on favorites, you can afford to increase your stake size and take more risks because the chance of the player or team winning is much greater.
You can use the Kelly Criterion to calculate your ideal bet size when betting on favorites and underdogs. The formula is (your calculated implied probability of winning % x the decimal odds from the sportsbook – your calculated implied probability of not winning %) / decimal odds from the sportsbook = percentage of your bankroll you should wager.
For example, if you think the Detroit Lions actually have a 35% chance of beating the Kansas City Chiefs, you would bet 15.6% of your bankroll (0.35 x 3.35 – 0.65)/3.35). If you think the Kansas City Chiefs actually have an 80% chance of beating the Detroit Lions, you would bet 65.26% of your bankroll (0.80 x 1.357 – 0.20)/1.357).
As a reward for taking on greater risk, you receive bigger payouts when betting on underdogs. For example, if you bet $100 on the Detroit Pistons at +235, you will receive $335 in total and $235 in profit. However, if you bet $100 on the Kansas City Chiefs at -280, you will only get $135.71 and $35.71 in profit.
How to Bet on Underdogs?
To bet on an underdog, follow these steps:
Sign up to a legit sportsbook, like the ones we've listed here.
Deposit
Select a sport
Choose a bet type
Pick a team or player with + odds (avoid minus sign odds)
Enter your stake
Confirm your bet
Betting on underdogs is the same as making a standard sports bet. The only difference is you are placing cash on a player or team with + odds. If your chosen player or team has – odds, then you are betting on the favorite.
Best Betting Markets for Underdog Picks
You can find great underdog picks in virtually all betting markets, including money line, spread, totals, futures, over/under, and props. Typically the best markets are match result based where there are two outcomes.
Moneyline
Moneyline bet is where you bet on Team A or Team B to win. In the money line markets, there is typically a clear underdog, and you can get big payouts if you bet on them to cause the upset.
Spread
Spread bets are similar to moneyline bets, where you need to predict Team A or Team B to win; however, you need to factor in the + points handicap that the sportsbook applies to the underdog. There are usually only small underdogs in the spread markets, which increases your chances of winning.
Totals
With a totals bet, you need to predict how many points or goals will be scored in a particular game. Totals are presented as an over/under style wager where you need to guess whether the total points scored will be over or under the line set by the sportsbook. Like spread betting, the underdogs are small in this market.
Popular Sports for Betting on Underdogs
Underdog betting strategy in major sports like football and basketball is tricky because the sportsbooks have pretty accurate pricing models, and the general public is a lot more knowledgeable. This why we recommend hunting for underdogs in niche sports like:
Table Tennis
Most people don't even know that there is professional table tennis and that you can bet on it. Most of the action goes down in Europe, and the top leagues are the Czech Republic TT Star Series, Setka Cup, and TT Cup.
A great strategy is to bet on the pre-match underdog to win the first set. There seems to be a common trend where the underdog will win the first set but then go on to lose the match. You can even head to the live gambling markets and then bet on the pre-match favorite, who is now likely the underdog after losing the first set, and then bet on them to mount a comeback and win the match.
Esports
Esports betting markets have only been around for a few years, and with so many different disciplines, sportsbooks often have difficulty accurately pricing underdogs. We recommend betting on small regional tournaments for esports like Dota 2 and League of Legends with lots of unknown teams and then doing a deep dive research until you find a team that has a great shot at winning.
Handball
Handball is another niche sport that not many Americans have heard of but can be potentially profitable to bet on. The sport is like indoor soccer, but instead of kicking the ball into the goal, the players throw it.
The sport is popular in Europe, and the top leagues are Men's Bundesliga, French Men Division 1, and Liga Asobal. You can get some amazing high odds on handball underdogs in the moneyline markets.
Should You Bet on the Underdog?
Sometimes betting on the underdog makes sense, and sometimes it doesn't. It is a case-by-case situation that should be based on your research and odds pricing model. For example, let's say the Los Angeles Rams are a +200 underdog to beat the Seattle Seahawks. If you start crunching the numbers and come to the conclusion that the sportsbook has accurately priced this betting market, then you shouldn't take the bet.
However, if you conclude that the sportsbook is not correctly pricing an injury to a key Seattle Seahawk linebacker and have failed to price in the Rams improved running game, then your model might reveal that the Rams are actually only a +170 underdog and are worth betting on.
As a general rule of thumb, betting on underdogs is riskier than betting on favorites, as you are more likely to lose. However, you do get to enjoy higher odds and bigger payouts. You need to find the balance between an underdog with nice odds but, at the same time, have a legitimate chance of winning!
What Are the Chances of Winning My Underdog Bet?

The chances of you winning your underdog bet depend on your own research and handicapping. However, you can calculate what percentage the sportsbook gives you of winning your underdog bet by following these steps:
Select an underdog bet – Let's say you bet on the Houston Texans at +340 to beat the Baltimore Ravens
Convert the American odds to decimal odds – 1 + (340/100) = 4.4
Divide 1 by decimal odds – 1 /4.4 = 0.2273
Multiply answer by 100 – 0.2273 x 100 = 22.73%
So as you can see, the chances the sportsbook gives you of winning an underdog bet depends on the odds they provide for a sporting event. The higher the odds, the less chance they give you of winning and vice versa.
Underdog Betting Strategy
Don't just bet on any underdog you come across. Instead, use these tips to find underdogs that have a legit shot at winning:
Bet On Home Underdogs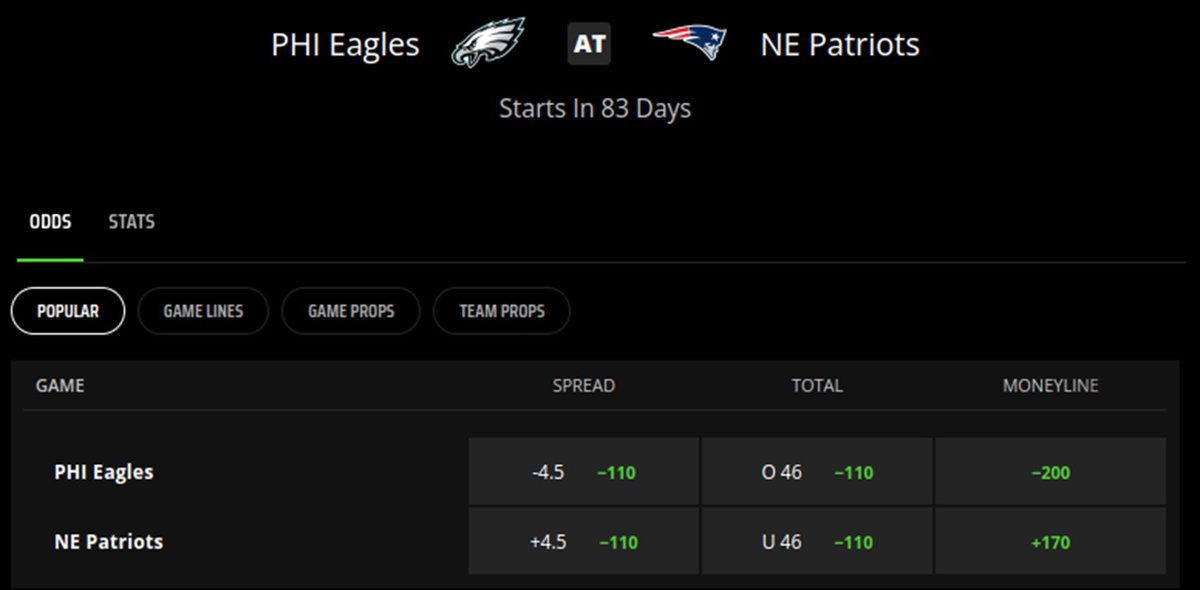 A home underdog is a team that has home-field advantage but is expected to lose. Sportsbooks often underestimate the home-field advantage in certain markets. We recommend betting on home underdog college basketball and football teams as the local student fans can create extremely hostile environments for the away team.
Bet On Underdogs Who Are In Poor Form
After a team loses a few games in a row, the whole world is ready to write them off as losers. However, the opposite often happens, and the team's bad luck ends, and they experience a mean reversion effect and start playing like their previous selves.
Avoid Underdogs With Greater Odds Than +500
The higher the underdog odds, the bigger your payout will be, but unfortunately, your chance of winning radically decreases. We recommend finding underdogs in the +200 to +400 range, which gives you a 33.33% to 20% chance of winning.
Practice Strict Bankroll Management
When betting on underdogs, you need to reduce your normal bet size. If you try to use the same stake size that you use for favorites, it won't be long before you lose 5 or more bets in a row and blow your bankroll!
Pros & Cons of Underdog Betting
Underdog betting has a lot of perks, but there are also key downsides that you need to consider before you start throwing cash on teams no one thinks are going to win!
| ✅Pros | ❌Cons |
| --- | --- |
| Higher payouts | Riskier |
| Profitable opportunities | Need to practice strict bankroll management |
| Satisfaction of proving the sportsbooks wrong | You will lose frequently |
Best Underdog Betting Odds
To get the best underdog betting odds, you need to pick a sportsbook that offers a wide range of sports betting markets and bet types, and consistently has generous odds. We recommend signing up at these top-rated sports betting sites:
FAQs
What are underdog bets?
Underdog bets are when you bet on a player or team to win when the sports gambling site is predicting them to lose. For example, let's say you bet on the Houston Texans at +340 to beat the Baltimore Ravens, who are a -425 favorite. The sportsbook is only giving the Texans a 22.73% chance of winning.
What are the best underdog betting markets?
The best underdog betting markets are usually niche sports where there is not a lot of volume, and the sportsbooks do not have accurate pricing models like table tennis, eSports, handball, and curling.
Is underdog betting legit?
Betting on the underdog is legit, but you have to avoid just chasing long odds. The sportsbooks are good at handicapping sporting events, so you can't just blindly bet on underdogs. You need to do your research and identify spots where they have mispriced the underdog.
Is underdog good for sports gambling?
Underdog can be good for sports gambling as you win large amounts from a small stake. However, just because a player or team is an underdog does not mean the odds are not accurate. You should only bet on underdogs when your research indicates that the sports betting site has made a mistake.
What is the opposite of underdog in betting?
The opposite of an underdog sports betting is a favorite. A favorite is a team or player that the sportsbook expects to win. Favorites have minus odds, and the lower the odds, the bigger the favorite they are. For example - 120 (55% implied probability) is a very small favorite, while -600 is a massive favorite (85.71% implied probability).