Gamble USA strives to improve your online gambling experience. We aim to help you play safely, make informed decisions when gambling, and increase your betting knowledge through our guides.
We adhere to strict editorial integrity; our content may contain links to products from our licensed & legal US partners.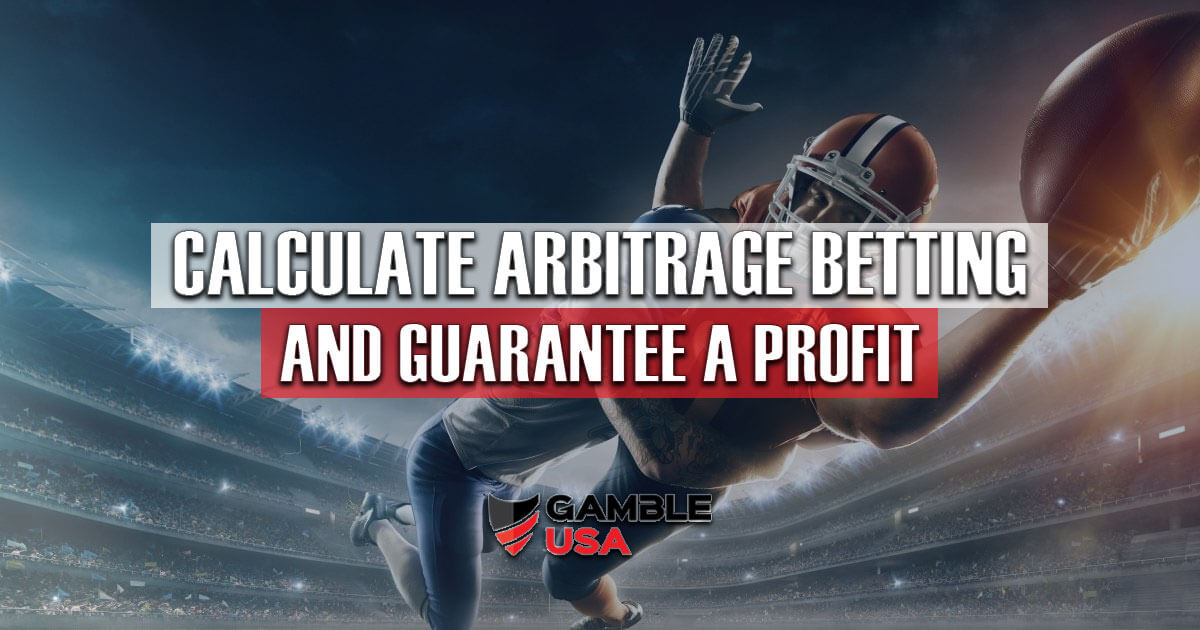 Arbitrage betting is one of the hottest topics in the US betting scene right now. But what exactly is Arbitrage betting, and how do you do it? Read on to find out more about this legal technique.
Arbitrage is a hedging strategy in which a bettor simultaneously places opposing bets on mispriced odds to take advantage of the difference and generate a profit. This sports betting strategy drastically reduces the risk of losing money but also limits the size of payouts to breaking even or turning small profits.
Arbitrage betting situations can only arise when there is a considerable difference between betting odds that allow bettors to make opposing bets and turn a profit. To get started, it is worth looking at the best arbitrage betting apps where this is possible. It is also worth noting that these betting sites offer substantial welcome bonuses that play all so well into the arbitrage strategy. You do not even need to be a sports betting expert to profit from arbitrage betting.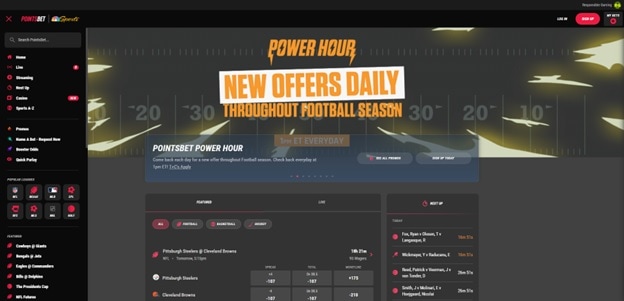 ---
Best Betting Apps with Arbitrage Betting Opportunities
Getting the highest odds possible is the only way to guarantee profit using arbitrage. Those new to the strategy should start by utilizing betting apps for arbitrage betting that favor favorites like PointBet and FanDuel or those that have a thing for underdogs like Caesars. Online bookmakers like BetMGM and DraftKings have competitive odds depending on the event.
Equipped with all the bells and whistles bettors have come to expect, including same game parlays, live betting, daily odds boosts, the cash-out early option, and minimal bonus cash rollover requirements, the mobile betting apps mentioned above are available for both Android and iOS and come with a 4.4/5 star rating or better in their respective app stores.
Make sure to maximize any welcome bonus promotions; they're the most significant gift bookmakers offer. Stakes using bonus credits aren't included in the payout. Be sure to read the fine print first. Criteria for how to qualify for promotions and how they can be used will vary significantly from bookmaker to bookmaker and promo to promo. So let's run down the best apps for arb betting in more detail and learn why you should use them.
🥇

PointsBet Sportsbook – Insurance, Boosts and Great Betting Tools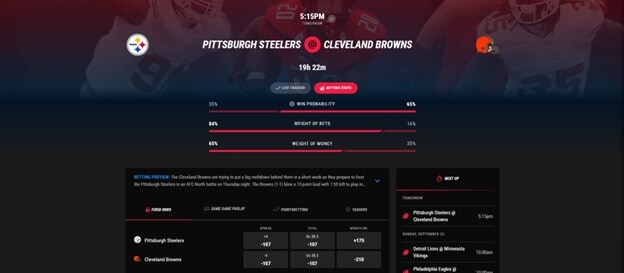 Taking wagers in 10 states, PointsBet sportsbook launched in 2019 and has quickly closed the gap on popular betting apps DraftKings and FanDuel, thanks to a clean layout, some of the best odds on favorites, and daily customizable parlay profit boost tokens. Profit boost tokens are provided every 24 hours and are split between a regular three-leg (minimum) parlay and one of the same-game variety. The profit boosts can be activated directly from the bet slip.
A fan of favorites, PointsBet features 18 betting markets, live streaming of select events, and an extensive contest preview. Along with a write-up and win probabilities, the preview section shows the percentage of bets for each side and where the money is leaning, a perfect tool for arbitrage bettors.
PointsBet's welcome bonus offer of two bonus bets on the house, totaling up to $2,000 refunded in bet credits if they fail to hit is a perfect way to test the strategy. The first bet is a pointsbetting wager, and the other is a fixed-odds bet. New users have 14 days to use any bet credits. Click here to get started.
PointsBet knows the pain of a bad beat, which is why bettors can submit a request to have the money returned on a loss taken due to a significant injury or a bad call by tweeting the Karma Kommittee using #KarmaKommittee. The Kommittee meets every day at 7 a.m. to review submissions.

🥈

FanDuel Sportsbook – Competitive Odds and Extensive Sports Coverage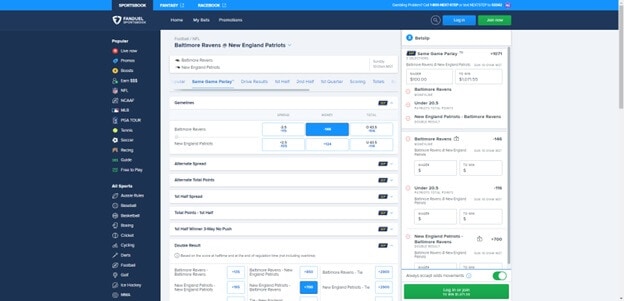 Available in 16 states, double that amount if you count daily fantasy sports operations, FanDuel sportsbook is a mobile betting app leader for many reasons. Along with setting the standard for combining individual wagers from a single contest into a same game parlay, FanDuel features 17 betting markets, an intuitive interface, and strong odds on favorites.
FanDuel is having success converting its massive DFS user base into sports bettors by offering various entertaining promo opportunities, including bonus bets, bet insurance, and odds boosts. With most sportsbook apps now offering same game parlays, you may be able to expand arbitrage to multiple wagers.
FanDuel offers a welcome bonus first bet of up to $1,000 refunded in bonus bet credits to welcome new users. A minimum $10 deposit is required. Bet credits will be sent out within 72 hours of a failed first wager and don't need to be used in one lump sum. To sign up with FanDuel, click here.

🥉

Caesars Sportsbook – Excellent Features for Arbitrage Bettors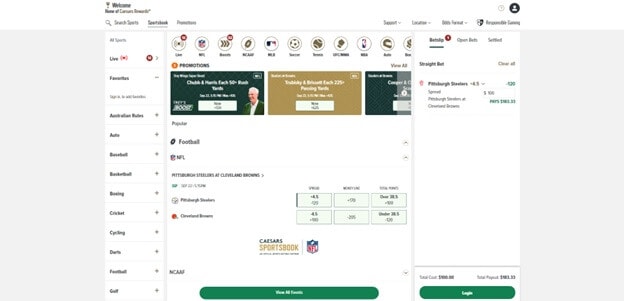 Since it acquired international sports betting company William Hill in 2021, Caesars sportsbook has catapulted itself onto the short list of top online sports betting sites for arbitrage bettors by consistently offering the best odds on one side, usually the underdog.
With a layout designed for mobile, Caesars is available in 15 states and features 19 betting markets, frequent profit boost promos, and a favorites section, which comes in handy when attempting to place bets on two bookmakers simultaneously.
Caesars is collecting its fair share of accounts by offering a first bet bonus of up to $1,250 refunded in a single bonus bet credit if the wager settles as a loss. The bonus credit will be applied within 48 hours and must be used within 14 days. Deposit at least $10 and use the Caesars promo code GUSAFULL to claim the bonus along with 1,000 reward points and 1,000 tier points, which can be used for comps on free play, hotel stays, dining, and more at more than 50 locations. To create an account, click here.

🎖️

BetMGM Sportsbook – Ideal for In-Game and Parlay Bettors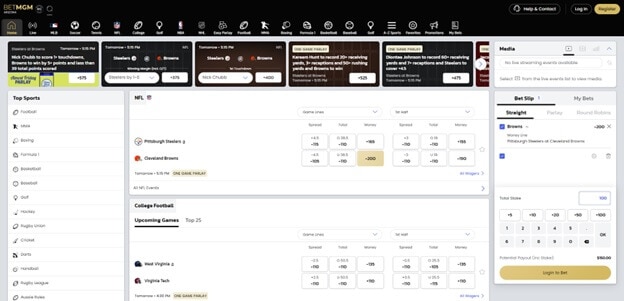 In the betting business for 30 years, BetMGM Resorts International has used BetMGM sportsbook to become the largest iGaming operator in the US. Available in 16 states, the BetMGM betting app has the most extensive list of betting markets among the best betting apps at 27 sports and competitive lines because it still sets its odds. Music to an arbitrage bettor's ears.
BetMGM features a polished layout, improving same game parlay section, and Edit My Bet option. The Edit My Bet feature allows bettors to change in-play wagers. Even if a a BetMGM parlay has settled sections, you can add, swap, or remove selections, and increase stakes. Like Caesars, placed wagers with BetMGM earn reward program points redeemable for discounts, deals, and expedited window service at participating resort and casino properties.
Along with plenty of parlay insurance promo opportunities, BetMGM's welcome bonus is a bonus bet worth up to $1,000 refunded as a single bet credit, possibly more, depending on the size of your wager.
If your first bet loses and is less than $50, you will receive a single bonus bet back in the denomination equaling the total amount of the qualifying bet. If your initial wager loses and is of an amount greater than $50, you will receive five bet credits back in equal denominations of 20% of the total amount. Any bet credits will be added to your betting account within 24 hours. A minimum deposit of $10 is required. Click here to create a profile, and be sure to use promo code GAMBLEUSA.

🏅

DraftKings Sportsbook – The Go-To Place for Betting Experts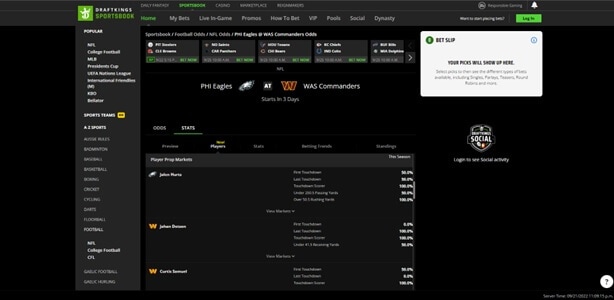 Serving 18 states, DraftKings sportsbook is a dominant name in sports betting because it does everything well, including a user-friendly interface, competitive odds, robust game preview section, and more betting markets than most, with 25 sports listed.
The stats section includes prop betting trends which can be adjusted to zoom in or out by groupings like the last five or ten contests, the entire season, head-to-head, and more, depending on the sport. The preview doesn't do much for arbitrage, but still a helpful tool all sports bettors should know about.
DraftKings does their welcome bonus differently by offering a 20 percent initial deposit match in bonus credits up to $1,000. Bet credits are released at a pace of $1 for every $25 wagered. Bets using cash bonuses must be placed on odds of -300 or longer (i.e., -250, -150, +250). A minimum deposit of $5 is required. You get 90 days to meet the rollover requirements and play through any bet credits. DraftKings does make up for the weak welcome with various odds boosts and bet insurance opportunities.
Depending on when you create an account, the app may offer a more enticing welcome promo for DraftKings arb bettors in the form of bet credits (usually during the start of a new season). Get started with DraftKings by clicking here.

---
What is Arbitrage or Arbitrage Betting?
Arbitrage is a guaranteed profit strategy that comes from use in financial markets. In sports betting, an arbitrage betting opportunity eliminates risk by wagering on all the outcomes of an event, with the probability of profit with the favorite. A tie will be considered a push, and you'll get your money back on both wagers unless the draw is part of a three-way moneyline like in soccer.
Leaning towards the implied probabilities of the favorite to clear a small profit, arbitrage occurs when the underdog odds are evenly opposite or better. Bettors can add extra stakes to team two when odds allow and guarantee a profit either way.
What is Juice in Sports Betting USA?
Before going into odds and money, it is important to define sports betting juice. This is essentially a house edge which the sportsbook implements in the odds. The easiest example is that of a coin flip. There is always a 50-50 possibility of landing either heads or tails, but the bookmaker will not offer odds of +100 on heads and +100 on tails.
Instead, the bookmaker may offer odds of -110 and -110 on heads and tails. This means that on average, you will have to win 52% of your coin flips to make even money. What is more, it is impossible to make arbitrage bets with these odds as the potential profits cannot cover the stakes you need to place on both bets.
To make arbitrage bets, you will usually need to use different sportsbooks, and look to expose small differences in the odds offered at each one.
Arbitrage Betting Example
The easiest example of an arbitrage bet is a two-way moneyline wager on a single game. You cover both possible outcomes by betting on either team to win the game, and so the only thing left to do is shop for the right odds. Let's say you find two moneylines on the game, in which:
Team 1 -110
Team 2 +120
There is a big enough discrepancy in these odds to place an arbitrage bet. Say you start with a bet of $100 on Team 1. This means you stand to win $90.91 in profit, or $190.91 altogether with your returned stake.
You have spent $100 on the first team, and now you have to spend $86.78 on the second team. This will also bring a profit of $90.91, giving you a total of $190.91. Now let's look at what that means:
Team 1: Stake of $100 to win $190.91
Team 2: Stake of $86.78 to win $190.91
Either way, you will win $190.91 and you have only spent $186.78. This ensures a clear profit of $4.14. It may not be the largest of profits, but it is guaranteed either way the game goes.
---
How Can You Benefit From Arbitrage Betting?
By eliminating the risk, bankrolls that don't have much margin for error or sports bettors who have had lousy luck can breathe easy while placing arbitrage bets. The small gains produced by arbitrage opportunities can add up quickly and can be used to increase your bet size over time.
Firstly, to take advantage of Arbing, you must try and search for the right opportunities. Bettors need to keep an eye out for arbitrage bets today and useful promotions for arbitrage betting.
This is not a straightforward process, especially if you attempt to do this manually. Bettors will need to monitor several sportsbooks to attempt to pick out arbs bets on their own. A better alternative would be to purchase some software that tracks arbing. These arbitrage bet finder programs will notify you when an opportunity arises to make a profit. Additionally, there are arbitrage and hedge bet calculator options available on various betting exchange websites.
Please bear in mind that purchasing or subscribing to these programs can be costly. However, if your strategy involves a lot of arbitrage wagering, then the investment could be worth it.
Are There Sure Bets?
Albeit a break-even or small profit margin strategy, arbitrage betting, in theory, is as close to a sure bet as one can make, which is why most bookmakers are not fans. In practice, waiting for the proper setup requires patience, attention to detail, and timely execution. Adding extra bets, a second bookmaker, and the need for speed increases the chances of error when attempting to pull off arbitrage.
Bets may start coming in on the mispriced odds and change the line before you can get both bets in, forcing you to accept less-than-ideal odds to cover.
---
Arbitrage Betting Tips & Strategies
Matched betting is arbitrage but on the bookmakers' bonus bet dime. Playing with house money is an excellent way for beginning bettors to get their feet wet. More experienced bettors may look to increase their wager frequency by finding a p2p betting exchange. All experience levels of bettors should consider arbitrage betting software as it will help to highlight arbitrage opportunities.
Prop bets can be an excellent way to find mispriced odds because betting sites set these lines independently, which means less chance of odds across several bookmakers moving in unison.
Early Bird Odds
With a big game coming up, sportsbooks are always keen to take bets nice and early. Bets for a big game may be offered a week or more in advanced, and this provides arbitrage bettors with plenty of opportunities. This is because the odds given at the start of the week will almost always change in the days preceding the event itself. The traders who calculate the prices tend to offer bigger differences from their competitor's prices at the start of the week, but as game day draws nearer, the markets should converge. If one sportsbook offers far longer odds on a bet than others, you can most likely expect them to reduce their price. However, anything can happen in the days preceding a sporting event, and it can also pose dangers for arbitrage bettors if the odds are greatly influenced by any external factors such as last minute injuries or sudden illness.
Matched Betting
Matched betting is an arbitrage strategy but takes advantage of different betting companies' welcome bonuses, bet insurance, odds boosts, and other promos to back one of the sides. This strategy is best used with two bookmakers that offer low to no rollover requirements, as it will be easier to withdraw funds after any arbitrage bet attempts.
Arbitrage Betting Software
There is arbitrage betting software that will do the heavy lifting and identify arbitrage opportunities when they present themselves and notify you. Your projected profit will need to outpace subscription fees to justify paying for the service. Depending on the program, you may be able to get a free trial. With odds routinely changing, timing can make all the difference.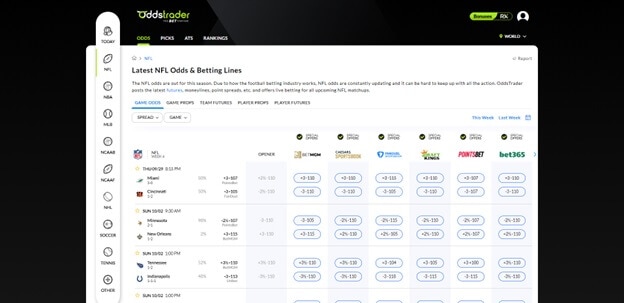 Betting Exchanges
More of a matching service, betting exchanges, often called peer to peer betting apps, aren't technically sportsbooks, so they don't care if you place arbitrage bets. These betting companies take a small cut with each loss, allowing you to guarantee a profit still. With difficulty finding arbitrage opportunities, bettors have begun using betting exchanges to provide the back bet, while placing the other with a traditional sportsbook. Access can be tough to come by if living in the US, but Prophet Exchange is currently legal in NJ.
Backing a Value Bet
Value betting is similar to arbitrage in that bettors are always looking to take the best odds on favorites available across many bookmakers but forgoes the lay bet in hopes that the positive implied probabilities and higher payouts will prosper over time. Value bettors should consider arbitrage if line movement presents an arbitrage opportunity.
Reduce Amount of Deposits & Withdrawals
If you are confident enough that you feel arbing can become part of your annual income, you will be more likely to deposit or withdraw money more frequently. After all, there are professional sports bettors out there who make a living from wagering. Arbers typically make large deposits to fund their long-term strategy and cash out frequently to enjoy the cash they have made.
However, it is recommended that you only make the occasional deposits and withdrawals so as not to grab the attention of the sportsbook.
Don't Complicate Your Arbitrage Bet
Arbitrage betting can sometimes mean your bet looks rather strange as you seek to guarantee a profit. For example, let's say you wager on the following:
Arbitrage Betting Example
Bet
Kansas City Chiefs to Win
Cleveland Browns to Win
Odds
-135
+150
% to Stake
58.96%
41.04%
Stake
$100
$69.60
Total Return
$174
$174
Profit
$4.40
You decide to bet $100 on the Chiefs, so you must wager $69.60 on the Browns. This results in you making a profit of $4.40. The key figure here is the $69.60 you must bet to maximize your profit. However, this is a strange bet amount, and the sportsbook may pick up on this if it develops into a pattern.
To throw them off the scent, you could round up your bets. It will mean you won't be making as much profit in the short term, but it will help you avoid a ban.
Use Different Bookmakers
You may not be excited at the prospect of using an alternative to DraftKings sportsbook. However, if you can spread your bankroll across numerous sites, you are less likely to draw attention as an arbitrage bettor.
Always keep in mind that a sportsbook will not hesitate to act if you place many suspicious-looking bets with them. However, they will not notice you if you are more casual and your wagers are more sporadic.
Avoid Small Betting Markets
Small betting markets, such as a tennis match or darts, are more volatile. Most betting sites offer smaller betting markets. This means there is likely to be a more significant difference in odds offered by bookmakers. You can potentially make a lot of money from these markets as a result.
However, if you continue to bet regularly on less popular sports, this activity will likely indicate arbitrage betting. You can avoid this scenario by ensuring variety in your betting between small and large markets. Keep an eye out for a niche betting market, but don't constantly bet on that market as bookmaker A or bookmaker B will identify you as an 'Arber'.
---
Arbitrage Betting for Beginners
Beginning arbitrage bettors can get started for less than $50. It may take time to work up to substantial profits and will limit the number of wagers placed in a week, but you should be able to roll profits into larger wagers with peace of mind knowing your bank account won't be taking a hit. Promotional offers and odds boosts are an excellent opportunity to accelerate profits. Additionally, if you can find some free arbitrage betting software this is great for sports arbitrage betting. There are many people out there actively looking for ways to utilize arbitrage tools, and free arbitrage bet finders will help you find the right solution.
For those hunting arbitrage opportunities the old fashion way, odds-tracking websites are a helpful tool for seeing odds from multiple oddsmakers in one place.
Arbitrage Betting Calculator Tools
Many websites provide arbitrage calculators to see the potential payout without entering stakes on different bookmakers and have the bet slips do it for you. An arbitrage calculator is an excellent way to find consistent odds pairings to your liking and ensure the strategy is worth your time or software subscription.
As a sports bettor, if you manage to find a arbitrage betting app that utilizes a calculator, it is certainly worthwhile to use this. This type of arbitrage software is extremely beneficial as if you can work out implied probability and the possible outcome for all scenarios, you can enjoy success by betting with an online bookmaker.
Dangers with Arbitrage Betting
It takes quite a bit of wagering and success to land on an online sportsbook's radar for arbitrage, but they can communicate with other bookmakers if they feel there is an issue. Getting flagged by a betting app can lead to account issues, including bans and blacklisting.
Ways a sportsbook might notice include taking both sides on the same bookmaker, winning streaks (it's a good idea to swap bookmakers from time to time), continued use of uneven stakes during bonus bets, niche sports betting, multiple withdrawals over a short period, max betting, or anything else that displays a pattern.
Sportsbook Ban or Blacklist
While it is rare, betting accounts can be limited suddenly and with little to no notification. Most online bookmakers will feature some language in the fine print stating their platform is for recreational bettors only. Be sure to alternate bookmakers when possible, round bets to an even number, and avoid small frequent withdrawals.
Losing Sight of Your Arbitrage Betting Strategy
Due to small profits and difficulty finding or placing two bets, it's easy to lose sight of your arbitrage strategy. Increasing risk to improve return can be tempting but is a gamble.
Excessive Losses
If for some reason, there is an issue placing one side of the arbitrage opportunity, you'll be on the hook for the one arbitrage bet you managed to place or be forced to accept worse odds, giving up guaranteed profit.
With difficulty finding arbitrage wagers, some sports bettors attempt to get ahead of line movement by jumping on odds when they are first released. This strategy does run the risk of moving in the wrong direction and forcing bettors to take unprofitable odds to cover the other side.
---
Is Arbitrage Betting a Viable Strategy?
You may be wondering if you should avoid arbitrage betting altogether or you can now see the arbitrage betting worth. The truth is there and plusses and minuses if you choose to pursue what is called arbitrage betting. For the casual bettor, it will be hard to win large amounts of money through arbitrage wagering for numerous reasons, which include:
Arbitrage betting opportunities are getting harder to find
If you pursue this strategy, you run risk of the operator banning you
The profit margins are small, so you will need a lot of cash to begin with
Most sportsbooks now change their lines and odds based on what other sportsbooks do for the same event, not the action they are taking. This means you won't find significant differences on moneylines and point spreads for most of the most popular American sports.
You can also wager on a game when it opens and then hope the line moves in your favor, but a season arbitrage bettor would rather rely on something more tangible than hope, even if they are confident it will move their way. You can find arb opportunities on options such as props on the NFL draft as the limits will be low so to keep winning consistently is difficult.
Of course there is also the fact that sportsbooks dislike arbitrage players. Although there will undoubtedly be active arb bettors playing at multiple sites, there is always the risk of being banned.
---
Why Operators Do Not Like Arbitrage Bettors
Sports betting arbitrage is entirely legal, but sportsbooks do not like it because it costs them money. Bettors are actively looking to guarantee a profit at the expense of bookmakers when betting on sport. Many people will feel sportsbooks shouldn't have the ability to ban people from using the platform just because they are winning money. However, operators believe it is unfair to bet in a manner that guarantees a profit regardless of the outcome.
Bookmakers don't typically have any issues with gamblers winning who aren't arbing, but customers who have a strategy that ensures they get a return are not welcome. Additionally, specific operators may be targeted by bettors, perhaps because they have a bonus bets, using a sportsbook bonus code, or offer generous odds. In this instance, the sportsbook can make substantial losses if successful arbitrage bettors exploit them.
It may come as no surprise that if you are consistently winning, the sportsbook will closely monitor your activity. Additionally, bookies will collaborate to identify such gamblers and share information to reduce the risk of them losing big money.
If your betting patterns cause concern and lead a bookie to believe you are arbing, your account is likely to be restricted or closed, in many cases without prior warning. Different bookmakers may claim they will never have to revert to such action, but this is unlikely. Using our arb betting tips can help you make profit and keep your sportsbook account up and running.
FAQ's
What is the benefit of arbitrage betting?
The benefit of arbitrage betting is eliminating risk by placing bets using multiple sportsbooks on all possible outcomes to guarantee a small profit due to mispriced odds. Profits can be rolled into the next bet to increase payouts over time.
Is arbitrage betting legal?
Arbitrage betting is entirely legal but frowned upon by many bookmakers because it takes their cut out of the equation. It takes some big wins to land on their radar, but bookmakers reserve the right to suspend or close accounts if a pattern emerges. Most online bookmakers have language in their free bet terms and conditions stating wagering on both sides of an event is not permitted, which means you'll need multiple accounts (different sportsbooks) to avoid being flagged.
Which are the best arbitrage betting sites?
The best arbitrage betting sites are BetMGM, Caesars, DraftKings, FanDuel, and PointsBet. These feature competitive odds, plenty of betting markets, profit boosts, and welcome bonuses.
How can I find arbitrage betting opportunities?
You can find arbitrage betting opportunities by using odds trackers to search for yourself or pay for a program to do it for you. Arbitrage bets are becoming harder to accomplish as online bookmakers have caught on in recent years. Along with trailing each other's odds, most betting apps use a handful of oddsmaking services to set odds.
How to calculate arbitrage betting?
There is software available to sports bettors who are looking at arbitrage opportunities. However, there is also a formula you cause for an arb bet, which is below:

Arbitrage % = ((1 / decimal odds for outcome A) x 100) + ((1 / decimal odds for outcome B) x 100)

Profit = (Investment / Arbitrage %) – Investment

Individual bets = (Investment x Individual Arbitrage %) / Total Arbitrage %
What does arbitrage mean in betting?
Arbitrage betting (or "arbing") is a gambling strategy that involves placing bets on all possible outcomes of an event to guarantee a profit.
Will arbitrage betting get you banned?
There are no laws against arbitrage betting, so you can't be prosecuted for doing it. However, keep in mind that the bookies do not take kindly to arb bettors. This is because you are profiting from a pastime that should bear losses.
Is arbitrage betting risk free?
So, when sports betting arbitrage is done professionally in the long term, the profits are practically "risk-free".