Arbitrage betting is one of the hottest topics in the US betting scene right now. But what exactly is Arbitrage betting and how do you do it? Read on to find out more about this legal technique.
As gambling activity increases in the United States, both online and in-person, people are continually looking for new ways of how to make money betting on sports. Arbitrage betting, otherwise known as 'Arbing,' is an advanced sports betting strategy that is derived from the financial world.
Some sports bettors think the only way you can overcome the odds and beat the bookmakers is through skilled handicapping. However, there are other ways you can profit from a sportsbook app or the countless NJ betting sites, including arbitrage gambling.
You do not have to be an expert playing on NFL betting apps; anybody can make some money using arbitrage in sports betting, especially with US soccer betting. It doesn't matter about your handicapping skills, your ability to predict the Super Bowl winner, or the outcome of the next Man Utd match. You can be successful using sports betting arbitrage methods as long as you are willing to put enough time into it.
Best sites and apps for Arb betting
If you are looking to use arbitrage betting online, or a sportsbook app, these are some of the best online operators:
What Is Arbitrage or Arbitrage Betting?
An Arbitrage definition states that this betting method involves wagering all possible outcomes of an event through numerous sportsbooks, such as DraftKings or Caesars Sportsbook. However, you cannot just select any operators; you must choose ones that have different odds so you can make a profit. Additionally, Arbing is a form of matched betting USA where bettors can minimize losses by wagering on two separate outcomes. There are different approaches to Arbing; for example, you could explore arbitrage betting Reddit to discover how other bettors approach this form of wagering.
Below is an arbitrage betting example:
Bookmaker 1 odds: Seahawks +110
Bookmaker 2 odds Rams +110
In this example, a bettor will place a wager of $100 on both teams, meaning the total amount wagered is $200. Whichever team wins, the player will be paid $110 for a winning wager in addition to the original $100 stake resulting in a total of $210.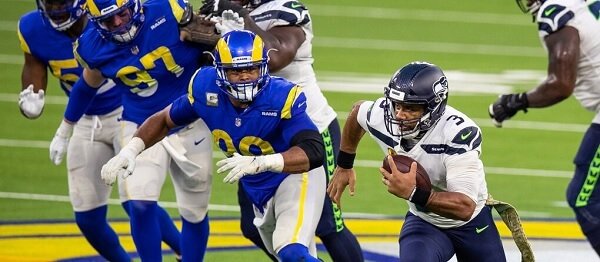 So, although there was $200 wagered on this game, there is a guaranteed profit of $210 regardless of who wins. The player makes a $10 profit regardless of the outcome. While these winnings won't make you rich and enable you to go to Vegas and run wild, it does prove the strategy is effective. Additionally, the more you bet, the more potential profit you can make.
One of the major stumbling blocks of arbitrage betting in the USA is that sportsbooks don't like them. However, let's look at how you can benefit from sports arbitrage and avoid going into bookmakers' bad books.
How Can You Benefit From Sports Arbitrage Betting?
Firstly, to take advantage of Arbing, you must try and search for the right opportunities. Bettors need to keep an eye out for arbitrage bets today and free arb bets. This is not a straightforward process, especially if you attempt to do this manually. Bettors will need to monitor several sportsbooks to attempt to pick out arbs bets on their own.
A better alternative would be to purchase some software that tracks arbing. These arbitrage bet finder programs will notify you when an opportunity arises to make a profit. Additionally, there are arbitrage bet calculator options available on various betting exchange websites.
Please bear in mind that purchasing or subscribing to these programs can be costly. However, if your strategy involves a lot of arbitrage wagering, then the investment could be worth it.
Why Operators Do Not Like Arbitrage Bettors
Sports betting arbitrage is entirely legal, but sportsbooks do not like it because it costs them money. Bettors are actively looking to guarantee a profit at the expense of bookmakers. Many people will feel sportsbooks shouldn't have the ability to ban people from using the platform just because they are winning money. However, operators believe it is unfair to bet in a manner that guarantees a profit regardless of the outcome.
Bookmakers don't typically have any issues with gamblers winning who aren't arbing, but customers who have a strategy that ensures they get a return are not welcomed. Additionally, specific operators may be targeted by bettors, perhaps because they have a free bets bonus, using a sportsbook bonus code, or offer generous odds. In this instance, the sportsbook can make substantial losses if successful arbitrage bettors exploit them.
It may come as no surprise that if you are consistently winning, the sportsbook will closely monitor your activity. Additionally, bookies will collaborate to identify such gamblers and share information to reduce the risk of them losing big money.
If your betting patterns cause concern and lead a bookie to believe you are arbing, your account is likely to be restricted or closed, in many cases without prior warning. Different bookmakers may claim they will never have to revert to such action, but this is unlikely.
Arbitrage Betting Tips
There is no foolproof method for a bookmaker to identify arbitrage bettors. Consequently, there is a chance of you being successful with this style of wagering. However, it is worth bearing in mind the following tips to ensure you continue to make a profit without your account being closed.
You should always use a legal US operator over an offshore operator. Sports betting is now legal in many states across the US, including AZ, NJ, PA, CO, TN, IN, IL, IA, MI, and WV.
Reduce Amount of Deposits & Withdrawals
If you are confident enough that you feel arbing can become part of your annual income, you will be more likely to deposit or withdraw money more frequently. After all, there are professional sports bettors out there who make a living from wagering. Arbers typically make large deposits to fund their long term strategy and cash out frequently to enjoy the cash they have made.
However, it is recommended that you should only make the occasional deposits and withdrawals so as not to grab the attention of the sportsbook.
Don't Complicate Your Arbitrage Bet
Arbitrage betting can sometimes mean your bet looks rather strange as you seek to guarantee a profit. For example, let's say you wager on the following:
Kansas City Chiefs -135
Cleveland Browns +150
You decide to bet $100 on the Chiefs, so you must wager $69.64 on the Browns. This results in you making a profit of $4.46. The key figure here is the $69.64 you must bet to maximize your profit. However, this is a strange bet amount, and the sportsbook may pick up on this if it develops into a pattern.
To throw them off the scent, you could round up your bets. It will mean you won't be making as profit in the short term, but it will help you avoid a ban.
Use Betting Exchanges
A betting exchange does not perform the same service as a bookmaker. Rather, it acts as a platform where sports bettors can take either side of a wager. One side is the standard bettor, while the other side acts as the bookie. Occasionally they will also collect part of their commission from the losing side.
Crucially, a betting exchange is not bothered if you are arbing. This is because they make money regardless of your betting strategy. It would be wise to use two or more betting exchanges to boost your efforts. Alternatively, you could use an exchange for one part of your bet and a traditional sportsbook for the other. You can only be banned from the sportsbook if you decide to do this.
Use Different Bookmakers
You may not be excited at the prospect of using an alternative to DraftKings sportsbook. However, if you can spread your bankroll across numerous sites, you are less likely to draw attention as an arbitrage bettor.
Always keep in mind that a sportsbook will not hesitate to act if you place many suspicious-looking bets with them. However, they will not notice you if you are more casual and your wagers are more sporadic.
Avoid Small Betting Markets
Small betting markets, such as a tennis match or darts, are more volatile. This means there is likely to be a more significant difference in odds offered by bookmakers. You can potentially make a lot of money from these markets as a result.
However, if you continue to bet regularly on less popular sports, this activity will likely indicate arbitrage betting. You can avoid this scenario by ensuring variety in your betting between small and large markets.
Arbitage Betting FAQs
How to calculate arbitrage betting?
There is software available to sports bettors who are looking at arbitrage opportunities. However, there is also a formula you cause, which is below:
Arbitrage % = ((1 / decimal odds for outcome A) x 100) + ((1 / decimal odds for outcome B) x 100)
Profit = (Investment / Arbitrage %) – Investment
Individual bets = (Investment x Individual Arbitrage %) / Total Arbitrage %
Is sports betting arbitrage legal?
Arbing is completely legal. Bookmakers do not like it as they can potentially lose substantial amounts of money. However, as long as you have a strategy in place to take advantage of arbitrage betting, you can make a profit legally using this style of wagering.