Gamble USA strives to improve your online gambling experience. We aim to help you play safely, make informed decisions when gambling, and increase your betting knowledge through our guides.
We adhere to strict editorial integrity; our content may contain links to products from our licensed & legal US partners.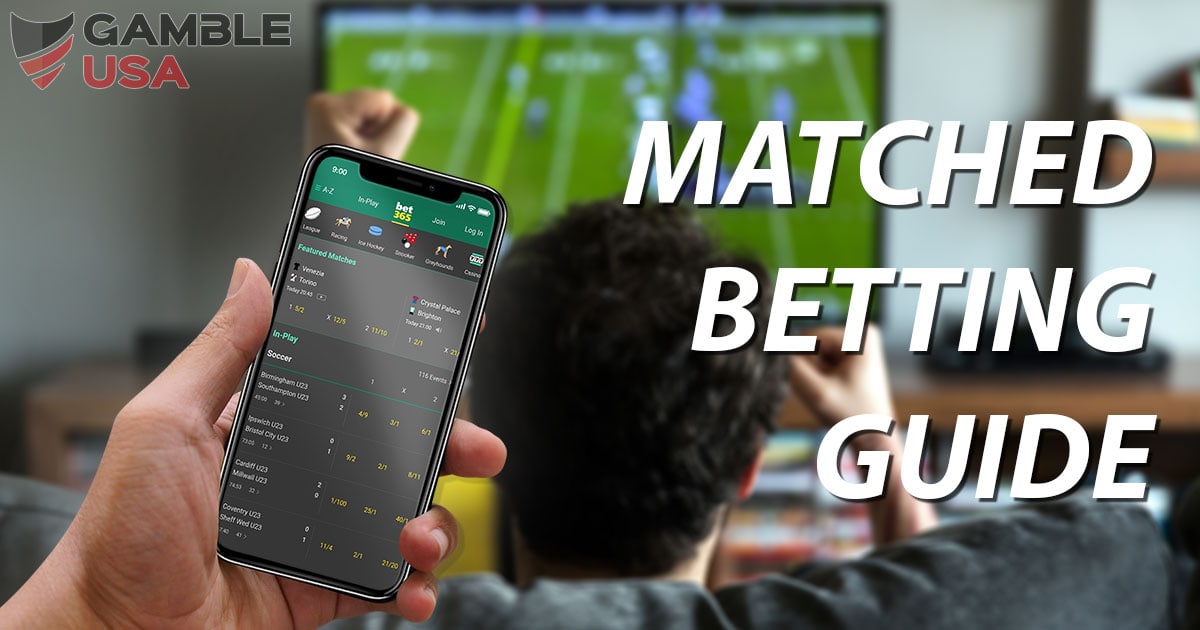 Matched betting is one of the best sports betting techniques or strategies going. It's 100% legal and a great way to make money with online sports betting.
There is no need to look for a betting exchange account to use match betting such as the Betfair Exchange. A simple matched betting tip will suffice, and before you know it you will become a matched betting expert.
Bookmakers in the USA can be traced all the way back to the 1930s. Despite always being a high-risk investment, the popularity of gambling has continued to rise in the states ever since.
Matched betting is a low-risk betting system when compared to regular gambling. The internet quickly recognized risk-free matched betting as one of the quickest and safest ways to make money online. However, you can lose vast amounts of money if bet matching is done incorrectly.
This matched betting guide will talk through the ins and outs of low risk matched betting in USA and how to make money off it in as little as 15 minutes. You may have heard of phrases such as extra place, lay odds and lay bets but now know entirely what they mean, and this page will help. Yes, make sure to follow all of the steps in our guide to be making money off no risk matched betting in the USA in just 15 minutes. Once finished, you will feel confident enough to become a matched bettor and will start to look for a bookie that has a welcome offer you can take advantage of.
Best matched betting sites for the US
The six biggest and most reliable sports betting sites that you can use when matched betting in the US are:
What is Matched Betting USA?
Risk-free matched betting is a technique that guarantees a profit from bookmaker free bets and betting promotions. It is not a magical way of taking the sportsbook's money, but rather a low-risk betting strategy that uses simple calculations to turn the odds of sportsbooks against them. While there are no specific matched betting free bets available, you can see a full list of offers on our free bets page.
The matched bets strategy is simple. Use offers given by sportsbooks, such as free bets against them. In this dummies guide, we will run you through exactly how it works.
Over the past 25 years, we have witnessed the emergence of betting and gambling sites due to the sheer amount of money these sportsbooks make off bettors. Due to high levels of competition among sportsbooks, gaining and maintaining new customers is a pressing challenge faced by all sportsbooks.
In a bid to permanently make a bettor a customer, sportsbooks offer many incentives, usually in the form of either free bets or matched deposit bonuses. Luckily for us, a few savvy bettors found a way to guarantee a small, consistent profit from these promotions.
Placing a matched bet has become more prominent recently, with sites like profit accumulator offering a matched betting blog. This form of wagering is a type of betting technique that helps you make a betting profit without the need for a bonus bet or a specific betting tip.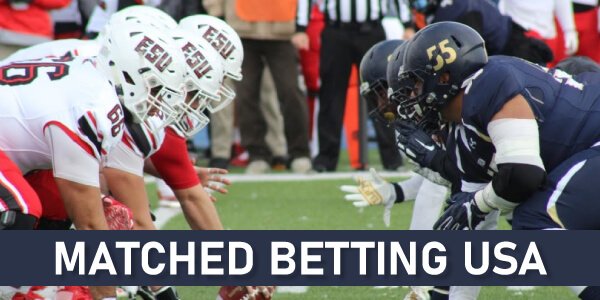 Some sportsbooks in the US offer bonuses as generous as a 200% matched bonus of the first two deposits made by new players in an attempt to entice customers. They do this because they are sure to gain the money back in the long run. While you're here, you may also want to check out our guide to Arbitrage Betting in the US.
Terms to know for Matched Betting
Before you look to participate in any kind of value betting activity with an online bookmaker, it is important to understand what some of the terminology means. You don't have to know every little phrase and betting jargon if you follow our guide, but it is still helpful to know what different terms mean. It is particularly important you know the two types of wager which allow matched betting to work, which are as follows:
A Back Bet: This is you betting in favor of a specific outcome to come true. For instance, I bet the Seattle Seahawks to win is a backing bet. If the Seahawks win the match, you will get your winnings in addition to your stake back. If the Seahawks draw or lose, your wager is unsuccessful. You can place a back bet on any of the betting apps we have listed on this page, and even use your free bet offer to place a back bet if you wish.
A Lay Bet: This is where you are wagering against a certain outcome to occur. For example, I bet the San Francisco 49ers not to win, is a lay bet. If they then lose or draw, you will win the wager. The principle behind matched betting is that it removes the risk of placing a back bet at online betting sites by going against yourself  at the same odds. So, in essence, you are 'matching' your bet.
If you keep repeating the process using the two forms of wager above, whatever the result, you will be in profit.
Best Match Betting Apps
These days, most people prefer to wager on their mobile devices. The ability to access promos such as reload bonuses and read through various betting odds on the go is very appealing. When it comes to looking at the best matched betting site, we have looked at the apps of each operator and ranked which we think provide the best experience.
We look at key factors such as welcome bonuses, ongoing promos, bet types, betting markets, and how easy the app is to use. As locating matched betting opportunities is a very time consuming task, using these apps will save you a lot of time. Sign up today, claim the welcome offer, and then get started accumulating that cash.
Let's take a look at the best apps which offer matched betting.
#1 DraftKings App
DraftKings is one of the leading providers of daily fantasy sports. The brand began offering online sports wagering in New Jersey three months after PAPSA was removed, becoming the first legal sports betting app outside of Nevada.
You can currently access matched betting options on the DraftKings app in New York, New Jersey, Colorado, Arizona, Pennsylvania, Tennessee, Virginia, West Virginia, Indiana, Illinois, Wyoming, Connecticut, Oregon, Louisiana and New Hampshire. The app is available on iOS and Android devices, and can be downloaded from the App Store or the Google Play Store. It is easy to navigate so if you have a matched betting strategy to hand you can seamlessly move around without fuss. Speed is vital and the DraftKings app is fast and this has only got better since moving to Kambi for its back-end software powered by SB Tech. The range of betting options and markets has increased making matched betting more straightforward.
You can place props, moneyline bets and view alternate lines and spreads very quickly. Bettors have numerous US and international betting markets to choose from and this is undoubtedly one of the best apps on the market. Start matched betting with DraftKings today and claim your free bet offers for existing players.
#2 BetMGM Sports App
Since partnering with GVC in a joint venture called 'Roar Digital', the BetMGM app has massively improved. You will discover all of the significant bet types on the app including player prop bets, moneyline bets, point spreads, futures, parlay bets and live betting.
We recommend this app for matched betting as the sign up bonus is excellent. We often see free bets provided by BetMGM as part of promos throughout the week. For example, we receive free bets for NFL Monday Night Football and Thursday Night Football. This is fantastic so make sure you take advantage of these offers. There are also state specific offers. BetMGM is available in New Jersey, New York, Pennsylvania, Wyoming, Virginia, West Virginia, Washington D.C, Arizona, Colorado, Illinois, Indiana, Iowa, Louisiana, Michigan and Mississippi.
Bettors will find lots of props and parlays options on this app which that compare favorably with any top US betting site. All of the important tabs are located at the top of the screen, so you will always have a point of reference if you get lost. The A-Z menu, My Bets and Promotions are all front and center. The BetMGM sports app has grown in popularity in recent years and is a superb option for anybody looking to get involved with matched betting.
#3 PointsBet App
PointsBet launched in 2017 in Australia and quickly became one of the most prominent betting apps in the country. The brand then looked to the US as part of expansion plans, and has made some quick progress. You can access the PointsBet app for matched betting options in Colorado, Kansas, Illinois, Indiana, New York, Virginia, West Virginia, Michigan, Louisiana, New Jersey, Iowa and Pennsylvania. It has also increased its exposure in the United States by signing a deal with NBC Sports.
One of the key reasons why we recommend this app for match betting is you have access to over 15 different sports, which includes all of the major domestic leagues. The app is fast with a clean design and uncluttered, meaning you can access deposits and withdrawals quickly.
PointsBet has its own in-house software developers, so typically the odds and prices look different from other sportsbooks mentioned on this page. The app feels unique when you visit, and provides some nice variety. There is also the "PointsBetting" option unique to PointsBet. This bet type is high risk and high reward. There is also regular bonus offers, which we feel are some of the most creative around. Additionally, if you have any issues, there is a 24/7 customer support system in place with live chat available.
Ultimately the key with matched betting is guaranteeing yourself some cash while choosing from a wide range of betting options. All of the apps listed above have excellent promos with huge amounts of markets. If you are looking to get involved in matched betting, the apps above will provide you with a great platform.
How Easy Is It To Make Money With Matched Betting?
Just one-in-a-million people win large amounts of money from online betting; most bettors lose sizable amounts of money when betting, making the bookies extremely rich; that is why they have enough money to offer those fantastic incentives mentioned earlier.
No-risk matched betting was created by a bettor who had lost a large amount of money to bookmakers and explored ways to regain his lost money. Thankfully, the founder was generous enough to share their breakthrough with people for free.
Lots of UK bettors who match bets have profited from this method, and so many more are still to benefit from it, especially in the USA, where matched sports betting is quickly gaining momentum.
Matched betting USA is currently gaining a lot of traction thanks to the abolishment of the Professional and Amateur Sports Protection Act, otherwise referred to as PASPA, and I think every bettor should seize this opportunity of making money off these bookmakers.
How No Risk Matched Betting USA Works
Let's look at how matched betting works. The following paragraphs are a complete guide on how you can make money from matched betting. You need to understand that matched betting is not gambling in the conventional sense. There is no risk involved with risk-free matched betting, as it is all based on a number of easy calculations.
#1. Find a Sportsbook Offer
The first step in no risk matched betting is to find a fitting offer from online bookmakers. Like I stated earlier, some sportsbooks offer massive welcome bonuses to get your custom; the plan is to play along with the sportsbook. You will need to find such bookies and sign up with them; luckily, we have a free guide on the best welcome offers available in the states you can follow. Unibet sportsbook and bet365 are a great place to start for players new to matched betting.
For instance, if you have followed our guide and registered with bet365 USA offering a free bet up to $500 if you deposit $500
Most sportsbooks will give conditions for their bonuses, such as winning a certain amount of money before players can request a withdrawal or placing bets on odds no less than 1.5. It would help if you always used decimal odds when matched betting. You can easily change the format your odds are shown at any bookmaker if they are not currently showing as a decimal, or use an online odds converter to do the work for you.
After checking over the terms and conditions of the welcome bonus and you are confident that there is no hidden gimmick by the sportsbook, you can proceed to the next step. You also need to find an event or game to bet on. Football is the best sport to bet on generally as most people have good knowledge of the game.
#2. Qualifying Bet
The second step to make money with no risk matched betting is to qualify for the welcome bonus the bookmakers are offering, which is $100 in our example with bet365 US.
When placing our qualifying bet, we would lose a small amount of money, called the qualifying loss.
Start by looking for a game to place your back bet on. This back bet should have odds higher than the minimum threshold of 1.5, as specified on the terms and conditions in the example given above.
I advise you to use the Moneyline market in the NBA or any other sports where you are sure that the outcome will be either win or lose, no draws.
Assuming you place your back bet on a game with 1.9 odds, you now need to find the same game on a different sportsbook and check the odds for the opposing team; this will be called your lay bet. For the purposes of our example, let us say our odds for our lay bet are 2.0.
Next, you need to use a dutching calculator or our matched betting calculator to find out what your stake on the second bookmaker site will need to be.
You will find that no matter the outcome of the game, you will only lose a small amount, around 50 cents at most. This loss, however, does release the free bet offered by the sportsbook.

#3. Free Bet
After placing your qualifying bet at a sportsbook, you should qualify for your bonus as a free bet. Some sportsbooks will credit you instantly, while some will credit your bonus up to 48 hours after the end of your qualifying bet.
We repeat the same method but on an even with higher odds to ensure our profit is as big as possible. Ideally, you need a game with an outcome of odds at 5.00 to maximize the profit from your free bet.
Assuming we place our back bet on a team with 5.0 odds, and the second team that we are laying on the second bookmaker — has 1.18 odds.
We now need to adjust our dutching calculator because we are betting with our own money now on the second sportsbook site. The idea of a dutching calculator is to help you make calculations to make sure you get the same returns from the two bookmakers regardless of the outcome of the event.
Applying the dutching calculator to our example, it means we are going to bet our bonus of $100 from bet365 on the game with 5.0 odds and $423.72 on the second sports betting site with 1.18 odds. This generates a guaranteed profit of $76.26 regardless of the outcome of the event.
When we consider our qualifying loss of 50 cents, it means we still have $75.76 as the net profit in this real-life example at bet365.
Also, be informed that you do not necessarily need to place a free bet as high as $100 if you do not have the required amount to dutch on the second sports betting site as $423 is a substantial sum for most people. Maybe try with a $10 free bet to start with and get hands-on experience with matched betting. You can use the Caesars Online Sportsbook to claim your $5,000 risk-free bet.
Take your time to get a good idea of the amount of money you can afford to dutch before placing your free bet, as any stake less than the required dutching/lay bet on the second bookmaker will see you lose money.
The two essential factors you need to be looking out for are first, make sure you do not go above any max odds if stated in the terms and conditions of the sportsbook bonus.
Secondly, the higher the odds on your back bet, the more profit you will make, and the more money you will need to deposit into the second website.
You now know how to join the growing list of bettors making a considerable profit from welcome bonuses offered on sports betting sites. Not so many bettors know about matched betting USA or double betting as some people know it.
#4. Match betting app
Mobile betting is now huge in the US, and if you are serious about getting involved and making money online, you need to be able to carry out matched betting wherever you may be. That is where a betting app comes in useful. Thanks to betting apps, you can now bet anywhere in a legalized state.
Our choice for the 3 best-matched betting apps are:
Matched betting work well on any of the above apps. You will be able to place multiple bets, and they provide an excellent matched betting service. Think of using matched betting on these platforms as almost a profit maximizer.
Reload Offers Keep Matched Betting Relevant
A common question among new matched bettors is, 'Can I make money after I have completed all the welcome offers?' and to give that question a simple answer, yes.
Sportsbooks offer free bets to their existing customer to keep them from joining rival sportsbooks. These free bets are called reload offers, and they make matched betting a sustainable way to make money online.
Typically, you will receive a notification or message about the reload offer, and they are usually along the lines of 'Play With $10, Get A $10 Free Bet.'
You will need to replicate the same steps as for the welcome offers, where you will need to place your qualifying bet to unlock the free bet. Then, once the free bet has been released, you will need to repeat the process using your free bet to guarantee your profit.
The only issue for existing bettors is that the free bets offered are not usually as large as the ones you see offered to new players by bookmakers. Nonetheless, you are able to make a substantial profit from each bonus you receive.
Matched Betting Example
So, you have used your sportsbook promo code, read through all of the betting tips and are ready to use your matched bet offer to try and win some real money. We will look at a straightforward example of how a no risk match betting strategy works in practice using a soccer match between Chelsea and Manchester United.
You initially receive a free bet which you decide to use on Chelsea, the home team, to win. You then opt to cover the tie and an away win with the right stakes in an attempt to ensure you earn more cash from the game than before it started. The result becomes less significant, as do the scorers, minutes played and any injuries. You are just waiting for the referee to blow the whistle so you can see if you have made any profit.
In several cases, the result won't affect your back bet as you have essentially guaranteed a profit regardless of how the game ends. However, it will have a big affect on how much money you make. For instance, if Man Utd win in the example we have given above, you get a $200 profit, a draw is $250 while a Chelsea victory is $150.
Conclusion To Matched Betting USA
I hope you found this article regarding matched betting USA insightful.
If you follow this article step-by-step, you are guaranteed to make a solid profit monthly from risk-free matched betting.
FAQs
Is Matched Betting Legal In The USA?
Yes! Although matched betting does sound as if it could be illegal, offering tax-free money by utilizing a sportsbook offers definitely does seem as though it could be a little suspect. However, matched betting is entirely legal in the United States! Use your free bet promotions today and start building your matched betting profits.
Does Matched Betting Still Work 2023?
Although the days of making $3,000 every month are gone, you can still make a great side income of up to $1,500 every month, depending on how much time you are willing to invest. So, in my opinion, matched betting does still work in 2023 and is one of the easiest and quickest ways to create an additional source of income. Plus, there is no need to use betting exchanges for matched betting.