Gamble USA strives to improve your online gambling experience. We aim to help you play safely, make informed decisions when gambling, and increase your betting knowledge through our guides.
We adhere to strict editorial integrity; our content may contain links to products from our licensed & legal US partners.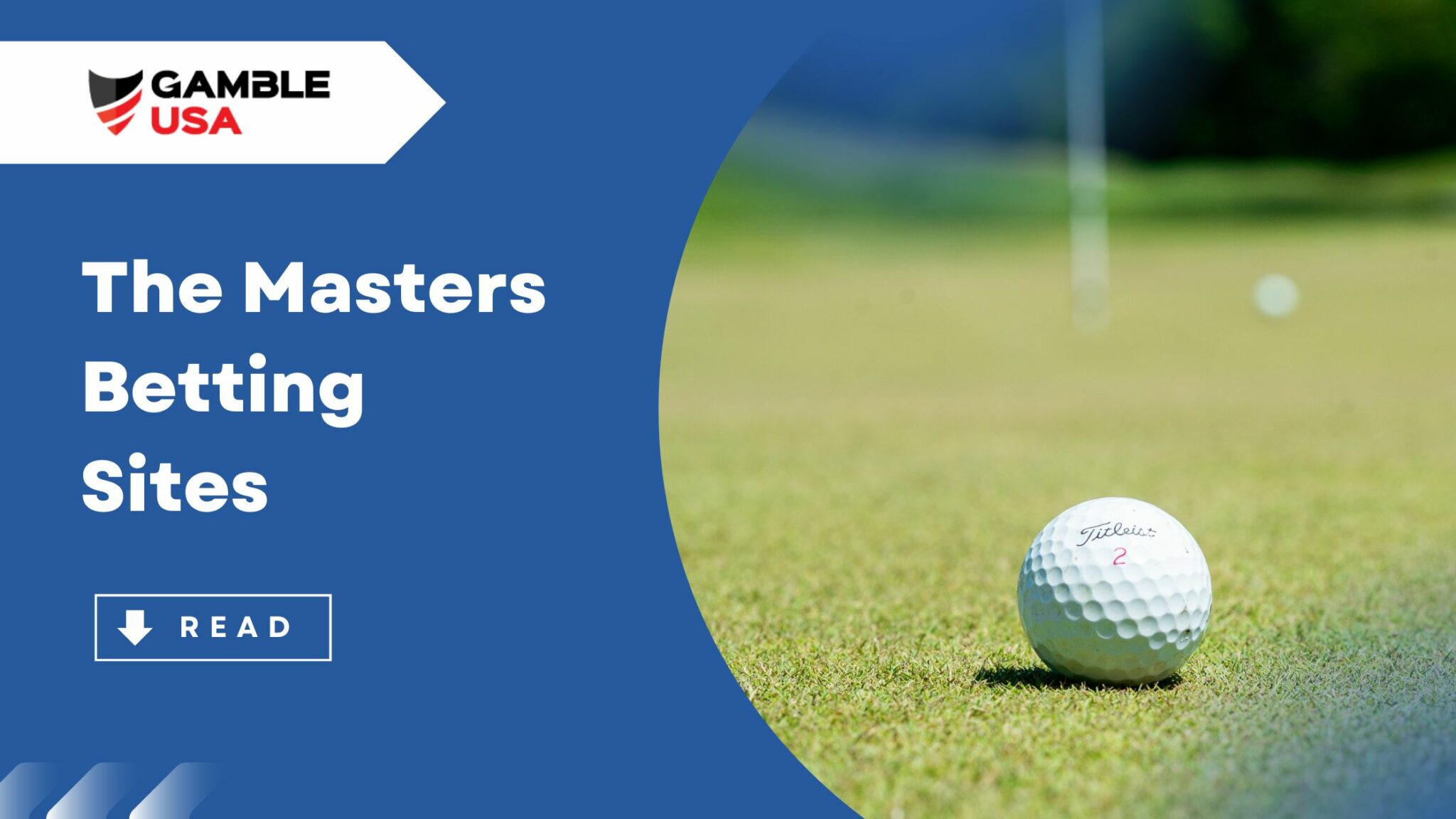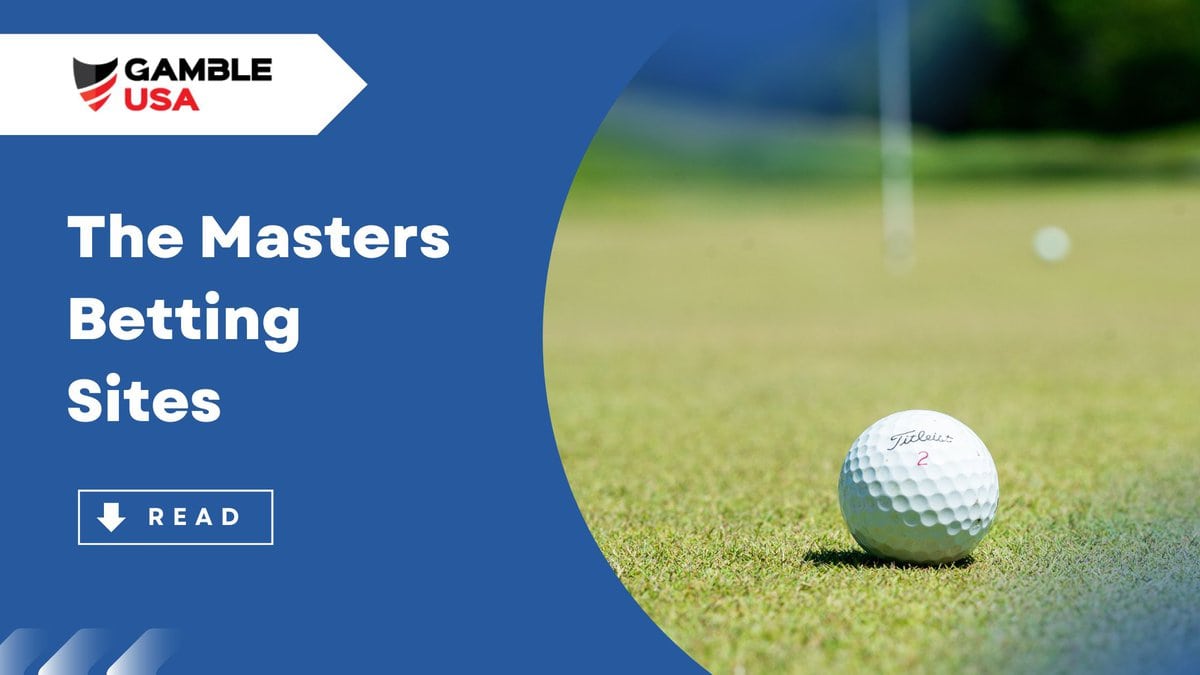 The Masters tournament is considered the pinnacle of golf and has been held every year since 1934. The Masters takes place at the ultra-exclusive Augusta National Golf Club in Augusta, Georgia, and the 2023 tournament featured a mammoth $18 million prize pool. Interestingly, it is the only golf major which is played on the same course every year.
The Masters is an incredibly popular sporting event. The 2023 tournament averaged over 12 million viewers. With so much interest and the best players competing, it is no wonder that sports bettors can't get enough. 
If you are planning on betting on the Masters online, don't sign up to any old sportsbook. To get the best odds, bonuses, and markets and have a safe experience, you need to do your research. 
Luckily, we have done the hard work for you and personally tested all legal sportsbooks in the US. Keep reading to see the best Masters betting sites, learn exactly how golf betting works, and get some insider tips to help you pick a winner! 
---
Our Top Masters Betting Sites
---
What Is the Masters Golf Tournament?
The Masters golf tournament is a sporting event that is steeped in history and has been taking place for over 70 years. The tournament features the most elite players in the world who are vying for the coveted Green Jacket, which is awarded to the winner and a healthy 7-figure check! 
Masters Tournament History
The very first Masters took place in 1934 in August, Georgia, and was won by Horton Smith, who earned $1,500. The tournament has been held every year since 1934 except in 1943-45 when it was canceled during WWII. The tournament is one of four golf majors similar to tennis majors and is considered the toughest tournament to win. The Masters has a unique prize, a green jacket given to the winners, which is a members jacket at the Augusta National Golf Club where the tournament is held.
Masters Tournament Course
The Masters Golf Course is a renowned and prestigious golf course. Spanning across approximately 365 acres, it is known for its immaculate beauty and challenging design. The course features undulating fairways, strategic bunkers, and the iconic Augusta National Clubhouse.
Some holes to look out for include hole 16, known as Rosebud, which is a short par 3, and the scene to more than one legendary hole in one. However, the hole requires precision to avoid the water and secure a birdie or par. Also, the final hole 18, known as Holly, is a very tough par 4 with a skinny fairway, a difficult approach to the green, and some tricky bunkers. It is a thrilling hole to finish the tournament on.
Masters Tournament Format
The Masters tournament is played over 4 rounds, and each round consists of 18 holes. They play the same holes 4 times. The field consists of 85 to 100 players, and then after the first 2 rounds, the top 50 players play the final 2 rounds, and the bottom players are eliminated. The golfer with the lowest total score over all 4 rounds is declared the winner.
Masters Prize Pool
The 2023 Masters had a prize pool of $18 million. Jon Rahm, the 2023 winner, took home $3,240,000, and the runner-ups, Brooks Koepka and Phil Mickelson, who tied 2nd, both earned a juicy $1,584,000. The Masters is one of the richest tournaments in all of golf, and every year, the prize pool continues to grow.
Previous Winners
The biggest names in golf have famously worn the Green Jacket and tasted glory at Augusta. The most famous previous winner has to be Tiger Woods, who has 5 Green Jackets. Amazingly, Jack Nicklaus went one better with 6 Green Jackets. Other top golfers who have won the Masters include Phil Mickelson, Sergio Garcia, Bubba Watson, and Arnold Palmer.
---
Why Choosing A Good Masters Betting Site Matters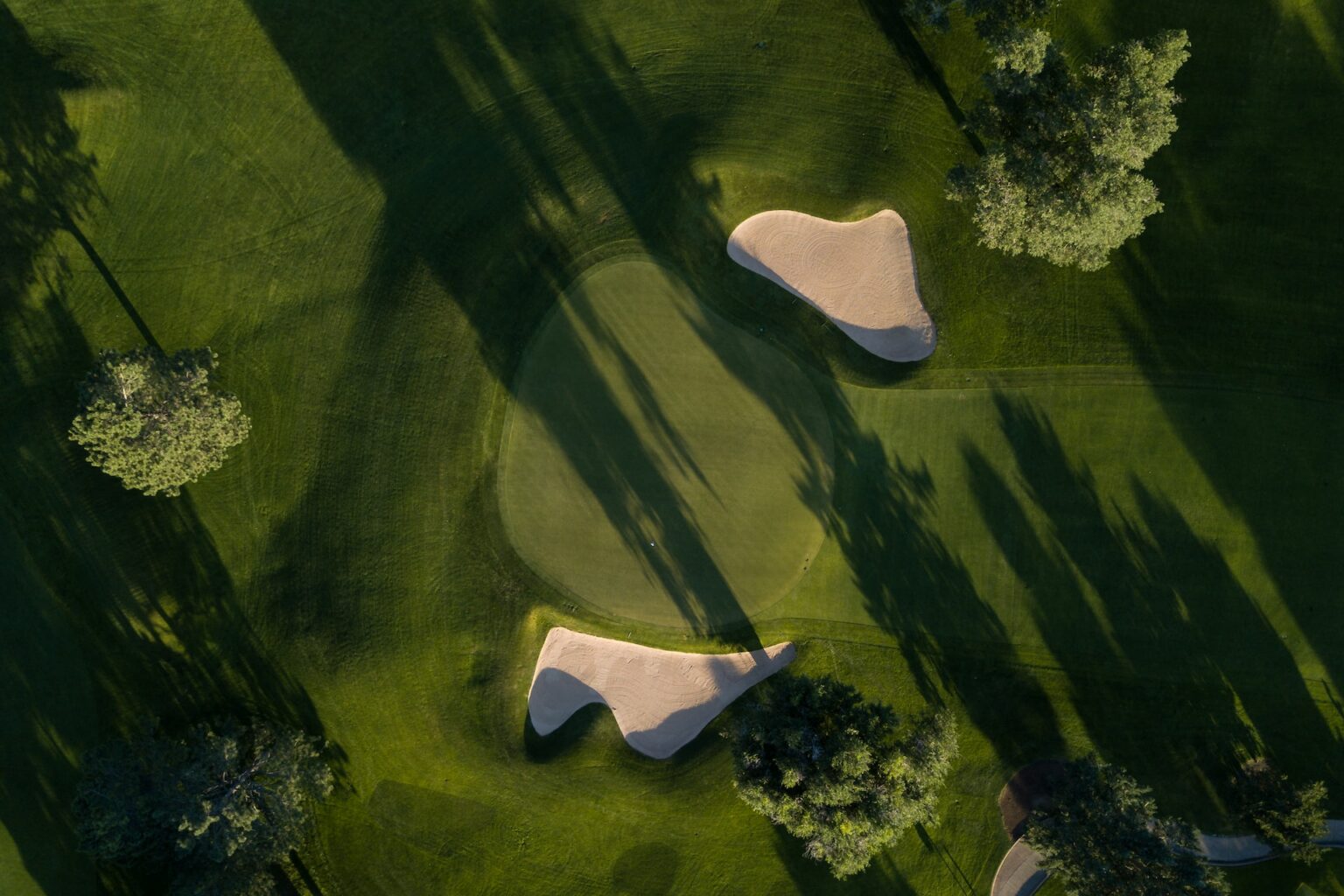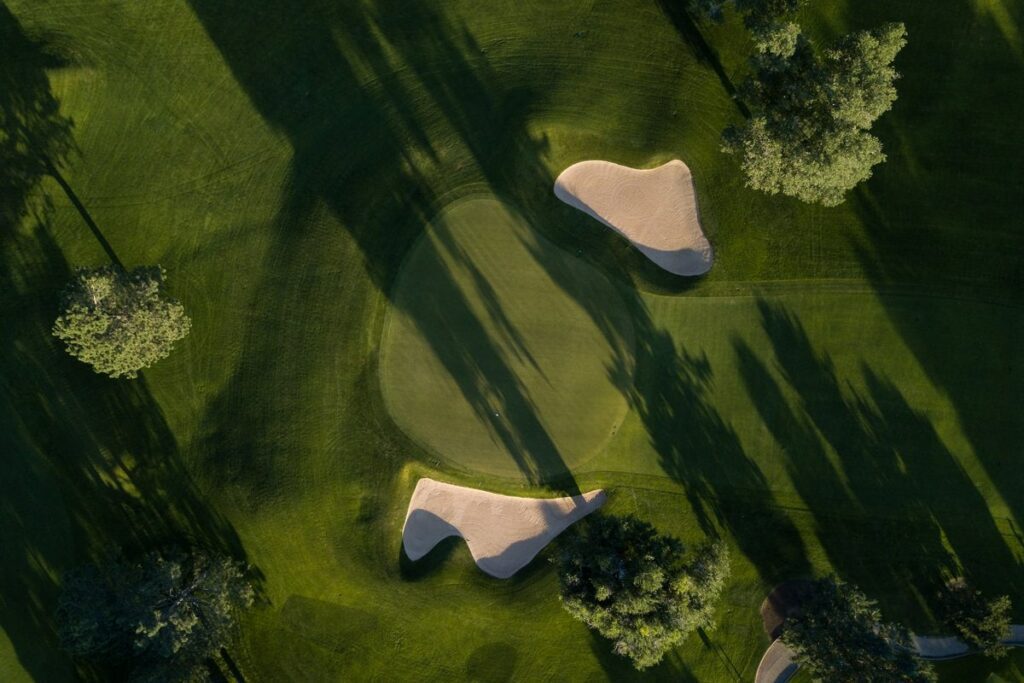 If you choose a bad Masters betting site, you will endure poor odds, slow payouts, horrible customer service, and good luck trying to get a half-decent bonus. Even worse, if you accidentally sign up to a scam Masters sportsbook, they could run away with your deposit, and there is little you can do. To find a legit Masters betting site, make sure they excel in these areas:
Trustworthiness and Licensing
If a sportsbook is unlicensed, you should immediately exclude them. Unlicensed sportsbooks are operating illegally, aren't subject to oversight from gaming authorities, and often offer fake odds and bonuses. 
While licensing does offer players substantial protection, you should take it a step further and stick to Masters betting sites that have a long successful track record. Also, take the time to read real player reviews on Reddit, Facebook, and TrustPilot.
Variety of Sports Betting Markets Offered for the Masters Tournament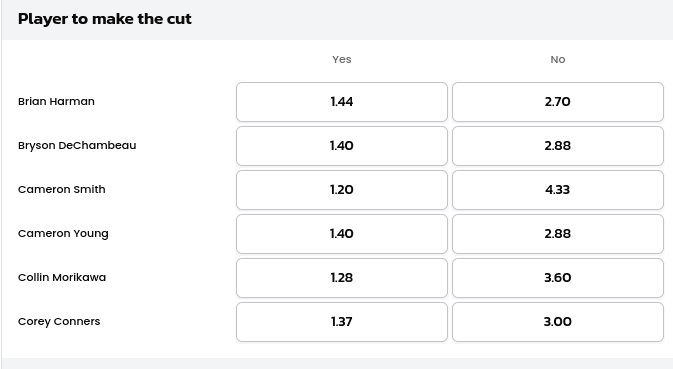 Don't get stuck making boring tournament winner bets for the whole of the Masters. The best golf betting sites have incredibly extensive online gambling markets, which feature 20 + bet types. Some bet types you should keep an eye out for include Tournament Winner, Head to Head, Vs The Field, Make The Cut, and Finish Position.
Competitive Odds and Favorable Payout Rates
The odds between online sportsbooks can vary greatly. While a small difference in odds is not a big deal if you are only placing a few bets a year, it can really impact your profits if you are a regular bettor. 
We recommend pulling up the Masters betting markets at a number of sportsbooks and comparing the odds. Stick to the site which consistently offers the highest odds your bankroll will thank us!
User-Friendly Interface and Mobile Compatibility
If you like to place bets on the go, you better double-check that they have a mobile-optimized site and bonus points if they have a well-designed sports betting app for iOS and Android users. The top Masters online betting sites pour millions of dollars into designing easy-to-use and highly responsive platforms. Don't settle for some laggy site where you need a Ph.D. just to figure out how to place a bet!
Availability of Live Streaming and In-Play Betting Options
Pre-match Masters betting is fun, but if you want to take the thrill to the next level, you need to try in-play wagering. With in-play betting, you can wager on the Masters as it is being played in real-time. At the top online sportsbooks, you can enjoy 10 + live bet types and even live stream the tournament in HD, creating an unforgettable immersive golf betting experience.
Bonuses, Promotions, and Loyalty Programs
Masters betting sites are giving away tons of value in the form of bonus bets, insurance promos, bonus cash, and cashback deals. Your golf betting winnings can be 2x or higher if you take advantage of the different sign up bonuses on offer. 
When assessing a sportsbook's bonuses, look at the size of the bonus, whether or not they have bonuses for existing players as well as new bettors, and take a peek at the terms and conditions, particularly wagering requirements, min odds, and expiry dates.
---
Top Masters Betting Sites 2023
If you want the most bet types, the biggest bonuses, and market-beating odds for every round and hole from the Masters, then sign up to these online sportsbooks:
---
🥇 Caesars – Best Overall Masters Betting Site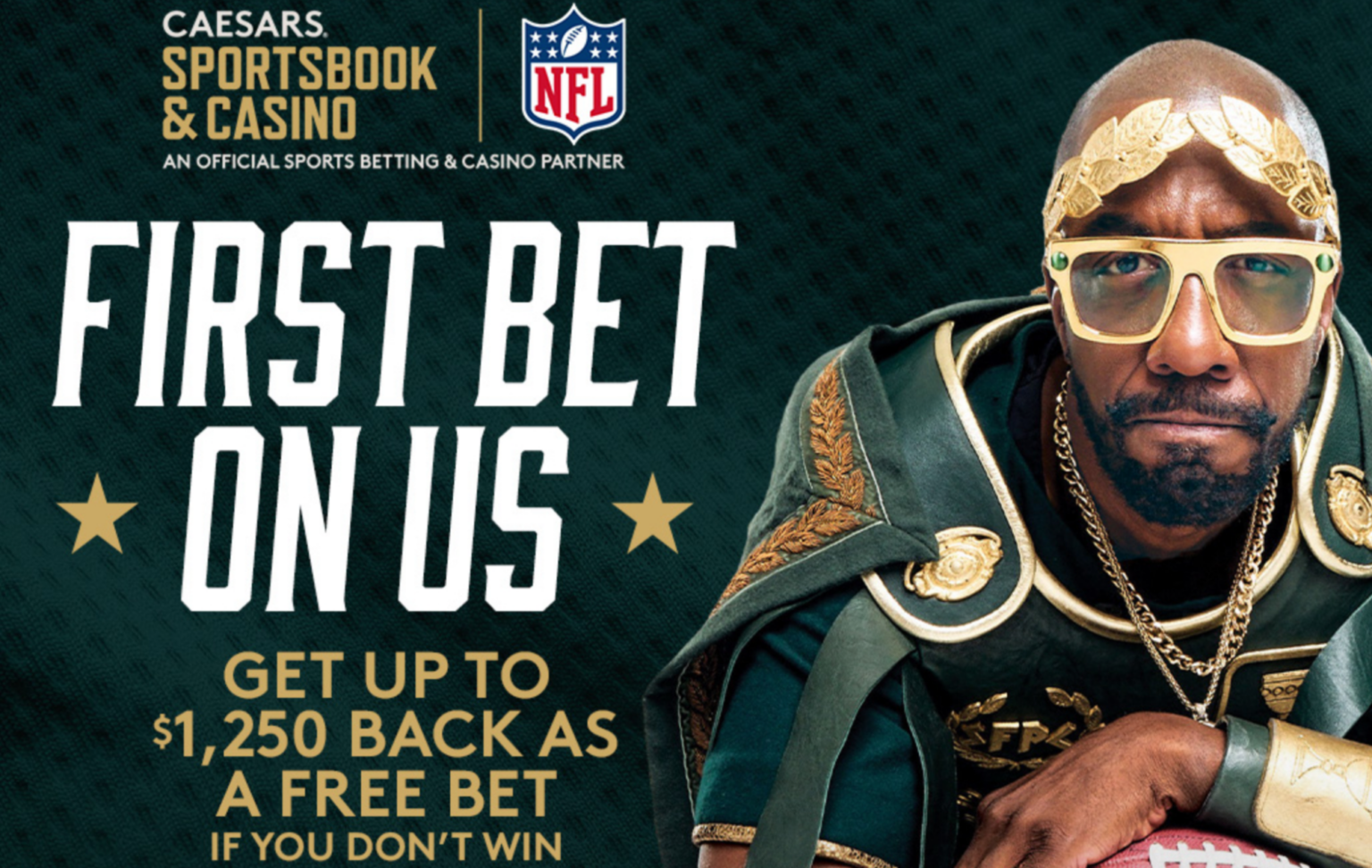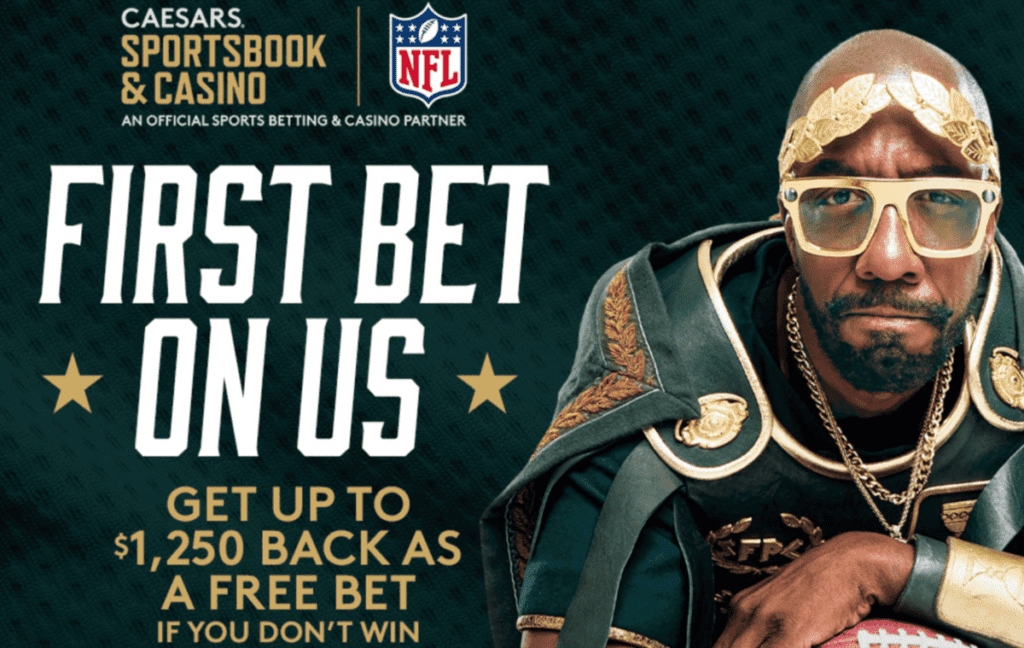 As soon as you sign into your Caesars Sportsbook account, you will be greeted with a super minimalist and well-designed layout. To bet on the Masters, simply scroll through the different sports, tap on Golf, Majors, and then Masters. You will see 30 + Masters bet types!
Caesars Sportsbook has a super responsive mobile optimized site, tons of bonuses, a massive sign up offer, and fantastic Masters markets, including Tournament Winner, Hole In One, Make The Cut, 3-Ball, and Head to Head. The only minor downside is their customer support can be a little slow at times. Register now and use the promo code: GUSAFULL to get 100% insurance on your first Masters bet up to $1250!
Expert Comments:
"I
'm a loyal Caesars Sportsbook user, they know how to treat players right and have great promos for existing players, and I enjoy the amount of golf-specific bonuses they offer. I like the fact that I can bet bigger on the Masters at Caesars because they always have great insurance deals.
"
– Oliver Dickinson (Sports Editor)

---
🥈BetMGM – Best Masters Betting Site For Live Betting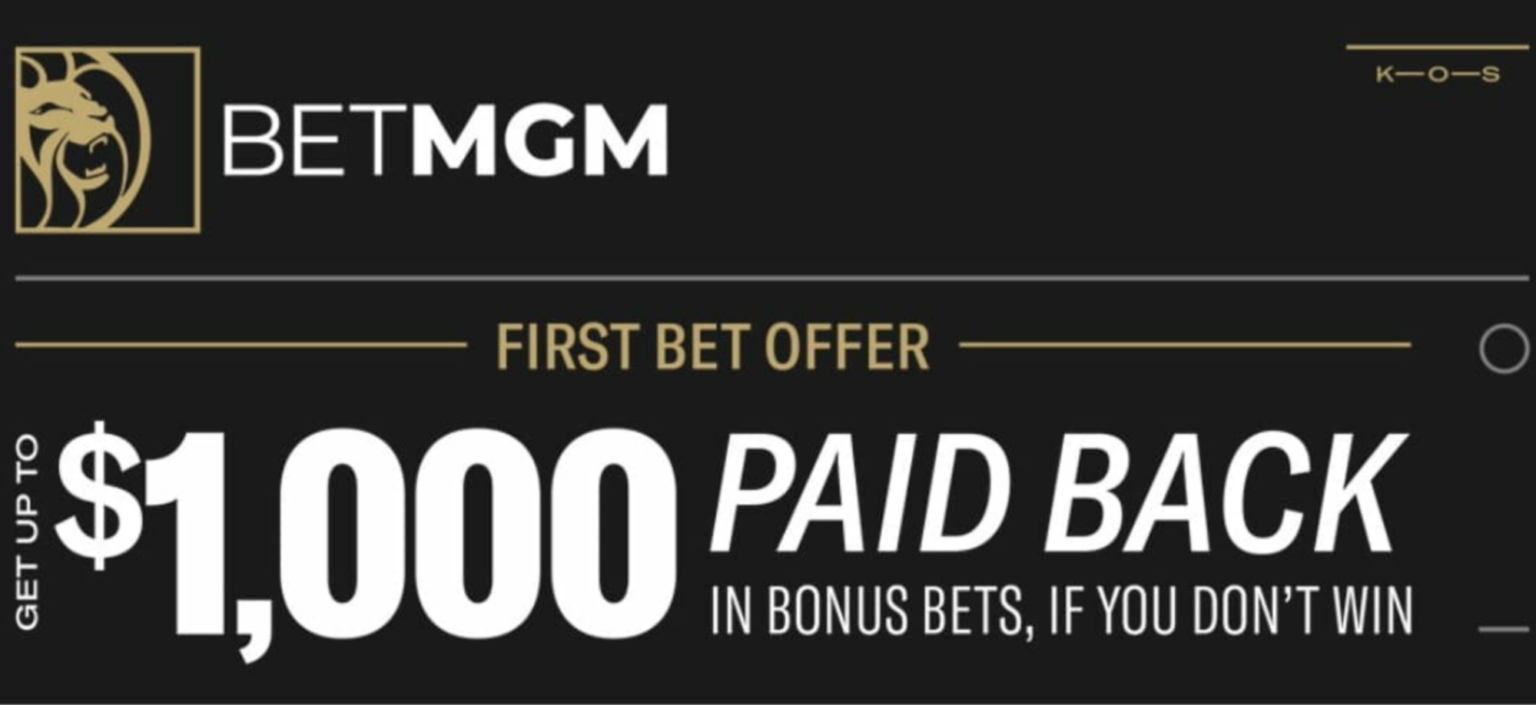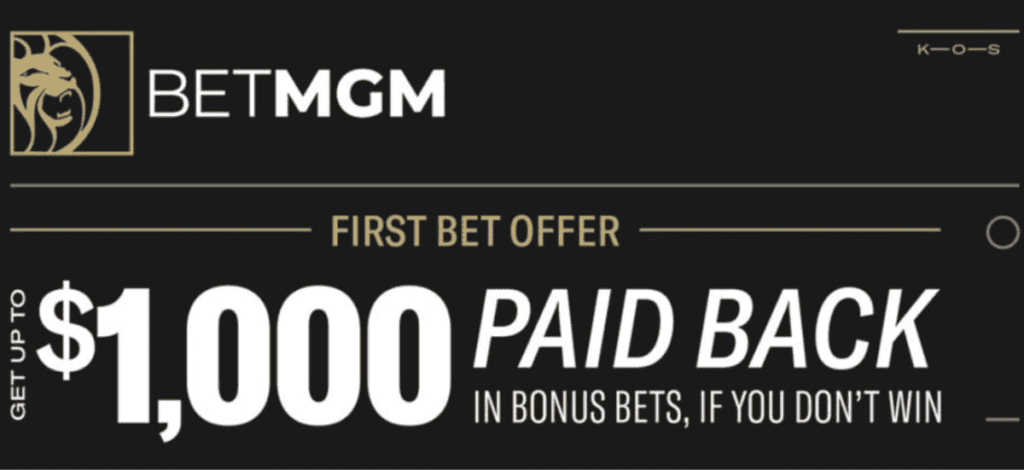 Betting on the Masters at BetMGM could not be easier! As soon as you enter the sportsbook, you will see the different sports listed in alphabetical order on the left of your screen. Just click on Golf, then select Masters. To make a wager select a bet type, make a prediction, and enter your stake!
At BetMGM, you can bet on every single hole from the Masters live! They have a top-rated custom-built app available for iOS and Android and 20 + bet types for the Masters. Remember to regularly check out their promotions pages because they always have great specific bonuses for the Masters. Get started now and use the promo code: GAMBLEUSA to get up to $1,000 in bonus bets if your first Masters bet loses!
Expert Comments:
"
I am always impressed by the range of features BetMGM has, from live streaming to early cash-out. They also have some of the highest cashout limits, which you will appreciate if you are a high roller. Also, you won't find a better loyalty program.
"
– Damjan Spajić (Sports Editor)

---
🥉 PointsBet – Best Betting Site For Masters Odds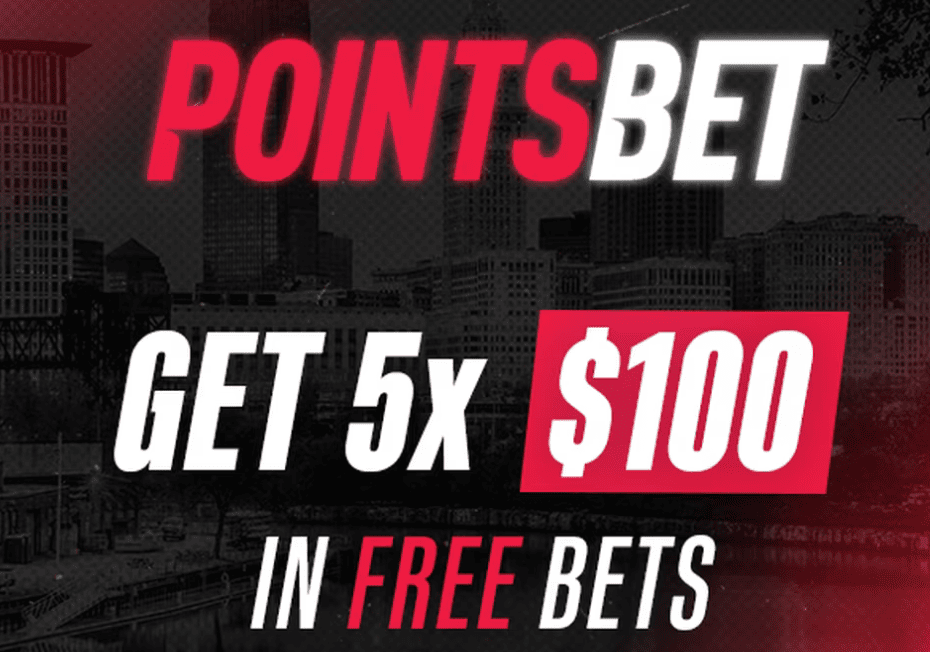 It only takes 2 minutes to sign up at PointsBet, and they process deposits instantly. Once you have added funds to your account, just trawl through the different sports until you land on golf, then tap on Masters. To place a bet, click on the market, select your pick, type in your stake, and hit the Place Now button.
PointsBet is an easy-to-use sportsbook with one of the fastest sign up processes we have come across. They have some great features, like early cash-out and live streams. In a bid to win new customers, they have significantly less juice and better odds compared to the big sportsbooks but still have extensive Masters betting markets. Use our link and get 5 x $100 second chance bets which you can use for all Masters wagers!
Expert Comments:
"
I always like to back the underdog! PointsBet may not have the budget of Caesars, but they beat some of the other big sportsbooks when it comes to odds, especially for golf betting. I have found they consistently have the best odds for Tournament Winner and Top 5 markets for the Masters.
"
– Paul Ricci (Chief Sports Editor)

---
🎖️ FanDuel – Best Masters Betting Site For Fast Cashouts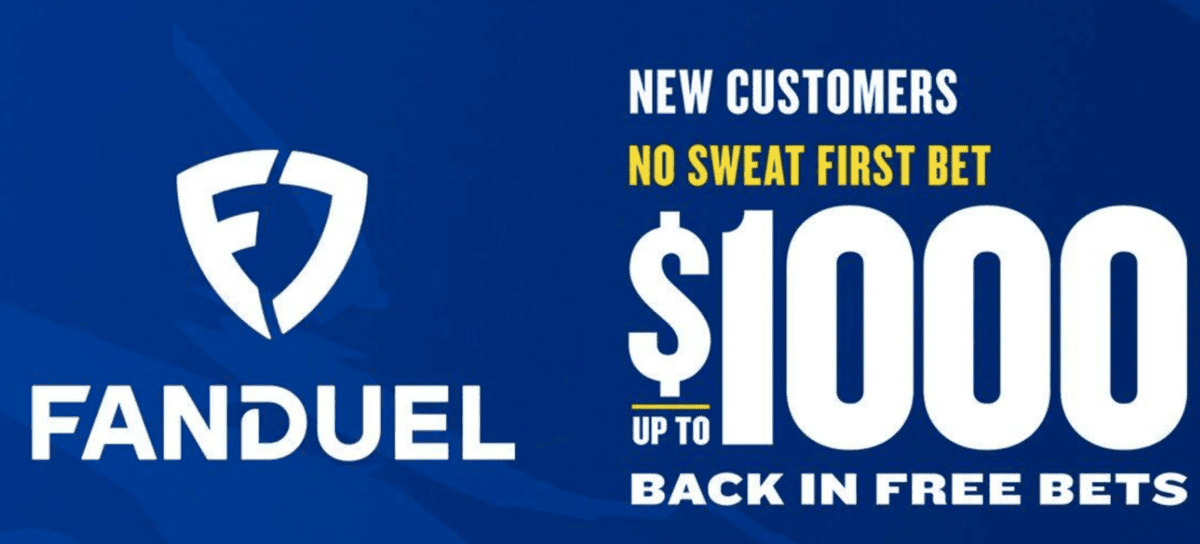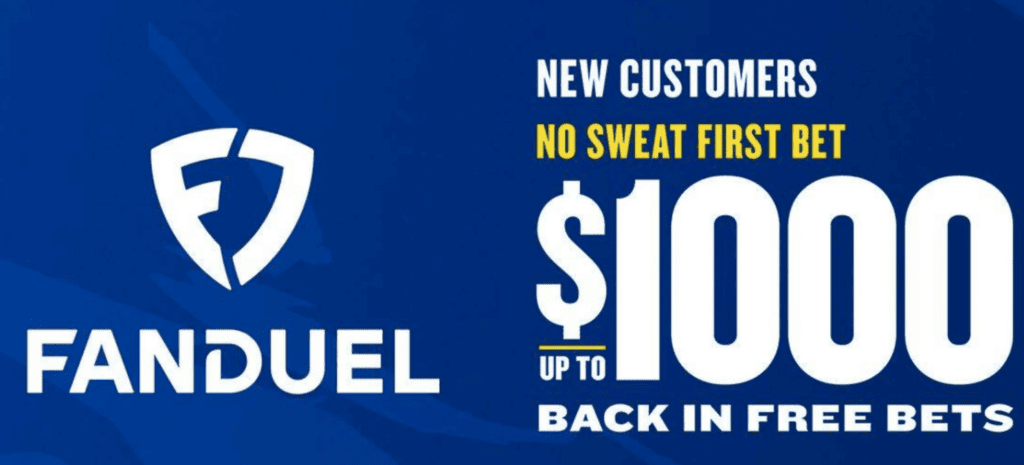 You can place your first Masters bet on FanDuel in literally 3 clicks! Just tap the magnifying glass icon on the top right-hand side of the screen and type in "Masters." You will immediately see every available bet type. Then just make your prediction and type in the amount you wish to bet.
FanDuel has the best live gambling markets for golf and especially the Masters. All of their pre-tournament markets, like Head to Head and 3-Ball, are available live, and they have fantastic odds for Hole-by-Hole betting. FanDuel is known for their lightning-quick withdrawals, so after backing Scottie Scheffler to win and scooping a massive payout, you won't have to wait long to receive your winnings. Sign up at FanDuel and get your hands on a 100% insurance deal up to $1,000!
Expert Comments:
"
I love FanDuel's generous bonuses. They are always coming up with great sign up offers, and when Masters season rolls around, they have tons of fun boosted odds promos and insurance offers. I always appreciate their 24/7 customer support, and whenever I cash out, I receive my winnings within 24 hours.
"
– Paul Ricci (Chief Sports Editor)

---
🏅 DraftKings – Best Mobile Masters Betting Site

Navigating DraftKings' Masters betting markets is quick and easy. Just select Golf, and then you will see all available tournaments, tap on The Masters. Now you will see all of the different markets. Add your picks to your betting slip, enter your stake, and tap the Place Bet button.
DraftKings has over 30 different Masters bet types and have amazing odds for Make The Cut, Top 10, and Head-to-Head markets. They are famous for their sleek mobile-optimized website and have a top-rated free app that you can pick up from the App Store or Google Play. Another area where DraftKings absolutely nails it is their promos. They offer tons of boosted odds for the Masters for parlays and singles. Sign up at DraftKings now and get a 20% deposit match up to $1000!
Expert Comments:
"
I'm a keen mobile bettor, so you know I'm a big fan of DraftKings. Their mobile app gets a 5/5 from me, it is easy to use, you can quickly place wagers, and their live Masters markets are perfect for gamblers on the go like myself. The only downside is that I wish they would lower their juice a little.
"
– Paul Ricci (Chief Sports Editor)

---
Understanding Masters Odds & Betting Markets


Gone are the days when you could only bet on the winner of the Masters tournament. You can now enjoy all kinds of classic and exotic golf betting markets, which give you the flexibility to bet on all aspects of the legendary Masters tournaments. The top Masters betting markets include:
Tournament Winner

– This is a simple Masters bet where you predict which golfer is going to win the tournament. This strategy is great if you are new to golf betting.

Head to Head

– With head-to-head bets, the sportsbook will pair two golfers together, and you need to predict which player will finish higher in the Masters.

Finish Position

– You can bet on a golfer to finish in the top 3, 5, or 10 at the Masters. This is a great bet if you are looking for a lower-risk version of a tournament winner wager.

Make The Cut

– After two rounds at the Masters are completed, the bottom 30% to 50% of players are eliminated from the tournament. With this wager, you can bet on a particular golfer placing high enough to avoid being eliminated, which is known as making the cut.

Vs The Field

– With this wager, you can either bet against a certain player winning the Masters, or you can bet on a group of players, and you win if one of them wins the Masters. For example, you may bet on Sergio Garcia, Rory McIlroy, and Scottie Scheffler against the field; if one of them wins, then your bet pays out, or vice versa, you could take the field against those 3 players.

Lowest Score

– The Masters tournament is made up of 4 rounds. With this wager, you need to predict which players record the lowest score over the tournament.

Hole In One

– A hole-in-one is where a golfer manages to sink the ball in the hole from just one tee shot. With this bet, you can bet on hole-in-one occurring during the Masters tournament or, if you want to chase a longshot, predict which player will score one.

3-Ball Betting

– At the Masters, players play in threesomes for the first and second rounds. With a 3-ball bet, you need to predict which player in the threesome will shoot the lowest score during the round.
Odds Formats and How They Work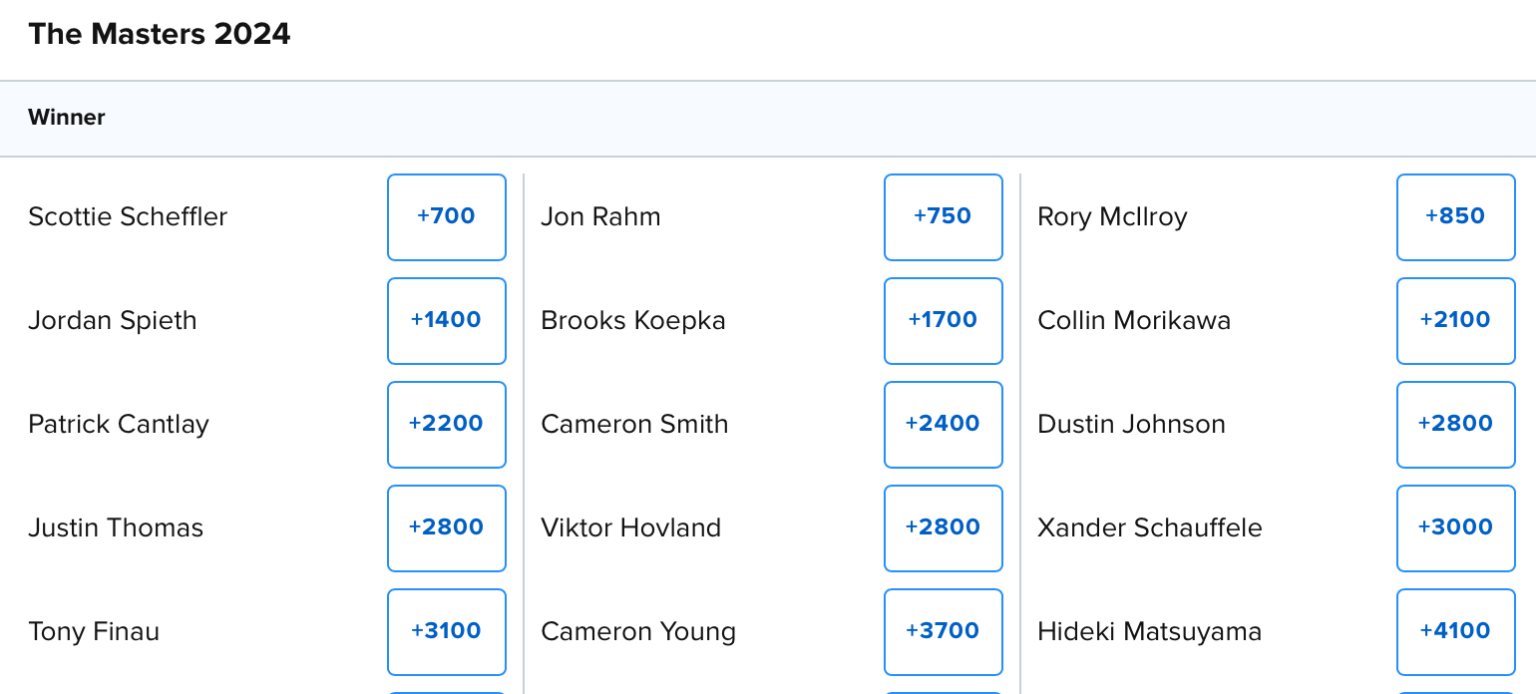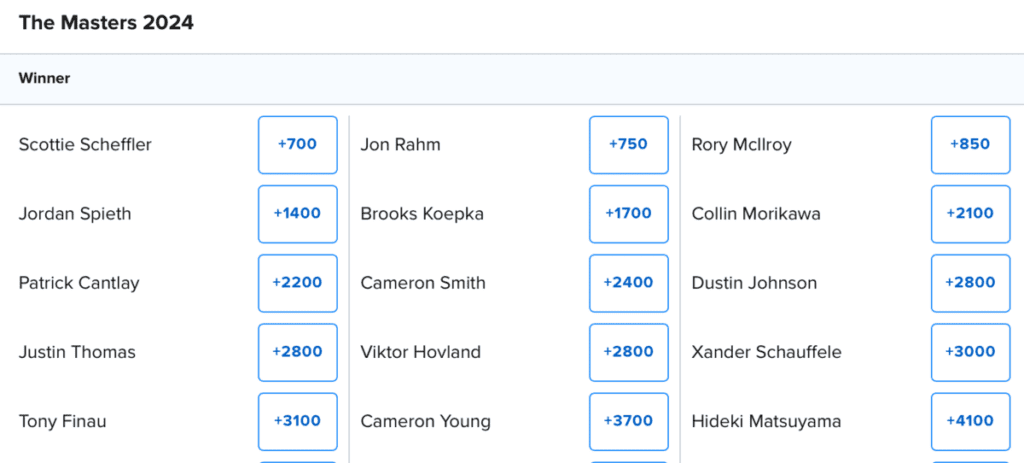 American odds are presented as + or -. + odds depict the favorite, and the higher the odds, the bigger the favorite they are. In contrast – odds show the underdog, and the lower the number, the more unlikely they are to win. 
Odds also reveal your payout, + odds show how much your profit will be if you bet $100. For example, if you bet $100 at +200 odds, your profit would be $200, and your total payout would be $300. If you have – odds, then they depict how much you need to bet to win $100. For example, if you lock in -400 odds, then you need to bet $400 to win $100.
Another interesting thing about Masters odds is you can use them to calculate your implied probability which is the chance you have of winning based on the sportsbook's opinion. You first need to convert your +/- odds into decimal odds; you then divide by the decimal odds and multiply by 100 to get a percentage. For example, if you have +200 odds, convert to decimal odds of 3.00 ((1 + (200/100)), then follow the formula described above, and you end up with 33.33% (1/3 X 100).
Popular Betting Strategies For The Masters Tournament 
Are you looking for some Masters betting inspiration? Then try out these strategies!
Bet on a hole-in-one happening

– Did you know that there has been a hole-in-one at 8 out of the last 11 Masters tournaments? The vast majority of hole-in-ones have occurred on hole 16, so if you want to chase higher odds, bet on it going down on this hole which is a sh

ort 170 yard par 3.

Bet on an American to win at Augusta

– History doesn't lie! Americans have absolutely dominated the Masters. A solid strategy is betting on the top 3 Americans based on lowest odds to win. At the moment, that is Scottie Scheffler (+900), Jordan Spieth (+1600), and Patrick Cantlay (+2000).

Place a little cash on Tiger

– Tiger Woods is arguably the greatest golfer of all time. Even though he is nowhere near his peak, you can't go wrong putting a little cash on the GOAT, especially after his heroics in 2019 and when he is paying out +10,000! 

Take the over in the lowest round market

– Bet the over when the line is set at 64. The course record currently stands at 63, which was set way back in the 1980s. It is extremely rare for players to shoot that low at Augusta. The over is a solid and safe bet.

Bet on the player with the best SG/approach the green

– The most powerful predictor of success at the Masters is a player's SG/approach the green, and currently, the best player on tour is Scottie Scheffler (+900).
---
Maximizing the Masters Betting Experience
If it was just as easy as betting on Scottie Scheffler to win the Masters we would all be millionaires. To get an edge on the sportsbook, you need to put your thinking cap on and do your homework. Here are some tips which will boost your Masters betting win rate:
Crunch Some Golf Stats
Don't worry, you don't need to be a math whizz to incorporate stats into your golf online betting strategy. There are a lot of useless stats out there, but these are the most predictive:
SG/approach the green

SG/off-the-tee

Scoring average

SG/total

SG/around the green

SG/tee-to-green


You can go to PGA Tour Website and look at stats and see which players are ranked the highest. You should add players' ranks for all 6 of these stats and average their ranking to see which player is the best overall. We recommend adjusting the filter for a few months before the Masters tournament to see which players are in form.
Bankroll Management 
Bankroll management is what separates the pros from the amateurs. When a pro takes a bad beat, they don't deviate from their strategy or suddenly start betting erratically in hopes of recouping their losses. 
Pros always keep a cool head! To ride out negative variance when betting on golf, don't risk more than 1% of your bankroll on each individual bet, and make sure you reduce your stake size if your bankroll starts declining.
Keep Up To Date With The Latest Masters News
Is Rory McIlroy coming back from elbow surgery? Is Scottie Scheffler going through a messy divorce? There are so many different things that can affect a golfer's performance at the Masters. 
You need to read all of the latest news and analyze how it will impact a player's chance of winning. However, stick to confirmed information if you don't want to put too much stock into wild rumors.
Claim A Bonus
The easiest way to supercharge your winnings while also reducing your risk is to claim a bonus. You should be trying to get as much bonus cash and bets as you possibly can. Many online sports gambling sites have deposit match and first bet insurance welcome bonuses. We recommend you sign up to multiple sportsbooks, indulge in all of their sign up offers, and use the promos to bet on the Masters tournament!
---
Masters Betting Sites FAQs
What are the best betting sites for Masters?
The best Masters betting sites are Caesars, BetMGM, PointsBet, FanDuel, and DraftKings. All of these sportsbooks have fantastic live Masters betting markets, enhanced odds, and awesome exclusive golf betting bonuses that you can claim right now!
Is it legal to bet on the Masters golf tournament?
It is 100% legal to bet on the Masters golf tournaments. In Nevada, Masters golf betting has been legal since the very first tournament was held way back in 1931. Masters betting is now legal in 20 + US states and is quickly becoming one of the top markets.
Can I bet on live Masters matches?
You can live bet on Masters matches. The top sportsbooks have extensive live betting markets for the Masters where you can bet on a player's performance on a particular hole in real-time and also how they perform against another player in the tournament.
How do odds work in Masters betting?
Masters betting odds show your potential payout, + odds reveal how much you win if you bet $100, and - odds show how much you need to bet to win $100. Masters odds also highlight your implied probability which is the chance you have of winning your bet based on the sportsbook's calculations.
What are the popular online gambling markets for the Masters tournament?
The most popular online betting markets for the Masters tournament include:
Tournament Winner
Head-to-Head Matchups
Vs The Field
Make The Cut
Finish Position
What are the advantages of using bonuses and promotions in Masters betting?
Bonuses allow you to reduce your risk while at the same time increasing your stake and boosting your winnings. This is because when using a bonus, you are essentially betting with the sportsbook's money.