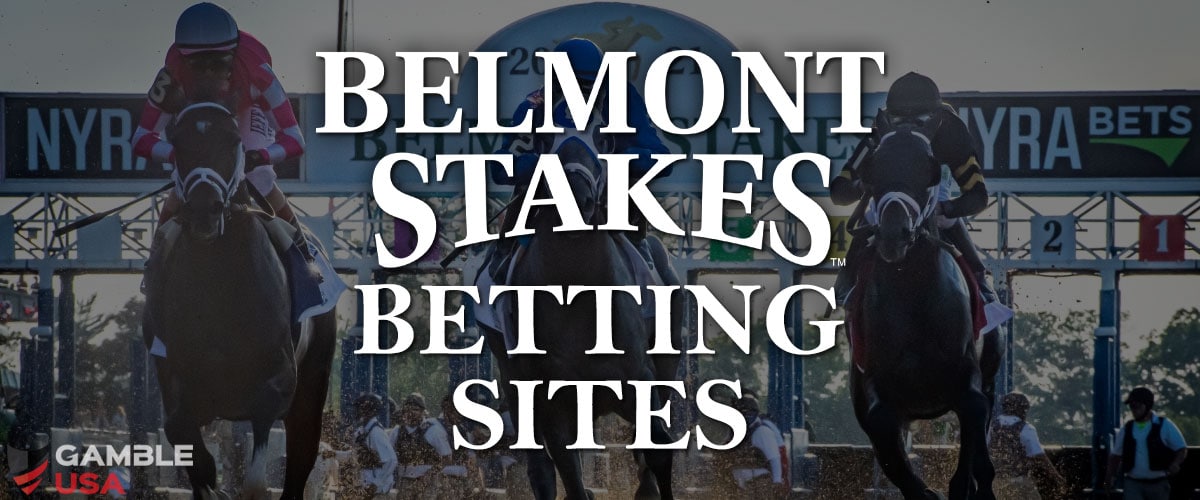 The Belmont Stakes is the third and final leg of the Triple Crown. It is one of the most important events in horse racing, nicknamed "The Test of the Champion." The Belmont Stakes is also the longest race in the Triple Crown at 1.5 miles, a full lap around the Belmont Park Race Track. This guide highlights several of the best Belmont Stakes betting sites, explaining what makes these racebooks so popular around the US.
Bets have been placed on the Belmont Stakes since its inaugural race in 1867. It's now easier than ever to bet on this annual Triple Crown race. Each of the betting sites featured on this guide page is known for providing excellent odds, modern designs, and secure payment options.
---
What is the Belmont Stakes?
The Belmont Stakes is the third and last leg of the Triple Crown. It was first held in 1867 at the Jerome Park Racetrack in the Bronx, before moving to the Morris Park Racecourse in 1890. Finally, in 1905, this race was moved to Belmont Park in Elmont, where it has remained ever since. It is generally held on the first or second Saturday of June and brings in millions of viewers from around the world.
Most experts consider the Belmont Stakes to be the most demanding horse racing event in the US. It is the longest event of the Triple Crown and features the best 3-year-old horses in the country competing for one of the most prestigious titles in racing.
The most celebrated horses in history have competed in the Belmont Stakes. In 2018, Justify won this race to become the 13th Triple Crown winner. Three years earlier, American Pharoah became the 12th Triple Crown winner by taking first at the Belmont Stakes. A few of the other names to become Triple Crown winners by earning a victory at Belmont Park include Secretariat, Assault, and War Admiral.
The winner's purse for this event has continued to increase over the years. The purse for the first race in 1867 was just $1,500. Today, the winner of the Belmont Stakes is awarded $1,500,000.
Horse racing fans around the US love to watch and place bets on the Belmont Stakes each year. Fortunately, there has never been an easier time to make wagers on this prestigious race online. Discover more about the top Belmont Stakes betting sites below.
---
Best Belmont Stakes Betting Sites 2024
Horse racing fans have access to a huge number of fantastic betting sites that offer odds on the Belmont Stakes. Several of these sites have managed to stand out. Below is a look at six of the very best sites to bet on the Belmont Stakes online.
🥇DraftKings Horse
DraftKings Horse, more commonly known as DK Horse, was launched in March of 2023 as the primary racebook for DraftKings. It has since launched in 12 states and quickly gained a massive user base. The timing of this launch was certainly well thought out, as DK Horse was able to provide odds on each of the Triple Crown races of 2023.
DK Horse partnered with reputable software provider TwinSpires to provide its odds and wagering options. It offers odds on races taking place around the world. That includes races in England, Sweden, Japan, and Australia.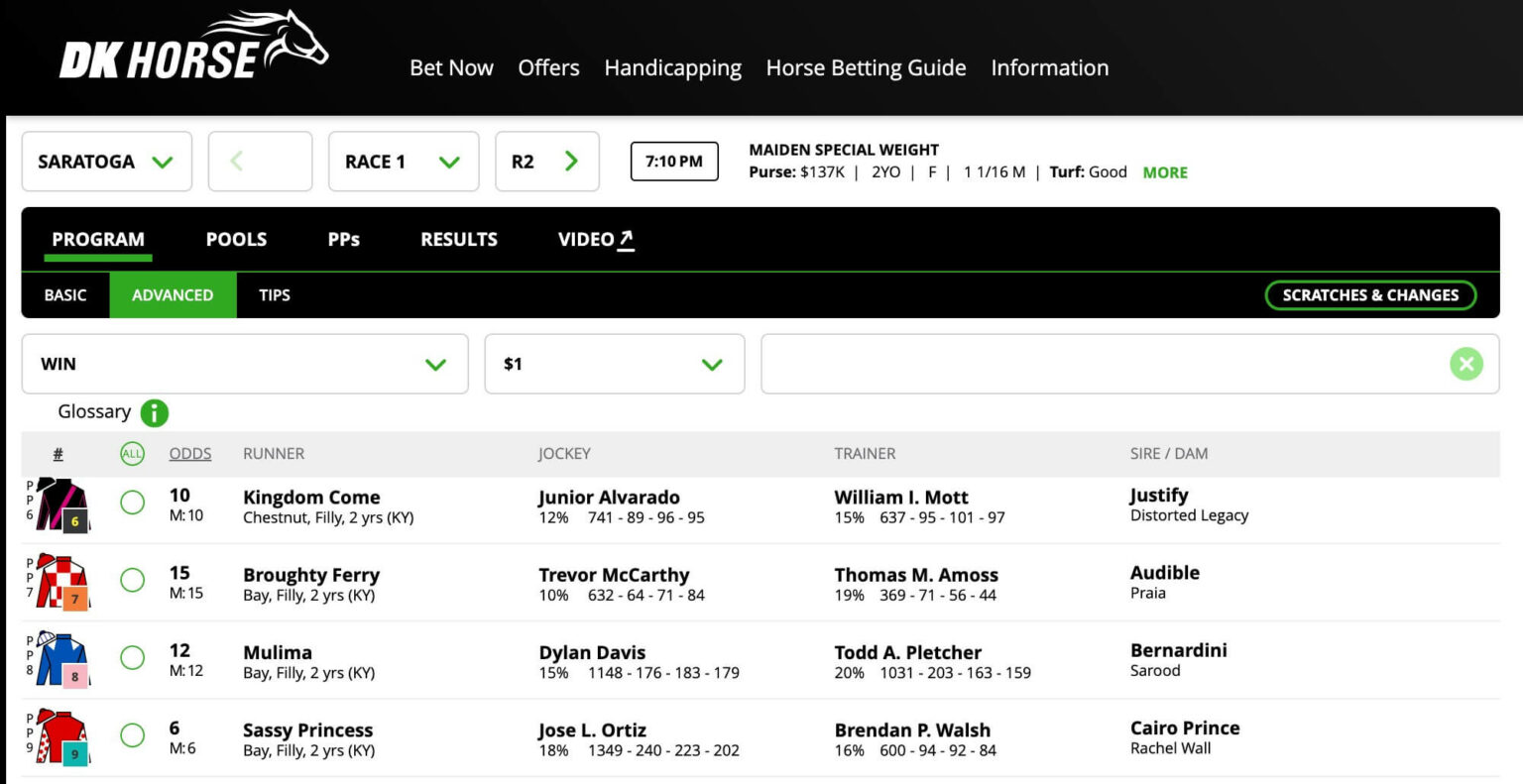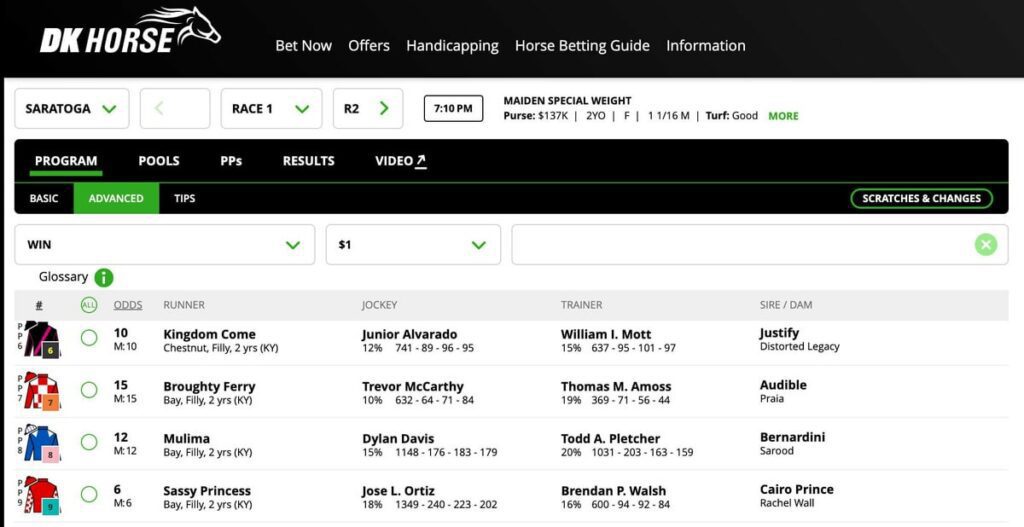 As expected from one of the best online gambling brands in the US, DK Horse has a world-class, modern design. It works seamlessly using the desktop website and mobile app. A full list of "Today's Races" is easy to see and an intuitive race calendar can be used to spot and wager on races taking place in the future.
DK Horse provides several unique features that members praise. That includes a "Tips" section on each upcoming race to give bettors a unique insight into the best wagers to place. After clicking a race, bettors can place a variety of wagers including win bets, place bets, exactas, trifectas, and more.
Expert's Comments: "DK Horse is a brand-new horse race betting platform with a modern design, a huge variety of odds, and excellent promotions. The "Tips" section stands out, it definitely helped me to make bets on upcoming races." – Oliver Dickinson (Sports Editor)

---
🥈FanDuel Racing
FanDuel Racing is the horse race wagering platform from FanDuel, one of the top online gambling brands in the country. It offers odds on more than 200 races each day and has one of the sleekest designs of any racebook operating today.
This platform's blue and white theme looks extremely modern. The entire user interface is based on simplicity, with tabs that users can easily click to navigate between pages. A great customer support system is also set in place to answer member's questions, 24/7.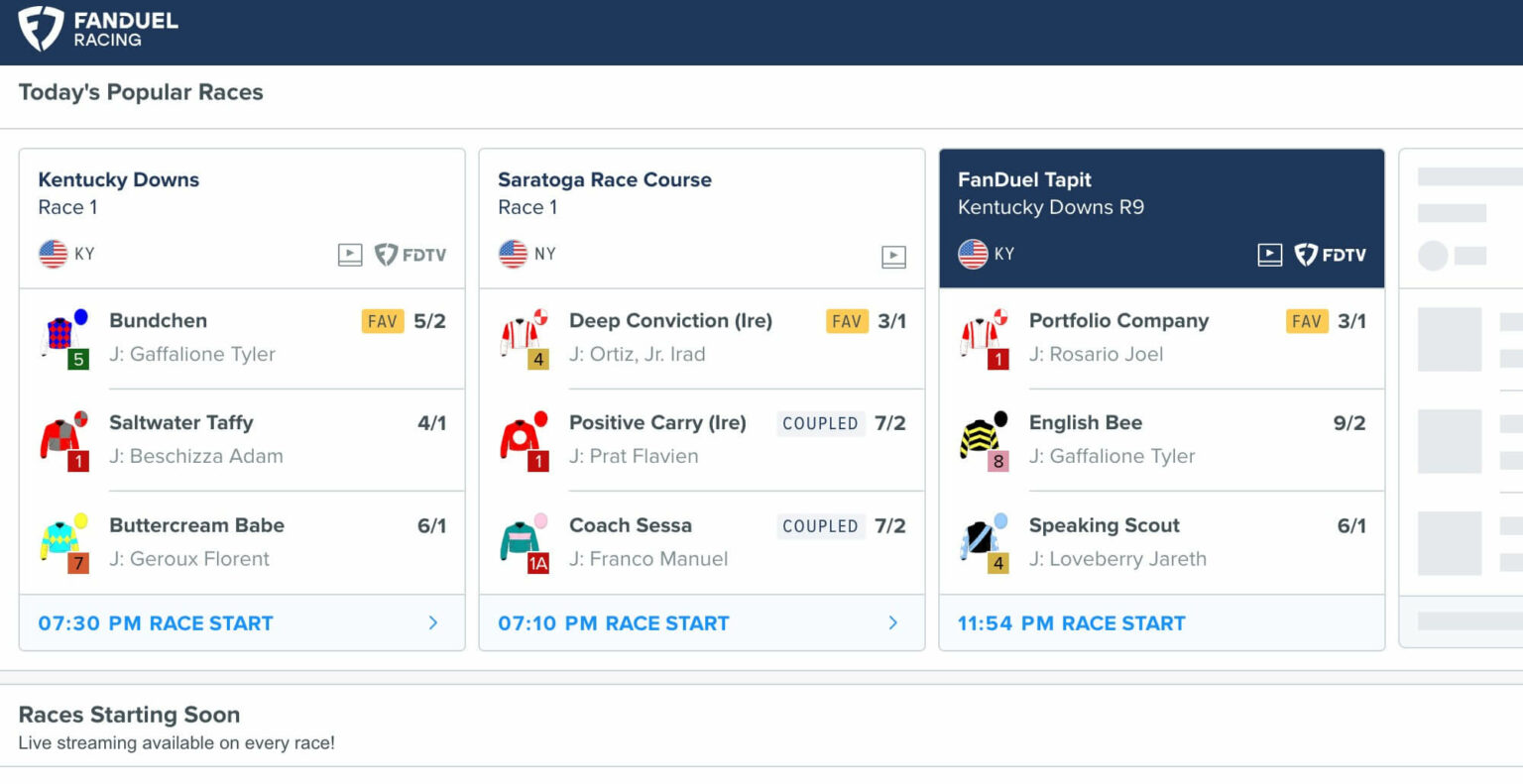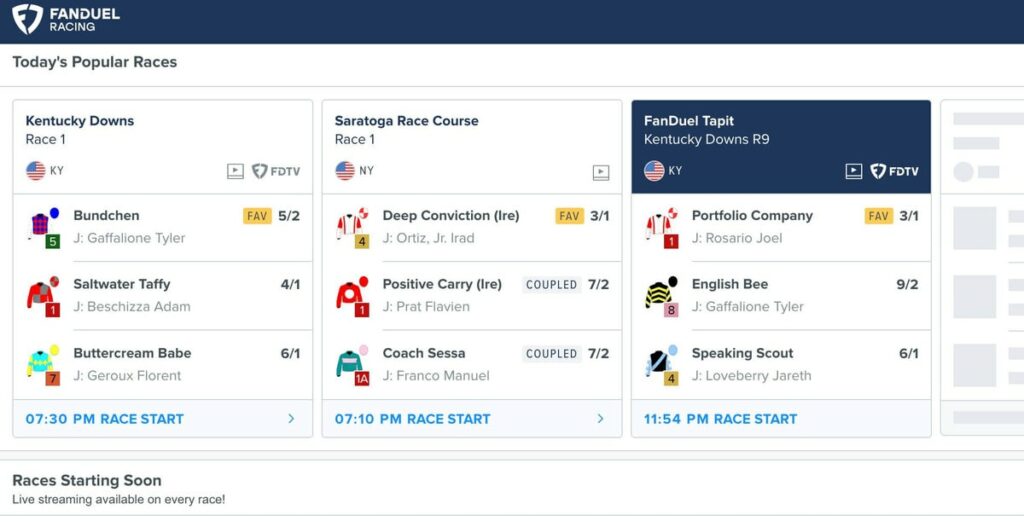 Like other modern racebooks, FanDuel Racing offers odds on domestic and international races. Members can place a variety of racing wagers such as win, place, show, quinella, exacta, and more. The interface of this racebook is intuitive, showing unique stats on horses such as their overall records, win percentages, and more.
FanDuel Racing offers odds on each of the Triple Crown races. Millions of horse racing fans use this platform to wager on the Belmont Stakes each year. With its sleek design and huge variety of odds, FanDuel Racing is widely considered to be one of the top Belmont Stakes betting sites currently operating.
Expert's Comments: "FanDuel Racing's design is arguably the best of any horse wagering platform in the US. It looks and operates extremely smoothly using a desktop and mobile device. It is well-suited for beginners, with a simplistic design and a customer support system that can answer questions instantly. The range of props and competitive odds make FanDuel my go-to racebook to bet on the Belmont Stakes." – Paul Ricci (Chief Sports Editor) 

---
🥉Caesars Racebook
Caesars Racebook is the horse race wagering platform formed in a partnership between Caesars Entertainment and NYRA Bets. It launched in 2022 and has continued to grow since that time. Today, it offers odds on more than 250 racetracks around the world.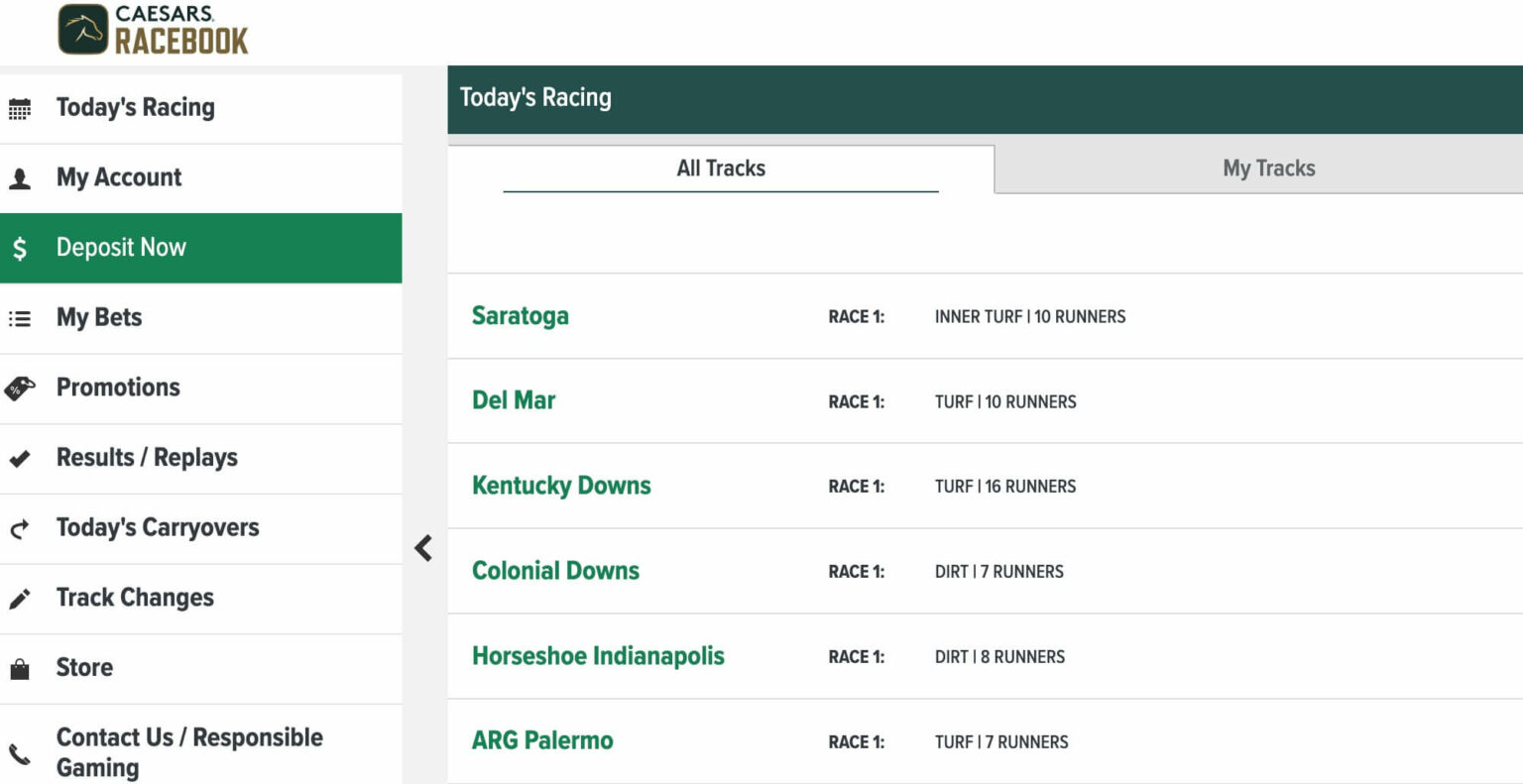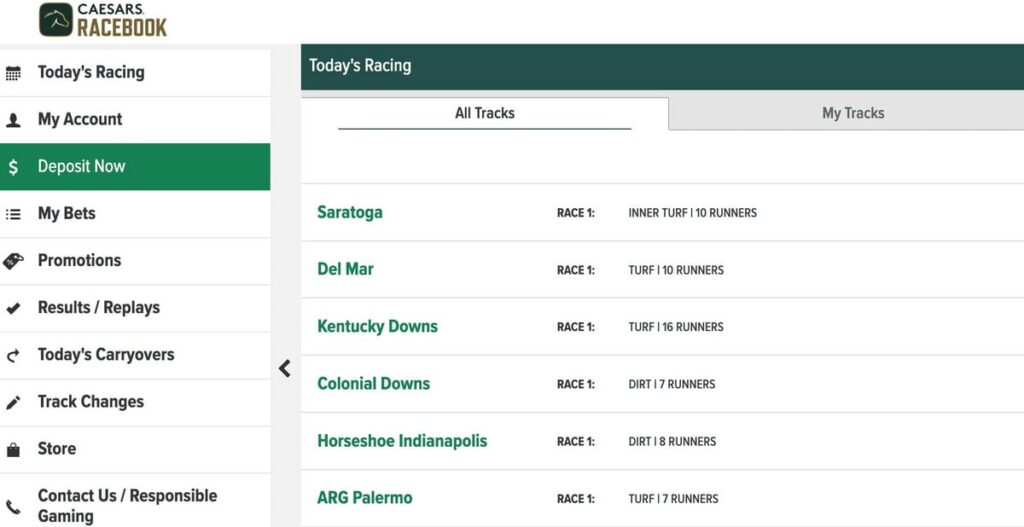 This race wagering platform features a green and white theme that looks very easy on the eyes. The homepage is slick, with a list of tabs on the left side of the screen to direct users to various pages such as the "My Bets," "Results/Replays," and "Today's Racing" pages. The replays page is a particularly unique feature, allowing racing fans to rewatch past races from their computer or mobile device.
Caesars Racebook does not provide quite as much information on horses as some competitors. It makes up for that with its massive variety of wagering options on races taking place around the world. Very few racebooks offer as many racing odds as Caesars Racebook and the design of this site is perfect for both beginners and experienced bettors looking for Belmont Stakes wagering opportunities.
Expert's Comments: "Caesars Racebook has a unique design, allowing bettors to organize upcoming races by alphabetical order of the racetrack, or the time of each race. The "Replays" page was very noteworthy, giving me the ability to rewatch past races and inform my future bets. Several other cool features are present here, including the ability to "favorite" certain tracks and a helpful "track changes" page that highlights any notable changes to upcoming races." – Oliver Dickinson (Sports Editor)

---
🎖️BetMGM Racebook
BetMGM Racebook represents another partnership between a major gambling brand and NYRA Bets. This brand is owned and operated by MGM Resorts International and looks very similar to Caesars Racebook. Unfortunately, the desktop version of this racebook is not quite as slick as the one provided by Caesars. It has a slightly outdated feel, with a drop-down menu to navigate between pages that some might find hard to find at first.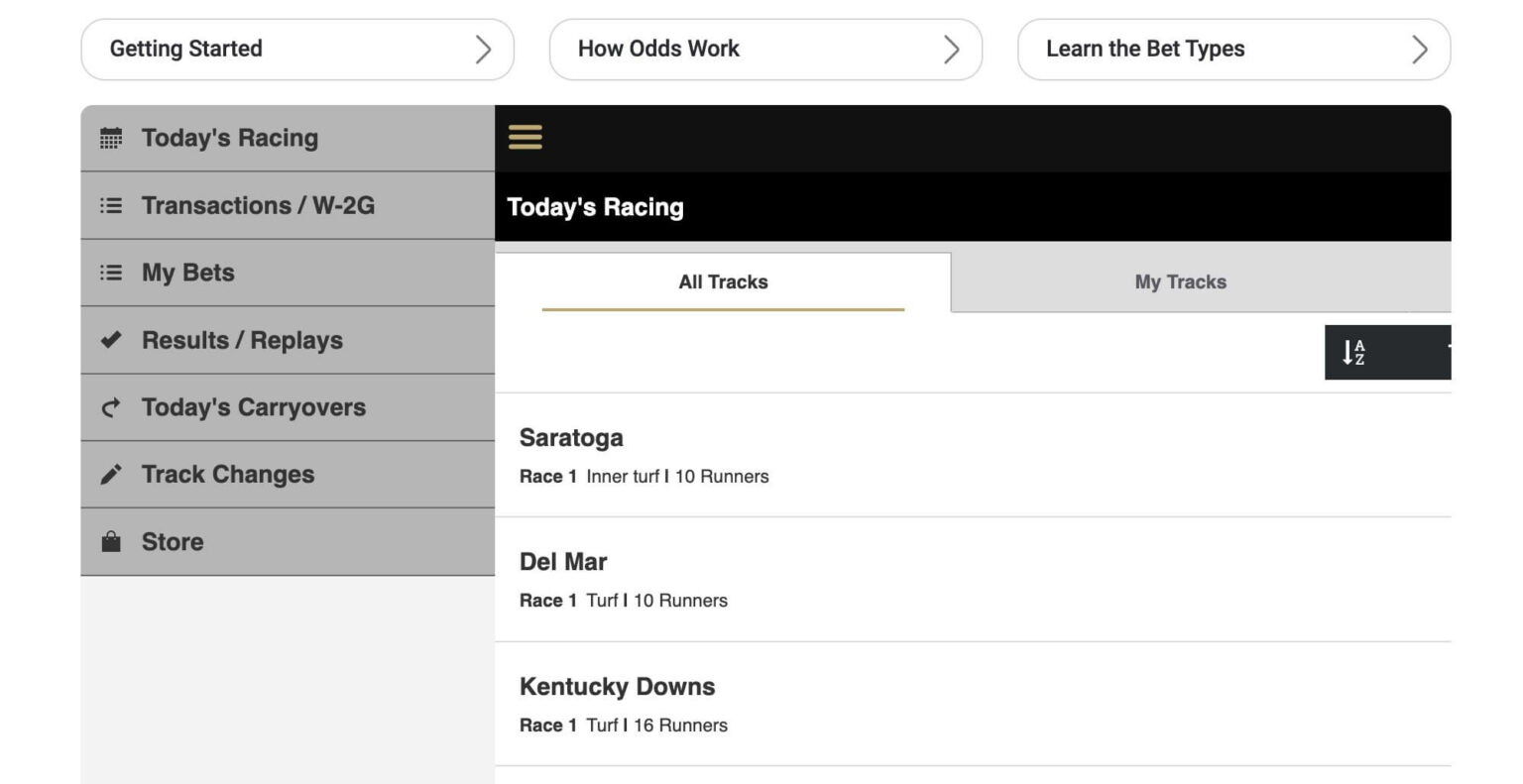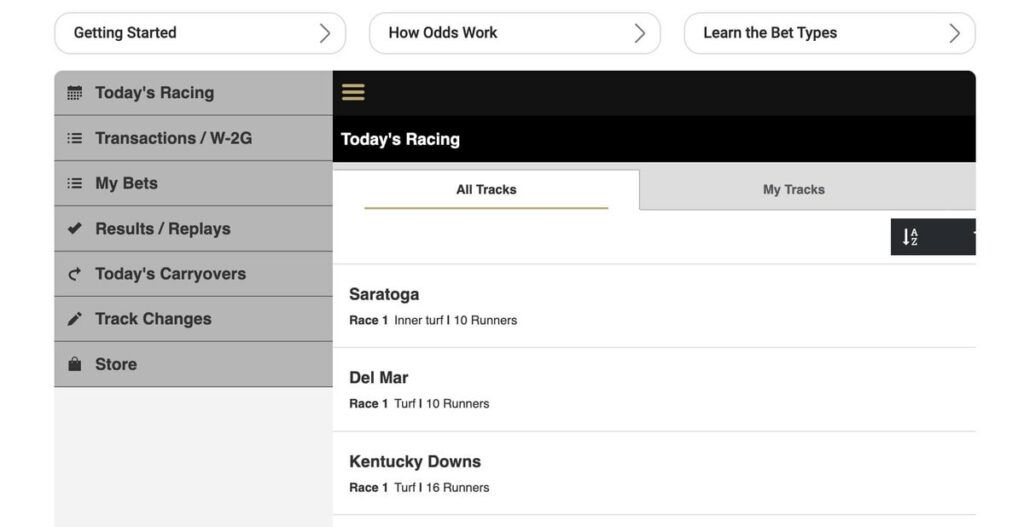 In terms of wagering options, BetMGM Racebook certainly excels. Members here have access to odds on more than 200 racetracks around the world. It is also easy to bet on major international racing championships including the Dubai World Cup and Melbourne Cup.
Domestic race betting options are plentiful here, too. This site offers a huge number of options to bet on major races, including the Belmont Stakes. Helpful support tabs are provided to educate new bettors on how different types of bets work.
Expert's Comments: "BetMGM Racebook certainly stands out as one of the top Belmont Stakes online betting platforms. I was a little surprised at the somewhat outdated design of its desktop website. I was able to look past that and was very impressed by the huge variety of odds, solid support options, and great user interface when using the racebook's mobile app." – Paul Ricci (Chief Sports Editor) 

---
🏅AmWager
AmWager is one of the oldest horse wagering platforms in the US, having launched back in 2009. It has continued to expand over the years and now operates in 27 states. AmWager has a huge number of users, most of whom praise its live streaming options, solid handicapping tools, and advanced user interface.
There is no doubt that AmWager is geared toward experienced bettors. It is a comprehensive platform with a huge number of unique features that knowledgeable bettors can take advantage of. Some of the special handicapping tools here include the ABC Wagering Tool, Dutch Wagering Modifiers, and Fair Value Exacta Tools.
Almost no other race wagering platform offers as many odds as AmWager. Members here have the ability to wager on more than 500 tracks around the world. That huge variety of odds and the massive variety of betting features make this one of the most advanced racebooks in the US.
Expert's Comments: "There is much to be impressed about with AmWager. It is perhaps the most comprehensive online race wagering platform currently operating. Unfortunately, many new bettors will find the massive variety of wagering options and busy homepage a little too complicated. There is a lack of clear navigational tabs that can make simple processes seem difficult. Those with a deep understanding of horse race betting, however, will likely love all of the unique features this site has to offer. Personally, I found this racing app the best for informed bets on the Belmont Stakes." – Oliver Dickinson (Sports Editor)

---
How to Bet on Belmont Stakes
The Belmont Stakes is one of the most-watched and most-bet-on horse races in the world. Millions of racing fans bet on this event each year and that number continues to grow as more Belmont Stakes betting sites launch around the country. Betting on this event is easy and can be done by following the basic steps listed below.
Find and join a racebook offering Belmont Stakes odds.
Make a deposit into your new racebook account.
Locate the Belmont Stakes odds provided by your racebook.
Choose the type of wager you want to make.
Enter the amount of money you want to wager.
The process is really that easy. Of course, it's always a great idea to do research and read from proven experts before making any wagers. Most Belmont Stakes wagering platforms provide a large variety of bet types and knowing how to take advantage of these different bets can be extremely lucrative.
There are some advantages to same-day race betting and futures betting, too. Same-day betting means the odds have been settled and the clear favorites have been established. Futures betting odds often change, meaning there can be some great opportunities to bet on horses that may be undervalued.
The vast majority of racing platforms offer bonuses to new members, too. These can offer bonus bets that act as free funds to use on upcoming races. Bonus bets often come with playthrough requirements, however, that must be met before a withdrawal will be possible.
---
What Type Of Bets Can I Place?
Horse race bets differ considerably from standard online sports wagers. Understanding how these different bet types work is key to horse race wagering success. Learn about some of these bet types below.
Win Bets
Win bets are, as the name suggests, bets on the winner of the Belmont Stakes. It is the most simple wager to make, as bettors simply pick which horse will cross the finish line first.
Place Bets
Place bets are another very simple horse race wager. This one requires bettors to pick a horse that they believe will finish either first or second in a race. The odds are not as lucrative as win bets, yet these are easier to pick correctly.
Show Bets
Belmont Stakes show bets are even easier to pick correctly. Here, bettors pick a horse that they believe will finish either first, second, or third in a race. The odds for these races are less lucrative than win and place bets.
Exacta Bets
Exacta bets are wagers on the first and second-place winner of a horse race. In order to pick a correct exacta wager, bettors must pick the first and second-place winner in the exact order.
Trifecta Bets
Trifecta bets are similar to exacta bets, requiring bettors to pick the first, second, and third-place race winner in the correct order. Correctly picking a trifecta bet can be hugely lucrative.
Some of the other Belmont Stakes wagers available online include Quinella bets, Superfecta bets, and Super Hi-Five bets. All of the top Belmont Stakes betting sites provide support features to explain how each of these wagers is placed and won.
---
How Belmont Stakes Odds Work
The Belmont Stakes is a race between the best horses and jockeys in the world. It is often extremely competitive, with races sometimes being won by just a couple of inches. Sites offering Belmont Stakes odds work to identify the favorites and underdogs in the most effective way possible, based on how bettors are feeling.
This is called pari-mutuel betting, meaning odds are constantly changing based on bet volume. As more bets are placed on a horse, the odds on that horse will decrease. The majority of bets are placed close to the race, meaning odds on the Belmont Stakes can change dramatically in the minutes leading up to the race. That was certainly the case with the 2023 Belmont Stakes, in which Tapit Trice emerged as the favorite with odds of 3/1.
Reports of injuries and jockey changes can have an impact on the odds, as well. Bettors are often privy to this type of news, and their betting habits will quickly change how a horse is viewed in the eyes of the oddsmakers.
Unlike traditional US sportsbook odds, which are presented in a + and – format, horse racing odds are still set in the UK style of fractional odds. To see an example of these odds, check out the DK Horse lines for a horse race taking place in Saratoga, New York.
Deep Conviction: 3/1
Day Away: 15/1
Kingdom Come: 10/1
Broughty Ferry: 15/1
Mulima: 12/1
Sassy Princess: 6/1
Katherine Thomas: 8/1
How to read Belmont Stakes odds: The first number of the fraction indicates how much you will win for wagering the second number.
There are experienced horse race wagering experts dedicated to finding the best odds possible. That includes some of the experts at Gamble USA. Make sure to check out our news page for unique insights and analysis on major upcoming races.
---
Tips for Successful Betting on Belmont Stakes
Horse race betting is far from an exact science. Even the most experienced race bettors can struggle to find consistent success. With that being said, there are several proven tips and strategies that bettors utilize to give themselves the best chance of success possible. Learn about some of these strategies below and utilize them in the next Belmont Stakes.
Research Horses and Jockeys
Putting research into the horses and jockeys competing in the Belmont Stakes is hugely important. This provides bettors with information such as a horse's record, its size, and more. Analyzing this information can give some insight into how a horse might perform at the Belmont Stakes against their competition.
Bettors should also read up on the jockeys competing at the Belmont Stakes. If an extremely experienced and successful jockey is set to compete, for example, it could mean that the horse has a much higher chance of finding success. A rookie jockey could signal that a horse is overvalued.
Go Odds Shopping
Belmont Stakes odds can change dramatically depending on the racebook. Belmont Stakes betting sites do their best to offer universal odds, yet last-minute bets can change these odds dramatically. For this reason, it can be a great move to go odds shopping, searching for the most lucrative lines possible.
Comparing odds between sportsbooks can also provide some great insight into the Belmont Stakes. If a horse is listed as a major favorite by one betting site and comes in as a slight underdog by another, it could mean that the horse is under or overvalued. Compare the odds between several platforms and try to understand why a horse is given the odds they possess.
Utilize Different Types of Bets
Anyone looking to bet on the Belmont Stakes should consider utilizing multiple types of wagers. The vast majority of horse racing sites offer a variety of wagers including win bets, place bets, exactas, trifectas, and more. Knowing how to vary these bets to decrease the risk of losing tends to bring the most success.
One example is to limit the amount of win, exacta, and trifecta bets. These are more difficult to pick correctly, yet many bettors get carried away at the thought of winning big. Placing larger wagers on safer bet types such as place and show bets tends to be a far safer option.
Learn from the Experts
For some, horse race betting is a career. Learning from proven experts can be the most effective way to make correct bets. Many of these experts enjoy spreading their information to other bettors to help them make their bets.
Hardcore sports bettors will spend time analyzing a horse's history, training methods, jockeys, and more. This research takes a considerable amount of time that casual bettors simply are not willing to take. Read from multiple experts and aim to gain a solid understanding of each horse set to compete in the Belmont Stakes before you place any wagers.
Manage Expectations
Horse racing is notoriously difficult to predict. For example, a horse named Rich Strike managed to win the 2022 Kentucky Derby, despite entering as a late scratch with 80/1 odds. These types of massive upsets are more common than the average bettor may realize.
Those expecting to start winning a large amount of money may find themselves disappointed. Even bettors who put in hours of research can find themselves with a collection of losing wagers. Keep expectations realistic and only wager what you are willing to lose.
---
Notable Belmont Stakes Betting Moments
The Belmont Stakes is one of the most important horse races held each year. It has produced some truly iconic moments and led to the crowning of 13 Triple Crown winners. Look back at some of the biggest moments in Belmont Stakes history here.
Secretariat's Record-Breaking Performance
Secretariat stands as the most celebrated horse in racing history. Back in 1973, this horse shocked the world by completing the Belmont Stakes in just 2:24. That resulted in a first-place win by 31 lengths and was the fastest-ever time at the Belmont Stakes.
Rags to Riches Historic Victory
In 2007, Rags to Riches made history by becoming the first filly to win the Belmont Stakes. It was historic, as this underdog needed to overcome a number of world-class male horses including the Preakness Stakes winner, Curlin.
American Pharoah Breaks the Triple Crown Drought
In 2015, American Pharoah finally ended a 37-year Triple Crown drought by winning the Belmont Stakes. It was a massively impressive performance from jockey Victor Espinoza and resulted in some massive wins for Belmont Stakes winners around the world. Three years later, another horse managed to earn a Triple Crown victory.
Victory Gallop Players Spoiler to Real Quiet
Back in 1998, an impressive horse named Real Quiet was on the verge of capturing a Triple Crown. Victory Gallop had other plans, winning by just a nose to play spoiler. It would be another 17 years before a Triple Crown winner was declared.
Each of these moments resulted in some huge wins (and losses) for bettors. As many of the events above demonstrate, anything can happen at the Belmont Stakes.
---
Common Mistakes to Avoid
Horse racing represents one of the most popular sports for Americans to bet on. Millions of people around the country bet on the Belmont Stakes each year. The rise of Belmont Stakes betting sites has made this easier to do than ever before.
Many bettors, unfortunately, still make easily avoidable mistakes when betting on this Triple Crown race. Learn how to avoid making these betting mistakes today.
Only Betting on the Favorites
Inexperienced bettors will often choose to only bet on the favorites for the Belmont Stakes. That can be tempting, as these horses often have huge hype behind them. Upsets are not uncommon at the Belmont Stakes, though, and bettors should always make bets based on research rather than name and hype value.
Ignoring Track Conditions
An often-overlooked aspect of Belmont Stakes betting is failing to consider track conditions. Certain horses are known for performing better in certain conditions than others. Hardcore bettors recognize this and make their bets accordingly.
Avoiding Jockey Research
A jockey can have a huge impact on how a horse performs. Certain jockeys have special relationships with horses. Those tend to be the ones that win Triple Crown races. Make sure to research all of the jockeys competing before making any wagers.
---
FAQs
What are the best Belmont Stakes betting sites?
Some of the best Belmont Stakes betting sites include DK Horse, FanDuel Racing, BetMGM Racing, Caesars Racebook, AmWager, and TwinSpires. Each one offers a huge variety of odds and secure payment options.
How do I place a bet on the Belmont Stakes online?
To bet on the Belmont Stakes, bettors must join a Belmont Stakes betting site. From here, find the Belmont Stakes odds and make wagers. Keep in mind that many racebooks will not offer odds on this race more than a month before it takes place.
Can I bet on multiple horses in the Belmont Stakes?
Yes. All modern online racebooks allow members to bet on multiple horses in the Belmont Stakes. These sites offer multiple bet types including win bets, show bets, exactas, and more.
When is the next Belmont Stakes scheduled?
The next Belmont Stakes will take place on June 8, 2024.
What happens if my selected horse is scratched from the race in the Belmont Stakes?
If you bet on a horse and it is scratched from the Belmont Stakes, your racebook will automatically refund your wager.