Gamble USA strives to improve your online gambling experience. We aim to help you play safely, make informed decisions when gambling, and increase your betting knowledge through our guides.
We adhere to strict editorial integrity; our content may contain links to products from our licensed & legal US partners.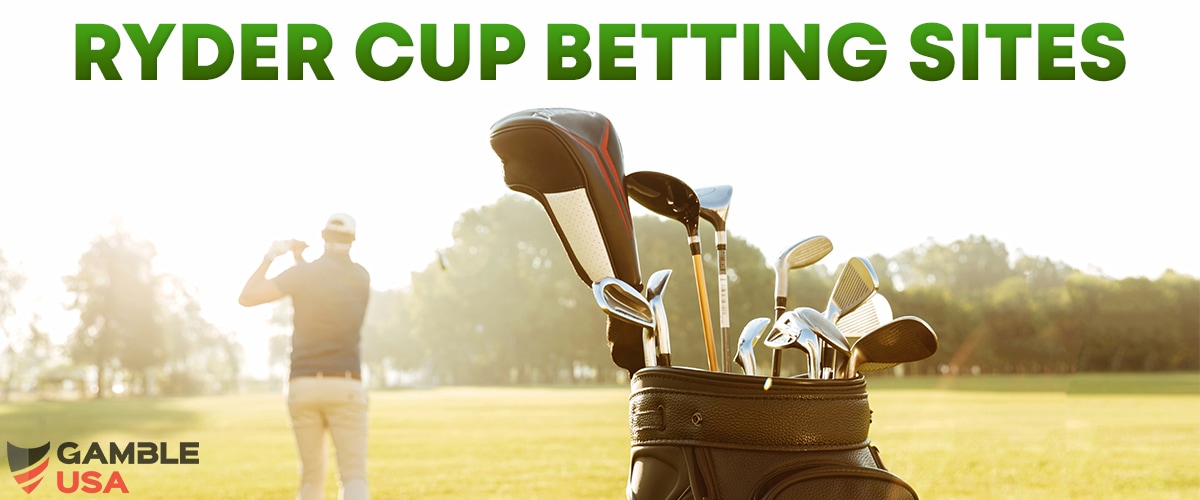 USA versus Europe, the defending champions against the youthful challengers — the Ryder Cup is back. Hosted biennially, for three days the golfing world comes together to watch the most exciting tournament in all of golf as Team USA takes on Team Europe. For veterans, it's a time to become national heroes. For youngsters — a time to announce yourself to the world. And for sports bettors across the US, it's a time to sit back and supercharge your experience by getting in on the action with Ryder Cup betting.
Fortunately, legal sportsbooks in the US are all too happy to facilitate this surge of action. Though with the Ryder Cup only coming once every two years, it's imperative that you sign up to the best sports betting sites to get the odds, the best bonuses, and hopefully the best payouts.
For many US states, this will be the first time that betting on the Ryder Cup will be legal. If you're new to the Ryder Cup, there's a lot to learn. But don't sweat it, because in this guide we'll be going through everything you need to know about betting on the Ryder Cup, including what bets are available, what are the best sportsbooks to bet with, and we'll even be sharing a couple of tips from our expert Ryder Cup betting team.
---
🏌️Top Ryder Cup Betting Sites 2023
With the Ryder Cup only coming once every two years, we've put our team on overdrive to find the very best US Ryder Cup betting sites. Compared to the market during the 2021 Ryder Cup there are a lot more names to choose from — though nevertheless, we've narrowed it down to five. For a quick head-to-head comparison, check out the table below. But we recommend you read all the reviews carefully to see exactly what our expert team had to say.
| 🏌️Sportsbook | 🎁Welcome Bonus | 📜Promo Code | 🇺🇸 Legal States | 🌐Live Betting? |
| --- | --- | --- | --- | --- |
| Caesars | $1,250 First Bet On Caesars + 1,000 Caesars Rewards Tier Credits + 1,000 Reward Credits | GUSAFULL | AZ, CO, D.C., FL, IL, IN, IA, KS, LA, MD, MA, MI, MS, NV, NJ, NY, NM, NC, OH, PA, TN, VA, WA, WV, & WY | ✅Yes |
| BetMGM | $1,000 First Bet Offer | GAMBLEUSA | AZ, CO, D.C., IL, IN, IA, LA, MA, MD, MI, MS, NJ, NV, NY, OH, PA, TN, VA, WV & WY | ✅Yes |
| PointsBet | 5 x $50 Second Chance Bets | None! | CO, IL, IN, IA, KS, LA, MD, MI, NJ, NY, OH, PA, VA & WV | ✅Yes |
| FanDuel | $1,000 No Sweat First Bet | None! | AZ, CO, CT, IL, IN, IA, KS, LA, MD, MI, MA, NJ, NY, OH, PA, TN, VI, WV, WY | ✅Yes |
| DraftKings | 20% First Deposit Match $1,000 | None! | AZ, CO, CT, IL, IN, IA, KS, LA, MD, MA, NH, NJ, NY, OH, OR, PA, TN, VA, WA, WV, WY | ✅Yes |
---
🥇 #1. Caesars Sportsbook
For Ryder Cup betting, Caesars takes the cake. A combination of great odds and a great user experience makes Caesars a perfect Ryder Cup team betting site — plus, with new users getting a first bet of up to $1,250 on Caesars, it's the ideal site for betting on the overall winner.
Expert Comments:
"For general sports betting, I'd say good usability and competitive odds are some of the most important. Caesars definitely has these, though what makes them stand above the competition is their $1,250 first bet offer. Typically you want to save these sorts of juicy bonuses for the biggest events, and with the Ryder Cup only coming up once every two years, now is the time to cash in."
– Oliver Dickinson (Sports Editor)

---
🥈 #2. BetMGM Sportsbook
If you're after up-to-date odds and regular bonuses on all matches, BetMGM is for you. The US sports betting giant is always one of the best sites for sports betting regardless of what you're betting, and with an event as prestigious as the Ryder Cup, it's no different here.
Expert Comments:
"In my opinion, golf is the best sport for live betting. The stop-start nature gives the sportsbooks time to update their odds and offers a window for users who really know their stuff a chance to capitalize. In this area, BetMGM really shines as they're able to keep their odds updated round the clock. This alone would make them my go-to pick for betting on the Ryder Cup."
– Oliver Dickinson (Sports Editor)

---
🥉 #3. PointsBet Sportsbook
PointsBet has a reputation for breaking the mold. A dark aesthetic mixed with their unique Points Betting system and an unusual welcome bonus of up to 5 x $100 bonus bets make them an outlier. But if you're looking for a different betting experience this Ryder Cup, PointsBet might just be for you.
Expert Comments:
"With PointsBet's unique Points Betting feature, you win more for every point that your team wins by. And with Team USA delivering a royal thumping to Team Europe last time, a repeat could spell a pretty hefty win. Though even if you only look at their standard fixed bet betting, they've got everything you want."
– Paul Ricci (Chief Sports Editor)

---
🎖️ #4. FanDuel Sportsbook
With arguably the best sports betting mobile app, FanDuel is perfect for the type of bettor that likes to bet on the go. However, even if you want to do your betting on the computer, you should still give them a look as FanDuel regularly has some of the best odds of all golfing events, including the Ryder Cup.
Expert Comments:
"I'm a couch potato during the Ryder Cup. It's easily my favorite golfing event and given that it only occurs every other year, when it does come up, for those three days I want to catch every second of it on my TV. So for me, the mobile app is just about the most important feature of a sportsbook when it comes to the Ryder Cup. Here, it's FanDuel all the way."
– Paul Ricci (Chief Sports Editor)

---
🏅 #5. DraftKings Sportsbook
It might seem odd to rank DraftKings as number five, but don't let that trick you into thinking they're a bogey. With unique odds and a helpful Ryder Cup betting guide, they're just as good for newcomers as they are for veterans looking to squeeze every last drop of value out of the market.
Expert Comments:
"I hate to be the odd one out, but I just don't fancy Team USA to win on European soil. DraftKings appears to disagree with that sentiment, as they've got the best odds for Team Europe out of all of the major US sportsbooks. While they've yet to open markets for individual matches, I wouldn't be shocked to see that bias continue, and so every time I think Europe will come out ahead, I'm heading straight to DraftKings."
– Jon Ridehalgh (Senior Editor)

---
What is The Ryder Cup Tournament
The Ryder Cup is a team golf tournament. First played informally in 1926 in London, the first event set up the idea for a biennial tournament between the United States and Europe — with the tournament's location to alternate between Europe and the US for each edition. It caught on almost immediately. With each team having 12 players, it's a guarantee that you'll not only see some established names, but also some newcomers looking to impress.
Team Selection
The first step for choosing a team is to select a captain. While in previous eras the captain would be a playing member of the team, an increase in matches played has made it challenging to combine the two roles, and the captain role in modern times is primarily more of a coach than a player. After selecting the captain, 12 players are selected for each team.
For Europe, nine members of the team will qualify automatically based on performances from the previous 12 months — though for the US, only eight members are selected this way. The rest of the team is chosen as a wild card/captain's pick, as the captain is allowed to select the additional player in whatever way he sees fit.
As of writing, the team members of the 2023 Ryder Cup are unknown. What we do know is that Zach Johnson will captain the US, and Luke Donald will captain the Europeans.
Type of Matches
Three types of matches are played at the Ryder Cup. Days 1 and 2 are comprised of 4 foursomes and 4 fourball matches to be played each day, either in the morning or the afternoon, with the home captain choosing when the events are played. On day 3, every player is matched up in a singles match. If you're unsure of what any of these matches are or if you're more familiar with stroke play matches, below, we'll cover the details of each of the match types to be played at the 2023 Ryder Cup.
Foursomes — Foursomes are probably the most irregular event played at the Ryder Cup if you're used to stroke play as it has two team members sharing the same ball — alternating which team member swings on each turn. The team which gets the hole in the least strokes wins the point for that hole. And the team with the most points after the 18-hole match wins the whole match.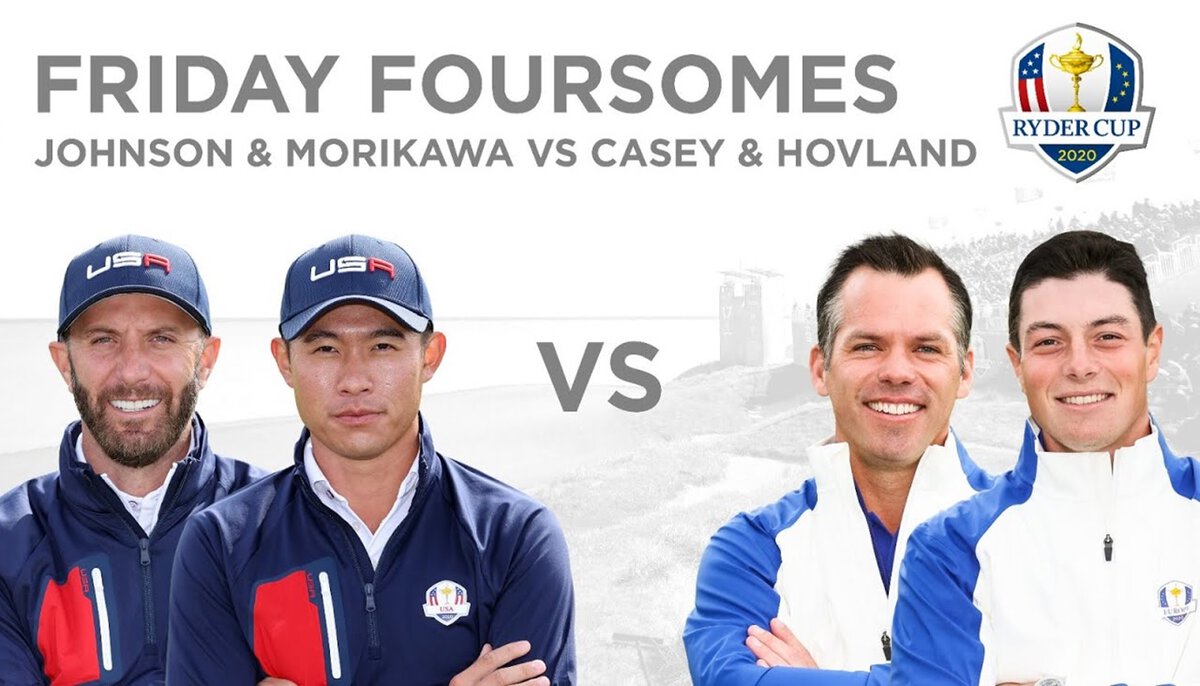 Fourball — A fourball match is similar to a foursome in that it's two teams of two members competing against one another, except in this type of match, each player has their own ball. Whichever player gets the hole in the least amount of strokes wins the point for his team, and whichever team has the most points after 18 holes wins the match.
Singles — Single matches are simple. Two players — one from each team compete. Whichever player gets the hole first wins the point, and whichever player has the most points at the end of the 18-hole course wins.
At the end of all matches, the team with the most points wins. In the event of a tie, the current champions (in this case, USA) retain.
---
Understanding Ryder Cup Betting Odds
Since the Ryder Cup uses match play competitions, most odds are pretty easy to understand. For any match, you'll be given three options for how you think it'll play out — either with Team USA winning, Team Europe winning, or the two teams having a tie. Since the Ryder Cup hasn't yet started and team rosters have yet to be decided, the only bets currently available are for the overall winners.

Given that it was a landslide victory for Team USA last year, it's not surprising to see that we're currently sitting as the favorites at -175. Team Europe has a mirror flip of Team USA's odds, offering +175 as the underdogs, and of course, a tie is the most unlikely result at +1200. What these odds mean is that if you're betting on Team USA (-175), a $175 bet will yield you a profit of $100, whereas betting $100 on either Team Europe or a tie will yield a profit of $175 and $1,200 respectively.
Of course these odds will vary based on which sportsbook you bet on. Below, we'll cover the best Ryder Cup betting sites.
---
Bets To Place On The Ryder Cup
Bets at the Ryder Cup come mainly in two forms. Outright betting and match betting. Match betting is usually pretty simple, requiring you to correctly call which team you think will win the match you're betting — and sometimes how much you think they'll win by. Outright betting though can be a little more complicated as there are more Ryder Cup bets and markets to choose from, so we'll cover the main types of outright betting you'll need to know about.
Overall Winner — When most people think of outright betting, they think of the overall winner. With this type of bet, you need to call which of the two teams will win the event. This should not be confused with betting on which team will win the trophy as in the former, a tie is its own result, whereas in the latter, a tie will result in Team USA retaining.
Player Betting — A personal favorite of mine, player betting is when you bet on a player to win a certain number of games. This type of betting requires heavy research as you'll need to know the matchups each player is expected to be in and whether or not they favor them.
Winning Margin — Betting the winning margin is similar to betting the overall winner, but when betting the winning margin, you also need to work out how much they'll win by. It's a lot trickier, though it can also bring some of the biggest payouts if you guess it correctly.
---
Ryder Cup Betting Tips and Strategies
If this is your first time betting on the Ryder Cup then we've got something to help you along. Because after interviewing our expert team, we've come up with their three top tips for betting on this edition of the Ryder Cup, along with all future editions like the next Ryder Cup in 2025.
Take Advantage of Ryder Cup Betting offers — Bonuses are the secret to turning small into big wins and big wins into massive wins. Most bonuses work by either giving you bonus cash to play with, boosting your odds, or by giving you insurance in case a bet doesn't play out the way you'd hoped. Take the Caesars welcome bonus as an example.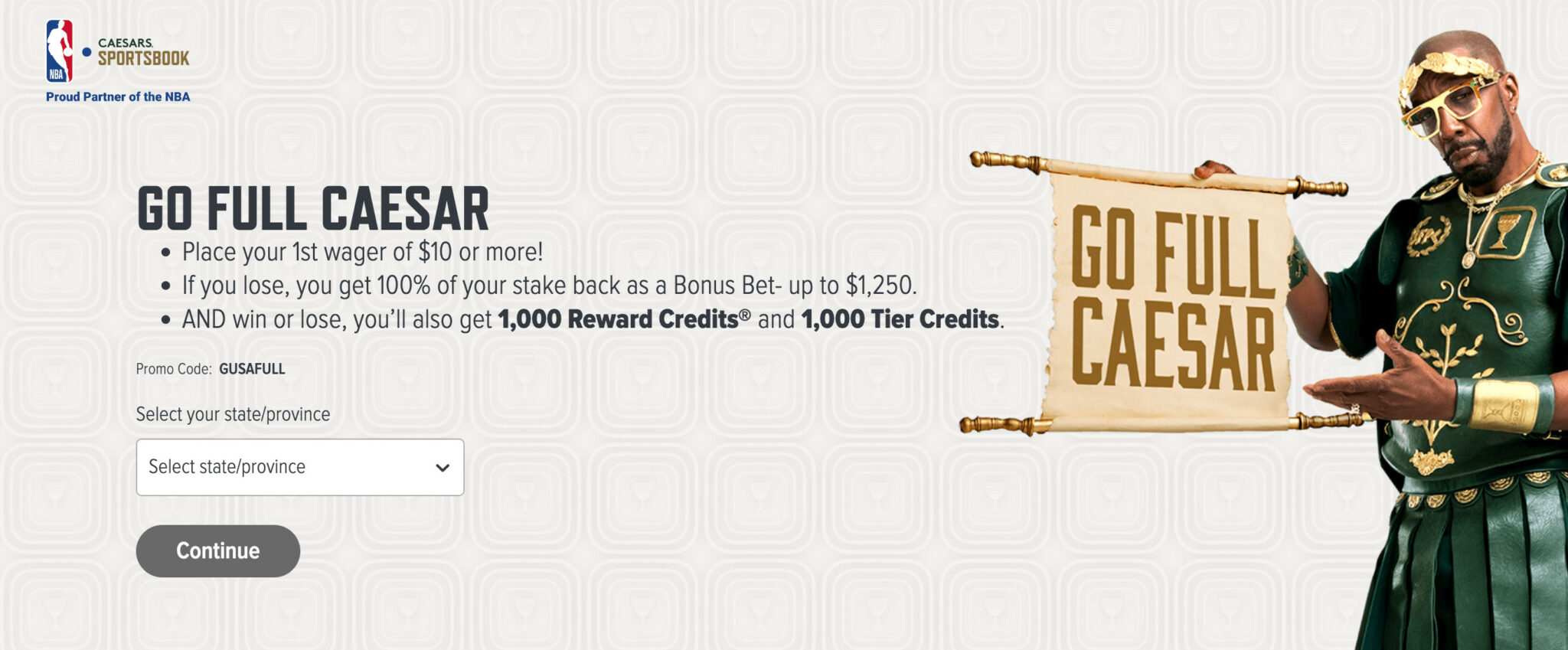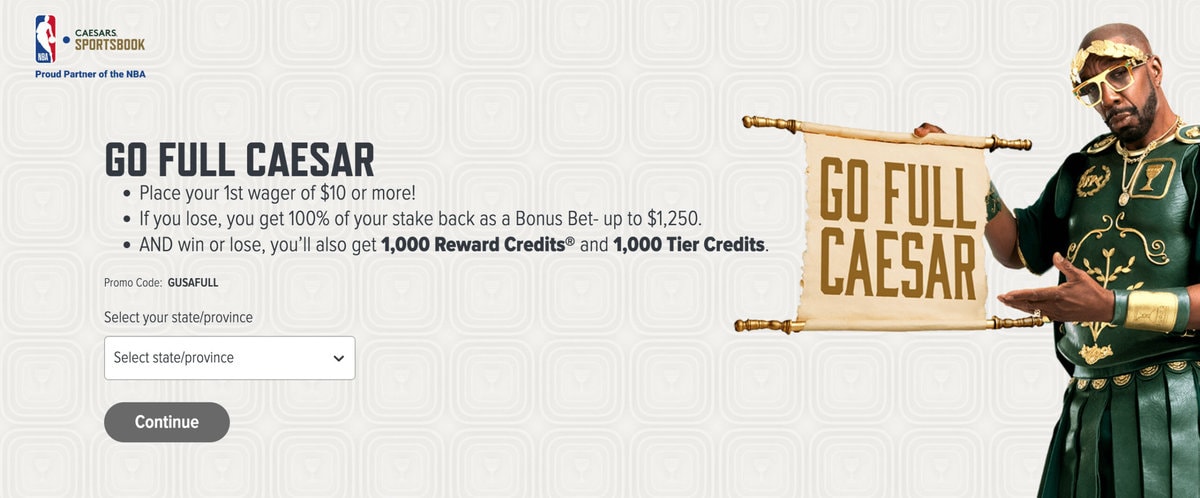 With this bonus, you'll be able to place a larger or riskier bet than you usually would, knowing that even if it fails, 100% of your stakes will be returned to you in the form of a bonus bet up to $1,250.
Look at Venues — It's no secret that the home team usually wins in the Ryder Cup. For the 2023 Ryder Cup, it'll be hosted in Europe — so even though they're the underdogs, don't rule them out of it entirely. Personally, I'd still favor Team USA. But I'm definitely going to be taking advantage of a bonus to protect me in case the European team does get the better of us.
Consider Player Form & Potential Matchups — If you're planning on betting on an individual, it's imperative that you do the proper research to see how their recent form has been and who they're likely to be played against. Collin Morikawa might seem a safe bet after going 3-0-1 in his opening Ryder Cup campaign, but don't be surprised if he's got much harder matchups this year.
---
Live Betting on Ryder Cup
Live betting is one of the best Ryder Cup bets you can make. This is because unlike other sports that have minimal interruptions and a lack of breaks, golf's stop-start nature makes it perfect for live betting as you don't have to worry about waiting for that perfect moment that might never come to place your bet. Suspended betting time is minimal for most sportsbooks. And for sports bettors who really know their stuff and can sense a change in momentum, it can be highly profitable as well as exciting.
This is especially true when it comes to day three. It may've been a bit of a forgone conclusion last time when Team USA went into day three with an 11-5 lead, but when the teams go into the third day with similar scores, it can truly make for one of the most exciting sporting events. Every stroke across the twelve games matters. And if you can find a way to keep up to date with all the matches at once, live betting can make you some serious profit.
For experienced golf bettors, I'd say FanDuel and BetMGM have probably the best live Ryder Cup betting odds.
---
How to Get Started Betting Ryder Cup
The good news is signing up to legal US sportsbooks couldn't be easier. Just follow the below steps to get started today with your Ryder Cup betting predictions.
Using our links, navigate to the sportsbook of your choice and click the registration button. While a simple step, it's crucial that you use our links when signing up, as this is the only way to secure your welcome bonus.
Fill in a couple of pages of details, enter in our promo code if applicable, then finish up your registration.
A registration link will now be sent to your email. Click it, and you're in.
Now just log into your sportsbook, select the Ryders Cup, and make your first bet.
---
Legalities of Ryder Cup Betting
While betting on the Ryder Cup for Europeans has been legal for a long time across almost the entire continent, in the US, it's only recently that it's become legal in certain US states. The reason for this is long, boring, and pretty much sums up to Nevada wanting to be the gambling hub of the US. But fortunately, New Jersey successfully fought to have the relevant legislation appealed, and PASPA got struck down on the grounds of being unconstitutional. Since then, states have been able to individually change their gambling laws to allow for sports betting.
Now in 2023, more than 30 states have legalized online sports betting through licensed sportsbooks. But it's that second last word that makes all the difference, as only licensed sportsbooks are legal, and it's only these licensed sportsbooks that are actually under any real legal obligation to pay you your winnings. This is why you'll never see us recommend a non-licensed sportsbook. As while licensing can be a headache to achieve, it's the only way for a sportsbook to prove their legitimacy.
---
Ryder Cup Responsible Gambling
One final thing to touch on is the importance of responsible gambling. While the Ryder Cup is undoubtedly one of the most exciting events to bet on across all of golf, it can also spell disaster if you don't know what you're doing. Before you place your first bet, you should always ask yourself how much money you are comfortable with potentially losing. Whatever that amount is, this is the maximum you should be willing to bet.
To practice responsible gambling, we recommend the unit betting system, where you divide your entire betting bankroll into 100 units. You then rank every bet you plan on making on a 1-5 scale — with one being a long shot, and five being a pretty safe bet. The number you assign that bet depends on how many units you should stake. With this betting system you're able to bet on the fly, while still ensuring that you never bet more than 5% of your bankroll on any one bet.
---
FAQs
What are the best Ryder Cup betting sites?
The best Ryder Cup betting sites are Caesars, BetMGM, PointsBet, FanDuel, and DraftKings. Our expert team chose these sportsbooks as they have the best odds, the best bonuses, and offer a smooth user experience whether you're playing from your computer or mobile device.
How do Ryder Cup odds work?
Ryder Cup Odds are pretty easy to understand. Team USA are currently -175 favorites. What that number means is that you need to bet $175 to win a profit of $100. Team Europe on the other hand are the underdogs as they're sitting at +175. In this case, the + symbol next to the number indicates that you stand to profit $175 if you bet $100 on Team Europe and win.
Is it legal to bet on the Ryder Cup online?
Yes. Ryder Cup betting along with all sports betting is now legal at the federal level. With that being said, you'll still need to make sure that your state allows for sports betting before you make a bet on this year's Ryder Cup.
Can I bet live during the Ryder Cup tournament?
Yes. Golf is one of the best sports for betting live. And with the Ryder Cup, you get three days full of excellent live betting opportunities where every stroke can change the Ryder Cup odds.
Are there any special bonuses for Ryder Cup betting?
Yes. While Ryder Cup specific bonuses have yet to be announced by any sportsbook, we expect that as the date rolls closer, many US sportsbooks will look to capitalize on the excitement by offering specific Ryder Cup betting promotions.
Who are the favorites to win the upcoming Ryder Cup?
At -175 odds, Team USA are the favorites for the 2023 Ryder Cup. If all goes according to plan, this will be our first successful title defense on European soil in over 30 years.